BY JUDY CARMACK BROSS
What would happen if Chicago turned all its lights out? That question and others led to a yearlong meditation by powerful photographer Tom Rossiter about "our search for co-existence with Mother Earth."
Just months before COVID, the architect and photographer built a tall steel platform on the roof of his Wicker Park home with a weatherproof enclosure for shooting photographs of the Chicago skyline every day during 2020 using a fifty-megapixel camera.
"I looked at Chicago as a representative of major cities globally, and its relationship to the air, water and earth it touches," Rossiter said as he took us through the gallery.
Rossiter calls the exhibition Anthropocene Mountain. It is a combination of perseverance, technical savvy, and artistic ability—provocative not prescriptive. The photographs and a video may be viewed at Primitive on North Jefferson in Chicago.
"Chicago is literally a human-made mountain rising from a pristine prairie," Rossiter explained. "The other half of the title refers to the geologic time scale, classifying earth's layers, or strata, in time.  The current time scale says that we are in the Holocene Epoch, begun 12,000 years ago. However, many scientists now propose we have entered a new period: the Anthropocene. It comes from recognizing how human beings have significantly impacted Earth's geology, ecosystems, and climate for the first time in history."
Monet had his haystacks at different times of day, a shocking idea at the time to return frequently to paint the same subject. Rossiter wanted to study the skyline for a whole year at dawn and dusk. Each day of the year is represented by aligned sunrise and sunset images, the top of each photo being the sunrise and the bottom, the sunset. He reviewed the shots daily.
Known for showing multiple cut-away sections of the same building in one photograph, Rossiter's Chicago skyline dissolves into water, fire, stone, meteor showers, people, and viruses, posing important questions with his imagery.
"If we cannot find ways to respect and sustain Mother Earth, then how can we expect her to value, no less tolerate, our presence?" Rossiter asked. "At a minimum, we must learn to co-exist. The purpose of Anthropocene Mountain is to explore the interdependence of cities, people, cultures, and wild places; to bring awareness to the relationship of all the elements on, in, and around the planet. It is meant to inspire reflection, thought, and ultimately, critical action, which is necessary to address environmental change."
"Serious Outdoors" is what Rossiter calls the wild places he visited to capture the northern lights. He traveled the ice road highway, termed the most dangerous highway in the world, arriving north of Coldfoot, Alaska, close to Deadhorse: "This is Alaska pipeline country where the temperature can sometimes drop to 68 degrees below zero. We found an airbnb and kept in touch via CB radio with the truckers. The borealis were brilliant."
For the effect of sun on a wall of stone, he visited the monolithic Pre-Columbian architectural site of Monte Alban near Oaxaca, Mexico, as well as a ranch in New Mexico. "The thought is that everything is impermanent, everything goes back to stone. There have been five mass extinctions on the planet. Our existence is impermanent," he said. "One photograph asks if the lights really went out, what images of extraordinary beauty and wonder would be revealed. What does light pollution conceal? Are there alternative sources of illumination?"
Rossiter surrounds each image with handmade fire-charred frames fusing the Japanese method of wood preservation called Shou Sugi Ban. To show the video that combines all the photographs, Rossiter took his own television, which he surrounded with a similar frame.
Primitive's owner Glen Joffe, who presents in his beguiling four-floor gallery global art and artifacts, asked: "What could be more relevant for humanity today? The issues, concerns, and necessities Rossiter expresses go across all cultural boundaries."
Rossiter was invited to join the prestigious Pivot Projects, composed of experts in climate science, epidemiology, and public heath, which presented at the November 6 COP26 climate change conference in Glasgow. He helped create a video that told the 13.8-billion-year story of the universe and Earth in 90 seconds.
"The Pivot Projects was a crucial part of developing my thinking about Anthropocene Mountain. It addressed the issue of sustainability from a systems approach that looks for the integration of complex inputs for outcomes optimized in both technical and human terms," he explained. "The participants were thoughtful and quite willing to share their deep real-world experiences toward making a better planet."
As a founding member of McClier, he helped lead the company to a 550-person design build firm. Rossiter managed the Chicago office for the Austin Company, worked as a senior designer at Skidmore, Owings and Merrill, and interned in the office of Charles and Ray Eames.
He has had numerous exhibitions of his photographs in galleries and institutions, including shows in Chicago and Palm Springs. He photographed the images for the book Building Ideas, An Architectural History of The University of Chicago.
Soon after our interview at Primitive, Rossiter headed to France where he once again surveyed the sunrise and sunset close to St. Rémy de Provence: "My wife Natalie's family has been on the same piece of land for 550 years, and the tradition has always been to leave it in a better place than you found it."
Rossiter's rooftop was not only the site of daily photography. Located near the base of his tower is an organic vegetable and edible flower garden, which delights the Rossiters. "With 50 percent of the world's population living on 2 percent of the land area, one of my takeaways from Anthropocene Mountain is that the healthy future of the planet is to make livable cities."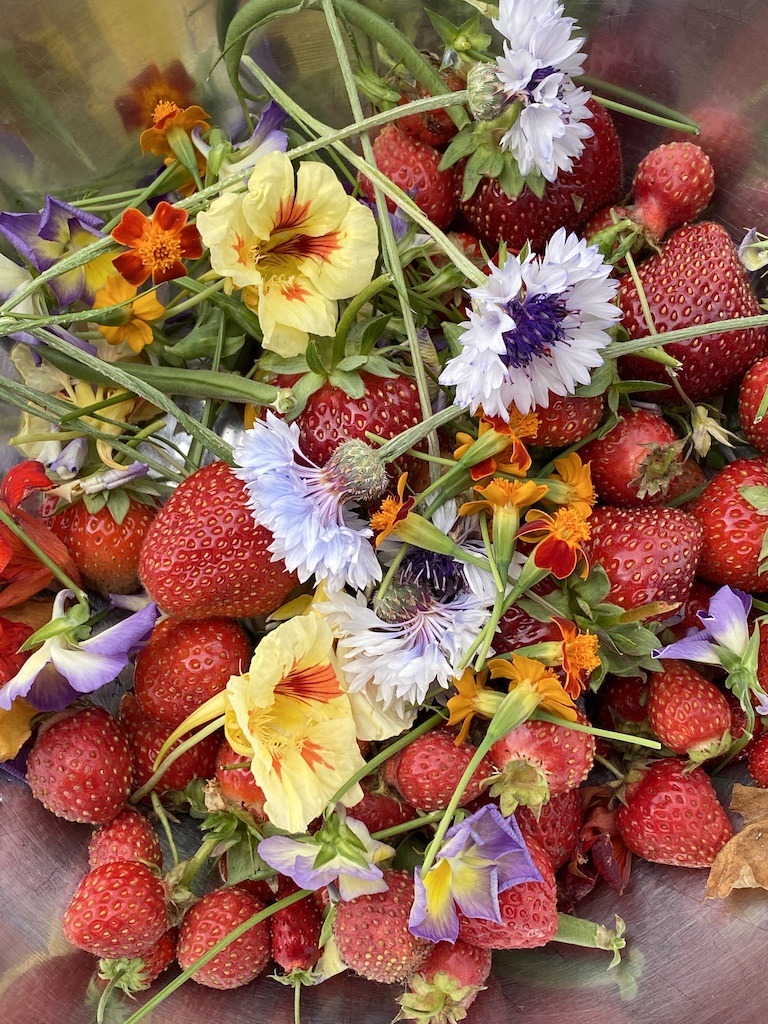 He added, "My garden is really a living experiment dealing with a traditional Chicago lot of 125' x 25' and looking at how much food I can produce. It has been a joyous and delicious pursuit. One of the by products has been a much deeper connection to the weather, seasons, growing seasons, and the like. This is fundamental to reestablishing our relationship with Mother Earth on a broad scale."
To learn more about the Primitive Gallery and Rossiter's exhibition, visit beprimitive.com. Learn more about Rossiter's work at tomrossiter.com.