Taos' Harwood Museum of Art has done it again

By Lenore Macdonald
Opening on May 7, 2022, and running through September 25, 2022, the Harwood is featuring a major traveling exhibition consisting of a selection of works from the Tia Collection of Santa Fe, New Mexico, offering a fresh view of the evolution of art in New Mexico from the late Romantics era to the advent of early Modernism. The show is called New Beginnings and will be installed not only on the main floor but will extend into the Hispanic Traditions gallery upstairs. An opening celebration will take place on May 6, 2022.  
New Beginnings includes more than 100 early 20th century artworks by 70 artists, starring signature works by well-known artists such as Oscar Berninghaus, Andrew Dasburg, Leon Gaspard, Victor Higgins, and Will Shuster, as well as lesser-known works by Jan Matulka and under-recognized artists such as William VerPlanck Birney, Richard Crisler, Katherine Levin Farrell, Arthur Musgrave, Polia Pillin, and Beulah Stevenson.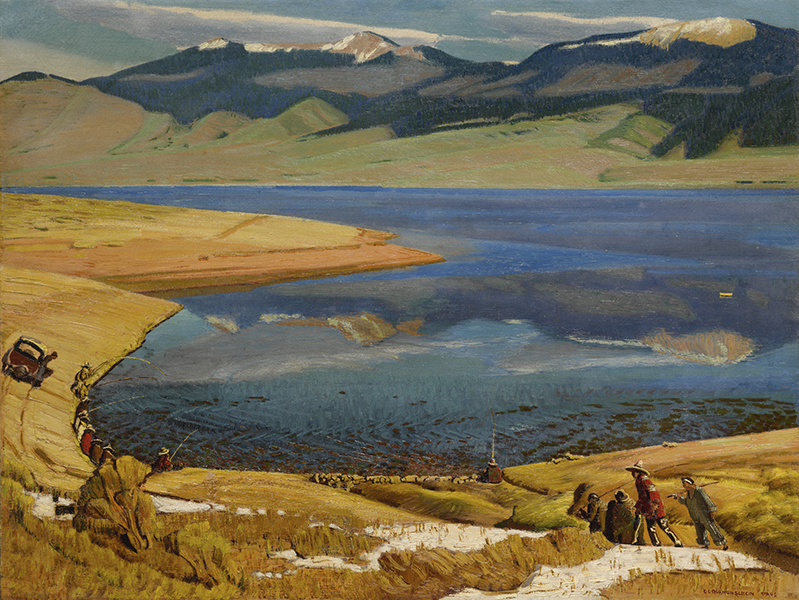 ERNEST L. BLUMENSCHEIN
Eagle Nest Lake, 1933
Oil on canvas, 28 ½ x 37 ¼ in.
Photography by James Hart Photography, Santa Fe, New Mexico.
Courtesy of Tia Collection, Santa Fe, New Mexico
"These artists lived and worked in Northern New Mexico during the 1920s and 1930s, when Santa Fe and Taos were among the most important national and international arts colonies," said Nicole Dial-Kay, Curator of Exhibitions and Collections for the Harwood.
The New Beginnings exhibition was developed by Laura Finlay Smith, Curator of the Tia Collection, and MaLin Wilson-Powell, author and independent curator. Smith served as the editor and project manager for the New Beginnings catalog and made the final decisions about which pieces to exhibit. Wilson-Powell conducted extensive research on the artists and their Taos and Santa Fe settings, which she used to write content for the exhibition. They worked together to find a structure for the exhibition that could include the work of diverse artists from different generations and settled on three sections: the seasons, New Mexico's mix of cultures, and work made in artists' studios. New Beginnings also emphasizes many artists who visited northern New Mexico or have not been included in other surveys of New Mexico 20th-century art.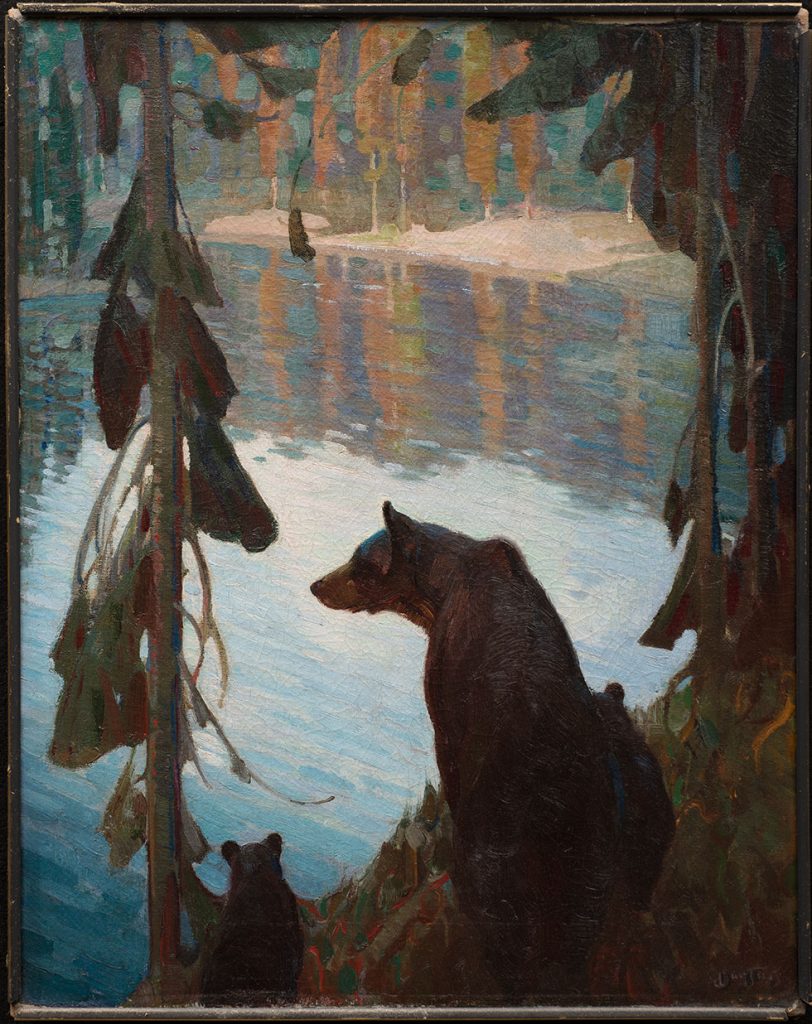 W. HERBERT DUNTON
The Mountain Mirror, circa 1930
Oil on canvas, 20 x 16 in.
Photography by James Hart Photography, Santa Fe, New Mexico
Courtesy of Tia Collection, Santa Fe, New Mexico
"Working hard to pull from the resources of Tia Collection meant including as many women artists, as well as lesser-known contemporaries of the more well-known members of both Santa Fe and Taos," said Smith. "In addition, the friendships and unknown connections between artists are explored adding further depth to the story.
"The breadth and inclusive nature of the Tia Collection's New Mexico artworks allows a fresh look at the prominence of northern New Mexico as a significant U.S. hub," said Wilson-Powell. "The simple structure of this exhibition revealed themes hidden in plain sight. For example, Taos landscapes usually included a figure while the more modernist Santa Fe-based painters featured the topography of the land. Taos Pueblo members were integrated into the lives of Taos artists and Taos artists' portraits were predominately of pueblo models while in Santa Fe most portraits were of Hispano subjects."
ALEXANDRE HOGUE
Across the Valley, 1929
Oil on canvas, 20 x 36 in.
Photography by James Hart Photography, Santa Fe, New Mexico
Courtesy of Tia Collection, Santa Fe, New Mexico
The Tia Collection's catalog for New Beginnings includes New Mexico-based Hispano artists like José Benito Ortega, José Rafael Aragón, and famed woodcarver Patriciño Barela. The Harwood showing of the exhibition will also feature historic pottery created by unknown artists from Santa Clara, Santo Domingo, San Ildefonso, and Ohkawy Owingeh Pueblos – pueblos that are represented in the painted works by the European-American artists.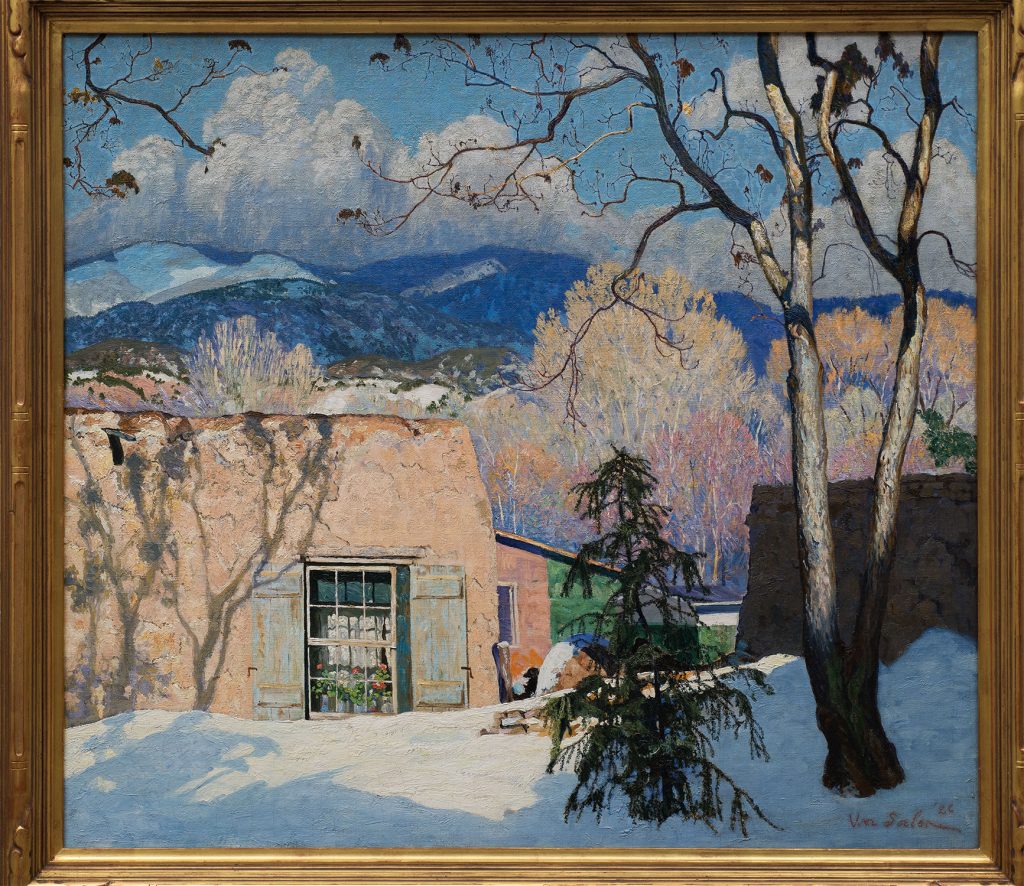 THEODORE VAN SOELEN
Adobe, Snow and Sunshine, 1926
Oil on canvas, 36 1/8 x 40 in.
Photography by James Hart Photography, Santa Fe, New Mexico
Courtesy of Tia Collection, Santa Fe, New Mexico
The Tia Collection of Santa Fe was created to share an individual collector's love for art across a variety of genres. As the collector has said: "At its heart, the Tia Collection is a global collection. It is a reflection of my travels and of my deep admiration for art of all genres and geographical origins. It is not a collection only for my appreciation — that would be far too confining. These are works that must be displayed for the world to see, admire, acknowledge, celebrate and are a testimony to the value of diverse cultures, histories and aesthetics." The collection is curated and administered by Laura Finlay Smith who works closely with the collector. The collection is diverse and includes artworks by contemporary Native American artists, historic Western American paintings and sculptures, as well as southeast Asian, French Impressionist, and Post-War/Modern and Contemporary masterworks. The Tia Collection has consistently supported the Harwood by loaning critical works for the museum's exhibitions. 
CARLOS VIERRA
Autumn Arroyo, circa 1928
Oil on canvas, 16 x 20 in.
Photography by James Hart Photography, Santa Fe, New Mexico
Courtesy of Tia Collection, Santa Fe, New Mexico
New Beginnings has been traveling since fall 2018. The exhibition first opened at Western Spirit: Scottsdale's Museum of the West in Scottsdale, Arizona. From there, it traveled to the Booth Western Art Museum in Cartersville, Georgia, Yellowstone Art Museum in Billings, Montana, and the National Cowboy & Western Heritage Museum in Oklahoma City, Oklahoma. After its Harwood exhibition, New Beginnings will travel to its final location at the Dayton Art Institute in Dayton, Ohio, where it will be on view from February 18, 2023, through May 21, 2023. 
The Harwood Museum of Art, is located near the historic Taos Plaza at 238 Ledoux Street, Taos. For more information, call (575) 758-9826 or visit harwoodmuseum.org. It is within easy walking distance from The Couse Foundation and Taos Art Museum, and many art galleries.
© 2022 Lenore Macdonald. All rights reserved.