The Lake Forest Shop Celebrates Its 100th Anniversary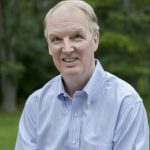 By David A. F. Sweet
As a young woman living in London and raising a growing family, Ellen Stirling never considered running The Lake Forest Shop, the clothing store launched by her paternal grandmother Margaret Baxter Foster in 1922 and operated by her mother Adair Foster beginning in 1949.
But when Stirling returned to Lake Forest with her husband Jim and their daughters in the 1980s, she found a business that was teetering so badly her father Volney – who focused on the shop's finances — was considering closing it.
"It pulled at his heartstrings," Stirling recalled. "He didn't want to let his mother down. I said to him, 'Do you want me to try to fix it?'"
About $500,000 in debt and weighed down by poorly performing stores outside of town, Stirling – who didn't possess a business background – learned quickly what a turnaround was all about.
"It was very challenging," recalled Stirling, who quickly closed the stores outside of Lake Forest to focus on the original shop. "I asked the vendors if we could pay them more slowly through a special program. They couldn't have been nicer."
Aside from that, Stirling revamped the selection and remodeled the store's interior. Five years later – amazingly enough, on her parents' 50th wedding anniversary – the loan from the Northern Trust was paid off.
"I called them on their 50th anniversary and said, 'Guess what? You don't have to worry anymore,'" Stirling recalled. "My goal is to always remain debt free."
This year, The Lake Forest Shop celebrates its 100th anniversary, which will be capped by a party at the store on Sept. 15. Wearing a blouse designed by Algo Switzerland – who outfits the Queen of England and Princess Kate, among others – Stirling discussed the venerable history of the store, which has existed in the same spot in Market Square since its founding while adding space to the east.
Stirling never met her grandmother Margaret Baxter Foster, known as a consummate shopper. She especially enjoyed traveling via ocean liner to Paris to visit Coco Chanel and buy as much as she could from her store.
"They had a fabulous relationship," Stirling recalled. "When she came back from one trip, she couldn't fit everything into her closets. She thought, 'If Coco Chanel can do this, I can do it.' With the tags still on the clothes, she opened the The Lake Forest Sports Shop."
Thus was born a new women's clothing store in Lake Forest. Foster championed a more casual look for females, one that even showed their legs. As the Lake Forester described it, the store sold women's sportswear such as long tennis dresses and bathing dresses as well as trousers and blouses.
"Women were dressed conservatively back then," Stirling noted. "They wore corsets that tied you in. My grandmother said, 'Those go in the wastebasket.'"
The store's original name containing the word sports reflected the tennis outfits and other more relaxed clothing it sold. But by the time Stirling took over, the word sports had outworn any usefulness, especially since the shop didn't sell sportswear.
"On a freezing-cold Christmas Eve, a man walked in with a bowling ball bag and asked where the bowling balls were," Stirling recalled. "Then it became crystal clear; the word sports had to be removed. We instantly became The Lake Forest Shop."
Take a stroll down the south side of Market Square, and three out of five shops are clothing stores, including two national names: Talbots (started by Stirling's aunt in 1947) and J.McLaughlin. Sara Campbell is only a block away. How does the Lake Forest Shop survive amid such close competition?
"No. 1, we want to make sure that our shoppers feel happy and are looked after," said Stirling, who noted her store used to carry J.McLaughlin and Sara Campbell clothing. "No. 2, we can customize almost anything, whether it is an Herno jacket from Italy or a handmade Lourdes Chavez dress from California."
Dresses are the main attraction inside the store, which features black-and-white photos of early employees along with one photo of a man: publisher Conde Nast, Stirling's uncle. Nast was owner and publisher of Vogue magazine, and his influence extended to the shop.
Local non-profits benefit from The Lake Forest Shop's success. About 15 years ago, Stirling started Shop Your Cause, where a percentage of shoppers' purchases every October are delivered to a charity of their choice.
"We want to bring attention to organizations that are the heart and soul of our communities," explained Stirling, who lives on Green Bay Road in a house near where she grew up. "We hope to make a difference to their bottom line."
Given that her three daughters — Leslie, Ginevra and Aleca – have forged successful careers of their own, it's uncertain who may run the Lake Forest Shop next. But looking back at the unexpected turn her life took 36 years ago, Stirling is certainly happy she has.
"I feel blessed because of this wonderful community," she said. "I enjoy the amazing customers we have and the incredibly talented women I work with. We're constantly talking about how to improve the shop while sharing new ideas."
Sounds like a shop that will flourish for another 100 years.
Unsung Gems Columnist David A. F. Sweet is the author of Three Seconds in Munich. He can be reached at dafsweet@aol.com.