Glamorous and Creative

By Megan McKinney
Credit: Victor Skebneski
The glamorous Nancy Florsheim Goldberg.
Florsheim women were extraordinarily creative; Irving's spectacular wife, Lillian, was both a painter and a sculptor. And the first Mrs.  Harold Florsheim was Claire Block, who would later become fiber artist Claire Zeisler. Claire's monumental textile sculptures, created from knotted and braided threads, found their way into important collections and major museums.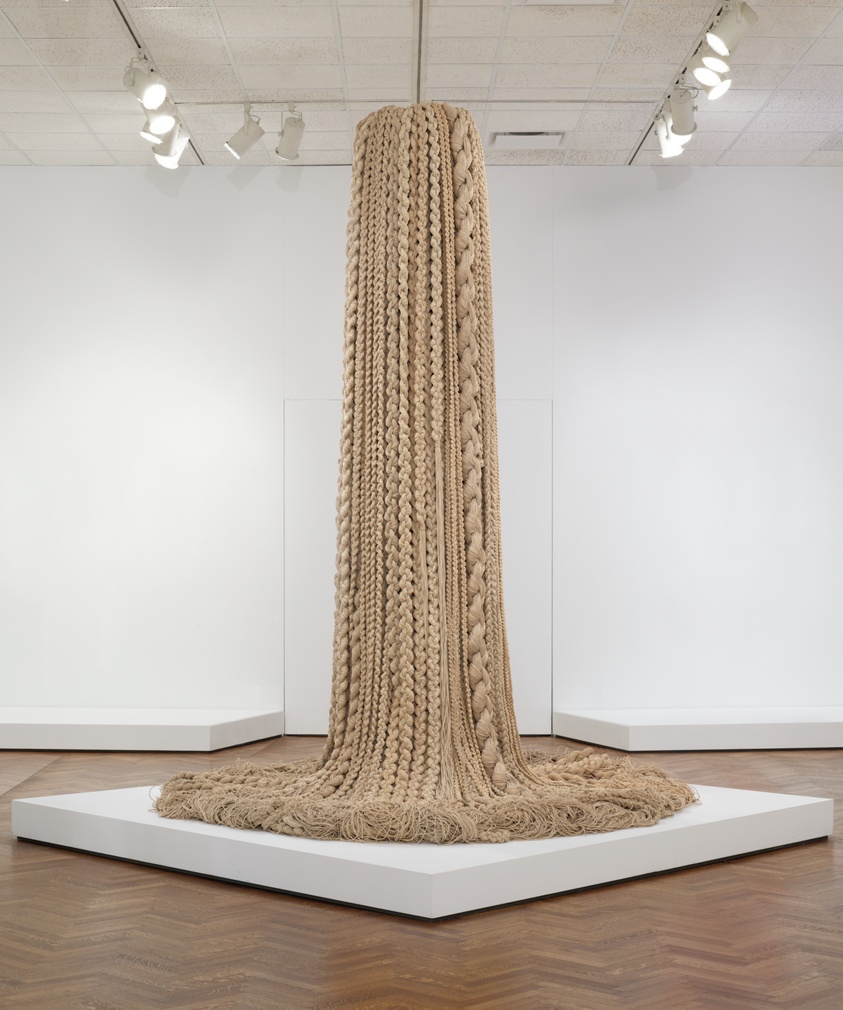 Private Affair I, created in 1986, is one of several Claire Zeisler fiber sculptures acquired by The Art Institute of Chicago.  In addition, she collected major artists of her time, including Paul Klee, Joan Miró, Henry Moore, and Pablo Picasso. After her mid-1940s divorce from Harold, she married physician and author Ernest Bloomfield Zeisler.
In 1946, Harold married Sarabel Browarsky. Known to friends as Sue, she was a handsome, flamboyant woman, who also collected impressive art, including works by Claude Monet, Georges Braque, Edgar Degas and Henri Matisse, courtesy of Harold's indulgence and expanding personal funds. The paintings were simply a portion of the possessions the couple accumulated on frequent trips abroad. Sue had lined up an international collection of dealers who well knew her tastes in art, antiques and fine old porcelain.
Abandoned by her parents at 12, Sue was raised by a Pittsburgh aunt, who schooled her in antiques, as well as couture fashion, and escorted the girl on regular New York shopping excursions.
Claude Monet's La Route De Vétheuil was the star of Sue Florsheim's art collection.
As Mrs. Florsheim, Sue became active in Chicago fundraising activities, co-chairing the first Crystal Ball to benefit medical research at Michael Reese Hospital in 1959. She also supported the Ravinia Festival and Hubbard Street Dance Chicago. Following her husband's 1987 death, Sue continued to be socially active in both Chicago and during winters in Palm Springs. When she died in 2004 at 91, her collections were auctioned by Sotheby's in various cities in nine separate sales over a six-month period.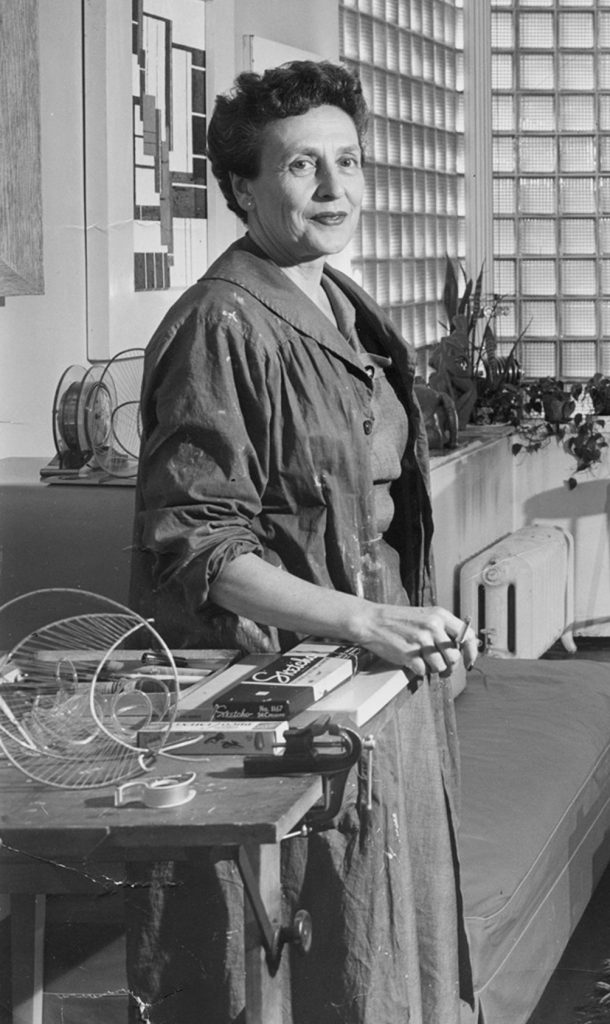 Lillian Hyman Florsheim
When Harold's brother, Irving, married New Orleans native and Smith College graduate Lillian Hyman in 1918, he was getting quite a package. She was almost immediately known by "everyone" and greatly loved and respected in the more than 70 years during which Chicago would be her home. Furthermore, her pieces of sculpture, like those of her brother-in-law Harold's first wife, Claire, were represented in important private collections as well as in The Art Institute.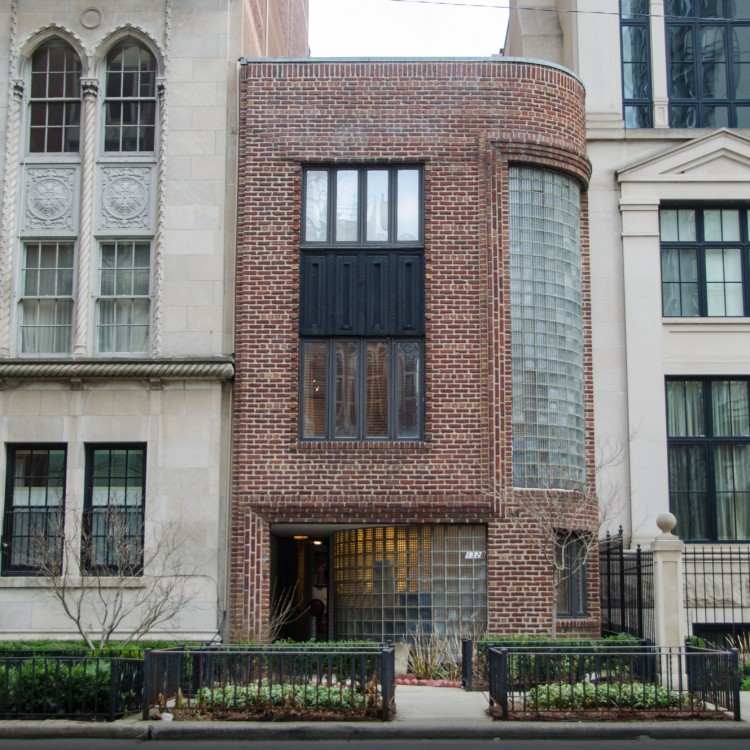 In 1946, Lillian—no longer married to Irving—bought one of the Chicago Gold Coast's most interesting and delightful houses. Designed by architect Andrew Rebori in 1938, in his totally original style, the North State Parkway house had been constructed for Rebori's own use, with a coach house behind it for his son.
Bertrand "Bud" Goldberg
Mrs. Florsheim commissioned her son-in-law, architect Bertrand Goldberg, to join the two houses at the second-floor level. Goldberg, as unique in his own architectural style as Rebori was in his, created a galley kitchen to link the two.
Lillian's sleek kitchen was long, narrow and suspended on the second level…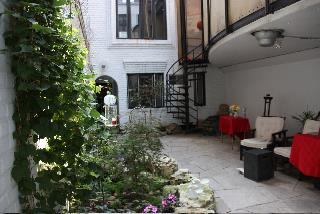 to make room for the garden below that separated the two houses.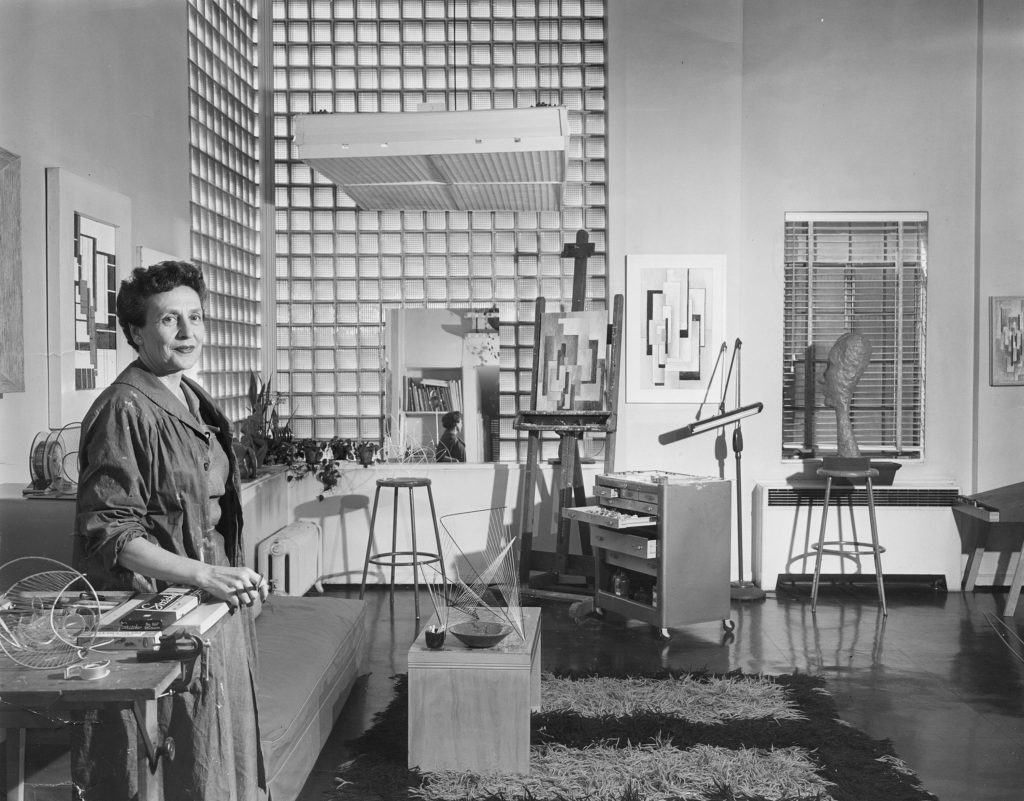 This was Lillian's soaring studio, in which she created the sculptures. Pump Room orchestra leader Stanley Paul, who hobnobbed with some of the most recognizable names of the era nationally, remembers  "I spent some wonderful times with Lillian Florsheim, who was probably one of most elegant ladies I ever met. Everything about her was so chic. She was driven around town in a vintage deep red Bentley by her driver, whose name was Lance. About 50 years ago, I was at several wonderful gatherings at her most interesting home on State Parkway, with the likes of Douglas Fairbanks Jr. "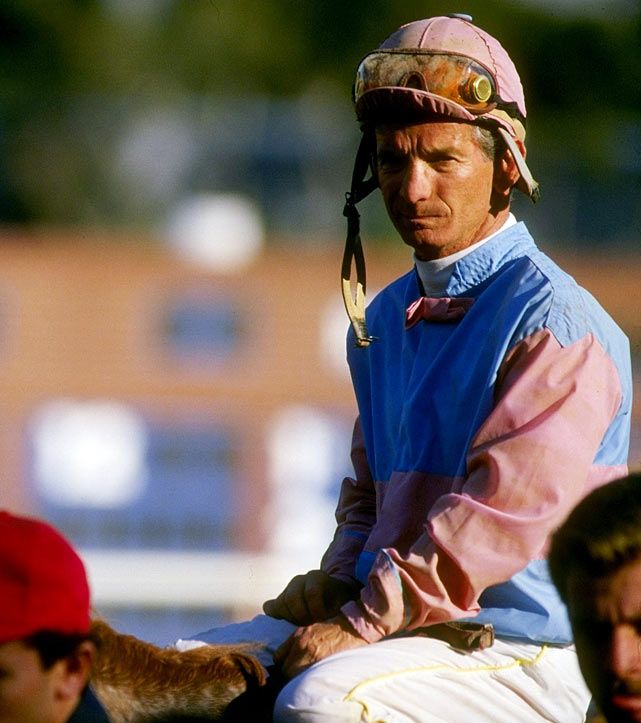 Willie Shoemaker
The older of Lillian and Irving Florsheim's two daughters, Mary Elizabeth, was a noted figure in thoroughbred racing. Like her sister, Nancy, she had become a horsewoman naturally while growing up at her father's Red Top Farm in exurban Libertyville. Then, in 1951, she moved to Los Angeles and began working with two legendary equestrian figures, trainer Charlie Whittingham and jockey Bill Shoemaker.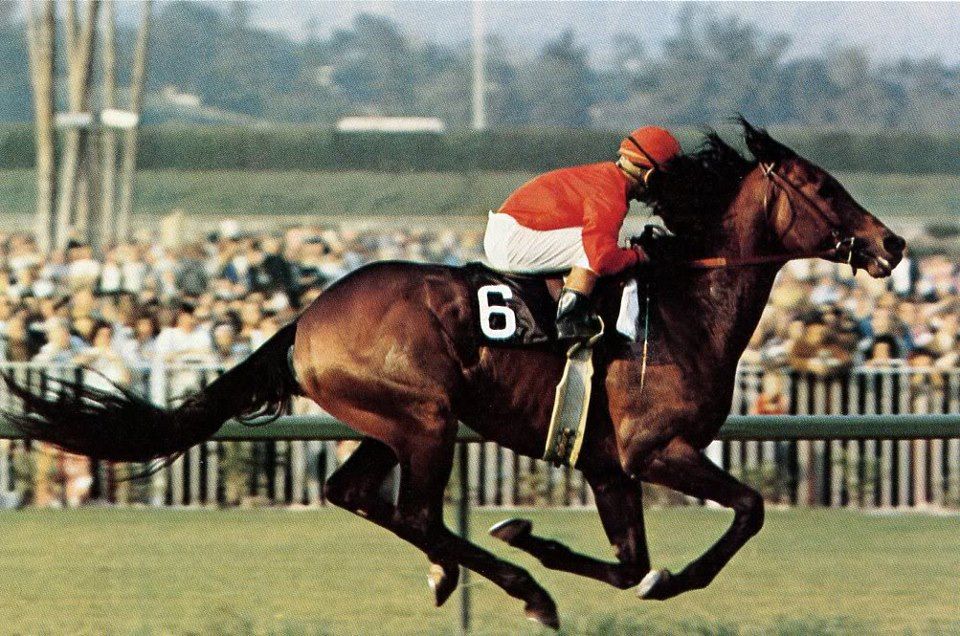 By the 1970s and 80s, she owned several extraordinary racehorses. The best-known of these, Cougar II, was winner of the Eclipse Award in 1972 and the Santa Anita Handicap in 1973; he was inducted into the National Thoroughbred Racing Hall of Fame in 2006.
Mary lived in a prestigious Astor Street apartment building and collected husbands. Among them were Robert Boyd Picking in 1948 and Robert Earl Bradley in 1971, with Robert K. Schwab in between.
She was also married for a time to actor-singer  Allan Jones, with her above.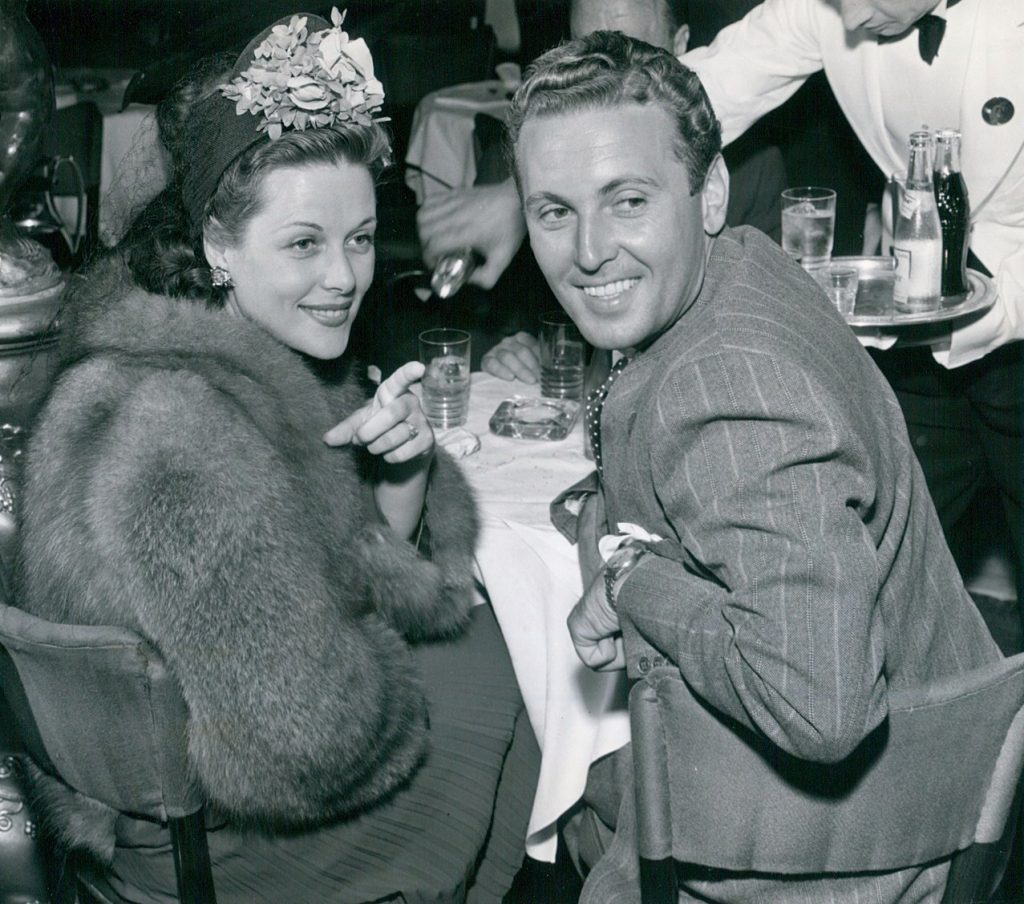 Allan and Hollywood actress Irene Hervey had been a well-known married couple for two decades when he divorced  Irene to wed Mary.
Allan Jones and Irene Hervey, above left, were parents of singer Jack Jones, pictured here with his wife Jill St. John.
Mary was 90 when she died February 5, 2010, at her home in Rancho Santa Fe, California. She was buried in Los Angeles next to her final husband, Robert Bradley.
There was another, important, Florsheim woman, Nancy Florsheim Goldberg. Classic Chicago will cover Nancy and her husband, architect Bertrand Goldberg in the next segment of our series on The Florsheims.
Edited by Amanda K. O'Brien
Author Photo: Robert F. Carl