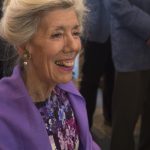 BY JUDY CARMACK BROSS
Not to be topped by Abraham Lincoln's own top hat, which resides at the Chicago History Museum, choristers of the Great Lake Dredge & Philharmonic Society donned their signature stovepipe hats and holiday scarves recently to perform for guests of the Guild at the museum. Their bonhomie and repertoire of holiday cheer—carols, medleys, children's favorites, and a few drinking songs—have made the Dredge sold-out successes across Chicago this season.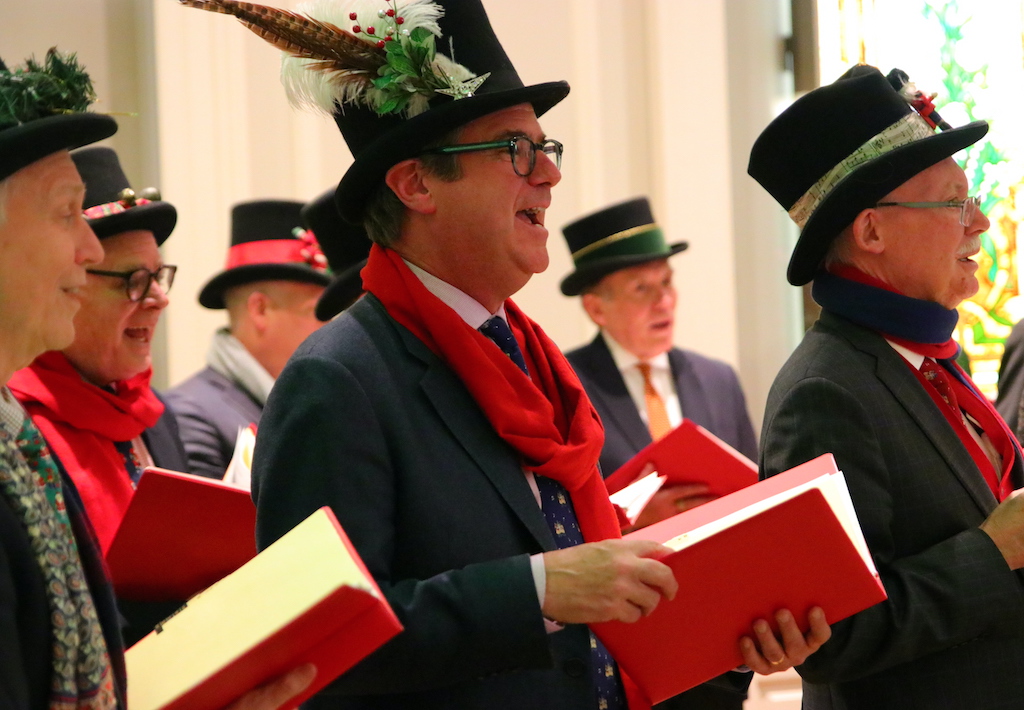 In her welcoming remarks, Guild President Lawrie Weed recalled being a six-year-old, bundled up warmly by her parents, to hear the Dredgers sing in Astor Street's Goudy Park. Through the years the Dredge, now with 75 members, has expanded repertoire and locations, from caroling outside Gold Coast homes to performing at hospitals, cultural institutions, senior facilities, and children's wards. Several singers are now non-residents but return to Chicago each holiday season to perform. Musical Director Dan Robinson and accompanist Roger Stanley, author of many of their marvelous medleys, make the rehearsals, beginning each October, count.
Managing Director Jim Dickerson, a member for almost 50 years, shares a little of the Dredge's history: "The Great Lakes Dredge & Philharmonic Society was founded by eight gentlemen in 1934 as a men's chorus devoted to Christmas music. Architects John Root, Walter Frazier, Noel Flint and John Cromelin, stock broker Paget Cady, real estate executives Louis Sudler and John Winterbotham, and retail great Earl Kribben met over a meal at The Tavern Club in Chicago to find a way to brighten the dark days of the Great Depression."
It was serendipity that the group looked out on Lake Michigan and saw a ship with Great Lake Dredge painted on its side as they debated on what to call the group.  "Obviously, 2020 was hard for everyone," Dickerson says. "The Dredge had no rehearsals, and we had to cancel all our performances. However, about 25 of our members, with our Director Dan Robinson, agreed to gather on the evening of December 22 to sing on the street in the neighborhood on the Near North Side. Beginning on the steps of St. Chrysostom's Church, the Dredge stopped at a number of locations to the delight of residents and many pedestrians, bringing Christmas cheer and continuing its annual Christmas mission.
"In 2021 the members gathered in early October for the weekly rehearsals with masks and vaccinations. The joy of fellowship after almost two years was felt by all. Preparing for eight performances in December was heartfelt, and rehearsals were enthusiastic and productive. More importantly, every audience was delighted to have the Dredge return after two years. Two new venues were overjoyed with their first time with the Great Lakes Dredge & Philharmonic Society," explains Dickerson
Guild greeters Susie Stein and Connie Barkley kicked off the holiday spirit, and Barkley and the committee's festive trimmed lanterns spread joy around the museum. CHM's very own Dredge Night reflected the bright leadership of the museum's Nell McKeown.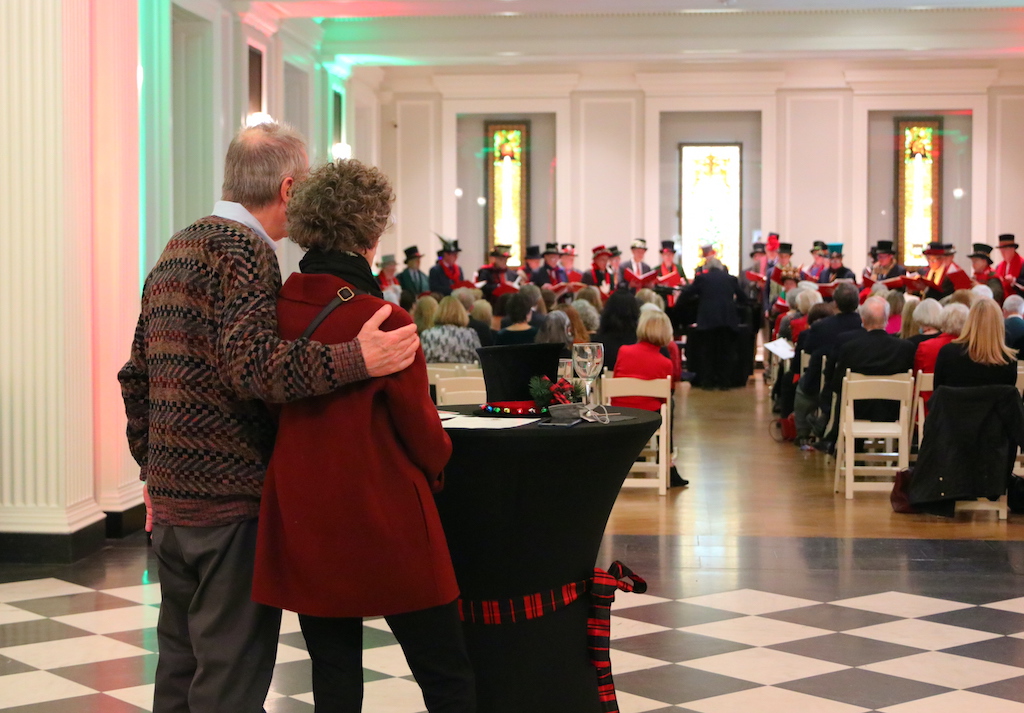 The evening's co-chair, Jill Kirke, received congratulations from Dredgers and guests alike for the top hat centerpieces she created, wired with blinking lights.
We think Abraham Lincoln would have loved it.
To learn more about the Chicago History Museum and its programming, visit chicagohistory.org.
Photo credit: Lane Steffke of the Purple Photo Group.