By Elizabeth Dunlop Richter
Two photographs in his office neatly bookend Chef Pierre Zimmerman's baking career. One shows him on a bicycle with baskets piled high with loaves of fresh bread. The second depicts Zimmerman, his wife Michèle, and Chef Dominique Tougne (owner, Chez Moi) on a motorcycle, adorned with a miche (a large round French loaf made with whole wheat flour and a sourdough starter) sporting the La Fournette logo prominently on its crust. His life in the "Old World" and his life in the "New World" couldn't be more dramatically represented!
| | |
| --- | --- |
| Pierre Zimmerman | (L to R) Pierre and Michèle Zimmerman,Dominique Tougne |
Zimmerman explains that the bicycle photo was taken for a magazine cover; whether or not he was personally making a delivery on the bike, it certainly represents his heritage as a fourthgeneration baker in Alsace, the historic eastern region of France along the Rhine River, once part of Germany. Now owner of the La Fournette bakery on Wells Street, he's a proud member of Chicago's culinary "Alsatian Mafia" introduced in a previous article (https://www.classicchicagomagazine.com/the-alsatian-connection/). He's the creator of the logo, incorporating the Strasbourg cathedral in the Chicago Skyline, and printed on coasters and T-shirts. He explains, "it was just a way to say we are not that many, but we stand together as brothers; we are proud to be Alsatians, but we adapt ourselves to the situation."
Zimmerman notes that traditionally, the husband baked, and the wife sold the bread in the shop. The family follows that pattern today at La Fournette, with Michèle on site at Wells Street but that's about the only part of the operation that follows a traditional pattern, as I would learn in a tour of his production kitchen on Chicago's west side. For two generations, Zimmerman's great grandfather and grandfather maintained a small bakery in a town near Strasbourg. His father realized there were many nearby villages with no baker and expanded his delivery area to serve them. Zimmerman took over the company in 1996; the business grew to 15 bakers. "It was very uncommon but a way for our customers to buy local," he remembered.
| | | |
| --- | --- | --- |
| | Michèle and Pierre Zimmerman | |
As a baker-in-training, Zimmerman would make a connection that would later change the trajectory of his career. "As I started my apprenticeship in Strasbourg in a pastry shop, (Jacquy Pfeiffer) was a young pastry chef and in charge of me the first week…I was 15 years old, and he was 17." Many years later, Pfeiffer would open the French Pastry School in Chicago. "In 1996 I was competing in the Coupe du Monde de la Boulangerie (World Cup of Baking) on the French baking team," Zimmerman said. "At the same time, he [Pfeiffer] was on an American team [in the chocolate competition]." Pfeiffer's team won the chocolate title; Zimmerman's won the baking title. The newspapers listed the winners. "[Jacquy] called me and said 'Are you the guy who won the baking prize?… I'm opening a pastry school in Chicago, and we need some help in the breakfast pastry and bread section." Zimmerman would come to Chicago a couple of times a year for the next ten years to teach. During those trips, he would have dinner at Bistro 110, getting to know fellow Alsatian chef Dominique Tougne in his years before the latter opened Chez Moi. The two became close friends who would later support each other's businesses.
At the French Pastry School, Pfeiffer and Zimmerman often talked about new projects. "The bread in Chicago is terrible, there is definitely something to do," they strategized. After a family trip to the US, Zimmerman and Michèle made a fateful decision. "Both of us turned 45…If we don't do it [now], we'll never do it…everybody was super excited." It took two years to make the fateful move to Chicago.
"It was a huge risk. We decided to close a company that was successful for generations with no problems…it wasn't exciting enough anymore. We moved in 2010. I taught full time at the French Pastry School while we were working on the project…the branding, finding the location, finding the place to produce. We opened in 2012."
Those two years gave the Zimmermans a chance to adapt to life in America. "The biggest challenge when you are so far from home is to understand the city…to see what people are expecting. In France, 90% of the bakeries are grab and go, it's bread, breakfast pastries period, no coffee, no other products… That would not work here. Sales of pure bread are much less important than in France. Starbucks almost does not exist in France because people do their coffee at home."
Zimmerman learned that Americans have very different buying habits. "In France, people buy bread two times a day. They buy a freshly made baguette or croissant in the morning and then in the afternoon when they go home, they stop to buy a freshly baked baguette for dinner. Here people think bread stays fresh on the counter for an entire week!"
Travelers to France often comment on how much better the bread is there, attributing it to the flour and the water. Zimmerman found access to artisan flour less challenging than he expected. He remembered his grandfather's advice, "if you don't understand the name of the ingredient, forget it. It will kill you slowly." He sought flour without potassium bromate which enables companies to make bread with longer shelf life. Now, artisan flour is more easily available, although finding a consistent local supply proved challenging
"Our plan was to work with local farmers and millers. But we're not there yet." He uses King Arthur flour, which guarantees the quality and quantity Zimmerman requires. "We try first to work with our neighbors, even our packaging, printed right next door… Less than 5% of our products are imported." Zimmerman uses American butter, the Plugra brand, whose name in French means "more fat." It's 82% fat content is higher than most American butters at 80% fat. He is also happy to use Chicago's Lake Michigan water.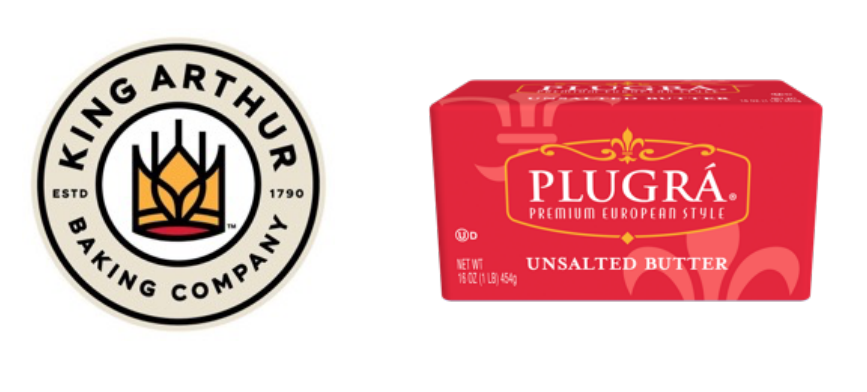 Celebrating the bakery's tenth anniversary this year, Zimmerman also wants to show his customers how proud he is to be American. He and his family became American citizens last December. He'll take a traditional Alsatian tarte flambee and make it with pumpkin for Halloween. He also promotes his love of Chicago, "Let's say the Chicago Bulls go to the playoffs, the logo of the Chicago Bulls will be on our miche…it's our city, you know, we're proud of it." Irish whiskey finds its way into his macarons for St. Patrick's Day. "This is what we call integration."
Chefs Tougne and Zimmerman were on the same timetable as each prepared to open their own businesses, but Tougne planned to open before Zimmerman's production bakery was completed. He promised to sell only Zimmerman's miche in his new restaurant, Chez Moi. Zimmerman solved the timing problem: "We started to bake his bread at the French Bakery School…in the afternoon when there was no class…Dominique has our first invoice #001." Tougne also helped train Zimmerman's team in making soup and other savories to round out the bakery's breakfast and lunch menu.
Discovering that real estate values precluded locating his production kitchen on Wells Street, Zimmerman set up his bakers on West Lake Street. Zimmerman's two sons are following their parents into the family business. Luc assists Michèle at La Fournette, while Nicolas oversees the production facility.
Setting up the production kitchen required a major financial investment. Zimmerman is continually upgrading his equipment to maximize his output. A Fermentolevain, a machine which enables control of the sour dough fermentation process, costs upwards of $10,000 – $15,000. An investment of nearly $2 million was necessary to open the facility.
During the pandemic, La Fournette started making more Alsatian products. In addition to the tarte flambee, they often offer beer bread and kouglopf..a pastry baked in a Bundt pan type mold, similar to a French brioche. Antique kouglopf molds, made for over 300 years in one Alsatian village, decorate the baking racks at La Fournette.
Early into their new venture, Zimmerman briefly opened a second location further north on Clark Street but determined quickly it was too close to the Wells Street bakery and closed it. What took off quickly was the wholesale business. Right now, only 25% of sales are from the retail location. They deliver every day (except 4 holidays a year) to hotels and grocery stores, including Whole Foods, the Plum Market and some 30 restaurants.
Zimmerman and his fellow baking colleagues believe in encouraging young bakers to learn the trade. He is a co-founder of the Intergalactic Baking Federation, dedicated to teaching baking skills to the next generation. In 2017, the organization worked with After School Matters to inspire Chicago high school students to consider a baking career. This year, with student interaction limited by Covid, the federation sent funds to a Ugandan refugee camp to buy cooking equipment. They hope to reconnect with Chicago high school students in 2023.
Zimmerman stresses his appreciation of his customers and his community. "I'm very thankful to Chicagoans. The way they accepted us as part the community was absolutely wonderful. Starting day one, there were almost daily customers." Enthusiastic, energetic, and dedicated, Zimmerman retains his sense of humor. "I can truly say we are the best Alsatian bakery in Chicago because we are the only one!" His customers thank him!