How a John Wooden Disciple and Three-Time National Champion Ended Up Coaching at a North Shore Private School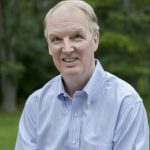 By David A. F. Sweet
Larry Farmer won three NCAA national basketball championships as a forward with UCLA in the 1970s, teams coached by the legendary John Wooden. Farmer eventually ran the Bruin program before becoming the head man at Loyola Chicago and Weber State during a 44-year coaching career.
So is that really Farmer urging high-school players to "get wide!" during fast breaks and later fist-bumping them while running varsity practice in the gym at Woodlands Academy, a private girls' school of about 150 in Lake Forest?
"I've always wanted to be a high-school basketball coach," said Farmer, dressed in a dark sweatshirt and white Adidas. "You can impact them in so many ways."
Farmer retired frw years ago and enjoyed not doing anything, which surprised the man who was a basketball lifer. Once Covid relented, though, the Gurnee resident was restless.
Farmer applied via the Internet for the Woodlands position and others. After seeing his resume, the hiring crew at Woodlands assumed it must be some kind of prank. But they were the first school to call Farmer.
"I thought that was a good sign," Farmer said.
At 73, Farmer is highly engaged in practice, mixing a focus on fundamentals with a friendly manner and occasional teasing. After announcing a one-handed shooting drill, the young women dutifully move to one of the eight baskets in the gym. After, as they gather near him, Farmer acts incredulous.
"We've got a ninth-grader here with her ear buds in during practice — my goodness gracious!" said Farmer, using part of a famous Wooden phrase ("goodness gracious sakes alive!") about a technology Wooden never had to encounter.
Farmer misses shots on purpose so one of the three players can grab the rebound and start a fast break. But then he sinks a shot.
"He's hot, he's hot, he's hot!" yelled the first-year coach.
Already feeling Farmer's impact is junior forward Greer Talty.
"Knowing that this is a once-in-a-lifetime opportunity, I am cherishing every moment and taking in every piece of advice he has to offer," she said. "Coach Farmer is the most patient person I have met. He takes the time to critique the small things no matter how long it takes. A quote that he uses a lot is, 'The little things make the big things happen.'"
"I teach the fundamentals," Farmer said. "You name the sport, and when you break it down to the basics, it's learning the fundamentals. If I'm trying to improve someone's left-handed dribble in practice, and during a game she can keep her head up while doing it, that's a big step."
As a boy in Denver, Farmer was fast and thought he'd make the Olympics in track. Then he wanted to be a football player "like Gale Sayers — who wouldn't?" But he was getting taller while his peers were getting wider. And a football injury ended any hopes.
Amazingly, he didn't play organized basketball until sophomore year in high school. He loved his sophomore team coach, Julie Yearling, but barely got to play unless the squad was up 20 points or down 20 at the end of the game. He didn't even tell his parents about making the team, embarrassed by the idea they'd show up and he wouldn't play.
As the season's conclusion neared, he was ready to quit. But then the junior-varsity team grabbed four sophomores from Farmer's team, leaving his squad with only eight players for a game.
"By the grace of the good Lord, I took three shots that game, and they all went in," Farmer recalled. Afterward, his coach came to his locker and said if he worked hard all summer, he could make the junior-varsity team.
"It motivated me," said Farmer, who played pickup basketball all summer — including with players much older.
After being promoted to the varsity from the junior-varsity team that winter, he sent UCLA and about two dozen other schools his transcript and a game film. The Los Angeles university needed a forward. Sitting in a high-school class, a voice over the intercom announced Farmer was wanted in the principal's office.
"I thought I was in trouble," Farmer said. "But they said UCLA had called, and they were interested."
Farmer had only watched Wooden's championship-winning team once — during the 1968 Game of the Century against Houston in the Astrodome, which Lew Alcindor and the Bruins lost in the first college basketball game broadcast across the country in prime time.
"I was so invested that I felt that loss with them," said Farmer, who was on the sophomore team at the time and had never been outside of Colorado. Still, "I told my parents that was where I was going to school."
As a 6-foot-5 starter, Farmer's teams at UCLA finished 89-1 — the greatest winning percentage for a player in NCAA history. It's not even tied with any teammates, because none of his fellow players on his freshman UCLA team joined the varsity when Farmer did.
And that loss? It occurred during UCLA's never-to-be-broken 88-game winning streak, a 71-70 upset at Notre Dame in 1973. Bill Walton, Farmer's teammate, once wrote, "The losses are what you remember. We could have, should have won them all, and we didn't get it done. And when you're in that position, it's the worst feeling in the world."
Farmer remembered the stunning result almost 50 years later (it was such a big deal that the public-address announcer at the Chicago Blackhawks' game I was attending announced it to the crowd).
"John Wooden came into the locker-room. He didn't yell," Farmer said. "The two words I remember distinctly are bellyaching and licked. He said, 'I don't want any bellyaching. We got licked. Take your showers and get out of here.'"
Farmer served as a UCLA graduate assistant during the 1973-74 season after being cut by the Cleveland Cavaliers. Wooden had kept the position open for him just in case an NBA career did not work out.
"I didn't have an office and I had to change clothes in the visitors' locker room, but I got to see Coach Wooden in an entirely different perspective," Farmer said. "As a player, I wanted to shoot the ball and not have Bill Walton or Jamaal Wilkes shoot it. Are you kidding me?" he laughed about two college and NBA greats who, of course, deserved to shoot.
When he retired in 1975, Wooden's shoes were nearly impossible to fill after he captured 10 NCAA titles in 12 years. Three coaches, under tremendous pressure to match his accomplishments, lasted two years apiece despite excellent records; Farmer was an assistant for all of them.
Then, it was his turn; he was tapped for the most prestigious job in college basketball at age 30. Who had to approve it? Wooden.
"It changed my life that he thought I could be a coach," said Farmer, who guided the Bruins to a 61-23 record in four seasons.
And speaking of a life changed, for the first time since the Ford Administration, Farmer enjoyed a 10-day break from work during Thanksgiving, a time when college teams usually head to the Bahamas or elsewhere for tournaments. The break, though, may have been too long; when Woodlands visited Lake Forest Academy afterwards, the Wildcats were crushed by the Caxys. But Farmer was optimistic.
"The girls were down because we didn't play well, but they tried — and they'll realize later on how important that is."
The Sporting Life columnist David A. F. Sweet is the author of Three Seconds in Munich and Lamar Hunt. He can be reached at dafsweet@aol.com.