Pashminas, Scarves, Stoles, Cravats
By Jill Lowe
That Audrey Hepburn look is easy to come by for many. Are you one of those?
Or are you among the others for whom when consulting the 101 Ways to Tie a Scarf wish there had been 102 ways?
If in the latter category, why bother attempting scarves? Well, it is worthwhile striving because neckwear has a purpose not only for fashion but for cultural significance, warmth in winter and protection from the sun in warmer climes. Furthermore it is likely that a wardrobe of neckwear is already in your closet thanks to the clever merchandising of gift stores attached to museums, and foreign hotels.
Winter is here, and you'd be hard pressed to go outside without a scarf, but where and how did this garment originate?
We are told that early origins of scarves date back to various civilizations. In 1350 bc, in Ancient Egypt, Queen Nefertiti is said to have worn a tightly-woven headscarf between her scalp and her flat topped jewelled headpiece.
Then we see scarves being used by men doing manual labor or Bedouin men using a head scarf.
The Cravat emerged as an alternative to a tie for men.
The decorative scarf of cotton, silk, wool or cashmere saw companies in Paisley, Scotland, Hermés in Paris, Liberty of London, Andraab in Kashmir offer us their amazing and highly prized items.
Religious use saw many Christian women with head coverings.
Orthodox Jewish women wear a Mitpahat, and the hijab is common amongst Muslim women and girls. Sikhs used scarves before the turban was adopted.
Companies as Chanel, Burberry and Alexander McQueen have given us much variety of use for such an humble stretch of fabric.
Since inventing the first graphic silk scarf in 1837, Hermès has become synonymous with the art of silk dyeing. A simple silk scarf is arguably the most versatile, expressive, and perennially-chic accessory one could own. Infinite possibilities exist around how to don this staple piece of neckwear, so here is the basic essential for every scarf lover to master: the Pli de Base.
First, lay your scarf flat so that a corner points toward you. Fold the top corner two-thirds of the way down the scarf. Then fold the bottom corner two-thirds of the way up the scarf so that the corner lays atop the folded edge. The scarf should look symmetrically folded in thirds.
Fold the top half of the scarf toward the center, and then the bottom half toward the center. Then, simply fold the top half on top of the bottom half to complete the Pli de Base. The link to ten classic Hermés ties are included in the notes.
Scarves or cotton wraps can be used for sun protection for babies, faces, necks and arms. Too, frothy chiffon stoles are often used in evening wear and weddings.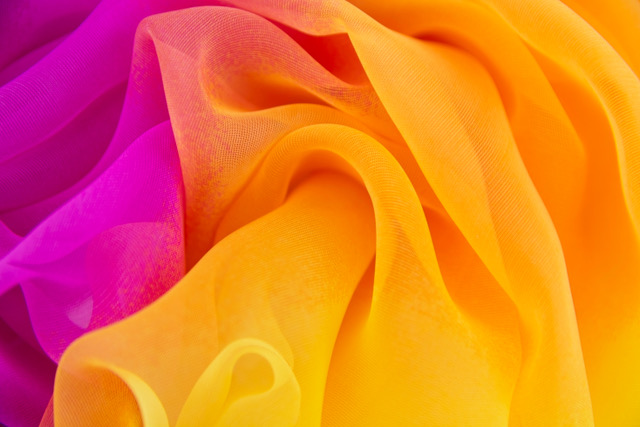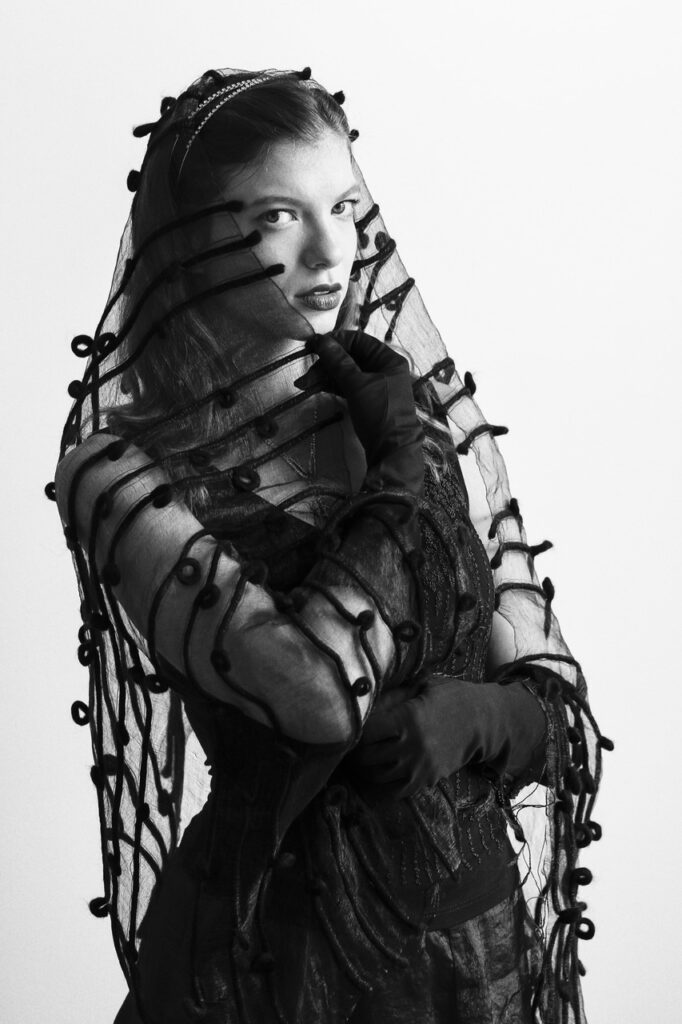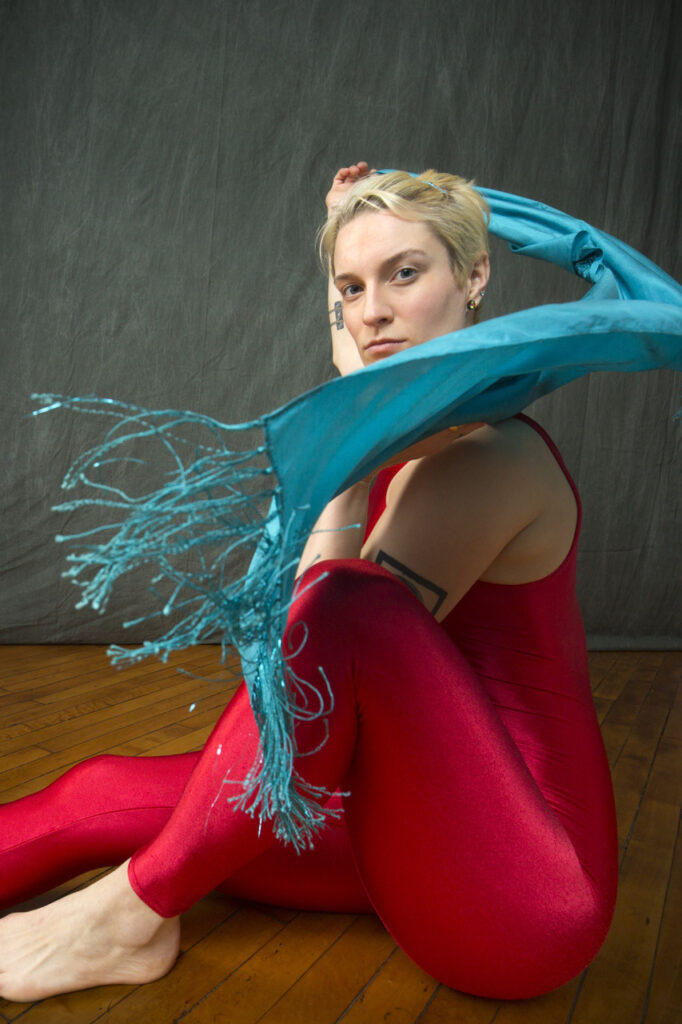 "Just throw on a scarf" they say.
But do secure the ends so they do not get caught in gusts of wind, and fly up to obscure vision or smear whatever makeup is on one's face!
You will be warm with a furry scarf
Scarves can be used to highlight an interest in certain pastimes or objects.
Equestrian scarves are always popular.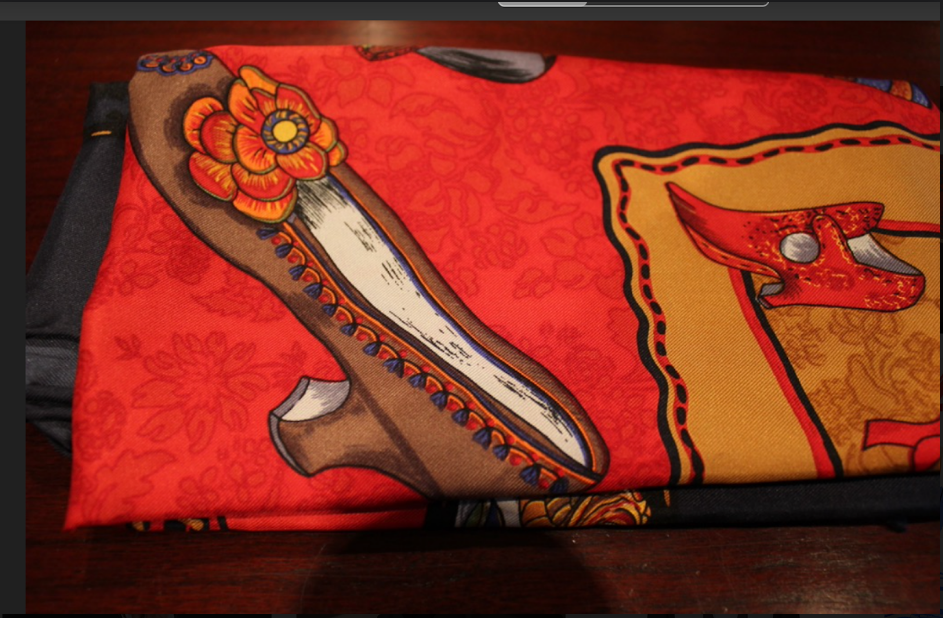 Or depiction of shoes.
How about illuminating the ceiling of the dramatic Rice Grand Foyer of Chicago's Lyric Opera?
Eyeglass and glove motifs from Cornelia James
For the men
The cozy winter scarf can be tied in a myriad of ways:- over the coat, under the coat or sweater.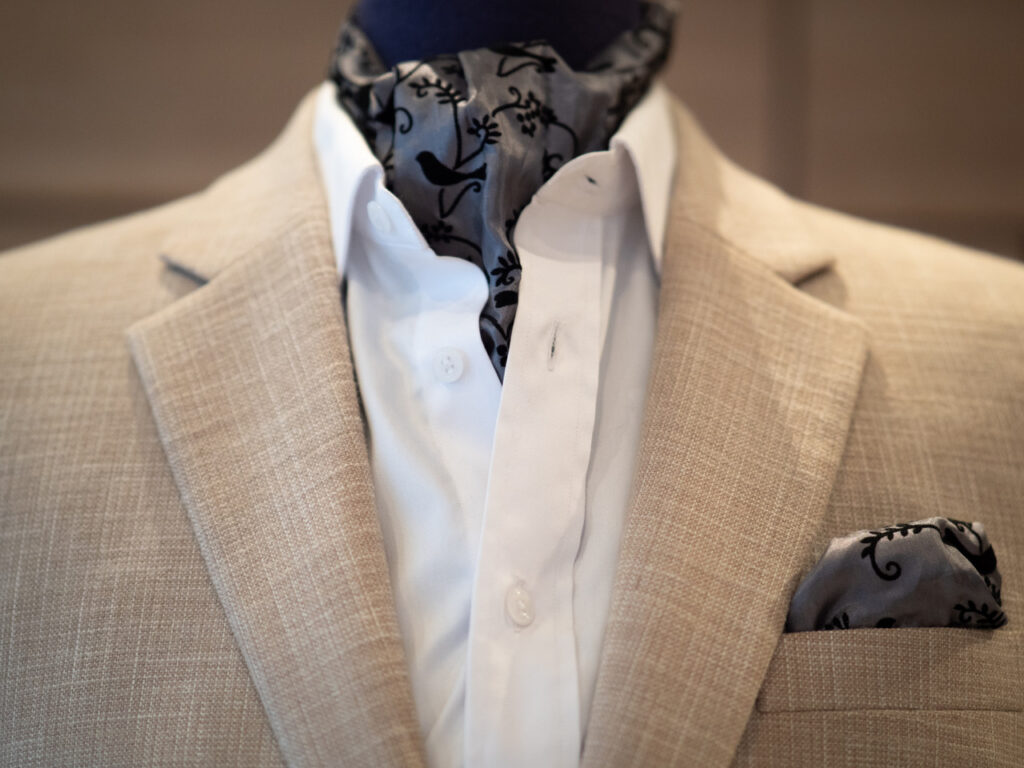 The Cravat or the Ascot, has slightly altered meanings and applications in UK and USA. Essentially the cravat is to be worn close to the skin under a shirt. Originally a term derived from the French word, Croat and was used in reference to the cloth ties around the Croatian mercenaries' necks, in WW1.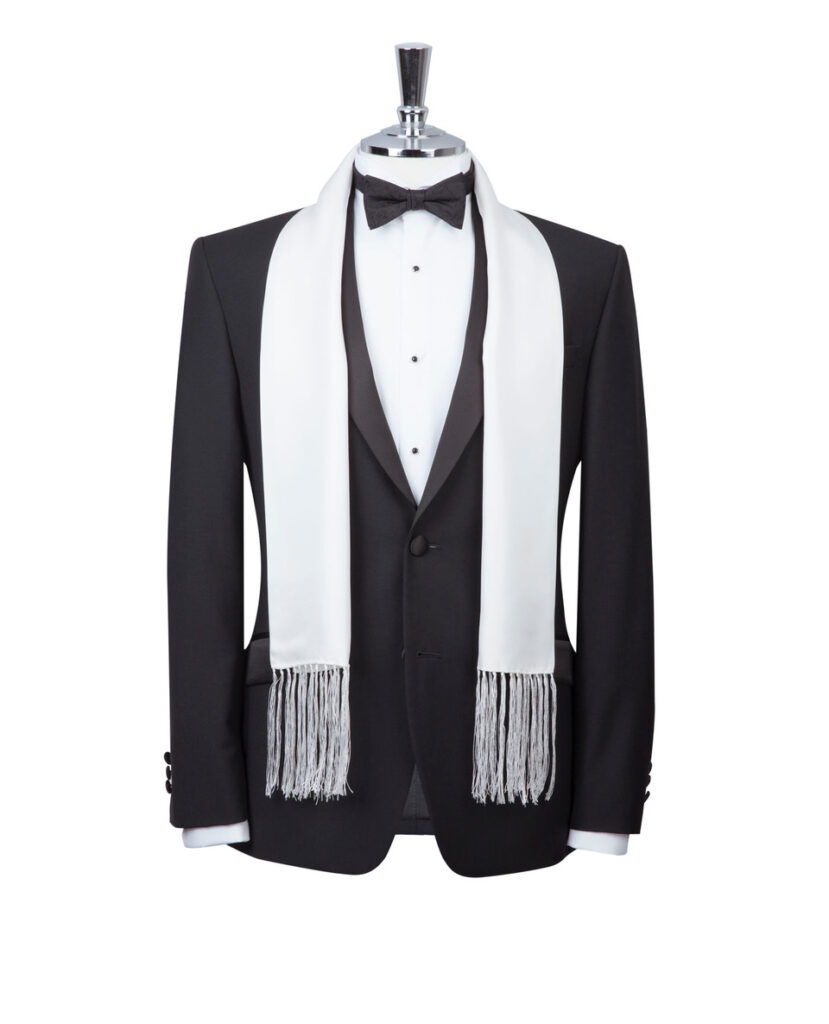 Scarves for formal occasions are used.
Scarves are used for religious and cultural occasions.
A tallit is a fringed garment worn as a prayer shawl by religious Jews, and frequently used in Bar Mitzvah ceremonies. The tallit has special twined and knotted fringes known as tzitzit attached to its four corners.
Kwanzaa, the annual celebration of African-American culture, especially prevalent in Chicago, is from December 26 to January 1.
Day 2 focuses on Kujichagulia ( self determination) using the colorful scarf above.
The Pashmina
Hanya Yanagihara as the editor in chief of T: The New York Times Style Magazine, and previously editor-at-large at Condé Nast Traveler tells us that the term 'pashmina'- the persian word for wool, is often used interchangeably with 'cashmere,' but in reality, pashmina is a specific type of very fine, lofty cashmere, woven from a specific type of goat – one indigenous to northern India, Nepal, and Pakistan, and harvested and woven there as well.
Pashmina goats in Bhagsunag, Dharamshala, Himachal Pradesh, India.
One of the finest pashmina companies, or THE finest, is the Pashmina Kashmir shawl company Andraab. Founded in 1996 by brothers Mubashir and Muzakir, their mission was to revive the heritage of the Kashmir shawl. After years of research and design exploration, the brothers evolved their own unique and exquisite line of products.
Andraab aspires to breath life back into a once world-renowned industry, seeking not only to showcase traditional, exclusive pieces of handwoven luxury, but also bring fresh ideas, design and color to the Kashmiri Pashina.
Made from the rarest and finest cashmere, using weaving techniques and arts from the 15th century Persia, an Andraab shawl is like no other. It is the definition of wearing something pure and magical.
Andraab's cashmere scarves are unimaginably soft and luxurious – warm enough for the cold months, but somehow essentially weightless. Once you have owned an Andraab shawl, you won't settle for an imitation. Whether you are in New York, or traveling in luxury hotels in Rajasthan, you can find Andraab's Kashmir shawls. Oh and did I mention superb customer service from both Mubashir and Muzakir and their staff? The link to their website in notes will steer you to more information.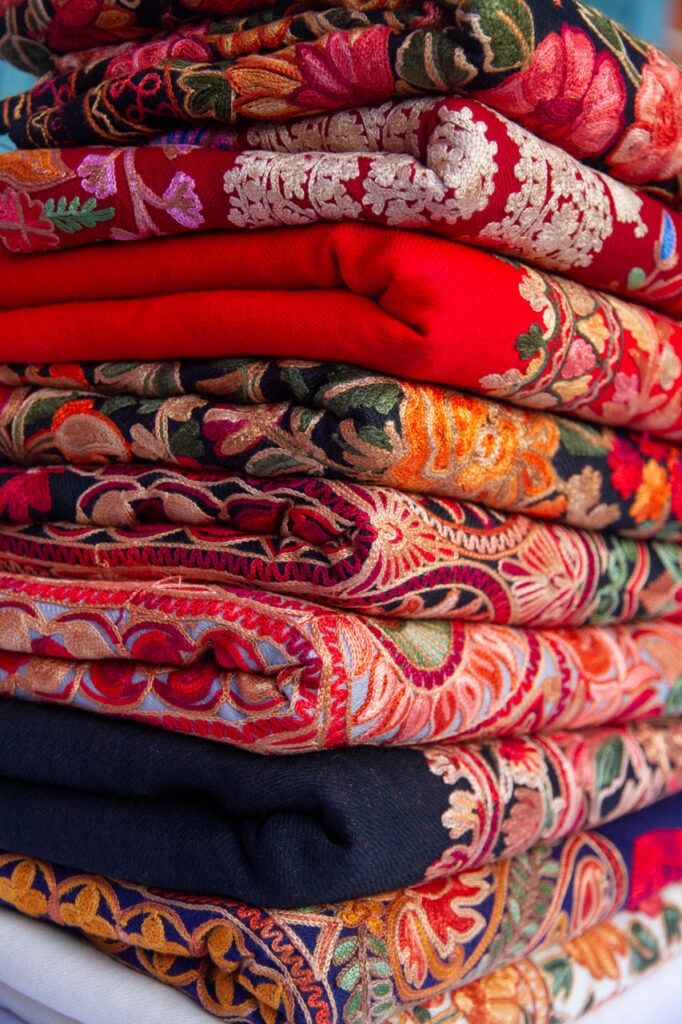 Notes and Links.
Photo of Jill : Joe Mazza Bravelux inc.
Photos copyright © 2022 Jill Lowe. All rights reserved
Plus Images with Shutterstock license
Andraab
Keva Bandana Scarf
Scarf Tying 101 : a guide for everyone who's knot quite sure
Hermés Scarf Tying 10 ways starting with basic Pli de Base
Cornelia james