By Judy Carmack Bross
With glowing holiday lights lining streets of Chicago, there's equal sparkle in Hindman's new salesroom at 1550 West Carroll Avenue, now welcoming preview guests for their December 13th Important Jewelry Auction.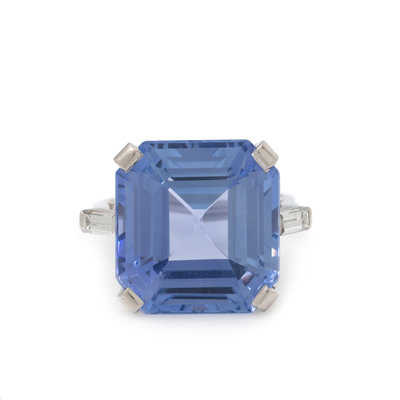 Lot 100, An Impressive Unheated Ceylon Sapphire and Diamond Ring. Estimate: $20,000-40,000. 
A 25-carat Ceylon sapphire ring will highlight the auction, alongside an array of colored gemstones and diamonds in a variety of dazzling pieces, including a heart-shaped ring and rings in pink, yellow and a rare orangey-pink-shades. Rounding out the sale will be antique pieces, including a yellow gold and diamond egg, termed a necessaire, with tiny treasures inside, three Buccellati pocket watches all owned by an Arlington, Virginia collector, and even jewelry worn by Mamie Eisenhower.
Lot 167, 168, 169, Buccellati Pocket Watches. Property From a Private Collection, Arlington, Virginia. Estimates: $3,500 – $5,500, $3,000 – $5,000 and $2,500 – $3,500.
Lot 132, A Lovely Diamond Ring. Estimate: $125,000 – $175,000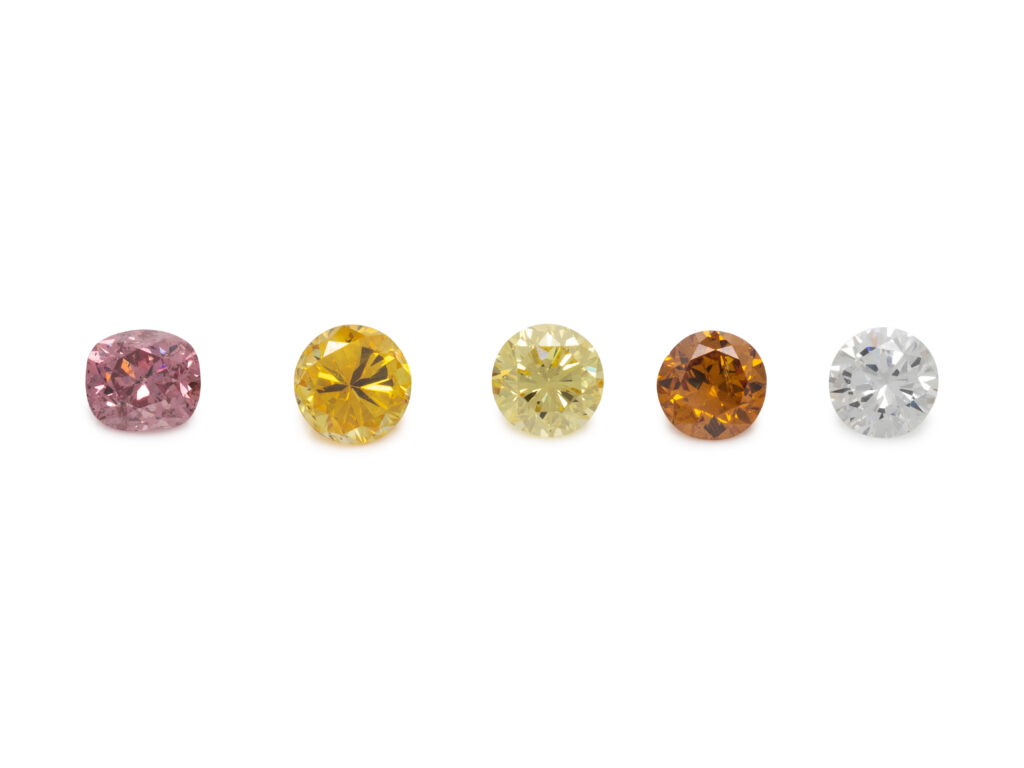 Lot 145, Collection of Colored Diamonds and Diamond. Property From a Private Collection, Arlington, Virginia. Estimate: $4,000-$6,000.
Ranging from brooches to necklaces to rings, there is no shortage of diamonds for bidders looking for a sophisticated piece to add to their collection, whether it be for a major milestone or to add brilliance to an everyday look. For those looking for rings, a 6.41 carat emerald cut diamond ring (lot 101; estimate: $55,000-75,000), a fancy yellow diamond ring (lot 88; estimate: $80,000-120,000) and a light pink diamond ring (lot 135; estimate: $50,000 – $70,000) are just a few options. A heart shaped 8.14 carat diamond ring (lot 132; estimate: $125,000-175,000) is another special design.
Lot 98, Alexandrite and Diamond Ring. Estimate: $10,000 – $20,000
Hindman Senior Jewelry Specialist and gemologist Ruth Thuston told us about one rare piece currently attracting much attention from previewers: an approximately 4 carat alexandrite and diamond ring from Ceylon whose color changes from red to green depending on the light source. In incandescent light it shows red and in daylight, green. Gem aficionados often describe these stones as emeralds by day and rubies by night.
Ruth Thuston
"The phenomenon of color change has long attracted collectors and this stone has a particularly great color change. Although the alexandrite was discovered in Russia's Ural Mountains, and were named for the Czar, they are no longer found there which is why a Russian alexandrite is quite rare. Most alexandrite gems are from Ceylon, Brazil, and East Africa and are part of the mineral chrysoberyl family. The one is our sale is from Ceylon," she said. "Some sapphires also do a color change as well but not as distinct as alexandrite."
Thuston explained that the auction's use of the title "Important" refers to fine jewelry with particular collectability and value, and that Hindman has these sales yearly in May, September, and December. "We have two sales yearly of what is termed fine jewelry and once-a-month sales of what we term essential jewelry," she said. "Pieces chosen for our Important Jewelry sale are not necessarily the items with the highest estimates. Often we find something that is just so sweet, so special and extraordinary that we want to put it in this sale."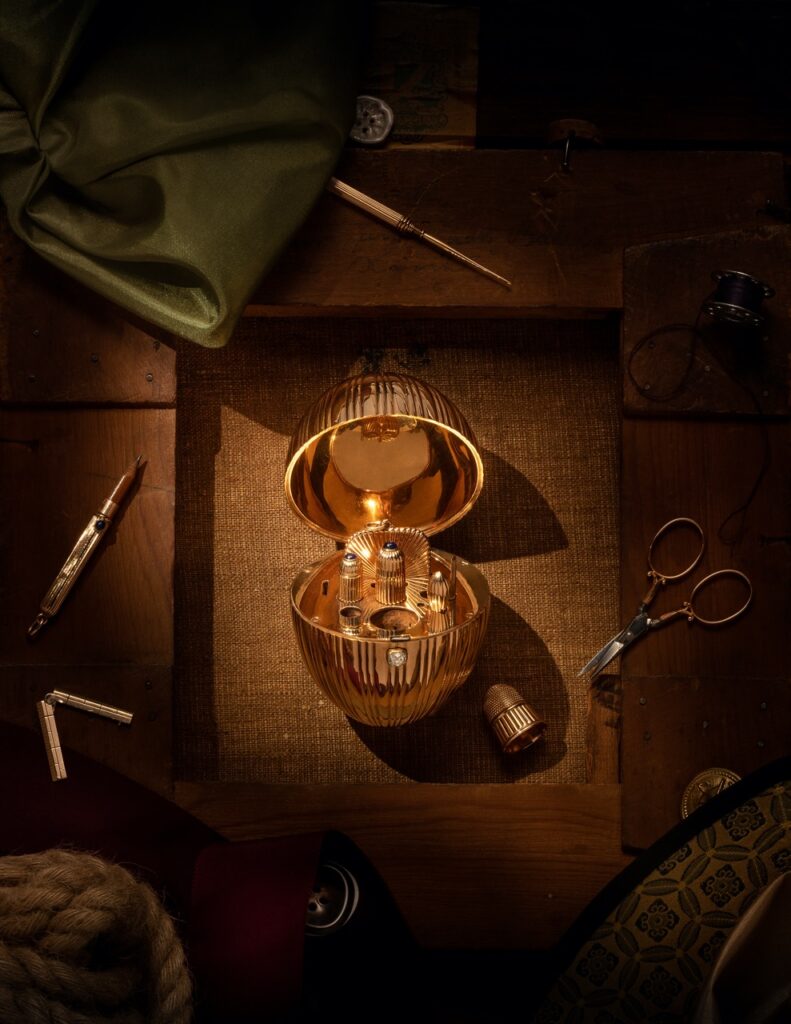 Lot 65, Antique, Russian, Yellow Gold and Diamond Nécessaire. Property from the Prominent Midwest Collection of the Pamela K. Hull Trust, Chicago, Illinois. Estimate: $8,000 – $12,000
The striking nécessaire with tiny surprises inside is from the prominent Midwest collection of the Pamela K. Hull Trust in Chicago and will highlight the antiques on offer in the sale. The nécessaire has a maker's mark of A.W. Holmström, attributed to Fabergé workshop.
"This antique fluted egg is yellow gold and when you press the European-cut diamond in the center it opens up to reveal little treasures such as a scissors, a scent flask, a ruler and a thimble." Thuston said. "This piece does not have the Fabergé mark but does have the mark of one of the company's most famous artists."
Included in the Pamela Hull collection are several jade pieces, including a beautiful necklace, perhaps originally purchased by her grandfather Stanley Field, President of the Field Museum for 56 years and collector of Asian art. "We once had a magnificent Ming bowl at auction from the Stanley Field collection. We don't know the provenance of these jade pieces, but it is fun to speculate."
Lot 128, Pink Tourmaline, Aquamarine and Diamond Brooch. Formerly from the Dwight D. and Mamie Eisenhower Collection. Estimate: $5,000-7,000.
Two pieces have a very American story to tell, Thuston relates.
"Over the years several of Mamie Eisenhower's jewelry pieces have made their way into the auction world. We are lucky to have two items in our auction that were purchased at Christie's in 2017, a gold locket containing a photo of General Dwight D. Eisenhower in uniform, lot 127, and an amazing pink tourmaline, aquamarine and diamond brooch, lot 128. The color combination on this brooch is striking."
"Mamie loved pink! Her inaugural gown was pink. The White House was known as the pink palace when she lived there because she decorated with pink, Thuston said. "This brooch features a large, deeply saturated pink tourmaline surrounded by blue aquamarines and diamonds. I imagine that she must have loved wearing it in all its pink splendor."
| | |
| --- | --- |
| Lot 187, Van Cleef & Arpels, Yellow Gold and Diamond Flower Brooch. Property From a Private Collection, Arlington, Virginia. Estimate: $3,000 – $5,000 | Lot 183, Oscar Heyman, Star Sapphire, Sapphire and Diamond Brooch. Property From a Private Collection, Arlington, Virginia. Estimate: $7,000 – $9,000 |
Having the opportunity to talk to a true expert, we couldn't resist asking Thuston what are the most popular pieces in an Important Jewelry auction? "People love rings! And earrings are very popular as well. But it is very important to know if a person likes them big and bold or delicate. With bracelets that are cuffs and are wider and you have to slip them on. You really should try them on before buying. If possible, bring the person along that you are shopping for, and then surprise them with the gift after the sale."
What about brooches?
"Many exquisite brooches are rich with history. For a while recently they weren't as popular as women began to wear lighter fabrics. Now people are getting more versatile. They are being used to attach a sweater at your waist, in your hairstyle, and other clever tricks."
| | |
| --- | --- |
| Lot 240, 1.94 Carat Marquise Cut Fancy Brownish Orangy Pink Diamond. Estimate: $20,000 -$30,000 | Lot 135, Light Pink Diamond and Diamond Ring. Estimate: $50,000 – $70,000 |
Hindman is a leading fine art auction house connecting cities nationwide to the global art market. With offices and salerooms throughout the country, Hindman conducts over 140 auctions annually in all major fine art and luxury collecting categories.
| | | |
| --- | --- | --- |
| Lot 94, Unheated Burmese Sapphire and Diamond. Estimate: $100,000 – $150,000 | Lot 88, Fancy Yellow Diamond and Diamond Ring. Estimate: $80,000 – $120,000 | Lot 14, Unheated Burmese Sapphire and Diamond Brooch. Estimate: $15,000-$25,000 |
Headquartered in Chicago with 15 additional locations coast to coast, Hindman is celebrating its 40th anniversary this year. Hindman was formed in Chicago through the merger of two premier auction houses, Leslie Hindman Auctioneers, established in 1982, and Cowan's Auctions established in 1995.
There's still time to preview possible purchases. The new Hindman salesroom at 1550 West Carroll Street, a few blocks west from its former location, is open Sunday, December 11 from noon to 4 p.m. and Monday, December 12 from 10 to 4 p.m.
Bidding for the December 13th auction will begin at 10am CT and will be available in-person at Hindman's new Chicago saleroom, or via absentee, telephone, and online. For more information visit: hindmanauctions.com.
Featured image: Lot 100, An Impressive Unheated Ceylon Sapphire and Diamond Ring. Estimate: $20,000-40,000. Lot 101, Diamond Ring. Estimate: $55,000-75,000.