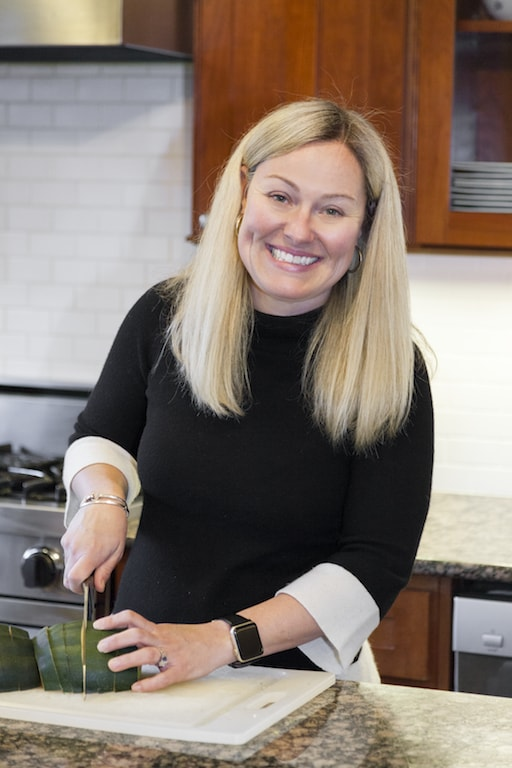 Samantha Schwalm
We may not be entertaining as we used to in the past. However, as the weather holds,
social distancing cocktails may be something that you are doing. It is nice to have a few
bites for those guests to nibble on while they enjoy a cocktail or two. Here are a few
simple appetizer ideas for you and your guests to enjoy.
Stuffed tomatoes:
12 cherry tomatoes
4 oz of goat cheese
1 tablespoon of plain Greek yogurt
Diced chives
Basil leaves
Cut the top of the cherry tomatoes off, and scoop out the insides. A small melon baller
is the easiest, but a sharp knife will work too. Set aside.
In a small bowl mix goat cheese, yogurt, chives, and a pinch of salt & white pepper to
taste, with a spatula until smooth. Place a piece of basil inside each of the tomatoes so
it sticks out. Next with a spoon or pastry bag scoop the goat cheese mixture into each of
the tomatoes
Hummus Platter:
Hummus
Feta cheese
Cherry tomatoes
Mint
Smooth hummus out over a plater. Sprinkle crumbled Feta cheese over the top. Next
layer the diced cherry tomatoes. Finally, sprinkle chiffonade mint on top. Serve with
sliced cucumber, carrots, and pita bread.
The Italian Flag:
1 Jar of Sun-Dried Tomatoes
1 4 oz package Goat cheese (softened to room temperature)
1 Jar of Pesto
Line a 4-inch ramekin drape a piece of plastic wrap, so it lines the inside and outside.
Take a fine strainer and pour the pesto into it, allowing for most of the oil to drain out the
pesto. Usually, it sits in there for at least 5 to 10 minutes. Next, with either a spoon or
spatula, smooth the pesto into the bottom of the ramekin. Third, work or knead the goat
cheese until it is soft and you can form into a round disk. Place the disk on top of the
pesto. With the same fine strainer, place finely chopped sun-dried tomatoes. I use a
food processor to make them very small. You want to press down and get all of the
oil/liquid out of them. Place the sun-dried tomatoes on top of the goat cheese, and fold
the plastic wrap around it. Place into a refrigerator for at least an hour. Open up the                                                  plastic wrap. Flip the ramekin onto the serving platter. Hold onto the plastic wrap and                                  gently lift off the ramekin. Remove the plastic wrap and serve with crackers or bread.
Enjoy!