By Elizabeth Dunlop Richter
You've heard of hot yoga…imagine a class of scantily clad practitioners dripping with sweat as they move from one challenging pose to another in a room with the temperature purposely ramped high.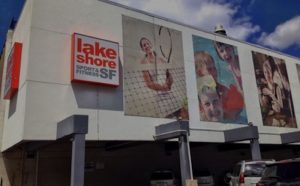 What about cold yoga? This was something new to me and 15 or so yoga enthusiasts on a recent Saturday morning at the Lakeshore Sport and Fitness club on Fullerton Avenue. We donned long sleeved shirts, hoodies, and extra layers of clothing to keep out the chill.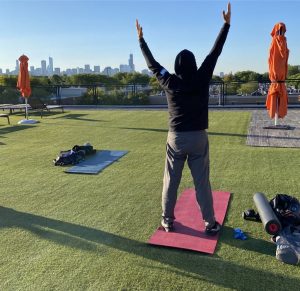 Dressed for cold yoga!
The temperature had dropped to 50 degrees! No, the air conditioning was not turned up in a yoga room. The group was outdoors at 7:30 in the morning…on the roof. This is not just any roof. It offers a stunning view of the Chicago skyline, adding a dramatic new dimension to sun salutations and downward dogs. It sports a "Great Lawn," with tasteful artificial turf and lounges perfect for sunbathing when the weather is right and plenty of room for social distancing.
Sunbathing? Not this morning 
Yes, it was COVID-19 that sent the class to the roof. After initially requiring wide spacing in the indoor yoga studio, the club upped its response to the pandemic by creating new exercise areas outside. It utilized the parking area under an outdoor overhang for classes by making the cinder block walls more attractive with wooden accents and adding artificial turf in one section. It can now accommodate spinning, strength training, and when it rains, yoga.      
Outdoor spinning class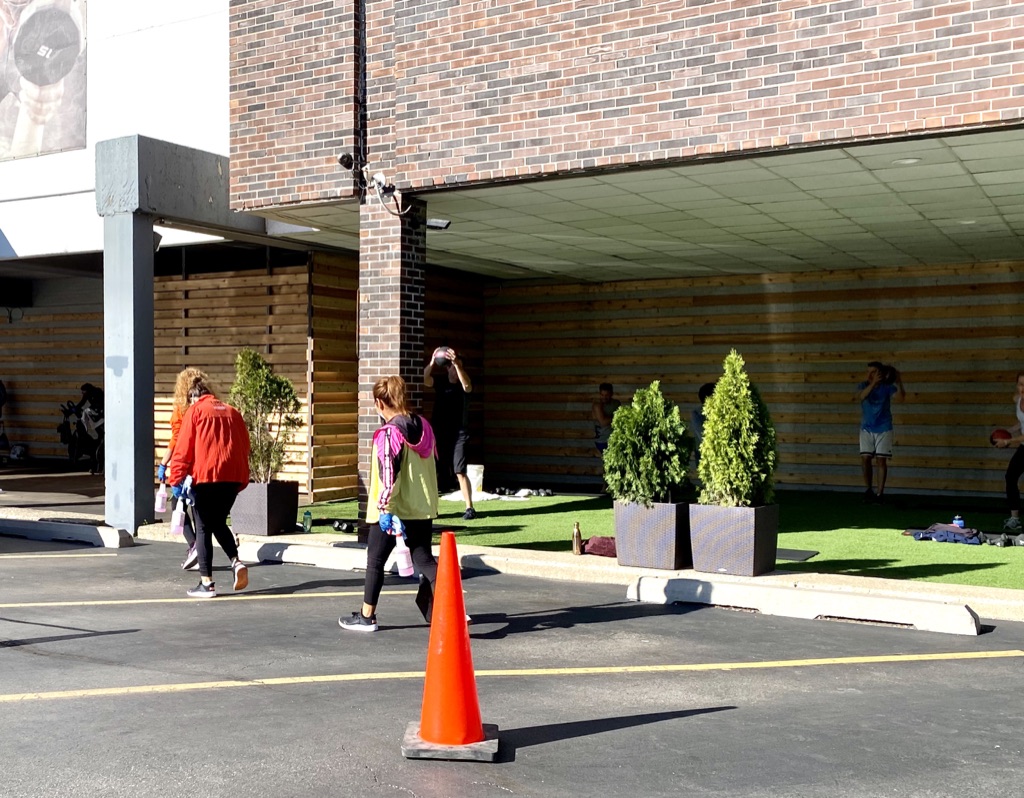 Outdoor weight training
For most of the summer, the roof had worked beautifully for our yoga class, with just one day cancelled for rain and later, another rainy day in the newly opened under-the-overhang space. But this recent Saturday was the first "cold yoga" day. We hoped Mellody would give us a fast moving class to warm up!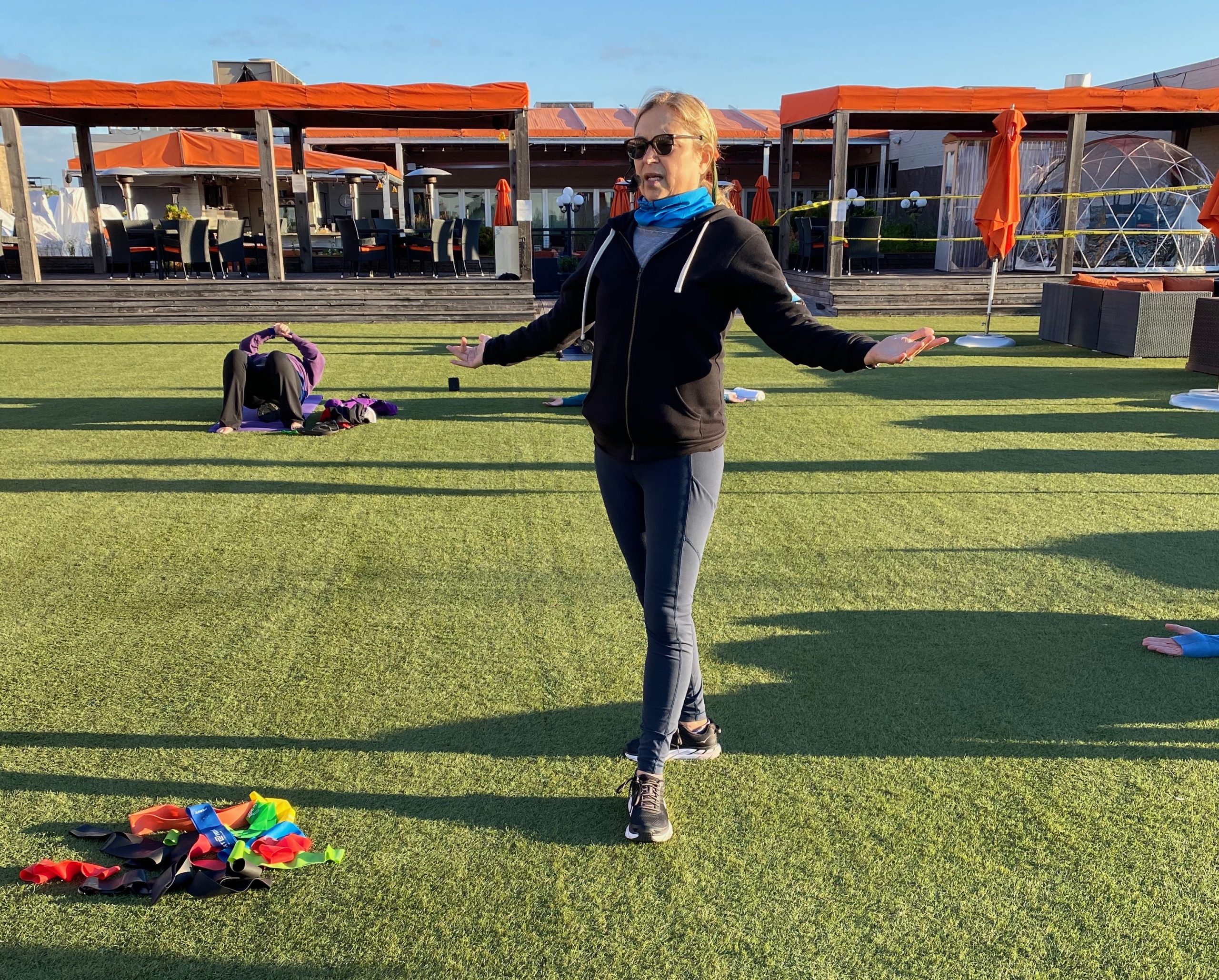 Instructor Mellody Bose
Mellody Bose, the class instructor, has been teaching at Lakeshore since 2002. A senior litigation paralegal by day, she teaches this Saturday yoga class in addition to early morning private sessions. Her class is unlike any yoga class you may have taken before. Melody explained her approach, "I started teaching traditional yoga, vinyasa yoga and hatha yoga, and I have found over the years that it created some back injuries for me, so I have incorporated strength using therabands and foam rollers to release the fascia. My class has changed over the years to include more gentle yoga with the combination of building strength using the bands and light weights. I've developed my own combination of ways, and people seem to like it a lot." Mellody promises a full body workout.
Men like the front row!
The incorporation of strength training with the benefits of yoga has wide appeal for men as well as women.  Some of Mellody's most dedicated students are men. Chris has been taking Mellody's class for over 20 years, "I take the class to stay loose, stay limber, keep in shape; now being outside, that's the best part."  The cold weather doesn't faze Chris, "It was the best! My favorite day so far!" For the record, Chris also swims, uses the stair master, plays tennis and takes spinning classes.
There are also enthusiastic newcomers in the class. Iryna and Mirec have been taking Mellody's class just a few months. "After a whole week of stress and hard work, it's relaxing, it's a beautiful spot, and a nice view," says Mirec. Iryna chimes in, "and Mellody, of course," Mirec adds, "She's the first reason we're here, she's perfect."
Mirec and Iryna do the plank pose
For this class, a variety of equipment is utilized. in addition to mats, we pick up foam rollers, light weights (three or five pounds), and straps. We also use the stretchy exercise bands that Mellody brings from home (sanitized, of course).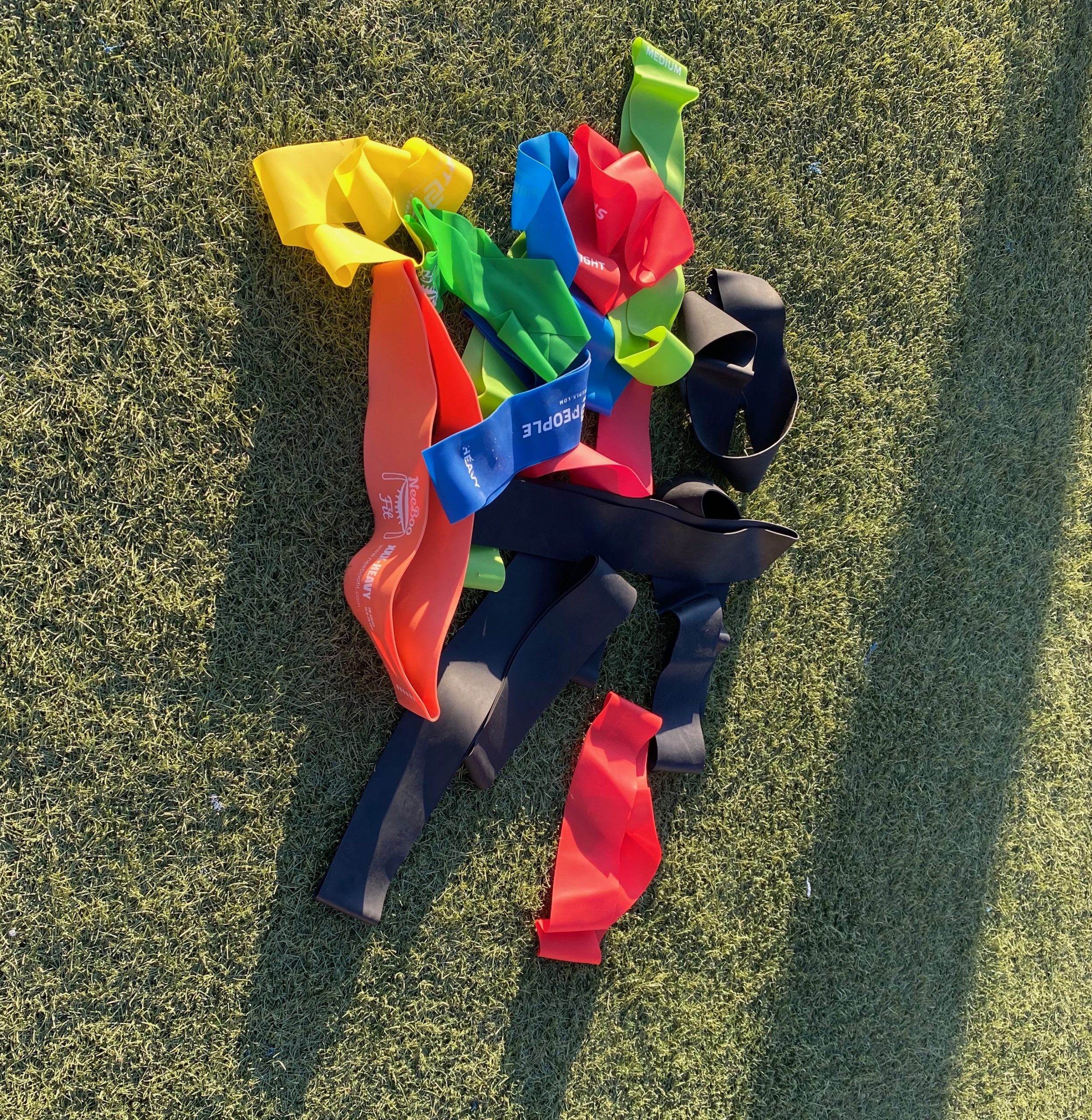 Five levels of exercise bands
Mellody begins the class with a series of moves using the foam roller to loosen the fascia, the band of connective tissue covering muscles and organs. Keeping it flexible is key to mobility and comfort. Mellody recommends daily foam rolling to get the body in shape for the day. I can attest to its benefits!
Loosening up on foam rollers
Foam rolling is followed by a variety of "wake-up" stretches. Then things get serious with familiar yoga moves like sun salutations mixed with planks and push-ups. Mellody accommodates all levels and always suggests modifications, reminding us "It's your body, your choice." Many of us are happy to switch push-ups from toes to the knees for the second or third set. Robin, a serious swimmer, likes the class because "it gets you out of bed on Saturday morning…I take it because it combines a lot of different movements. It's not straight yoga. It does some weights and stretching which I really need. You do something good for yourself to start the day."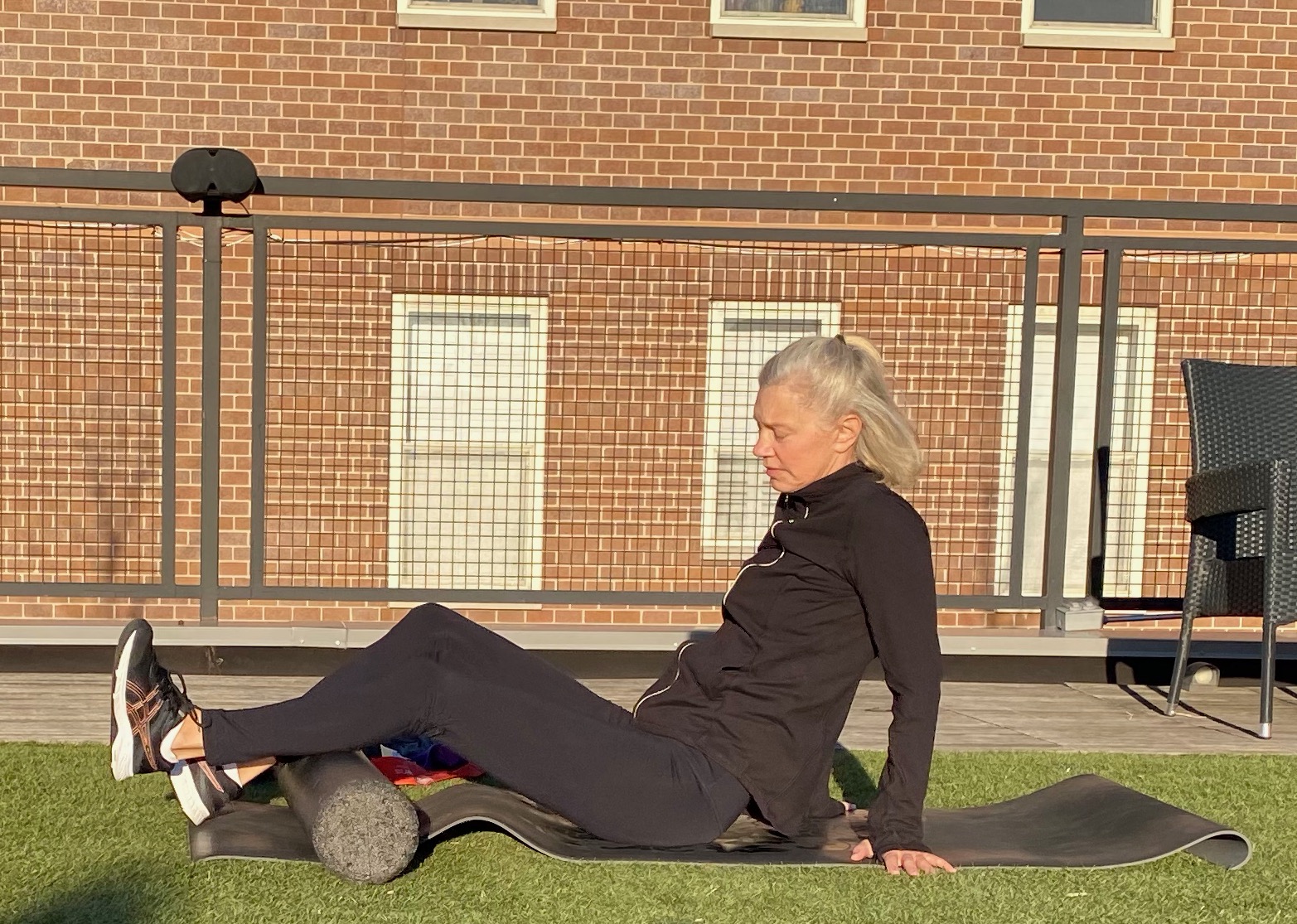 Robin concentrates on her foam roller
It took some time to work out the kinks of yoga on the roof. We moved from one end of the roof to the other when the children's play area and noise from adjacent tennis and basketball courts became a distraction. With socially distanced spacing, Mellody realized quickly that she needed to amplify her voice. She brought a microphone, headset and small speaker that could be placed on one end of the lawn, getting her voice to the back rows. Problem solved.
A tiny speaker brings Mellody's voice to the rear of the lawn
Following push-ups and some more stretching, we move on to exercise bands, which provide resistance as we strengthen all parts of our legs through jogging and balancing routines. Mellody likes to ask if we can feel our muscles tiring…and woe to the class if no one says yes! That guarantees another 20 reps!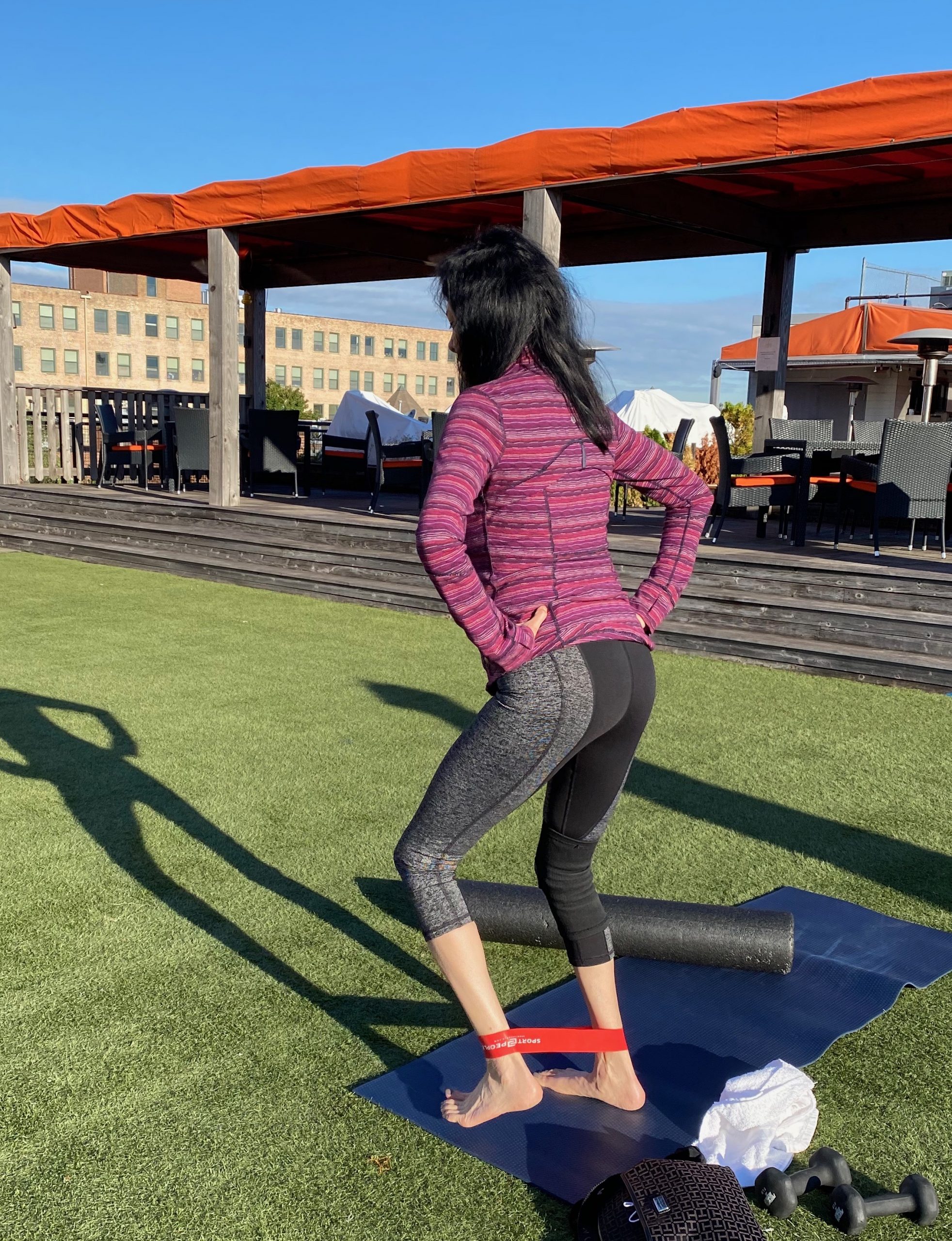 Leg strengthening jogging with resistance bands
Next, we pick up our hand weights for bicep curls while balancing on one leg, overhead arm raises, and tricep kickbacks. Mellody is not kidding when she promises a full body workout. By this time, we are well warmed-up, and some are shedding layers.
Pumping iron
The COVID situation has led to many adjustments for us as well as the club. We get to the
roof by following a newly laid out one-way path up three flights of stairs through the club, wearing masks while we are inside. We pick up equipment just inside the door to the roof and return it to an outside table where club staff members sanitize each piece. Because class sizes are limited, we must make reservations and are charged for no-shows. The club has spent a quarter of a million dollars making changes in response to COVID. In addition to limiting class sizes, new sanitizing protocols, new HEPA air filters, hospital grade UV light sanitizing systems, plastic dividers between treadmills and constant testing of surfaces for cleanliness are just a few of the changes. The club continues to find new ways to use the roof area efficiently. Six plastic domes for dining have been purchased. One is currently being tested on the roof at this time. Issues of airflow, sanitation, and temperature control are being explored.
Roof dining dome
Yoga classes will be held outdoors as long as possible, but our roof yoga refuge will be abandoned when the weather gets wintery. The club is already constructing sanitary pods in the yoga room where class size will be limited to just nine participants.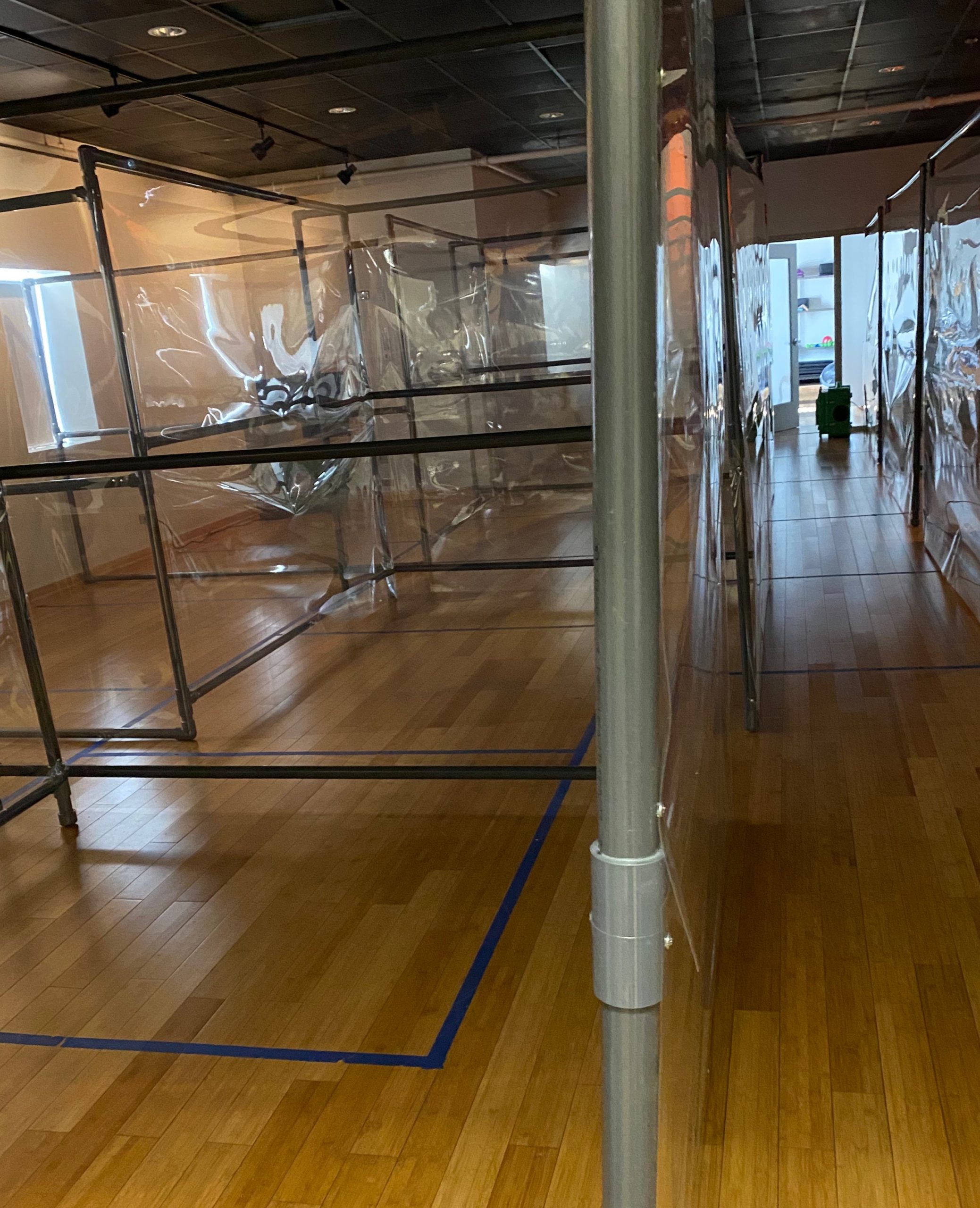 Yoga room ready for COVID-safe use
The club has tried hard to stay ahead of the game by stockpiling supplies and redesigning its programs. It had to lay off some employees but has been able to maintain health insurance coverage. It has established a staff relief fund with donations by investors and members to support the team. Club Manager Peter Goldman, who first came to the club as a member in 1986, says, "My wife, who is a physician, and I think of this as much as "our club" as it is a business. We want it to feel safe for us as well as our members."
Just how the new indoor yoga environment will feel remains to be seen. The temperature will certainly be more predictable. But for those of us who have handled a rising sun in our eyes, hot summer days, traffic noise, and chilly fall weather on the roof, I imagine we'll adjust to plastic pods as well. We have to avoid our couches and keep battling the dreaded "COVID-15!" Meanwhile, we'll just relax on the roof and enjoy the corpse pose as we end the class, warmed by the workout and the rising sun.