Steve Schutt's Partnerships Help Small Lake Forest School Gain Big Advantage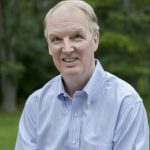 By David A. F. Sweet
Two years ago, Lake Forest College changed its mission statement for the first time in the 21st century. Similar to most amendments to the U.S. Constitution, brevity ruled: "We prepare our students for, and help them attain, productive and rewarding careers," read the addition.
Unlike vocational schools, liberal arts colleges have often failed to focus on helping students procure jobs. Lake Forest College is different.
"We have the largest career advancement office of any small college in the Midwest that I'm aware of," said President Steve Schutt, referring to nine full-time employees among a student body of only 1,700. For the first time recently, the office connected seniors with trustees to help their job search during the pandemic.
Schutt is a gracious, intelligent leader who is approaching his 20th year running LFC, which was founded in 1857 — even before the incorporation of Lake Forest. He has guided the school through 9/11, the brutal recession of 2008-2009 and now the pandemic.
Amid all of these afflictions, he has crafted partnerships. On campus, helping students garner full-time employment is one example, but the alliances cultivated beyond LFC's 100+ acres are even more important to its future success.
During the 2021-22 school year, the college expects to launch a master of science degree in nursing. How can a master's program be possible at an undergraduate institution? Students would spend three years on LFC's bucolic campus and then two at Rosalind Franklin University of Medicine and Science, only four miles away.
"Northwestern Memorial, Highland Park Hospital, they could take every nurse we could provide," said Schutt, emphasizing that he is not exaggerating the demand for such services.
LFC's role in developing the nursing program — and other graduate-level initiatives that will no doubt follow — became possible when the Lillard Science Center arrived. With lead funding provided by John and Paula Lillard — the latter considered one of the world's leading authorities in Montessori education — all of a sudden, science facilities that were behind the times became cutting edge. With 40% of students at LFC planning to major in one of the sciences (double the number since Schutt's arrival), the 130,000-square-foot structure became a godsend.
"We didn't have the labs before for the range of health care careers that now exist," he said. "The new science center prompted our partnership with Rosalind Franklin."
Schutt came to LFC from his job as vice president at the University of Pennsylvania because he had always wanted to run a small college near a big city. Thanks to Schutt's enterprise, more than two dozen students now study in Chicago at partner universities each semester (at least, when the coronavirus isn't an issue).
"I cannot overstate the importance of Chicago," Schutt said. "Chicago outreach has helped define the identity of our college."
David Gorter, chairman of the board at LFC and an alumnus, has watched Schutt craft strategic partnerships from the board level for a dozen years.
"I have had a front row seat to see a pro's pro in action," Gorter said. "These kinds of partnerships are critical if Lake Forest College is to meet the needs and desires of its students in the future."
Schutt has engineered two strong capital campaigns — including the college's first to exceed $100 million — which have created manifold educational benefits on campus. In a 2007 Wall Street Journal article, Schutt said his pitch is essentially, "Your return on investment is going to be greater here than at places like Harvard or Yale."  Laurence Lee, who gave $6.6 million to upgrade the Donnelley & Lee Library rather than donate to his alma mater, the University of Chicago, and other benefactors have taken it to heart.
Danny Dolan, one-time chair of the LFC investment committee and a great friend of the college president, gives Schutt full credit for the capital campaign successes.
"Steve secured the major deals by himself," said Dolan, an alumnus of the college. "His passion for learning and critical thinking and for best outcomes for students has helped persuade donors. I admire his energy and focus to get things done with minimal resources."
Like all college leaders, Schutt has been forced to spend an inordinate amount of time masterminding logistics around COVID-19. When LFC sent students home in March, it also began preparations for the fall. In June, the college announced a hybrid plan — students learning both on campus and remotely once school started. When cases doubled in the United States a month later, Schutt — with the board's support — pivoted to 100 percent remote learning well before school started.
Gorter has been awed by Schutt's level-headedness amid the storm.
"His ability to spin many plates at the same time — to model different scenarios simultaneously, to keep his team motivated while keeping his board, faculty, students and parents of students calm — is remarkable," he said.
Even without students on campus (or, to be exact, with 50 largely international students who cannot return home), there's plenty of activity. A 140-year-old building off Sheridan Road, Young Hall, is being expanded to twice its size and will be renamed Brown Hall. A new lacrosse field will host the college's first men's and women's varsity program. Ventilation in all classrooms is being improved in response to the coronavirus.
Once a vaccine is developed, the scourge will pass, and LFC will have students from across the world roaming its campus again. Looking ahead, Schutt believes the opportunities for LFC undergraduates will only get better in the coming decades. 
"The more we can develop the connections in scholarly research, the better off we will be," he said. "We're not an island here."

Unsung Gems columnist David A. F. Sweet can be followed on Twitter @davidafsweet. E-mail him at dafsweet@aol.com.