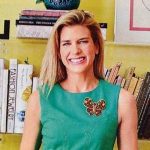 By Stuart Dyer
Some of my favorite vintage costume jewelry comes from Yves Saint Laurent – especially the pieces designed by Loulou de la Falaise who joined Yves Saint Laurent in 1972 and was there for thirty years. As soon as Loulou joined the company, her influence was felt. Yves Saint Laurent opened his eponymous design house in 1961 and up until the time that Loulou joined, he had designed mostly tailored and lady-like clothing and few accessories. Loulou had a sophisticated, carefree, bohemian sense of style. According to Ines de la Fressange (another YSL muse), Loulou's style represented the youth of the 1970s. She was sparkling and gay and exuded an air of indifference. This personal style greatly influenced Yves Saint Laurent and helped him to create the vision for the Yves Saint Laurent brand going forward.
Saint Laurent hired Loulou to work with him before he even had a clear vision of what he wanted her to do. Loulou became Saint Laurent's muse, his confidant and his alter ego. She collaborated with him to make decisions about practically every design element. Saint Laurent said of Loulou, "It is important to have Loulou beside me when I work on a collection. Her presence at my side is a dream." Saint Laurent was introverted and a bit anxious but Loulou was able to draw him out and to calm him down. Her relaxed sense of style caused Saint Laurent to design in a more relaxed way. His clothing designs moved away from tailored silhouettes to less formal, more bohemian and more romantic looks.
Loulou said that she began designing the jewelry at Yves Saint Laurent because one day she realized that no one else at the company was designing it. She said to herself, "Well, okay. I'm going to do the jewelry." She had no formal design training and was not very skilled at drawing but she was able to communicate her ideas to the jewelry ateliers that Yves Saint Laurent worked with. At the time they worked with about seven different jewelry manufacturers – each one specialized in a certain technique or material. For example, Scemana specialized in wood, Goossens in rock crystal and gilt bronze and Gripoix in verre nacre pearls and glass. Nowadays this would be unheard of as design houses typically only work with one manufacturer. 
When designing jewelry, Loulou liked to mix styles and elements that had nothing to do with each other and she liked bold, colorful designs. She said that her influences included nature, gypsy style and tribal jewelry. Like Coco Chanel, she (Loulou) believed in wearing costume jewelry with the same intensity as real jewelry. Also like Coco, Loulou was a master at piling on the jewelry. Loulou was the virtuoso behind all of Saint Laurent's famously flamboyant accessories. Saint Laurent tended to design his clothing with clean lines but it is the jewelry and accessories that took his clothing to the next level, that brought them to life. Saint Laurent was quoted as saying, "One can never overstate the importance of accessories. They are what turns a dress into something else. I like dresses to be sober and accessories to be wild." With Loulou this is exactly what he got. 
When Yves Saint Laurent retired in 2002, Loulou left the company to produce her own jewelry and clothing lines and even designed jewelry for her friend, Oscar de la Renta. In 2011 Loulou passed away at the age of 63. Even though Loulou was best known as Yves Saint Laurent's muse, she was so much more. She was instrumental in establishing the look of the Yves Saint Laurent brand as we know it today and in designing some of the best vintage costume jewelry ever to have been made.
For more Ladybug Vintage, follow @ladybugvintage on Instagram or go to https://ladybugvintage.com/