By Lee Shoquist
It happens every year—great actresses deliver first-rate performances in lesser seen pictures only to be discarded in the awards season rush to fete the perpetually nominated A-list. Minus the cache of household names and often headlining films with smaller promotional budgets limiting their commercial visibility, some of our best actresses—every bit as method as Meryl, committed as Cate and fearless as Frances—fail to get their films seen and performances remembered.
In a short-term memory industry where five actresses each year (usually from late breaking films released in the closing months) claim the lion's share of critics and industry plaudits, let's take a look at five of this year's best who are currently in danger of being overlooked and fully deserving of their places in the awards conversation.
Andrea Riseborough
What do you do when you're going nowhere, and nobody seems to care? In this year's little seen gem To Leslie (opening Oct. 7 theatrically and streaming), chameleonic Andrea Riseborough is at the top of her game as a down on her luck, rural Texas addict struggling to claw her way back to her former life after irreparably damaging her closest relationships. Riseborough, who has spent the better part of two decades carving out diametrically opposed characters in mainstream and independent pictures while moving freely between genres, displays a Streep-level mastery of immersion and is arguably the best (and largely unheralded) actress of her generation.
Delivering the year's most exposed performance, Riseborough's To Leslie portrait of a person brought low by dependency, for whom every day is a struggle with herself and the bottle, is the stuff of heartbreak. When we first meet her titular character she is elated over a modest lottery windfall. Flash forward seven years to a considerable reversal of fortune—flat broke, evicted from a transient motel and failing in her attempts to reconnect with her alienated son (Owen Teague) and viciously bitter former friend (Allison Janney).
Unable to kick either her lies or the drink, Leslie promptly spirals to rock bottom. In a supremely authentic performance, Riseborough architects great empathy for Leslie's lost soul, taking us along on a lockstep tour of hell. Yet unlike everyone else, who have wised up and cut her loose, we are never tempted to abandon her.
Riseborough's performance, as Leslie takes a step forward and two back, perpetually teetering on the brink of relapse while seeking deliverance by eking out hard-won, small victories, creates the sort of engagement which reminds us why we go to the movies—to see people we come to care about succeed.
The forty-year-old Royal Academy of Dramatic Art alum has turned in vivid work in dozens of pictures including W.E. (2011), playing Wallis Simpson in Madonna's directorial debut, a television reporter trying to save a teen from an online trafficking ring in Disconnect (2012), Billie Jean King's behind-the-scenes partner in Battle of the Sexes (2017), a rural woman menaced by a dangerous gang and opposite Nicolas Cage in the wild cult thriller Mandy (2018) and an icy turn in the conceptually audacious Possessor (2020), as a merciless corporate assassin able to infiltrate others' bodies to eliminate her targets.
Aubrey Plaza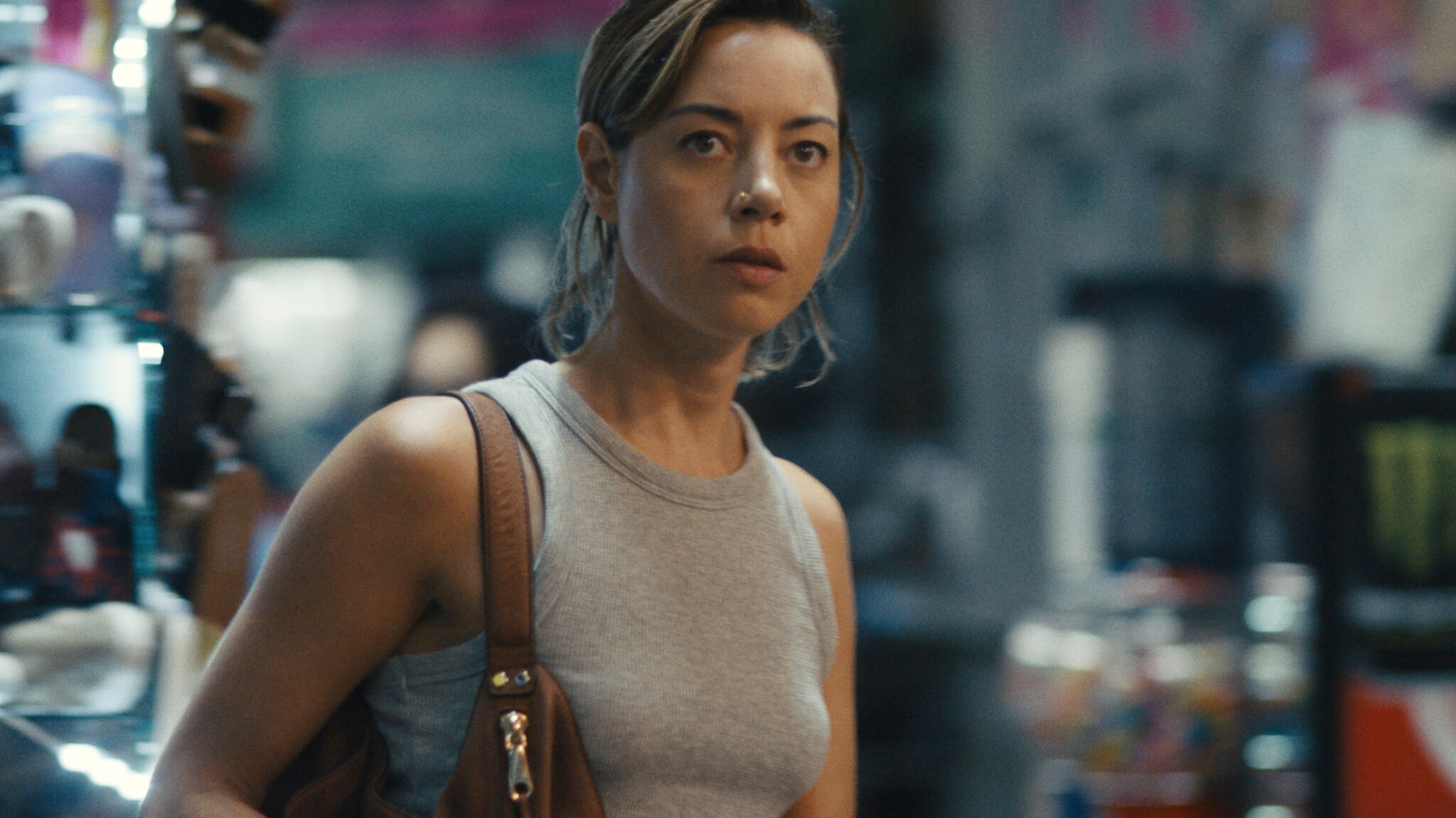 Sometimes a performer can appear in scores of films without a major breakthrough, and thirty-eight-year-old Aubrey Plaza, the sardonic, dry humored actress well known in the independent film world for such outings as Scott Pilgrim vs. the World (2010), Damsels in Distress (2011), Safety Not Guaranteed (2012), Ingrid Goes West (2017) and the uproarious The Little Hours (2017), is often referred to as an "indie queen" or perhaps a cult movie actress. With a signature deadpan, smartest-in-the-room persona that has well served her career, Plaza's wide-eyed, looking through you, smart aleck brand has been patented to perfection.
Yet as an actress she is evolving toward something more substantive, and in Black Bear (2020), Plaza showed us something against her established type, offering a smart portrait of a writer-director in a two-act, unpredictable comedy-drama set in the world of indie filmmaking. It was exhibit A in what happens when you give an actor room to stretch, and Plaza offered a challenging "meta" performance in Black Bear's film-within-a-film structure, affording her a welcome freedom to create multiple levels of character and artifice in a picture with something to say about film, gender, and feminism.
In her current, career-topping Emily the Criminal performance, Plaza plausibly gives us a young woman at odds with a system that cynically refuses to cut her a break. Deploying the classic screenwriting device of backing your lead character into a corner with successive obstacles to overcome, Plaza's Emily is seventy-thousand dollars in student loan debt, blocked from potential employment as a graphic designer by a felony on her record and (barely) making ends meet as a gig working food delivery person around greater Los Angeles.
An escape appears in the unlikely form of a low-risk credit card fraud scheme, which initially seems simple enough—purchase a television, carry it out of the store and walk away with cash. As Emily develops a knack for fraud and grows her scheme bigger, both the picture and performance grow darker. Yet even as the money (and danger) rolls in, Plaza's Emily never abandons her intentions to go straight, if only the corporate world would be more forgiving. Plaza's performance is provocative and wholly believable in its look at an ordinary person with limited opportunities who creates an unorthodox path to survival. She makes Emily the Criminal less apologia for criminal activity and more a timely social dissection of unfair hiring practices and young adults saddled with debt—desperate drivers of necessary measures. Plaza is eminently engrossing as a young woman with little to lose, believably transitioning from working stiff naivete to calculated career criminal.
Rebecca Hall
After two impressive decades in film, Rebecca Hall's mantle should be home to an Oscar or three, but with a career path veering from the mainstream into more artistically daring projects, her work sometimes struggles to be widely seen despite unwavering critical acclaim. Nothing if not unpredictable, Hall is perhaps the most daring of her contemporaries, leading not with image or beauty (though she has both in spades) but with laser focused intelligence, often unflinchingly peering into the abyss.
The British-born actress, who began a robust movie career garnering a Golden Globe nod for Woody Allen's comic roundelay Vicky Cristina Barcelona (2008), is the daughter of celebrated opera star Maria Ewing and British theater luminary Peter Hall. The artistic rigor of her family pedigree shows in her onscreen work, as well as in her screenplay and directing of her unfairly overlooked gem of a first feature, last year's Passing, based on the 1929 novel by Nella Larsen.
Over an eclectic career, Hall has done her time wallpapering worthless blockbusters like Godzilla vs. Kong (2021) while lending substance to pictures like The Prestige (2006), The Town (2010) and The Gift (2015). But her dramatic apex arrived with a lacerating turn in the tiny independent drama Christine (2016) as the self-destructive Christine Chubbuck, a real-life Sarasota news anchor whose instability ultimately overwhelmed her person and profession before her shocking on-camera suicide. In the past year, Hall has given us a pair of bang-up performances in the supernatural and psychological thrillers The Night House (2021) and this year's Resurrection.
The Night House found its star unexpectedly widowed after her successful architect husband's suicide, isolated in the upstate New York house he'd built for their once promising life. Unraveling his many mysteries, Hall acted largely alone, reacting to profound grief, sadness, and the possibility of a supernatural specter. It was a tour de force performance and fine rendering of a person coping with unexpected loss.
But in this summer's jaw-dropping Resurrection, Hall's risk-taking ascended to another level altogether as an outwardly successful biotech executive whose professional persona and reputation for cool control gives way to a barrage of psychosis upon the unexpected return of a sadistic, decades old partner, played by Tim Roth. Featuring a most original character acted with unflinching precision, Resurrection gives Hall a doozy of a role and a single-take, seven-and-a-half-minute monologue laying bare a frightening personal history, followed by a descent into darkness. Hall's illumination of a tortured soul suffering from the spoils of past abuse—shame, fear, manipulation, and regression—keeps us guessing until the final shot.
Dale Dickey
With her lived in visage and the sort of instant gravitas that can't be acted, Dale Dickey defines "American character actress" and brings substance to the screen just by showing up in front of the camera. The Tennessee native and high school theater alum who has spent nearly forty years on film, television and stage, Dickey won an Independent Spirit Award for her fine turn in Debra Granik's Winter's Bone (2010) as a secretive, small town Appalachian woman menacing a young Jennifer Lawrence. She worked with Granik a second time in the filmmaker's follow up Leave No Trace (2018), giving an about-face performance as an unexpected maternal surrogate to off-the-grid teen Thomasin McKenzie.
With an expansive career in supporting turns across independent and commercial films, Dickey found herself as the lead—and she ran away with it—in this year's tiny, touching A Love Song, where she played a stripped down but immediately recognizable person—an aging, ordinary woman camping in an RV next to a pristine Colorado lake while awaiting a potential visit from a high school friend (Wes Studi) decades removed. The possibility of a romantic interlude informs the first half of the film, in which Dickey's character relaxes, contemplates, and catches crayfish for each night's dinner, and the second half features some fine adult chemistry minus a trace of melodrama, which Dickey conveys with what might be called hopeful reserve. The slow-burn story puts Dickey's unique face, one of authenticity and obvious life experience, in close-up for ninety minutes across a collection of tiny, lived-in moments.
Judy Davis
A good number of years ago I interviewed actress Judy Davis, and I recall the picture's publicist informing me prior that the venerable Australian star would be a unique sit; someone who would genuinely think about her responses before sharing them, and that there might be moments of reflection—as opposed to a typical celebrity sit down littered with the usual programmed sound bites and press schmoozing. Given Davis' work onscreen bringing the same sort of thought and focus to every role, I expected nothing less.
Davis, star of such award-winning pictures as My Brilliant Career (1979) and A Passage to India (1984), as well as Georgia (1988), Impromptu (1991), Naked Lunch (1991), The New Age (1994), Husbands and Wives (1992) and a collection of other Woody Allen pictures, is indisputably one of the greats, possessing a quiet dramatic intensity and offbeat (often black) humor, fierce smarts and the ability to shift on a dime from demure to combustible.
In this year's galvanizing Nitram, an examination of the trajectory of real-life Australian mass murderer Martin Bryant, who forever scarred Tasmanian history after gunning down 35 civilians in the 1996 Port Arthur massacre, Davis plays mother to the mentally disturbed fledgling killer ("Nitram"), played by Caleb Landry Jones in a Cannes Best Actor winning performance.
In a challenging role allowing Davis to render the grist of real life—buckled under pressure marriage to an equally fine Anthony LaPaglia and resigned motherhood to a son for whom a lifetime of counseling, medication and family support have been insufficient to blunt a rising madness—the actress uses steely reserve to suggest the whole of a deeply unhappy life lurking just below the surface of a seemingly middle-class home. Suggesting limits to love and a helplessness to avert impending disaster, the actress maintains a detached observance suggesting abject resignation after years of failed interventions, parenting and partnership.
It is a subdued performance of indelible moments measured in frequently hushed tones, including a potent scene where she impromptu quizzes her son's oddball new friend, played by the great Essie Davis, about the exact nature of their relationship. In another, she watches her husband being throttled, choosing not to mediate. How much love is enough to give? Could something more have been done to course correct the insanity? What happens to a marriage after years of good cop/bad cop parenting and your husband's sympathies lie more with your child than with you? Davis conveys such quagmires with near reductive simplicity—a mere flinty gesture in her eyes, lowering of her voice, stare held slightly too long or a turn of the head. In Nitram, Davis shows us that less is so very much more.
These are but five of many terrific performances by actresses to-date this year. Here's hoping that they are not lost in the upcoming Hollywood awards shuffle, but that each manages to stay top of mind and competitive on their individual merits—and if Oscar doesn't shine upon them, they may find fortune with Independent Spirit Awards and film critics, who know from quality and rarely short-shrift such adventurous, defiant works.