By Kevin Tibbles
For most people the pot of gold lies at the end of a rainbow. 
Mine is at the bottom of a long, steep hill on the north shore of the St. Lawrence River.
In the world of my former life, television, we would call it the 'Golden Hour', when the afternoon lingers, and the sunlight warms to the touch. Pictures soften, colors bloom and everything is a little more welcoming. Those sensations surround me in the village of St. Joseph de la Rive here in the green, rolling-hilled beauty of the Charlevoix region of Quebec.  (It is pronounced 'Shar-le-vwah' here as opposed to the Americanized 'Shar-le-voy')
The mighty river, 'Le Fleuve' as it is called, dominates. It is the center of our world.
The St. Lawrence is some ten times wider than La Seine and, interestingly enough, there is no translation for the word fleuve in English. Sitting in the front sun porch we quietly watch sea traffic from around the globe head up the St. Lawrence towards Quebec City and Montreal, to the Great Lakes, Toronto and beyond to cities like Chicago with their goods. In an eastward direction, boats wander out to sea with cargo bound for Europe, Asia, and South America. Morning coffee includes a must visit to the 'Marine Traffic' app to discover where the ships have all come from. Of course, there are plenty of playful sailboats passing by as well, using the strong currents of a rising or lowering tide to help them on their journey.  The salty river has just come in from the Atlantic and has not had time to transition to fresh water.
Time has changed here in St. Jo. This was once a thriving ship building town where wooden goélettes were built to ply the fleuve and make deliveries along the shore. Today many of the town's seafarers still pilot the modern ships and are known to toot the horn each time they pass the town by. Three long blasts and two short ones just might mean "Hey kids I'll be home for dinner!". While wooden ships are no longer made here, their history is preserved at the local Musée Maritime where several goélettes are on display to keep the memory alive. It could not have been an easy life working the river back then, especially in winter.
Fog horns blow on days when you can't see your hand in front of your face. On a clear day you can see across the many miles to the other side. In between sits the Isle aux Coudres, a wonderful place for a summer bike ride, a stop for a fresh sandwich and a chance to watch kite surfers get airborne. It is a windy place with centuries-old Quebec homes boldly facing the elements. There is always a feeling of adventure boarding the free ferry for the short ride across from St. Jo to the island. I like to simply walk on and ride back and forth looking out at the water and trying to spot the odd seal or, if I'm super lucky, a beluga.
People used to hunt belugas here but today many work to preserve the fragile population. For the most part belugas, along with several other whale species, remain further east along the river near the town of Tadoussac. Tourists flock there in the summer to go whale watching. Even Jacques Cartier, who was the first European to wander up the river some 500 years ago, remarked on the 'white porpoises' he encountered.  Residents on Isle aux Coudres refer to themselves as porpoises or Marsouins to this day.
| | |
| --- | --- |
| Ferry                     Photo Credit: Aimee Laberge |  Photo Credit: Aimee Laberge |
It's been some forty years since I've fallen for this place. Laundry flapping in the wind, kids running on the mudflats at low tide, a nice hot bag of fries and vinegar. I am conscious of the fact I am not Québécois, but I am also not self-conscious. If I make a hash of the language when I'm buying a can of paint or a plunger at least I've learned something. In fact, I've turned it into a game. I have started to laugh hard at myself and it is quite enjoyable.
At the most picturesque of pickleball courts, up the hill on the hockey rink behind the Catholic church, I've learned a few choice new words too!  I look forward to our thrice weekly meetings with new friends from Les Eboulements, up the hill, and friends from St. Jo down below.
When the town's saltwater swimming pool was about to shut down friends like these rallied to keep it open.  The coop des éperlans was born and now manage this wonderful spot to cool off on warm days. I like riding my bike over there in the mornings to do my chores. Everyone must do their tâches as they are called.
It's all part of belonging to a community, and it is my admiration of community that has brought me to write this little story. That, and a little nudge from dear friend Judy Bross who summers down the fleuve in Pointe-au-Pic, also called Murray Bay.  She understands why Charlevoix is such a bijoux.
The other day I'd just finished stacking three cords of firewood behind the chalet and was languishing in the sun after my final swim of the season. I could feel the crispness of fall in the air.
Summer in St. Jo is ending. The forest will soon be ablaze with fall color. The postcard beauty will change once again. Then the snow will come. But speak to any of my amis and they will tell you they enjoy winter here just as much.
My favorite places:
The century old Boulangerie des Laurentides. Don't miss on the hot deux fesses bread (double bums!) or the sugar pie à Rosanna.
| | |
| --- | --- |
| Boulangerie                     Photo Credit: Aimee Laberge |  Photo Credit: Aimee Laberge |
The local casse-croûte (snack bar) is called Les Petits Délices for a good reason. Besides the hot-dogs and poutine, no one can resist the unexpected Paris-Brest and canelés de Bordeaux.

Antony Barradis and his wife Amélie Franchini

came here from France, and Antony is a seasoned pastry chef.
The Papeterie St. Gilles is where artisans press and make paper by hand the old-fashioned way, often adding flower petals to beautify. The papeterie was started by renowned local author Felix-Antoine Savard back in the mid-sixties because he wanted his words to be printed on something truly unique. He succeeded.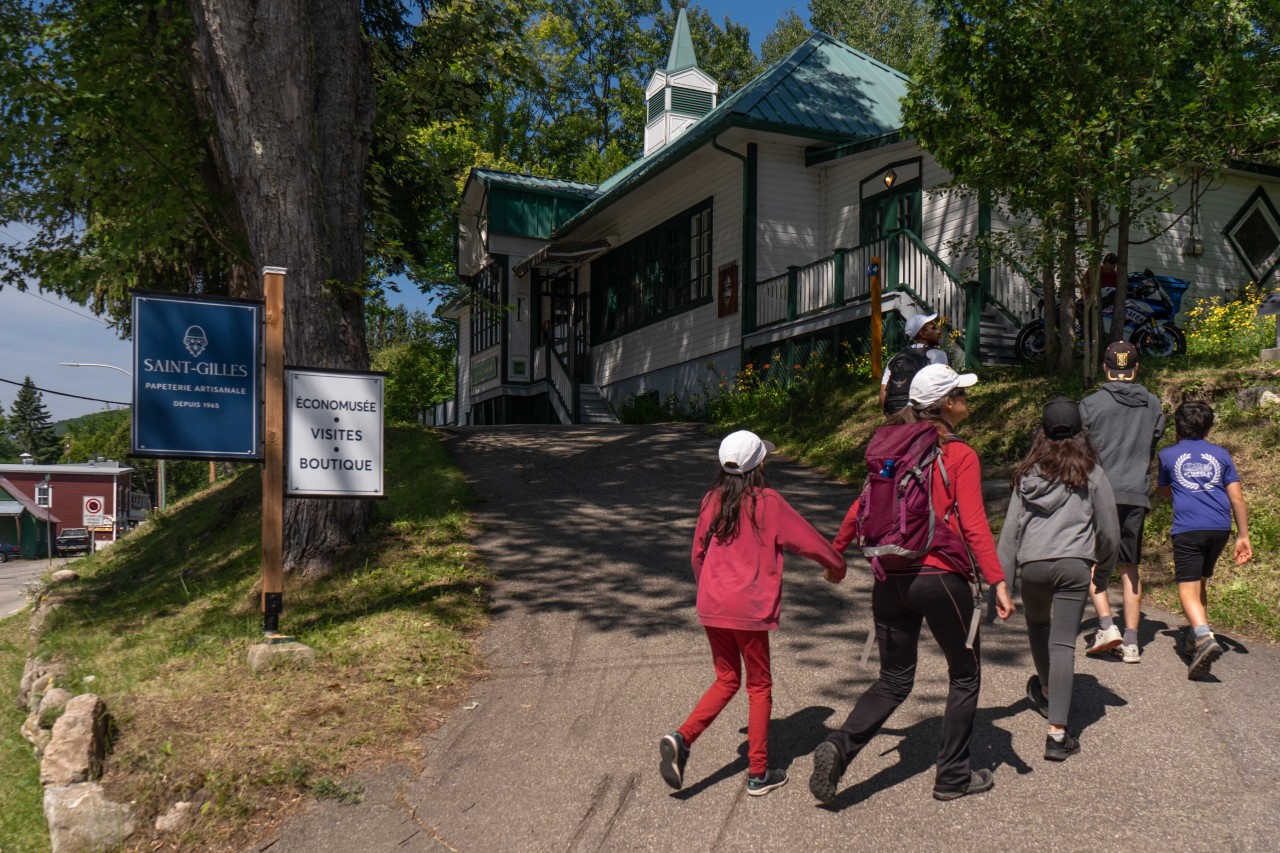 The Jardin du Centre farm stand is popular for its fresh local produce and pick your own raspberries. They offer all the home-grown terroir products: the local lamb, duck foie gras, charcuterie and fromage, including the award-winning migneron. Fresh, hot fruit pies cool on the shelves on Fridays. Strawberry-rhubarb with 35 percent cream poured on top is my favorite.
Up the hill in les Eboulements, at La Base du lit (the Box Spring), Sophie and Lucas serve great coffee and homemade everything, including crêpes and salads, along with iced teas and smoothies. A little secret: Pierrette next door will sell you a dozen of her fresh eggs for three bucks!
Kevin Tibbles is a Chicago-based journalist who, for more than 40 years, worked in television news around the world. For the last 27 years he was a network correspondent for NBC's Nightly News and Today. He is married to Aimée Laberge, author and director of programs at the Alliance Française de Chicago.