By Megan McKinney
You have seen this photograph all your life, the 1903 Horseback Dinner in the Fourth Floor Ballroom of New York's Louis Sherry Restaurant. For well over a century, this image has remained the iconic symbol of Gilded Age excesses.
Waiters, one for each of the 36 guests, were dressed—in scarlet coats and white breeches—as grooms at a fox hunt. And the ballroom, decorated to resemble an English country estate, featured  faux brooks running through the turf-covered dance floor.  
Tryon Towers, the Billings estate stables
Originally the opulent white-tie dinner was scheduled to take place at the host's newly built French chateau-like estate near Fort Tryon Park to celebrate the opening of Tryon Towers, "a world-class stable for his thoroughbred trotters and pacers." The 25,000-square-foot structure housed 22 carriages and 33 horses. However, when reporters learned of the over-the-top event, its location was secretly switched to Sherry's, at Fifth Avenue and 44th Street, then the city's most luxe public space.
The horses were brought up in elevators to the immense ballroom, where linen-covered dinner trays for the guests were attached to their saddles. Each horse wore a feedbag of oats to work on while guests enjoyed champagne and the elegant multi-course dinner.
Now you will meet the man who hosted the $50,000 event. His name was Cornelius Kingsley Garrison Billings, and he was Archie MacLeish's brother-in-law.
Born in the equestrian world of Saratoga, New York in 1861, C. K. G. Billings was informally known as Ben. Although he was raised in Chicago from age three, Ben remained a hard core horseman for the rest of his life. After finishing Racine College at 17, he joined his father's company, Peoples Gas Light and Coke Company, as a day laborer, the traditional role for a son of a company president and principal investor. However–as was also customary for the heir to a great company–Ben did not remain in that position long. He was firm president at 26, two years after marrying Blanche MacLeish, Archie's half-sister. (Blanche was a child of Andrew MacLeish's first marriage; Archie was of the third.)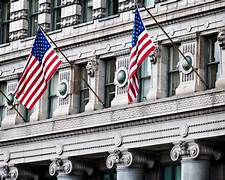 Ben retired from Peoples Gas in 1901 when he was 40 but not from the income it provided. And a decade later he would become Chairman of the Board of Union Carbide and Carbon Company, of which he had been a founder; it was a position he would hold for the rest of his life.
With the Peoples Gas retirement he and Blanche moved to New York's 673 Fifth Avenue, a townhouse at 53rd Street, where they lived until 1907. For country weekends, a mansion, Tryon Hall, designed by architect Guy Lowell, was constructed north of the city on a spectacular site 250 feet above the Hudson River.
Built for $2 million in the currency of the turn of the last century, and requiring 23 servants to operate, the estate featured a heated indoor swimming pool, a two-story squash court lined in maple, a "fumed oak" bowling alley and formal gardens.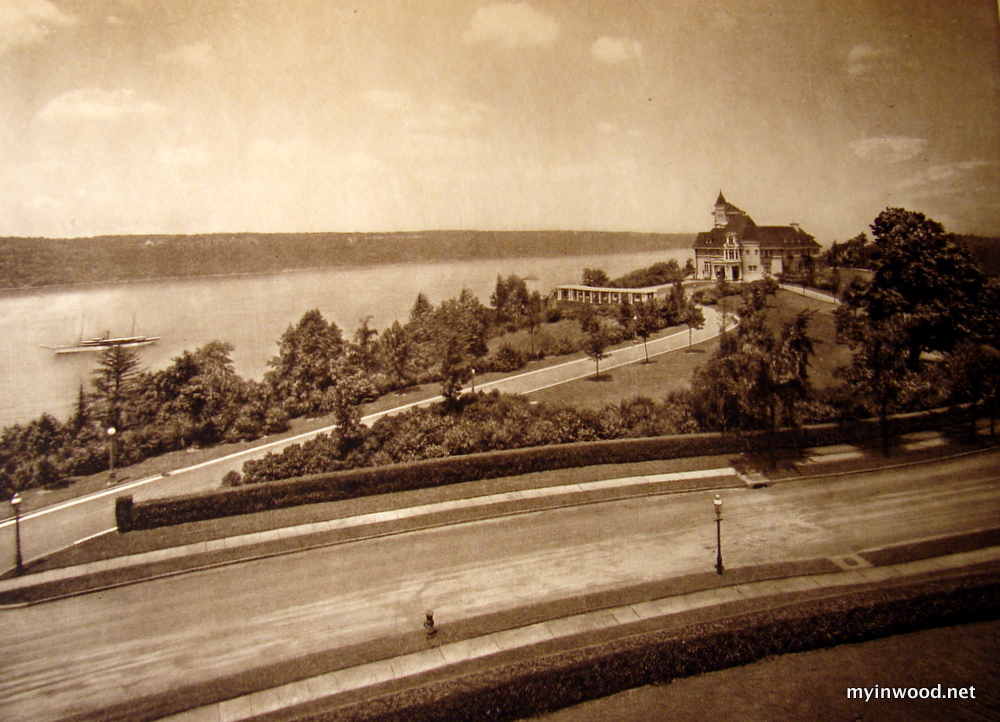 Vanadis, the couple's 277-foot yacht was moored in the Hudson River below the estate, next to the Dyckman Street Ferry landing. This is the way The New York Times covered the 1908 arrival of the Billings yacht, the "only one with an elevator."
June 7, 1908

NEW YACHT VANADIS ARRIVES THIS WEEK; C.K.G. Billings's Palatial Turbine Steamer on Way Across Atlantic Ocean. ONLY ONE WITH ELEVATOR Will Be Notable Addition to the Large Boats in New York Yacht Club Fleet — Over 277 Feet Long.
C.K.G. Billings's new turbine steam yacht Vanadis, which will take its place among the most palatial floating palaces in the New York Yacht Club fleet, is due to arrive in this city next Wednesday. Mr. Billings witnessed the trial trips of his new yacht in the Clyde just previous to his return to America, when she made an average speed of 16.5 knots, considerably over the guaranteed speed, which was 15 1/2 knots. 
Ben Billings' interest in the grand Tryon Hall didn't last long. He sold the property to John D. Rockefeller, Jr and in 1914 moved to Locust Valley, Long Island.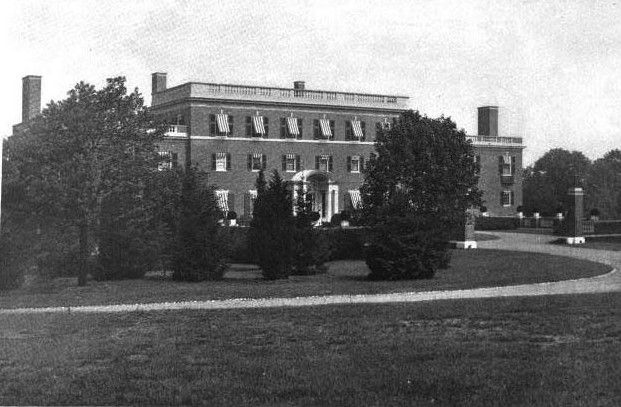 The severely Georgian exterior of the 52-room house surrounded a lush inner world centered by a lovely patio.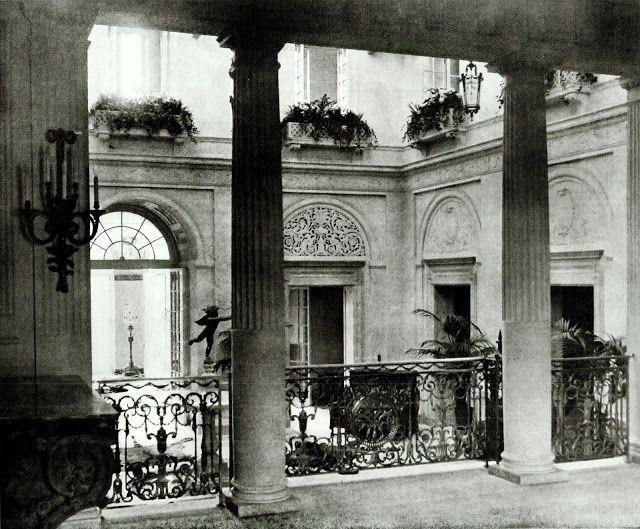 The Locust Valley estate named, Farnsworth, for the family of his mother was also designed by architect Guy Lowell.
Less severe than the front, Farnsworth's rear looked out over a lushy planted 65 acres.
There were other estates, including those in Montecito, Colorado Springs and Curles Neck Farm on the James River in the Virginia countryside. Ben bought the 5,000 acre Virginia property in 1913 and developed it into one of the country's prime horse-breeding facilities.
Curles Neck Plantation in Virginia
Ben and Blanche Billings were parents of two. Blanche Pauline, born in 1884, married Hasted Van der Poel, with whom she had three children.
The Billings' son, named for his grandfather, Albert Merritt Billings, arrived ten years later. He was 31 when on June 20, 1926, he died suddenly aboard his yacht, Tropic, off City Island, New York, leaving a widow, the former Margaret Anna Shaw. According to the following day's Chicago Tribune, the young man died "after an illness of a few days." The account went on to report, "He had not been in good health for a year, having been a sufferer from high blood pressure and a stomach ailment."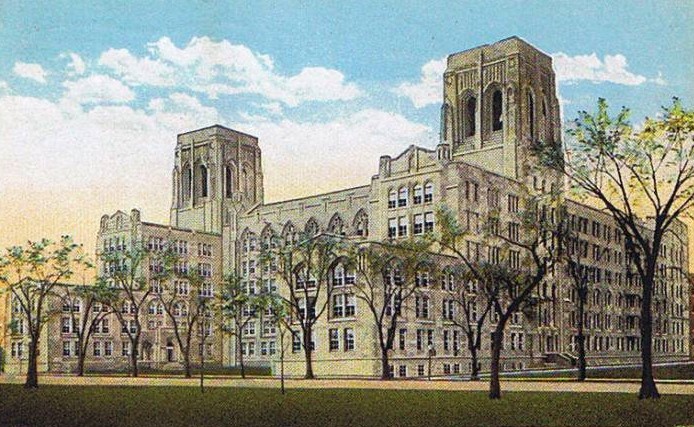 Ben and Blanche Billings, who  endowed Billings Memorial Hospital at the University of Chicago as a memorial to their son, Albert,  outlived him by little more than a decade.
The senior Billings both died at their Montecito home within days of each other, although probably not of a poetic need to defy separation. Ben succumbed to pneumonia on May 6, 1937 and Blanche soon followed with the same. Their bodies traveled together on the same train to burial in Graceland Cemetery
Ben Billings left this life as "one of America's wealthiest men" and "Santa Barbara's wealthiest and most philanthropic citizen". 
Classic Chicago Publisher Megan McKinney's series on the Chicago MacLeishes moves next to the film world to study three family members who are currently of the Hollywood purple.
Author Photo: Robert F. Carl