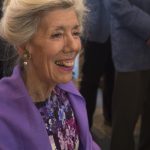 BY JUDY CARMACK BROSS
"In my portraits I love to capture women as they are approaching a new chapter in their lives, and now I am doing the same in my own:creating garments that enhance a woman's beauty," shares famed Chicago portrait photographer Jessica Tampas.
Having long captured local icons with her Hasselblad lens, Tampas is now dressing them in an all-new style of her creation: caftans, both fitted and flowing, side-seamed and sensational.  
"My interest in caftans began when I visited a good friend who collected them. She is tall and slender and everything looks good on her. Being much shorter, when I ordered similar ones, I looked ridiculous," Tampas says. "But I was still fascinated by them."
She knew right away she was on a journey. 
To reach the roots of the caftan, or kaftan, research goes back to ancient times: from royalty portrayed in bas reliefs on ancient Mesopotamian walls to Ottoman sultans in the fourteenth century, fast-forwarding millennia to socialites, rock stars, and jet-setting bohemians, caftans have been around forever. 
Yves St. Laurent created his hostess dress in the 1960s, Halston in the 1970s, and Tom Ford in the 1990s all added their own twist to what had become thought of as a Moroccan style. Everyone from Princess Grace to Queen Elizabeth to Queen Noor has been photographed in caftans, with Jennifer Lopez as one of the style's more recent, and non-royal (though still regal) proponents.
Soon after the pandemic began, Tampas wondered if she might create caftans tailored for women of all sizes: "I dug up an old sewing machine, ordered vintage caftan patterns on Etsy, and, since I couldn't go out to fabric stores to shop, I began to order a variety of fabrics online as well. When I started going out again in 2020, women stopped me to ask where I bought the caftan I was wearing. I said that I made it, and they said they wanted it. I started asking myself how I could make these in a significant way.
"The pattern maker and manufacturer I work with is Meilin Schneider and her company is called Digit Pattern Services. She's a BFA graduate of the fashion program at the School of the Art Institute of Chicago with a degree in pattern design. Her studio is in the Kinzie Industrial Corridor and she's amazing," Tampas says. 
They created designs in muslin spending hours testing side seams, necklines, and different lengths. "My goal was a design that was flattering for everyone. Not a one-size-fits-all piece of fabric. We create a silhouette by making those side seams," she reveals. "We searched for fabric dealers and found a wonderful one in Belgium.  We began to piece a collection together."
The beautiful embroidery found on several of her caftan designs is attracting many clients. Executed by the New York Embroidery Studio, Tampas herself designed the couture embellishment working with a designer from Oscar de la Renta.
She is currently using 100 percent linen, cotton, gingham (which she calls a "happy fabric"), and double-weight gauze but is planning to add silk gabardine and a lightweight wool crepe to the line. Her caftans come in two lengths, just above the knee and a midi length—both flattering but the latter offering more coverage for women who prefer it. 
Although she no longer makes the caftans herself, she reports that they are "all ethically sewn in the heart of Chicago." They are currently being sold online and at trunk shows across Chicago—and by word of mouth—with a Palm Beach trunk show planned for spring. 
Tampas, who grew up in Burlington, Vermont, is the daughter of a couture seamstress who designed clothes for all three of her daughters, so this new venture feels destined, though it is photography that has been a passion since her student days at the Emma Willard School in Troy, New York. 
In an earlier interview she told Classic Chicago that she has "always been endlessly drawn to faces and that a truly great photo allows the photographer and the viewer to connect with the human spirit." And as one of the most empathetic people in the city, this deep connection comes as no surprise. 
"I now have two creative ventures, and as I look at my photography career, photographing women has been my strongest work. My new creative venture seems just right," she explains. 
Here's to Tampas' own skillful spirit for developing a new direction in the depths of the pandemic.
To see more of her designs, visit shopjessicaelaine.com.