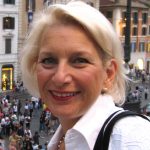 By Lenore Macdonald
One of the most beautiful and historically interesting sites in Taos is the Taos Art Museum in the former home and studio of Russian-American artist Nicolai Fechin, a short amble up the Paseo del Pueblo Norte from the Taos Plaza. Its impressive permanent collection, featuring not only many of Fechin's works but those of the Taos Society of Artists as well, is displayed in this hand-built and hand-hewn artist's adobe home. We explored Fechin's paintings and drawings in an earlier Dispatch and will consider his wood crafting later.
 "Fechin SG001" by Matthew Thomas, Fechin reproductions on newsprint, acrylic paint, on wood panel,  36 x 36 inches, 2020
The Museum has curated a selection of works by Taos-based artist and architect Matthew Thomas. With over 20 wood, paper, and cardboard works, the exhibition challenges the binaries of new and old, local and global, authentic and appropriated art and craft, skilled and unskilled, and the masculine and feminine.
Reframed is a series of drawings, constructions, and patterns fabricated from new and reclaimed materials. Broken down, cut up, rebuilt, and repositioned, these works are textures drawn from familiarity, from (un)common histories, and from the self. The process evokes an awareness of tradition and craft while raising questions about context, place, and modes of production and consumption over the past 100 years.
"Cardboard 3" by Matthew Thomas, Reclaimed cardboard on wood panel 12 x 12 inches, 2021
These works are a practice in seeing. Reframed explores the integration of place and identity into a physical and tactile realm. This site-specific exhibition merges personal journeys into a collective experience through the rigorous production of objects and images. These constructions question where inspiration begins and how authenticity, value, and identity are derived.
"PW016" by Matthew Thomas Reclaimed cardboard, glue, acrylic paint, on wood panel 24 x 24 in. 2021
Matthew Thomas is an artist and architect who utilizes the tools of architecture to explore both social and aesthetic patterns. He has been featured in several regional shows as well as in group shows in Germany and New York. Thomas is off to New Hampshire this spring on a MacDowell Fellowship. He has had a number of past residencies and exhibitions, including StudioWorks in Eastport, Maine; Santa Fe Art Institute; Arteles Creative Center in Finland; The PORT Hackathon at CERN, Switzerland; and Art Farm in Nebraska. Armed with an M.A. in Architecture and Urban Design from Columbia University, he has explored community, place, and infrastructure through parallel practices in architecture and urban design through Studio Taos and the Taos-based nonprofit he founded, The Paseo Project. Thomas currently resides in Taos, New Mexico, with his husband and 40 chickens.
For more information, please call (575) 758-2690 or visit www.taosartmuseum.org/fechin-studio-exhibitions
Taos Art Museum is located at 227 Paseo del Pueblo Norte, PO Box 1848, Taos, New Mexico 87571 Telephone: 575.758.2690 website: www.taosartmuseum.org
For more information about the artist, visit his website at www.jmatthewthomas.com and find him on Instagram at @jmattthomas
©2022 Lenore Macdonald. All rights reserved.