By Judy Carmack Bross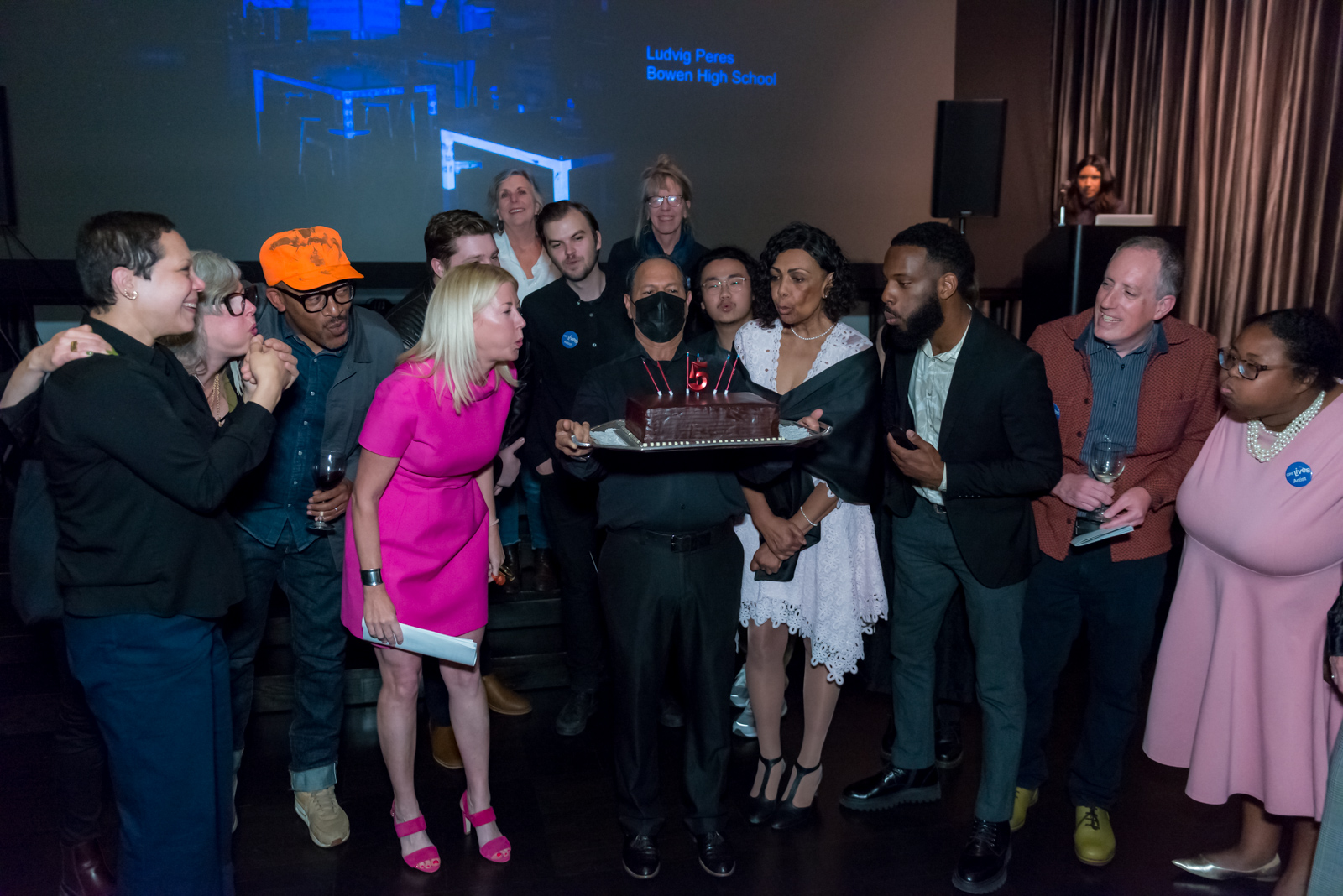 With 96 stories shared by 60 artists in 72 schools in 58 neighborhoods, CPS Lives had much to celebrate at its fifth birthday party at the Arts Club which raised over $60,000 to support Chicago artists and Chicago Public Schools.  The arts non-profit, founded by photographer and philanthropist Suzette Bulley, pairs Chicago artists, designers, educators, thinkers and makers in a collaborative project created to share the unique story of a Chicago public school.  Each story is then saluted at local Public Library branches as well as on the CPS website as an accessible digital history.
"Artists are the best storytellers," Bulley said. "As a Chicago native and visual artist, I see how art and education intersect and shape each other every day.  Through our art, students gain exposure to professional artists.  In turn, artists become inspired to tell new, compelling stories about schools.  Stories change perceptions, make everyone see things differently."
 Yumi Ross and Cyraina Johnson-Roullier chaired the benefit which named arts activist Nora Daley as its Valedictorian.  Bulley introduced the evening's featured speakers, Charles Anderson, Principal of Michele Clark High School and Joffrey Ballet CEO Greg Cameron. Chicago-based DJ Blesstino kept the music spinning throughout the evening.
Suzette Bulley, who had just returned from climbing Mount Vesuvius with her teenage son, told us recently:
"The Chicago Public School system is the nation's second largest school district serving over 341,000 students in 649 schools.  The sheer scale and complexity renders it opaque to the general public, but stories of successes and resilience abound.  This project shows the power of public education in Chicago.  We produce artworks providing a unique window into the Chicago Public School system, generating support and reinforcing belief in its mission 'to provide a high-quality public education to every child in every neighborhood'."
We asked her to tell us more about the past five years and the non-profit's future:
 CCM: What do you think have been CPS Lives greatest achievements?
"CPS Lives has accomplished so much in these last five years but our greatest accomplishment by far has been providing students and artists with opportunities to make art and tell the stories of the Chicago Public School system today. Students are able to work directly with professional artists, giving them a lens into what a career in the arts could look like for them. And artists are given the unique opportunity to work in a public school setting, giving the general public a deeper look into what public schools look like today. CPS Lives is also able to create exhibitions for our artists highlighting their work through a larger audience through local galleries and fairs such as EXPO CHICAGO."
"I would also be remiss to not highlight the work we were able to accomplish during the height of the pandemic when schools were closed and everyone was working from home.  Through two academic years instead of shutting down, which many organizations did, we decided to see how we could document this historic time in public schools. As a result we were able to publish this historic record of learning online and empty classrooms in a zine titled Resilience: Chicago Public Schools in a Time of Quarantine. Since we were not able to have a traditional gallery show we created a digital show with gallery 062 that was meant to be seen through the phone in the digital landscape. The exhibit mimicked VR and you were able to walk around your home with your phone and see the work in an online gallery wall."
CCM: What were you hoping to accomplish when you founded CPS Lives and what surprises and challenges did you find in the first 5 years?
"When I first started CPS Lives I envisioned it as a year-long group project where all the artists of Chicago would collaborate with all of the public schools of Chicago and at the end of the year we would have a big party in Millennium Park to celebrate. Due to the enormity of the school system, I realized how large of a goal this project would be. But so far we have worked with 60 artists in 72 schools in the city and we plan to continue.
"The pandemic also served as a surprise and challenge for us but also as an incredibly important learning experience. It has taken us five years since the original idea and we are so excited for what lies ahead including an exhibition with the 606 Bloomingdale Trail. This show will be a beautiful metaphor for our unique project as the show will expand across many neighborhoods, communities, and schools along the trail.  Chicagoans will be able to interact with the art in relationship to the neighborhoods and schools in an active, playful, and meaningful way." 
CCM:  Why is it important to bring art and artists into Chicago Public Schools?
"The arts are in danger in public schools all across the nation, and there is a need to invest in the next generation of artists while uplifting current artists. Through our programming students are learning from older generations and receiving social and emotional learning through arts. We are also able to tell stories through art as an avenue providing a unique look into public school. We have found that most people's vision of what public school is based on negative news and the traditional journalistic model tends to focus on the negative so much we fall complacent in the tragedy and believe the problem is unfixable.
"Artmaking has provided a unique look into the positivity of public school in Chicago, highlighting both the different experiences each school provides its students along with the universal experiences we have all had in our school lives such as homecoming. You can see an experience as unique as a school in Chinatown or as universal as a Friday night lights football game and that's exciting to see."
CCM: What reactions have you had from the artists participating?
"Artists are really excited and invested in getting to know their school communities and also share with their schools their artistic practice. Each artist has a unique experience with their schools because each school is very different from each other. They also feel like they are part of an important experience for these schools to have more art in their classrooms, to archive the histories of public education in a creative way, and also to be able to have opportunities to exhibit work around the city. Many artists are CPS alumni themselves and find going back to their own schools or schools in the neighborhoods they grew up in gives them a sense of pride and a way to give back to the communities they were raised in. This is also a unique way to give back even if an artist isn't a CPS alum, they have all had shared experiences of being part of a school community and the larger Chicago community."
CCM: Tell us about choosing Nora Daley as your Valedictorian of the evening.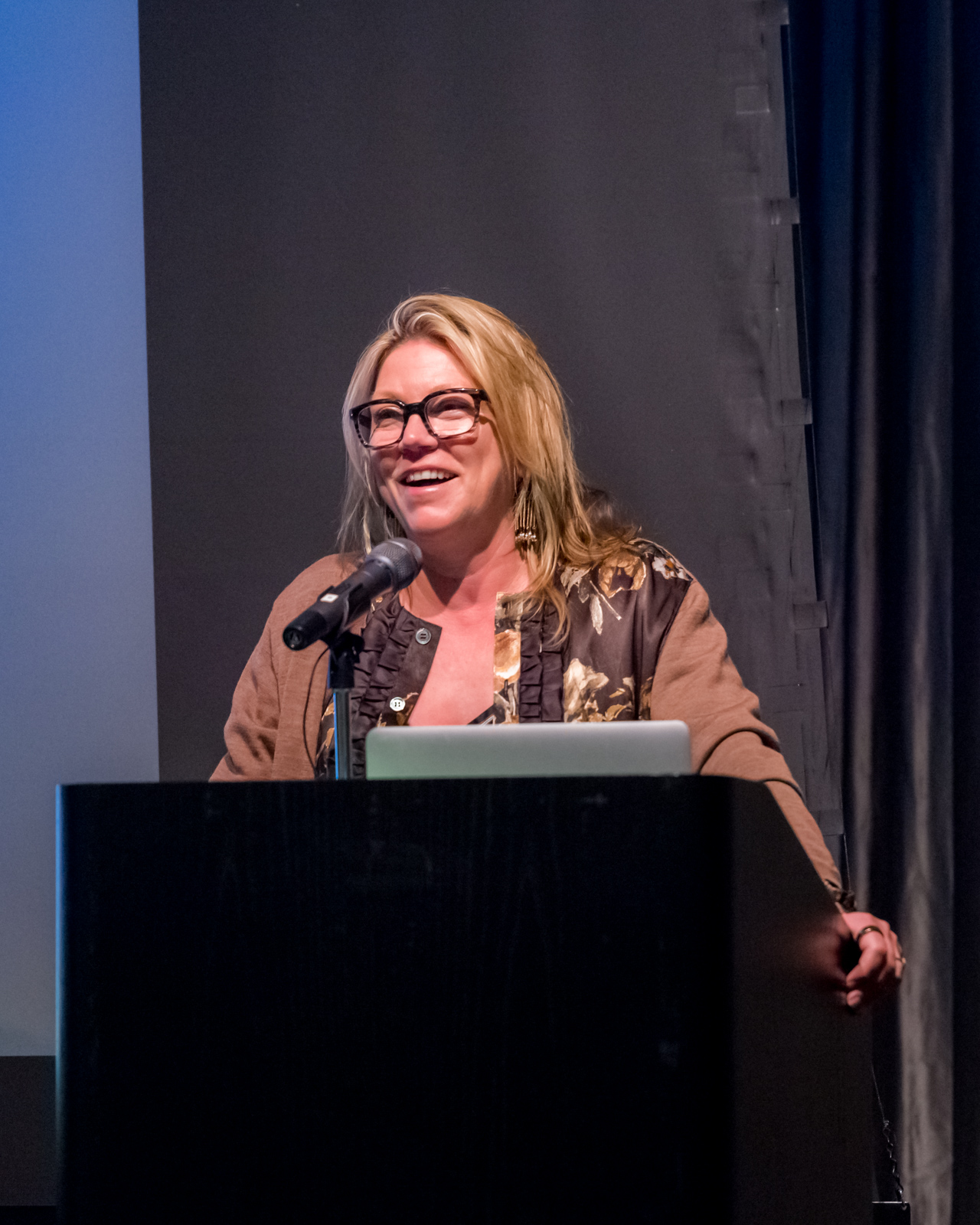 "Nora Daley is a highly accomplished leader in the arts community, with extensive experience serving on various boards and committees, including as the former chair of the City of Chicago Cultural Advisory Council and current Vice Chair of the Terra Foundation for American Art. As the newly-appointed Chair of the Illinois Arts Council (IACA), Nora has been working to better serve artists and organizations throughout the state. With Nora's countless contributions to art and education in the state of Illinois and Chicago we were honored to select her as our first ever CPS Lives Valedictorian."
CCM:  What are your goals for the next 5 years?
"More schools, more artists! My original goal still stands to get artists in all of the public schools to tell the stories of all schools and share them with everyone."
As Bulley told the guests at CPS Lives' Fifth Birthday party:
"We are working on a new school vision, and as Ferris Bueller famously said: 'Life moves pretty fast'."
For more information about CPS Lives, visit: cpslives.org