By Judy Carmack Bross
David and Libby Horn enjoy a 2022 concert.
"Summer time at the Alliance Française is always special, particularly when we begin the Plein Air concerts in the garden. Few people realize when walking on Dearborn Street that in the center of this wonderful building, there is a luscious walled green garden filled with flowers and trees, a water fountain… a real "oasis" in the middle of the city! Add the magic of skilled musicians, a bottle of French rosé, and a warm summer night, and the experience of the Plein Air Concert Series is transformative! We hope you will be available to join us!" — David B. Horn, President, Alliance Française de Chicago.
The Plein Air Concert Series at the Alliance Française de Chicago was born during the pandemic as a way to share live music while keeping everybody safe in the abundant "plein air" of their courtyard. Libby Horn, a deft gardener and the wife of Alliance president David Horn, agreed to turn the already lovely walled courtyard inspired by the Maison de Verre in Paris into a jewel-box of a garden perfect for enjoying concerts on a summer's day.
Aimée Laberge introduces Greta Pope at a plein air concert in 2022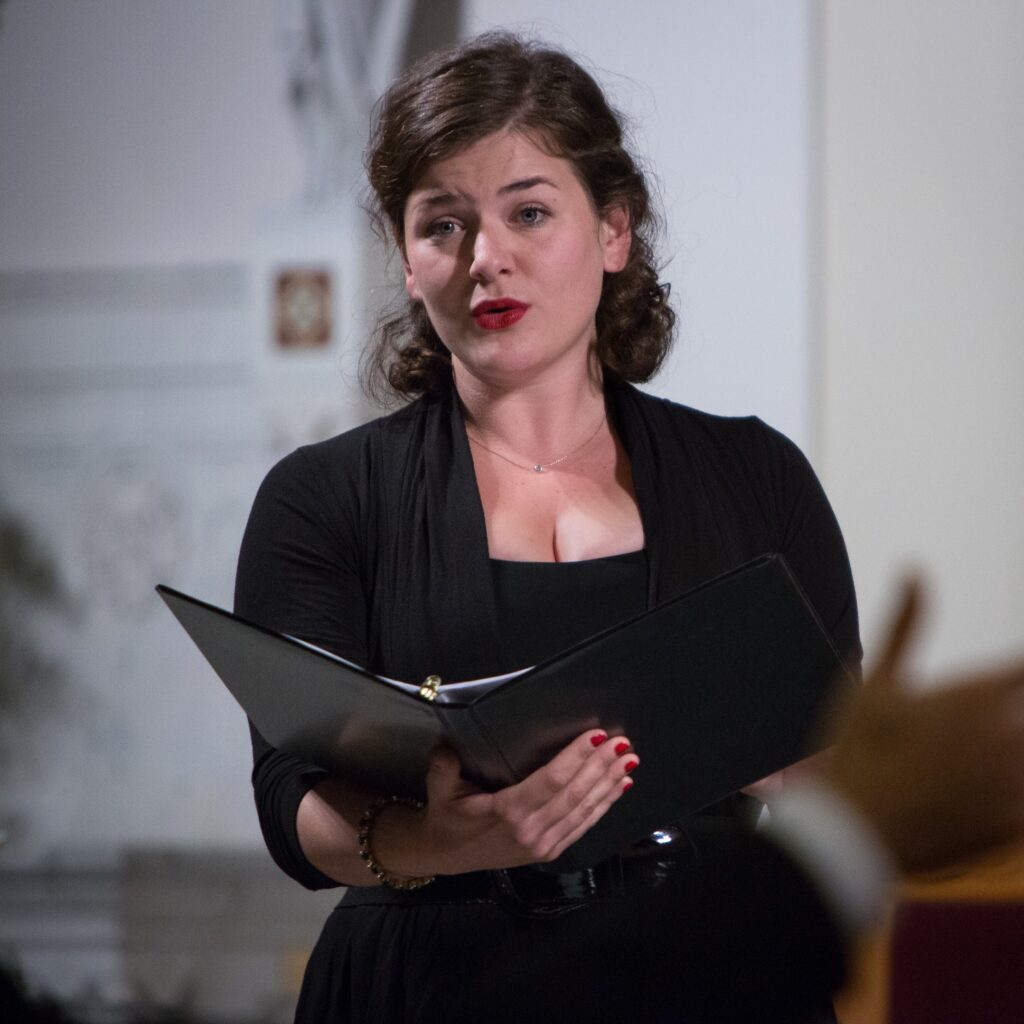 Natalie Colas
Isabelle Olivier
Curated by Director of Programs Aimée Laberge, last years' series was a runaway success featuring jazz performer Greta Pope, Strasbourg-born soprano Natalie Colas and composer and harp player Isabelle Olivier. "The great outdoors being what it is… Greta Pope recalls singing with her fur coat on during the pandemic, and in 95F degree last summer! Nothing a glass of chilled French rosé and a cool jazz beat can't take care of," Laberge said.
Celebrated singer Greta Pope at a sunny plein air 2022 concert. She returns September 19.
"This summer the Plein Air Series introduce new talents, such as the Soto String Quartet from Civic Orchestra of Chicago who performed June 21, whose mission is to train young professional musicians for careers in symphony orchestra; the French singer Cécile Savage, well known on the Chicago and New Orleans jazz circuit; the gamine cabaret singer Claudia Hommel; and the incredibly talented tap dancer and "hoofer" Jumaane Taylor from the Chicago Human Rhythm Project."
Cabaret singer Claudia Hommel appears July 12 in "Bonjour Paris."
"Greta Pope will also return to shimmy in Black Paris, Natalie Colas to enthrall, and maybe even whistle, as she sings Barbara –while Isabelle Olivier keeps making the harp the coolest kid on the block," Laberge commented.
The Plein Air Concerts conclude with the tap dancing Chicago Human Rhythm Project featuring Jumaane Taylor on September 19.
Cécile Savage
We talked this week with Cécile Savage who will appear with her pianist Leandro Lopez Varady June 28. She will perform in four languages, including Edith Piaf, Juliette Greco, and Billie Holiday in French and English, a song in Italian, and a bit of Bossa Nova in Portuguese. Born in Martinique, Savage grew up and studied classical piano and philosophy in Paris before moving to New York, then Chicago and New Orleans. With her mother a talented artist and her father a filmmaker, Savage grew up surrounded by the appreciation of culture.
"My mother loved listening to the jazz of Louis Armstrong and Bessie Smith. The Paris upheavals of the late 1960's caused me to move to New York where I pursued the guitar, sometimes called the poor man's piano. I couldn't afford to buy a piano and had no access to one. I played the blues on the streets of Harlem with Sugar Blue who later became quite famous but wasn't known at the time.
"I decided I didn't want to play the blues forever and when I moved to Chicago in 1981 and performed in blues clubs, I knew I didn't want to play just the blues forever. Little by little I inched into jazz and studied voice and the acoustic bass. I moved to the south side and I'm still there, although I have lived part time in New Orleans as well. With a young daughter, I also taught music for Chicago Public Schools."
Savage told us she won't be performing Edith Piaf's "La Vie en Rose" but has chosen other songs by the famous chanteuse. "French is not just about a guy in a beret delivering a baguette while "La Vie en Rose" is playing in the background. French songs are wonderful in that they tell stories, with a beginning and an end. Jazz is much different in form and describes a feeling," Savage said.
John Sagos, President of Third Coast Baroque, told us:
"I love the Plein Air concert series at the Alliance Française! The inner courtyard is the perfect intimate setting for a concert. The artists always curate an eclectic blend of styles from classical to jazz to modern chanson and original compositions. I know many of the artists personally, and they are some of my favorite musicians in the city of Chicago. It was such a delight to see Greta Pope perform and then to be in the same Monday morning French class with her via Zoom! I love all the programming presented by the Alliance Française, and I always look forward to the warmer weather when we can all sit together, raise a glass of wine, and listen to a wonderful concert in the courtyard."
The Alliance is also inviting members and guests to "Storm the Bastille on July 15. An afternoon family event featuring children's activities precedes an evening of French food and wine from local partners, dancing to DJ Mwelwa Musambacine's music, a waiters race, and ending with the singing of La Marseillaise.
For further information on both the Plein Air Concerts and "Storm the Bastille," visit af-chicago.org