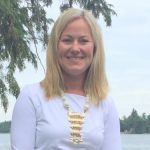 By Samantha Schwalm
Hosting a dinner party is a meaningful way to show friends and family members how much they mean to you, especially during the Christmas season!  Here is a menu I love sharing with my friends, which  consists of crostinis to start. Chicken wrapped in prosciutto and stuffed with asparagus and Boursin cheese. Plus, a couple of sides. Below, please find some recipes and tricks to help you be a wonderful host/hostess this holiday season.
Have A Game Plan and Prep As Much As Possible:
My mother to this day, sets her table days before her guests arrive. It allows her to make sure everything is pressed and polished. There is nothing more frustrating than realizing day of a party, that you are missing something. Worse, that something is tarnished and needs polishing. 
To allow you to spend time with guests, and not be stuck in the kitchen the entire time, do all of your food prep in the days leading up to your party. Pre-cook as possible, so all you have day of is to heat and serve. For example, the chicken maybe be pre-wrapped in prosciutto and covered with plastic wrap the night before. The crostini's bread maybe be made two days a head of time and stored in a ziplock bag.
Create The Mood From The Beginning:
I love when people are welcomed into my home with a fun specialty drink or a glass of champagne to grab after they take off their coat.  I also have the lights dimmed. Thus, allowing candle light and the Christmas tree to create the mood. Another trick that helps is playing Christmas music or classical music in the background helps to create a festive atmosphere.
The Table And Menu:
This is the time to really set your table! Get out the table cloths, cloth napkins, and China. I LOVE a well set table. Also, if you do not have enough place settings, feel free to mix and match. Each table can have a different set of china and glassware on them as long as you are consistent with the linens. I would recommend using all white linens, if using different place settings. Dinner parties are not the time to try out a recipe. Make something you know and have tried before.
To help get the creative juices flowing, here is a simple dinner party menu:
Crostini with Fig Jam and Maytag Blue Cheese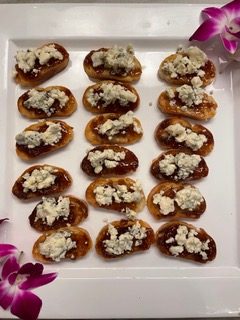 1 baguette
1/4 cup butter (melted)
Fig Jam
Maytag Blue Cheese
Slice the baguette into 1 inch thick slices, and place on a baking sheet. Brush each slice with the melted butter. Set in an oven with the broiler on, and leave there until golden brown (about 30 seconds to 1 minute). Remove and repeat the same steps on the non toasted side of the baguette. Let them cool.
Spread the fig jam on each slice, and then crumble the blue cheese on top. Serve
Popovers
4 large eggs

1 1/2 cups milk

3/4 teaspoon salt

1 1/2 cups all purpose flour

3 tablespoons melted butter + more for the bottom of the pan
Preheat oven and popover pan to 400 degrees. Leave the pan in the oven until it is time to fill them with batter. Next, in a large bowl, place all of the  ingredients and whisk together until batter is smooth. Open the oven and put a small pat of butter in the bottom of the popover pan. Stick the pan back in the oven for 1 minute.  Then pull the pan out of the oven and fill each cup about half way with batter. Stick the pan back into the oven and bake for 30 minutes. Serve immediately
Israeli Couscous
1 cup Israeli couscous
2 Tbls butter
2 cups chicken stock
1/4 cup pesto
1 cup sliced cherry tomatoes
1/4 cup feta cheese
In a sauce pan, melt the butter. Add the couscous and stir for 1 minute, Add stock, cover with lid, and turn off heat. Let stand for 5 minutes. After 5 minutes, check to make sure couscous is soft and tender. If not add a little more stock and turn heat on to low, until tender then turn off heat. Stir in pesto, tomato, and feta. Serve
Chicken Wrapped in Prosciutto with Asparagus:
4 chicken breast
1 package of Boursin cheese
1 bunch of asparagus
4 to 8 pieces of prosciutto
Cover chicken in plastic wrap and pound thin. Place a dollop of Boursin cheese and 3 asparagus in the middle of the chicken. Roll the chicken up, and wrap in prosciutto. Place on a baking sheet and bake in a 375 oven for 25 to 30 minutes (until prosciutto is crispy).