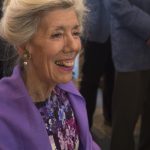 BY JUDY CARMACK BROSS
Whitney Lasky asserts that sometimes it takes a village.
The former television actress and well-versed Chicago volunteer relates that it is the tiny town of Clarksville, Missouri, that has captured her sparkle. The Julliard-trained Lasky radiates as she explains that, thanks to her new post as chief marketing officer with the fragrance company Gibson & Dehn, she is developing the potential of this river town of 432 people. Located not far from Mark Twain's hometown of Hannibal, the author would have loved Lasky's enthusiasm for this project that will light up this historic town Mississippi River site once again.
A graduate of the Goodman School of Drama, now the Theatre School at DePaul University, where she serves as a sustaining board member, Lasky played John Larroquette's girlfriend on the award-winning sitcom Night Court. She also appeared on One Life to Live and in movies before being struck by a drunk driver who had stolen a cab. After recovery, she returned to her native Chicago (she grew up in the Sauganash neighborhood) to work in real estate and marketing. She is the mother of two sons: Blake, a graduate of Brown and New York University, who is a partner in a venture capital firm, and Brett, soon to be a high school graduate.
Lasky can't wait to return to the Clarksville, whose motto is "Unhurried, Unspoiled, and Uncommon."
"Clarksville is on the highest bluff around and is the only town that faces the river," explains Lasky. "More than 2,000 eagles migrate there during the winter, and there's a two-day eagle festival called 'Eagle Days' the last weekend in January that attracts wildlife enthusiasts from around the region."
She continues, "We want to develop Clarksville as a showcase for weavers, and potters, and other artisans, a place where you can make your own candles and enjoy a visit to the teahouse. We definitely believe in second chances—hopefully one day every building will be filled with artists and artisans from across America."
She tells us more about scent specialists Gibson & Dehn that are developing the town: "Our candles have 12 different scents, including Norwegian spruce, and because they are poured in layers, they will last 60 hours. Putting them in the freezer for a while before you light them will make them last even longer. We only have candles in containers now but hope to have tapers in the future. We make many candles for private brands like American Express and Graff."
"A burning candle can definitely center your focus. Lighting a candle is very intentional as we have seen in Catholic churches for so many years," she adds.
For Thanksgiving, Lasky incorporated candles into her table setting, mixing the pumpkin brulee candles with pure ones, placing them amid magnolia garlands and cymbidium orchids: "I think a few scented candles create a special environment for the room and don't overwhelm the food."
She loves working with Inara Carroll at Green on Wells Street in Chicago. For Christmas she plans on using magnolia garlands, lots of amaryllis, and the Norwegian Spruce candles. For New Year's Eve, she suggests "lots of candles, put around the room on pedestals of different heights, perhaps the champagne sorbet ones, which seem bubbly and uplifting like champagne."
Mood boosting, whether in Clarksville or in candles, is a mission of the company: "In Japan, overworked employees pursue forest bathing where they are literally surrounded by the calming sense of the woods. It has been shown to reduce stress hormones, reduce blood pressure, and strengthen the immune system, as well as make people actually feel happier. Our scent lab has been able to re-create the properties. We are working with several scents that have different sensory centers to give a mood boost."
Equally important to the concept of stress reduction is the focus on sustainability and ethical practices. Working with vegan leather made from cactus has become all in a day's work for Lasky. "It is buttery soft and definitely a response to the plant-based world," she explains. "Recently, six women in Clarksville created 3,000 desk sets for a client, and many of our candles are placed in alabaster containers and wrapped with vegan leather."
Lasky looks forward to her next Clarksville visit to the candle shop that sits right on Front Street near the river. Along with founder Michael Dehn Breault and others, she is reviewing plans for a hotel that will be in the works in the near future. Breault, who lives in Manhattan, where part of the business is located, spent summers in Saratoga Springs, New York, and has always loved small towns.
Legendary trainer Jim Karas, Lasky's good pal, is an investor in Gibson & Dehn, and will be traveling there soon to conduct a wellness workshop for residents.
Like the soaring eagles who alight there every year, Lasky has found a beautiful place to call a second home.
For more information, visit gibsonanddehn.com.