By Sophie Bross
It's been months since the coronavirus has changed our lives in every way possible from our professional lives to our personal lives.  Beauty and fashion trends are no exception especially with constant Zoom meetings and everyone spending more time at home.  The remote worker is now the norm and more people are entertaining at home in small and casual ways.
What does this mean for beauty and fashion trends?  For starters, the look of full-face makeup is gone.  Women are wearing less makeup and the makeup they are wearing is more natural.  The Zoom Boom has made us used to the no makeup look and fresh is the new makeup look.  With less makeup there is renewed emphasis on skin care.  Hair routines have simplified.  Business attire and suits have disappeared.  I reached out to some of the top beauty, hair and fashion experts to get their take on what's on trend now.
Many of you are already familiar with our own resident Chicagoan beauty expert, makeup artist and author Jenny Patinkin.  Jenny is nationally recognized and has been featured on Good Morning America, The Today Show, Rachel Ray show, New York Times, Glamour, Bazaar and more.  Per Jenny, the no-makeup makeup look still requires makeup and gets harder to pull off as we age and our complexion begins to change in texture, laxity and tone.   She recommends some sort of foundation (whether it's a tinted moisturizer, BB or CC cream or full coverage) and under eye concealer.  Getting a fresh dewy look means using a bit of blush and a highlighter of some sort.  In makeup the "Lipstick Effect" is now have the "Above the Mask" effect with sales of brow, lash and eye products getting a boost.   Making the eyes stand out is even more important now since everyone is wearing masks.  This calls for always curling the lashes to lift shadows off the eyes with or without mascara.  Softening up the eyeliner is the current trend and Jenny definitely recommends dialing back the eyeliner as we get older.  Beauty tools are HOT right now because everyone has time for more expansive and soothing self-care and there is the desire to replicate the benefits we would ordinarily be getting from a facial. 
We spoke with Cia Souleles, an owner at Arch, a luxury beauty product and services boutique on Wells in Chicago's historic Old Town neighborhood. Skincare and body care products have definitely been on the rise and clients are simplifying their makeup routines. Lash and brow tints have been very popular as some forgo mascara altogether. More people are buying face masks and using at home exfoliating products.  Some of the most popular items at Arch have been the Natura Bisse Glyco Peel, Joanna Vargas Rescue Serum, Omoravicza Blue Diamond Serum and the Chantecaille Gold Recovery Mask.  For makeup, the Gucci Westman highlight stick and super loaded tinted highlight and the Chantecaille Eye and Face Concealer stick have been bestsellers.  Natura Bisse's Diamond Lip Booster plumps up lips and provides moisture without staining your mask.  In terms of body care, she recommends the Eminence Organic Apricot and Stone Crop body oils for moisture and restorative properties.  As for beauty tools, the Jenny Patinkin rose quartz face roller is perfect for boosting circulation and adding glow, temporarily lifting and toning the skin and reducing inflammation and puffiness.
On my next stop I spoke with Anthony Cristiano whose namesake salon is located in Trump Tower overlooking the Chicago River. The salon has floor to ceiling windows and lots of natural light. Anthony has over 20 years of high fashion experience and has worked with such photographers as Ben Watts, Craig McDean and Norman Jean Roy.  He's published in Vogue, Harper's Bazaar, and Marie Claire and has worked with many celebrities including Demi Moore, Robert Downey Jr. and Mariah Carey. Per Anthony many of his clients who can't travel are indulging in self care with luxury beauty experiences.  After coming back from a long break where salons were temporarily closed, many had not had their hair cut or colored in months.  It's the perfect time to revisit someone's image. Many clients came in wanting to try something completely new with their cut, color or both.  Others have wanted to simplify.  This has been an opportunity for change for many. Anthony has been taking additional time to consult with each client upon their return to see what has changed in their personal lives during this time and uses this information to draw inspiration for new ideas.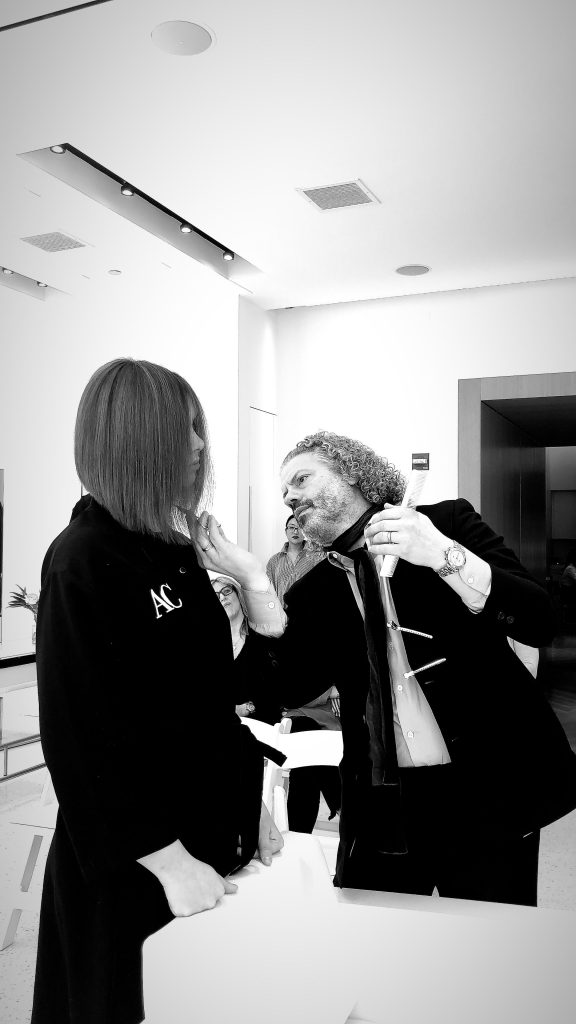 Following I went on a virtual visit to L.A. to meet with celebrity stylist and fashion expert Eric Himel.  From reality shows to lifestyle shows, Himel is a regular media fixture as both an on-air personality and well as a fashion advisor for The Style Network, E!, ABC, CBS, NBC, Fox, CW, TMZ and more. He regularly works with an array of celebrities for on camera appearances, photo shoots and red carpet events. Himel also has a roster of private clients from socialites to CEOs across the US and visits Chicago quarterly to work with his Midwest clients. 
Staying at home for months on end and the "Quarantine 15" is a recipe for a style disaster.  After 6 months of yoga clothes and sweatpants, its time to come to the realization that our life has changed.  Now the goal is to look chic while still being casual and comfortable.  Himel refers to this new segment in fashion as "Elevated Athleisure." It is a step above regular athleisure. Fabrics with some stretch combined with fabrics that are not usually seen in regular athleisure like linen, silk and leather.  Athleisure silhouettes are not tailored but are typically looser.  Your outfit not only communicates to the world about how you are feeling about yourself, but it also communicates to you how you feel when you go to the grocery store, Starbucks or even walking from your bedroom to the kitchen. 
Since Zoom calls have been a mainstay for work, online dating and social gatherings, Himel recommends optimizing your top half.  Evaluate your arms, neck and chest since these now become the focal points of your outfit on a call.  If your arms are not your best feature, consider a ¾ length or long sleeve shirt.  If the background for your call is bland, wear a fun pattern. Conversely if the background for your call is busy, consider it part of your look.  Pick a color in the background and wear something solid of that color on top.  Treat a Zoom call like you are part of a beautiful painting!
Resources:
Visit Jenny at www.jennypatinkin.com and follow Jenny on social media @jennypatinkin
Visit Arch at 1359 N. Wells, Chicago and www.archapothecary.com and follow on Instagram @archapothecary
Visit Anthony Cristiano at 401 N Wabash, Chicago, www.anthonycristiano.com and follow on @anthonycristianosalon
Visit Eric Himel at www.erichimel.com and follow Himel on Instagram.com/erichimel, facebook.com/erichimel and catch him in US Weekly's Fashion Police column.