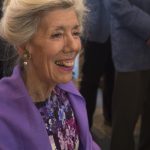 BY JUDY CARMACK BROSS
"No one had thought of drive-in movies for years. Now Chicagoans are bringing their families or the people they shelter with in by the car full, longing for a shared experience from the past. Think Happy Days."—Charles Coleman, Facets film program director.
What started as a pop-up is now in place through November and anticipates a return in March. A winning combination of big screen entertainment and community, all made possible with COVID-19 safety precautions keeping every car in its own bubble, the Lincoln Yards Drive-In has been a sold-out sensation each weekend.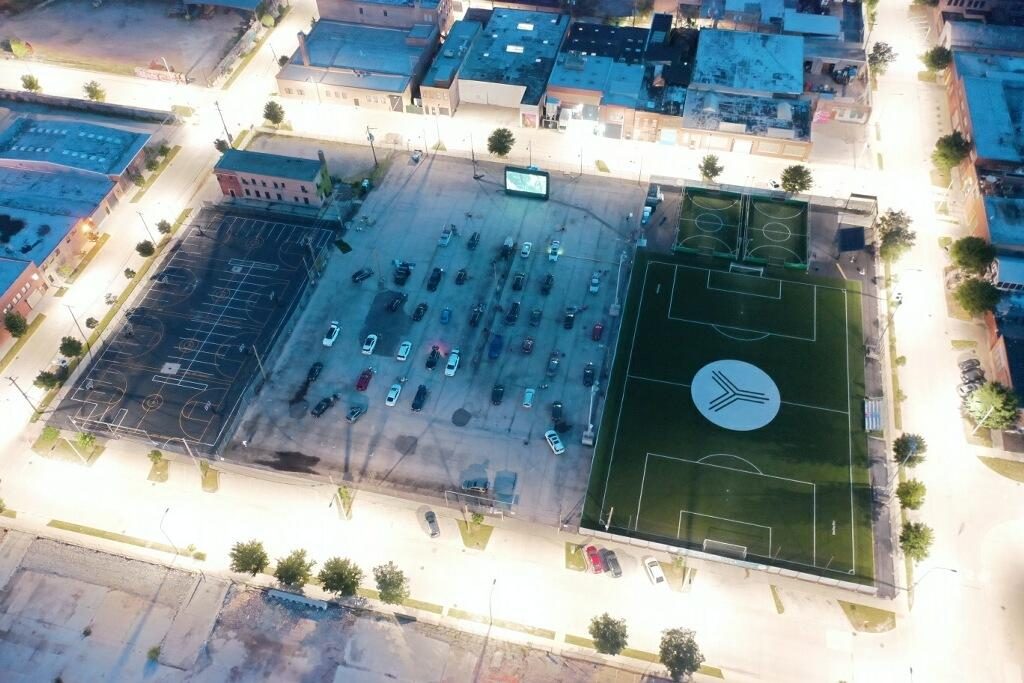 Located at 1684 Throop Street, the theater represents a blockbuster collaboration between the real estate investment and development firm Sterling Bay, the Davis Theater, Facets, and the Second Ward. Built in 1918, the Davis Theater is the longest continually operated theater in Chicago. Chicago nonprofit Facets, which was referred to by late legendary film critic Roger Ebert as "the temple of great cinema," continues to be one of the nation's leading exhibitors of foreign, documentary, and art house films.
We talked with Coleman and Ben Munro, co-owner of the Davis Theater in Lincoln Square, about what makes a great drive-in movie experience today. The film buffs talk frequently about programming, precautions, and divide up the selection process for the weekend.
Munro shares, "People are starved today for things to do that are as safe as possible. Still, the movies have to be good enough. Our films play into the nostalgia part of a drive in and by showing films like Jurassic Park, La La Land, and Indiana Jones and the Last Crusade, viewers see films that really look good on the big screen. Drive-ins used to feature sound from those little speaker boxes attached to the car window. You may not get the whole surround sound that you have in a movie theater, but the audio systems in cars today eliminate those squeaking sounds from the boxes you used to have. Drive-ins really went away because of technology."
Coleman describes a modern drive-in evening, under the umbrella of COVID-19: "All you need to have a drive-in is the designated space and a public performance license in addition to the equipment. You can check in at the gate at 7:30, and we are finding that people come in well in advance of the 8:45 showing. Bubbles are created around each car and each car is 10 feet from another. People have pre-ordered food or bring in their own and set up tables like tailgate parties. The movies can go on even if there is a light rain."
Andy Gloor, CEO of Sterling Bay adds, "As the City gets back on its feet and Chicagoans look to find new, socially-distant ways to enjoy the summer, we're excited to create a safe and comfortable way for residents to reconnect with each other and support small local businesses."
Lincoln Yards is an exciting 55-acre mixed-used development located along the North Branch of the Chicago River in a former industrial corridor. The venue has been meant everything to the success of the pop-up. "Sterling Bay has been incredible. They have really gone above and beyond normal generosity," Munro says.
Karen Cardarelli, Executive Director of Facets, echoes this, saying, "Facets is delighted to be joining Sterling Bay, the 2nd Ward and The Davis Theater in the innovative Drive-In at Lincoln Yards. This unique Chicago North Side drive-in embraces both the beloved drive-in movie fare along with Facets curation of independent films. I'm very proud Facets can continue to bring these hidden gems to Chicago at this safe, enjoyable experience with the Chicago nighttime sky as our beautiful cinematic-like backdrop."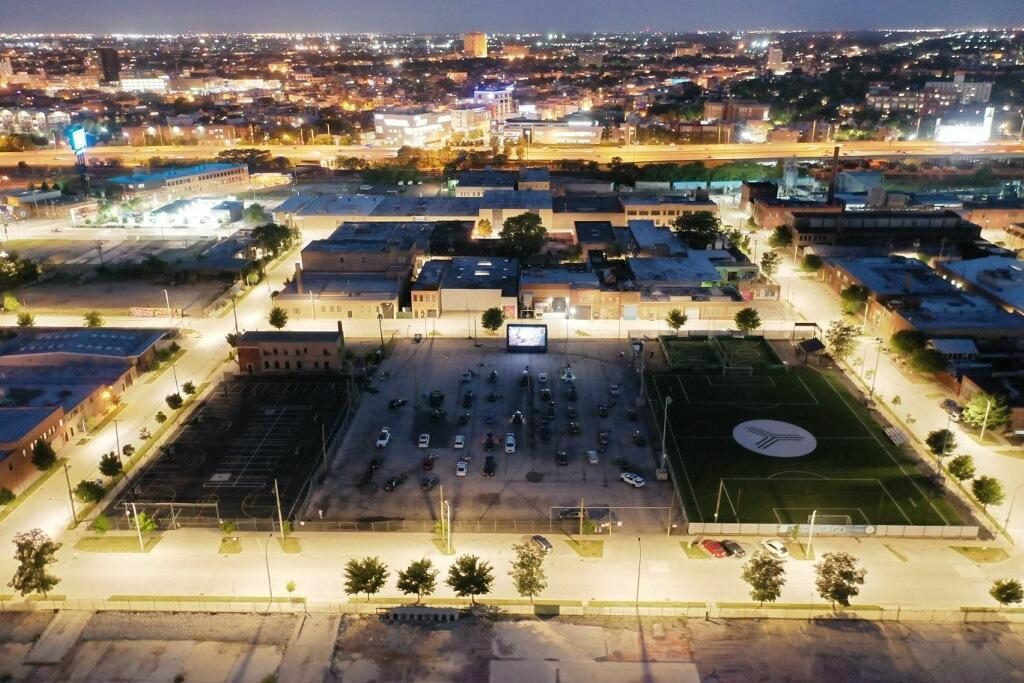 Although there were experimental drive-ins as early as 1910, the first partial drive-in was the Theatre de Guadelupe in Las Cruces, New Mexico, which opened on April 23, 1915, with a showing of Bags of Gold by Sigmund Lubin. Richard Hollingshead created the first patented drive-in on June 6, 1933, in New Jersey after he constructed a drive-in for his mother in his own driveway. It became an option for people unable to sit comfortably in smaller movie theater seats. Using a 1928 Kodak projector mounted on the hood of his car, he aimed at a screen pinned to some trees. Hollingshead worked out the spacing logistics to make sure that all cars had unobstructed views.
The 1950s and '60s were undoubtedly the drive-in's heydays. Although the 1978 movie Grease focuses on teenage romance in a parked car, the baby boom and the opportunity for parents to have a cheap evening's entertainment and bring their kids along in their pajamas were also incentives. By 1958 there were over 4,000 drive-ins in the United States, particularly in rural areas. The energy crisis of the 1970s and the poor sound equipment, however, contributed to their decline.
Recently industrious neighbors on my street showed The Rocky Horror Picture Show on an alley wall as guests sang along from their deck, and elsewhere nearby parents put up backyard screen for small birthday party. Hollingshead's gift for his mom is resurging almost 90 years later, showing the life-affirming power of film.
Facets recently selected Extra Ordinary, a paranormal, horror/romantic comedy about a girl with superpowers. "I would describe it as Rocky Horror meets the Peter Cook and Dudley Moore 1967 hit Bedazzled. The audiences loved it," Coleman says.
While independent films ensure a unique viewing experience, there's nothing wrong with booking blockbusters, Coleman assures. "Take Jaws for example. It is perfect entertainment," he says. "When you think about it, there is much in that movie to relate to today. The mayor of that little Maine village is trying to deny that there is a problem with a really big fish in the harbor. He needs to make money off the tourists that season. Very Hitchcock parts to it."
Both Coleman and Munro agree that providing a great variety with their movie choices is key as schedule week to week. One of Munro's top picks for a future screening is The Wizard of Oz. Next up on Facets' roster is the thriller A Good Woman is Hard to Find, scheduled for the weekend of August 20. A British-Belgian co-production, it stars Sarah Bolger as a young, recently widowed mother who will go to any lengths to protect her children as she tracks her husband's murderer.
In addition to movie selection, refreshments at a drive-in are as crucial today as they were in the 1950s. Munro comes from a food and beverage background and co-owns the Carbon Arc Bar and Board at the Davis. At Lincoln Yards, he says, "We sell pre-packed and totally sealed items like Mellows gourmet popcorns, great candies, and sodas. You can order these ahead of time when you get your ticket, or we have a concessions stand with socially distanced guidelines in place. Ada Street restaurant is nearby and you can pre-order hot food such as ribs, steak, burgers, and gnocchi and it is delivered to the drive in."
Post pandemic, what will be the drive-in's future? "Sans pandemic, it might have been hard to get the drive-in concept off the ground, but our times have forced people to re-visit the experience and are falling in love with it. I predict there will be at least one permanent drive in in Chicago soon," Munro shares.
All proceeds from the drive-in benefit the Davis Theater and Facets as well as the participating food venues. Films are shown Friday through Sunday at Lincoln Yards with check-in available at 7:30 and films beginning at 8:45. Cost is $35 per car, with room for 35 cars. All bathrooms are sanitized after each use and social distancing for people not in the same group is required in the concession stand line. Movie tickets and concession options are available at davistheater.com.
***
Among it significant offerings, Facets presents the Chicago International Children's Film Festival, the oldest children's film festival in the Western Hemisphere and the first Oscar-qualifying children's film festival in the world. Learn more at facets.org.
For more information on Lincoln Yards, visit lincolnyards.com.