By Samantha  Schwalm
This week's recipe is one of my favorite meals. In fact, I could probably eat this meal every week. The main course is halibut en papillote, with Brussels sprout salad on the side.  
En Papillote literally means to cook in paper. I love preparing fish this way for guests. In addition to its French name, fish en papillote also feels extra special to eat. You can assemble the packets hours in advance then hold them in the refrigerator. Once you make fish this way, you may never cook it any other way. Here is what you need:
Parchment paper cut into a 1 foot square
Halibut filet
Green beans
Cherry tomatoes sliced in half
Olive oil
White wine 
Salt and pepper
Tear off your parchment squares and brush them with olive oil. Add Halibut, skin side down in the center of the paper. Then top the fish by brushing more olive oil all over it, and add place salt, pepper, and tomato halves on top of it. Place the green beans on either side of the fish. Pour a tablespoon of white wine on top of the fish. Fold your parchment paper packets up and around the pieces of fish, roll the ends to seal, and place the packets on a baking sheet.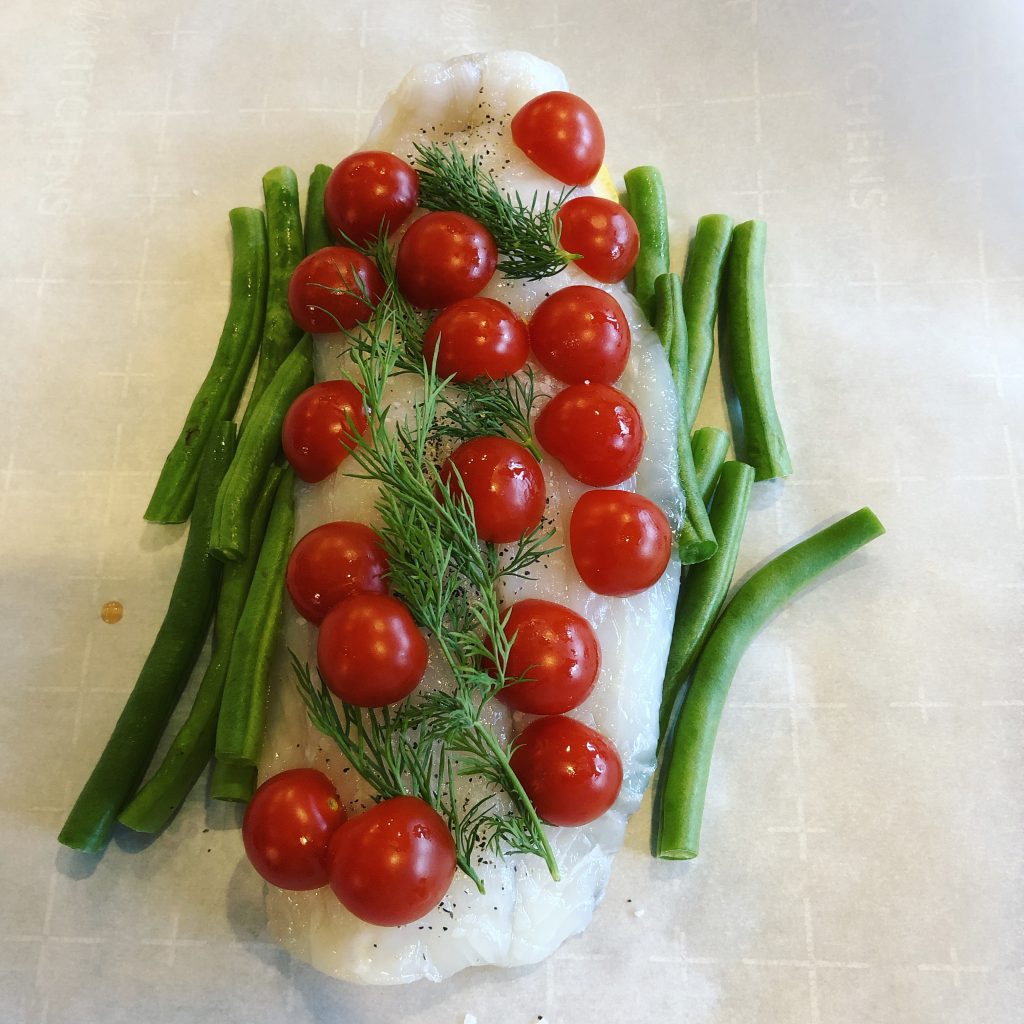 Bake for 25 minutes at 375 degrees in the oven. Place the packets on the plate and have guests open them when ready to eat. 
Brussels sprouts:
I LOVE Brussels sprouts. Honestly, they are my favorite vegetable. Other than roasting them with bacon and honey, this could be my favorite way to eat them. You can also make this salad ahead of time. In fact, it gets better after it marinades in the dressing for a while.  
In a food processor with the slicing attachment, slice your Brussels sprouts. Put them into a large mixing bowl. Add 1 cup of cranberries to the sprouts. Next, add one cup of roasted, salted, and chopped almonds. Finally, add 1/4 cup of goat cheese. 
For the dressing, you will need a separate smaller bowl. Combine 1/8 cup of White Balsamic Vinegar, 1 tablespoon apple cider vinegar, 2 tablespoons honey, and 2 tablespoons grainy mustard. With a whisk or fork start mixing the ingredients together. While continuing to mix, slowly pour in 1/2 cup of olive oil. Pour the dressing over the salad and toss. Let it sit in the refrigerator for at least an hour. Toss again before serving!
Please feel free to tweet me at @Paris_kabat_chef if you have any questions!