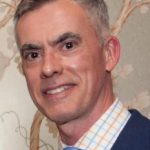 By Philip Vidal
After the gray days of January and February, March is a warmer, welcome, colorful month.
The first day of March is Mardi Gras, typically distinguished with green, gold and purple. I have a sweet tooth so I can't wait for king cake.  For pre-Lenten jelly filled donuts, break out the red and white of the Polish flag for Paczki Day on March 1, and Casimir Pulaski Day, an Illinois state holiday, commemorating the Polish-born American Revolutionary War hero on March 7.
All March long! Join the Alliance Française de Chicago in their on-site and online celebration of the French language, Festival de la Francophonie 2022. Photo by Alliance Française de Chicago.
The tricolor red, white and blue French flag can be seen at the Alliance Française de Chicago's month-long, on-site and online, celebration of the French language entitled Festival de la Francophonie 2022.  The French language is spoken by more than 300 million people worldwide.
Watch the Chicago River turn green on March 12 in celebration of St. Patrick's Day. Photo by The Chicago St. Patrick's Day Parade 2022.
The Irish also have a tricolor flag, and the green in it is replicated when, on March 12, the Plumbers Union pours twenty-five pounds of orange dye into the Chicago River to turn it green.  That same day the 67th annual St. Patrick's Day Parade kicks off from Balbo and Columbus.  The following day, on March 13, the South Side Irish Parade proceeds down Western Avenue from 103rd to 115th, and the 19th annual Northwest Side Irish Parade starts at Neola and Raven.   The 43rd annual Bank of America Shamrock Shuffle® race weekend is March 18-20, which includes an 8k run, the Mile, a 2-mile walk and a post-race party.   Runners and walkers don green during the race, and might hoist a black and tan cocktail (pale ale with Guinness floating on top) afterwards.   Celebrate St. Patrick's Day on March 17 and enjoy some marvelous Irish music by watching a new episode of "Our Irish Pub" on WTTW.
Just about every color is present at the Holi Festival, the Hindu festival of colors, which marks the beginning of spring and is observed from sundown on March 17 to sundown on March 18. Perhaps you've seen the photos of celebrants tossing colored water and dry pigments at each other.
Check out the Epiphany Arts Center's "Agave!" group exhibition, now through April 9. Photo by Epiphany Arts Center.
The spring equinox is March 20.  It's still a bit chilly for flowers to thrive outside, so visit the indoor spring flower shows at the Chicago Park District's greenhouses (reservations required).  The "Pillars of Spring" spring flower show at the Lincoln Park Conservatory continues through May 8, as does "KnockKnock," the spring flower show at the Garfield Park Conservatory. While you're at the Garfield Park Conservatory on the West Side, check out their 35-year-old agave guiengola named Guien. The plant, a native to Mexico, is growing at an incredible rate and is getting very close to reaching the glass roof of the conservatory's desert house.   On the near West Side, the Epiphany Arts Center's "Agave!" group exhibition with works by artists using agave fibers, a byproduct of mezcal production in Mexico, continues through April 9.
A greenhouse of a different sort, Chicago's Greenhouse Theater Center, hosts "How the Hell Did I Get Here?," a live, autobiographical show starring Lesley Nicol, who played Mrs. Patmore on "Downton Abbey," March 12-April 3.

Aurora's Paramount Theatre hosts "Purple Reign: The Prince Tribute Show" on March 25. Photo by Paramount Theatre.
Admittedly a bit of stretch with my color theme, but the first national tour of "Moulin Rouge! The Musical" runs March 19-May 14 at the James M. Nederlander Theatre.   Aurora's Paramount Theatre hosts two concerts this month with allusions to color:  "The Man in Black: Tribute to Johnny Cash" concert is March 17, and  "Purple Reign: The Prince Tribute Show" is March 25.  The Paramount also presents "An Evening with Killer Queen" on March 19.
The first play of Victory Gardens Theater season, travis tate's "Queen of the Night," has received terrific reviews and continues through March 13.  The last five performances on March 9-13 are livestreamed.
The world premiere of Steppenwolf Theatre Company's ensemble member Rajiv Joseph's "King James" is March 3-April 10.  Here 'King James' is basketball star "King" LeBron James.
The Lyric Opera of Chicago hosts "Fire Shut Up in My Bones," March 24-April 8. Photo by Lyric Opera of Chicago.
Terence Blanchard and Kasi Lemmons' opera "Fire Shut Up in My Bones" runs March 24-April 8 at the Lyric Opera of Chicago.  Learn more about the opera during a Chicago Humanities Festival program, "Terence Blanchard on Lyric Opera of Chicago's 'Fire Shut Up in My Bones'" on March 25 at First United Church at the Chicago Temple.  The opera's conductor Daniela Candillari joins composer Blanchard in conversation.
The 32nd annual Onion City Experimental Film + Video Festival will be held at Chicago Filmmakers, March 31-April 3. Photo design by Judy Higgins.
Besides the Chicago Humanities Festival, other festivals this month are the 25th annual Chicago European Union Film Festival at the Gene Siskel Film Center, March 4-17, and the 32nd annual Onion City Experimental Film + Video Festival at Chicago Filmmakers, March 31-April 3.
"The Batman," with exterior scenes shot in Chicago and starring Robert Pattison, Colin Farrell and Zoë Kravitz, opens March 4, which also happens to be the same day Chicago was incorporated as a city in 1837.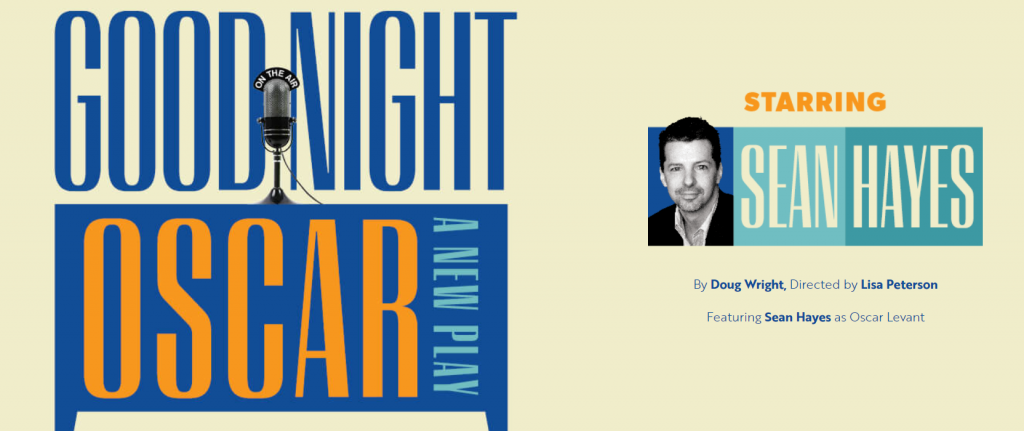 Starring Chicago-born Sean Hayes of "Will & Grace," "Good Night, Oscar" will be at the Goodman Theatre from March 12-April 17. Photo by Goodman Theatre.
The Academy Awards, aka the "Oscars®," are March 27.  Doug Wright's "Good Night, Oscar" at the Goodman Theatre starring Chicago-born Sean Hayes of the TV comedy series "Will & Grace" runs March 12-April 17.  The play is about Oscar Levant, the witty actor and pianist.
The hit sitcom "Will & Grace" with positive and funny gay main characters is a long way from the negative depiction and treatment of gays and lesbians in post-Hays Code Hollywood.  Barry Ball and Carl Menniger's new play "Sons of Hollywood" focuses on gay silent movie stars Ramon Novarro and William Haines and the sidelining of their careers.  It runs through April 17 at the Windy City Playhouse.
The cast and crew of Paramount Theatre's Bold Series "Sweat," running March 9-April 4. Photo by Paramount Theatre.
Playwright Lynn Nottage is the only woman to have won the Pulitzer Prize for Drama twice, for her plays "Ruined" and "Sweat".  Invictus Theatre Company presents "Ruined" through March 20.  The first play in Paramount Theatre's Bold Series is "Sweat," running March 9-April 4.  Northlight Theatre presents her play "Intimate Apparel" April 14-May 15.
Mammalian Diving Reflex's "All the Sex I've Ever Had" at the Museum of Contemporary Art of Chicago (MCA) runs March 24-30 and marks the return of live stage performances to the MCA, and the first installment in their "On Stage: Entanglement" series.  Six everyday 65+ Chicagoans share memories of romance and relationships with the audience.  Dance performances return to the MCA too. Hubbard Street Dance Chicago's spring series "RE/CONNECT" is at the MCA's Edlis Neeson Theater, March 2-13.  The four winning choreographers of the Joffrey's 12th annual Winning Works Choreography Competition present their works at the MCA's Edlis Neeson Theater, March 18-20.
March is Women's History Month.  Intentionally or not, there are many dance, theater and music performances this month with female historical themes.
Before it opens in New York, Ballet Hispánico performs "Doña Perón: The Rise and Fall of a Diva" at the Auditorium Theatre March 26-27.  The piece, is about Eva "Evita" Perón, the First Lady of Argentina. The six wives of King Henry VIII tell their stories through song in "Six." The North American tour of the musical comes to the CIBC Theater March 29-July 3.
Lanie Robertsons' "Lady Day at Emerson's Bar & Grill," about one of legendary jazz singer Billie Holiday's last concerts, continues at the Metropolis Performing Arts Centre in Arlington Heights through March 13, as does Porchlight Music Theatre's "Blues in the Night" at the Ruth Page Center for the Arts.  The three female stars perform the songs of Harold Arlen, Alberta Hunter, Johnny Mercer and Bessie Smith.  The show is set in a hotel on Chicago's South Side in the late 1930s.  Music of the Baroque celebrates "Classical Heroines" in concerts at the North Shore Center, March 20, and the Harris Theater, March 21.
"Fanfare Chicago" at the Harris Theater for Music and Dance on March 27 presents Nicholas Hubbell and Jennifer Higdon. Photo by Chicago Philharmonic.
Another noteworthy concert is the Chicago Philharmonic's "Fanfare Chicago" at the Harris Theater for Music and Dance on March 27, which features the world premiere of Nicholas Hubbell's "Chicago Fanfare" and the American premiere of Pulitzer Prize and Grammy Award-winning composer Jennifer Higdon's "Mandolin Concerto."  The last concert that I attended at Symphony Center was on March 2, 2020, and showcased Emanuel Ax, Leonidas Kavakos and Yo-Yo Ma under the title "Ax, Kavakos, and Ma."  This same dynamic trio is again presenting "Ax, Kavakos and Ma" on March 11 at Symphony Center.  I have tickets and this will be my first concert at Symphony Center since the start of the pandemic.  It will be good to be there.
In addition to concerts, conventions and expositions are also back. The 12th edition of the very colorful Chicago Tattoo Arts Convention is at the Donald E. Stephens Convention Center in Rosemont, March 18-20. The inaugural World Comedy Expo at venues around town is March 25-27, which is fitting because Chicago is known for not only it's music and theater scene, but it's comedy scene as well.
Support Chicago's restaurant scene by attending Greektown Restaurant Week the first week of March! Photo by Greektown Chicago.
Chicago is likewise known for is its restaurants, and there are lots of opportunities this month to enjoy and support Chicago's restaurant scene.   First there's Greektown Restaurant Week from March 1-7, then there's Rosemont Restaurant Week, March 6-12.   The Lincoln Park Chamber of Commerce hosts its annual indoor food festival, Savor Lincoln Park, at the Theater on the Lake on March 22.  Finally, the 15th annual Chicago Restaurant Week runs March 25-April 10, with special prix-fixe menus available for dine-in or takeout/delivery.
I want to find out which local restaurants, bars, vendors, venues my fellow Chicagoans voted for by consulting the Chicago Reader's annual "Best of Chicago 2021." The issue, out March 3, lists the winners in categories such as Arts & Culture, City Life, Food & Drink, Sports & Recreation.
Chicago is of course noted for its architecture and urban landscape.  I'm very much looking forward to "Jin Lee: Views & Scenes," an exhibition of photos of natural and man-made landscapes around Chicago by photographer Jin Lee.  It was supposed to open in 2020, but it was delayed.  It now runs March 5-August 13 at the Chicago Cultural Center.
Since 2003, Preservation Chicago has produced an annual list of architecturally significant buildings, neighborhoods, and public spaces under threat of demolition. I've signed up for the Chicago's most endangered building 2022 presentation on March 9.  It's virtual and free (registration required).
Landmarks Illinios' "Preservation Forward" Spring Benefit hosts an evening at the Old Post Office, March 10. Photo by Landmarks Illinois.
Seven women honorees will be fêted at Landmarks Illinois' "Preservation Forward" spring benefit at the Old Post Office on March 10. On March 5, my alma mater, St. Ignatius College Prep, hosts its annual Gloriam gala.  I've heard it's one of the top-netting galas in Chicago.  When I attended St. Ignatius, I had a very-long striped wool scarf in the school's colors, maroon and gold. It would have come in handy during the "Harry Potter" craze, but it was not to be found.
In closing, I can predict that the color blue will be prevalent and displayed with pride on March 6. That's the color that most participants will be after a dip in Lake Michigan at North Avenue Beach for the Chicago Polar Plunge, benefiting Special Olympics Chicago.
Dates, times, locations and availability are subject to change.  Please stay healthy and safe and keep up with the latest COVID-19 information, protocols, mandates and guidelines.