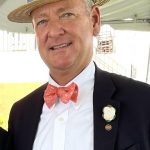 By Brian D. White
I've been traveling to Palm Beach my whole life since staying with my grandparents when I was a child (Mothers family to PB for the winters from Vermont/ Fathers family to Boca Grande Island since the 1920's from Massachusetts) – going to Polo Games and dining at Café L'Europe- and purchasing my first pair of Gucci loafers along Worth Avenue when I was 14 – that I still wear from time to time.  We've been going there ever since for special events held by The Irish Georgian Society and over the past 10 years for the "Warriors Weekend in Palm Beach" which I've written about previously.  (The Society of Colonial Wars – is a very special Hereditary Society I joined after my father passed away 10 years ago- and is among the most cherished organizations I belong to).  Over the past few years though we seem to have more & more friends spending time in Palm Beach so we've extended our trip to almost 2 weeks now every year.
We "checked in" to the gorgeous home of top designers Jessica Lagrange and Steve Johnson which was a magical experience.  We stayed in the 2 bedroom 2 bath guesthouse – with truffled egg salad sandwiches and flowerless chocolate cookies waiting for us– from Sant Ambroeus and our "Triathalon of Leisure" began…..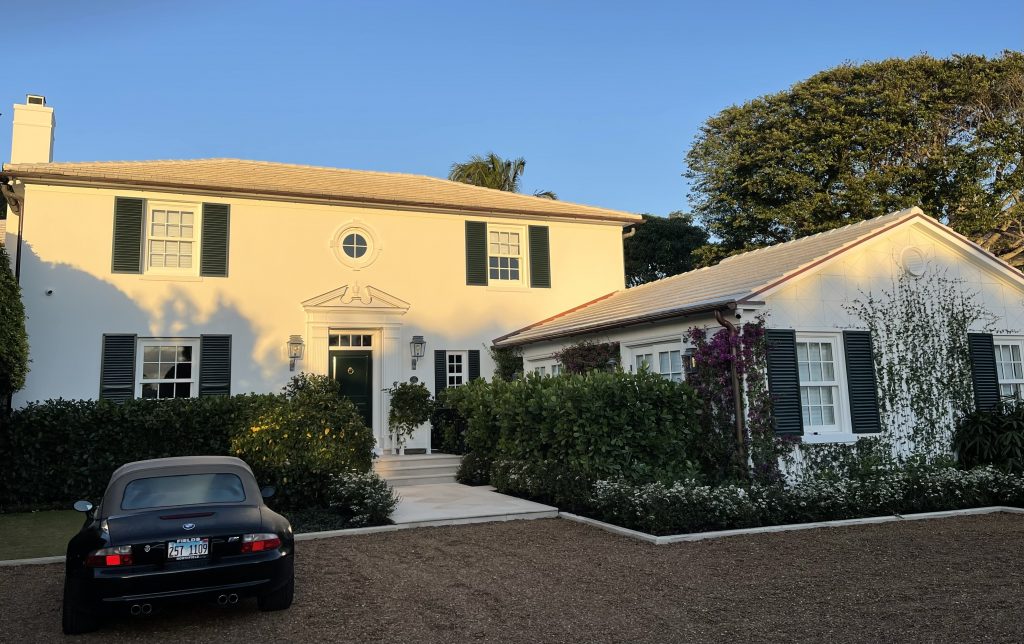 Jessica Lagrange & Steve Johnson's home in Palm Beach.
Every year I organize a special "IL Contingent" lobster dinner at the chic Club Colette for around 40 friends coming in from Chicago, Boston, NY & living in PB.  Starting with cocktails followed by a classic dinner with either Lobster Thermidor, steamed lobsters or twin lobster tails and ending with the signature "Harlequin" Chocolate & Grand Marnier Souffles- and dancing to songs like Mountain Greenery (one of my favorites) in between courses.  Among the guests were: D. Brenton Simons – the CEO of The New England Historic Genealogical Society – in Boston, Ryan Woods– Exec VP & COO of NEHGS, Karen Woods, Todd Schwebel, Jessica Lagrange,  Bucky Prior, Michelle Kubala, IL Warriors Governor Edward K. Rutledge, Talbot Logan, Ann & Bill Hamm & William Beggs, IV, Robb Aley Allan – FL Warriors Governor and wife Sara.  We then ended up at our favorite Leopard Lounge just down from the club for more dancing afterwards.
 (L to R) James M. Kinney, Jessica Lagrange and Brian D. White- at the IL Contingent Annual Lobster Dinner at Club Colette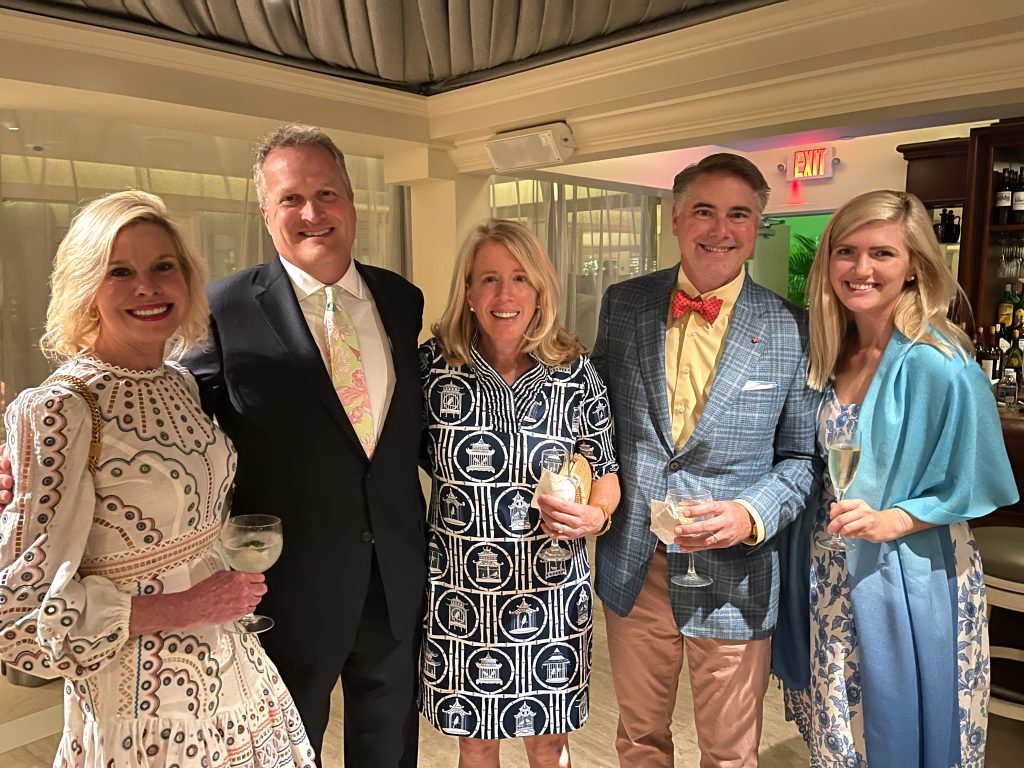 (L to R) Julie Harron, Bud Hendrick, Kipper Hendrick, Edward K. Rutledge and Michelle Kubala at Club Colette
| | |
| --- | --- |
| Lobster Dinner varies from Lobster Thermidor, steamed Lobsters or twin lobster tails from year to year. | (L to R) Seated- Amy Langan, Larry Ekstrom, James M. Kinney, Bill Miller, Ted Langan, Laura Ekstrom and Talbot Logan at Club Colette |
Friday was spent on the beach just down the street with sunbathing and a 3 mile walk down to The Beach Club & back.  Interestingly not many people walking the beach or sunbathing but I'm a diehard island/ beach person and have been known to sunbathe in 53 degree temps to get a good tan.  That night was the white tie gala featuring THE LEGENDARY SOCIETY BAND LEADER – Alex Donner & His Orchestra at a private club playing not only the classic society tunes we all adore but also a range of the most current popular music – which kept the dance floor packed all night!!!  No photos or mention of the club are allowed so sorry to disappoint- as that would be frowned upon.  However, we started off with 2 pre parties nearby, danced the night away to the best orchestra on the planet!…..and were the last to leave around Midnight – then heading over to Cucina & other popular PB bars for more dancing…..on tables.  Standouts at the gala included Anne Deli in a jaw dropping – Grecian goddess gown by Dior, Silvia Krehbiel, Julie Harron, Kipper Hendrick, Ann Hamm, Laura Ekstrom, Lynn Poekel, Susan Dupee, Karen Woods, Pamela Cregeau, Eileen Scherberger, Janet Owen, Susan Lovejoy, Renee Anderson, Amy Langan, Susan Meyer, Brantley Knowles, Karen Campbell, Betsy Akers, Edith Stickney & Janice Wetherill – all as gorgeous and stunning as can be!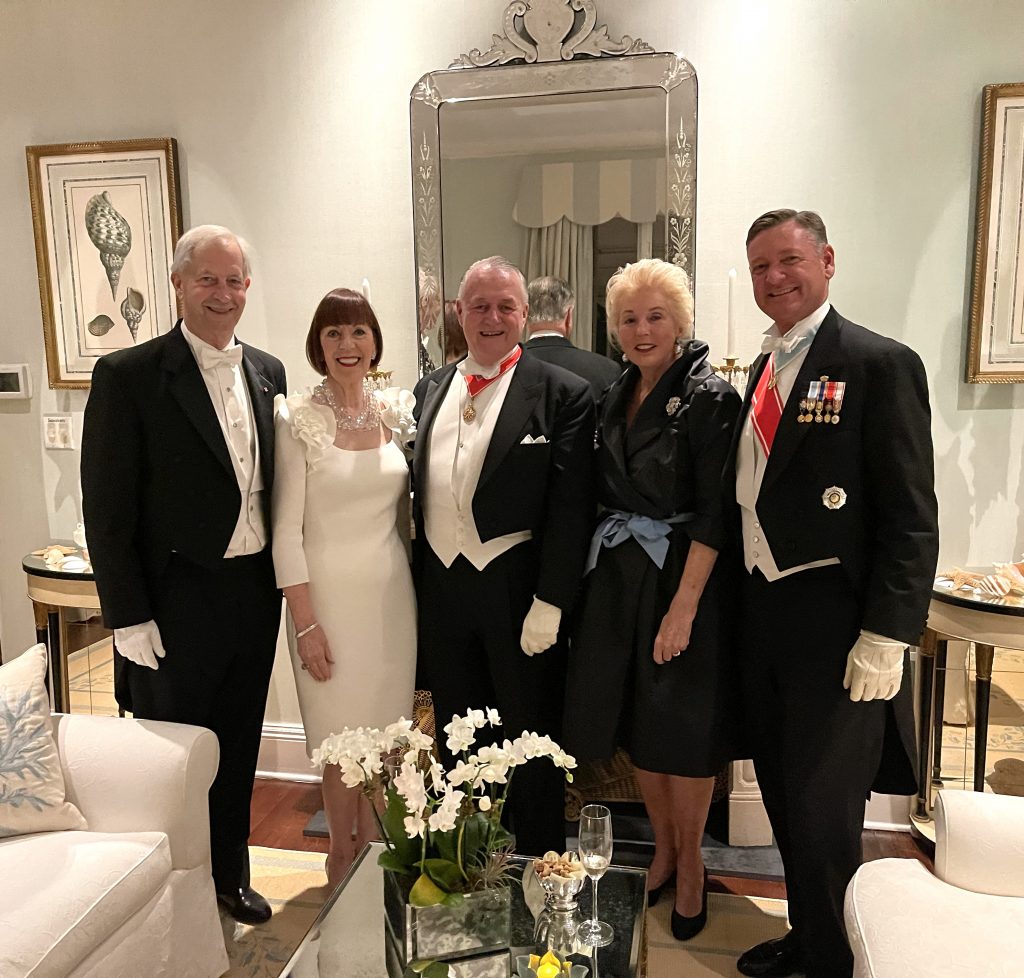 Next event– (L to R) Rodger Owen, Janet Owen, James M. Kinney, Susan Lovejoy and Brian D. White- Cocktails before the Dinner Dance.
The Illinois Contingent at The Palm Beach Dinner Dance.
 (L to R) Edith Stickney and Brian D. White at The Leopard Lounge
Saturday is the annual Warriors Court Luncheon held at another private club – followed by a little "buzzed shopping" after a few bloody bulls- at my favorite stores like Leta Austin Foster, Stubbs & Wootton and Vineyard Vines, followed by a nap and then Pre-Cocktails at Swifty's (now at The Colony Hotel) and dinner at our favorite Renato's for 24 out on the beautiful patio surrounded by palm trees and the stars above.  Alex Donner &  Annette deLorenzo who have become dear friends of ours joined us – along with David Von Nirschl in from DC, Damien & Pamela Cregeau – in from Connecticut, Joe & Eileen Scherberger in from Atlanta, Ted & Amy Langan from Sarasota (his brother Andy Langan, our IL Registrar was unable to make it this trip) and the (fabulous) Edith & Kemp Stickney in from Coral Gables – hence a second trip to The Leopard Lounge was in order!
 (L to R) James M. Kinney, Damien Cregeau, IL Governor Edward K. Rutledge and Brian D. White at the Annual Court Luncheon.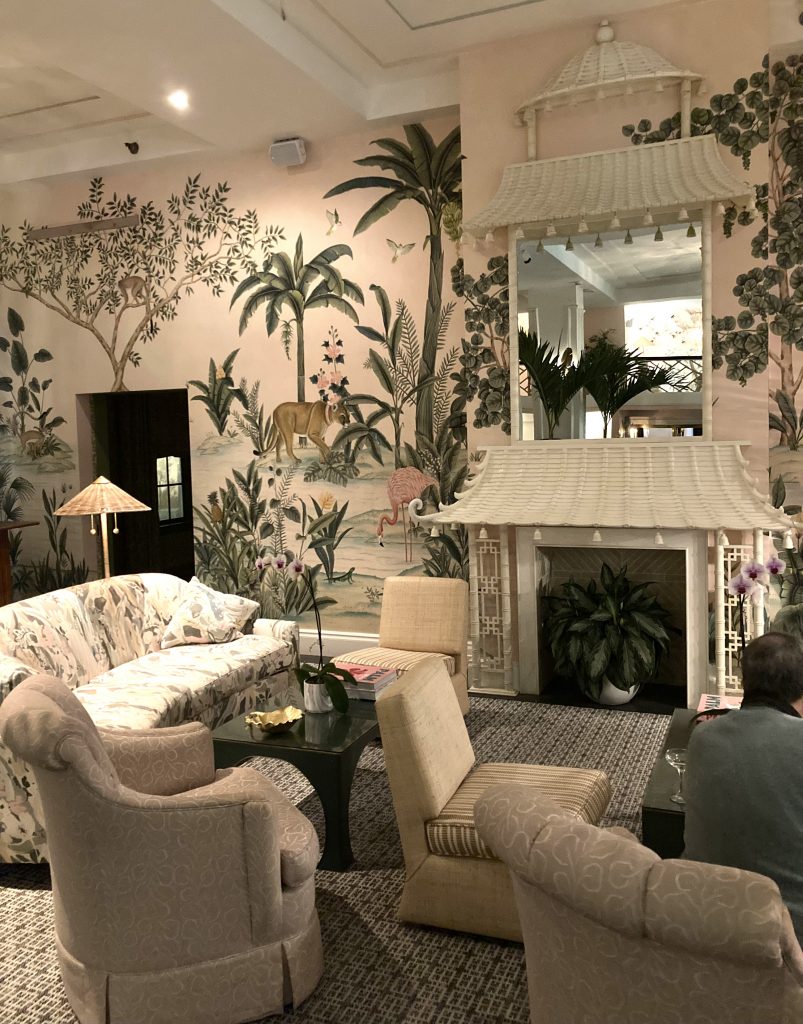 Interior of The Colony Hotel lobby- where we meet at Swifty's for pre Cocktails.
 Group Photo of the Illinois Contingent at Renato's.
Sunday was the annual Polo Outing held at The International Polo Club- Palm Beach- organized by FL Warrior Joseph P. Meyer, Jr. (former President & Chairman of the US Polo Association) for 60 or so in our group.  A sumptuous buffet was followed by an introduction to Adolfo Cambiasso – one of the greatest Polo Players of all time….who is still playing- Also passed by Sylvester Stallone while out stomping divots & last time we were there saw Bill Gates in the Buffet line!  That night was a quiet B-Day dinner for Jessica at a nearby club.
 (L to R) CEO of The New England Historic Genealogical Society – D. Brenton Simons and Board of Councilors Member- Brian D. White at the Polo Game in PB.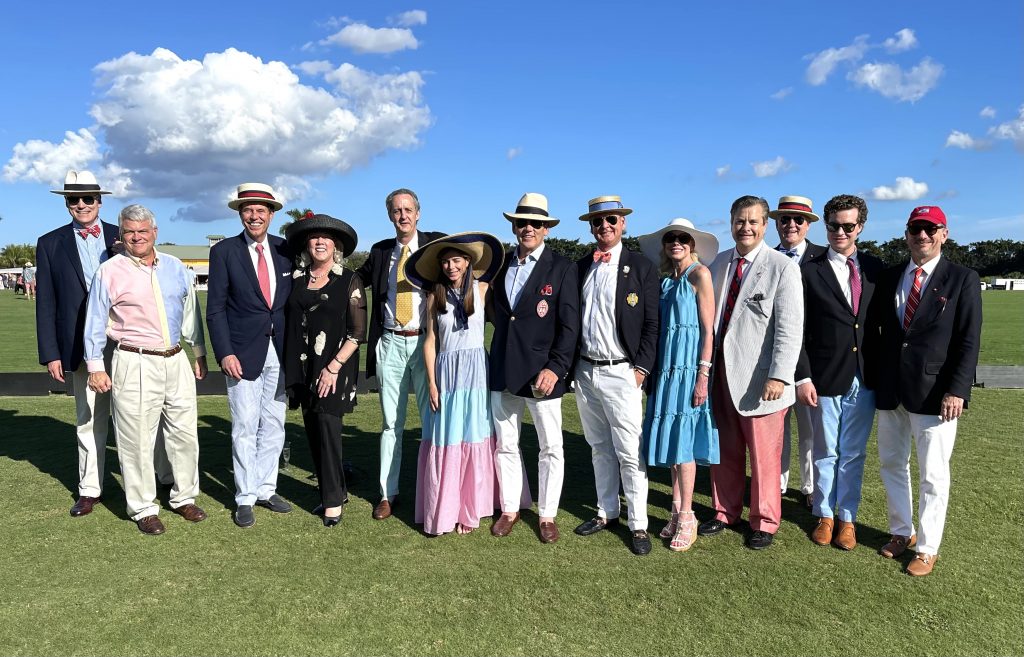 The IL Contingent at The International Polo Club in Palm Beach
Monday started out with a quick 45 minute drive to the GORGEOUS Hillsboro Club for lunch with Janet & Rodger Owen and Matthew & Susan Dupee- (of course, more Warriors!) followed by a few hours of sunbathing & walking the beach to the Historic Hillsboro Inlet Lighthouse & tours of the ultra Preppy Club which now offers reciprocity with The Social Register Association – Members with everyone buzzing about what a special club this is.  That night we raced home for a small cocktail party at the house hosted by Jessica & Steve which included some PB and Nantucket friends– Michael Kovner & Jean Doyen de Montaillou and Ann & Bill Hamm.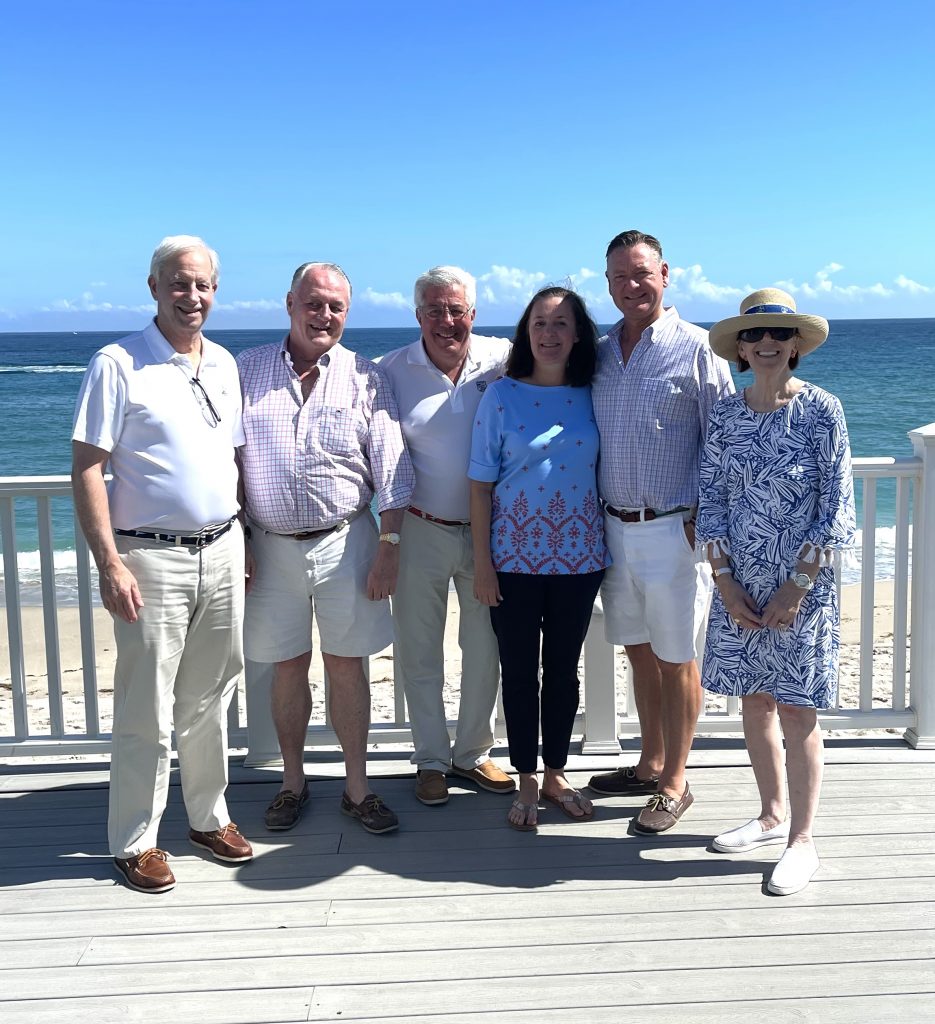 (L to R) Rodger Owen, James M. Kinney, Matthew Dupee, Susan Dupee, Brian D. White and Janet Owen in Hillsboro, FL.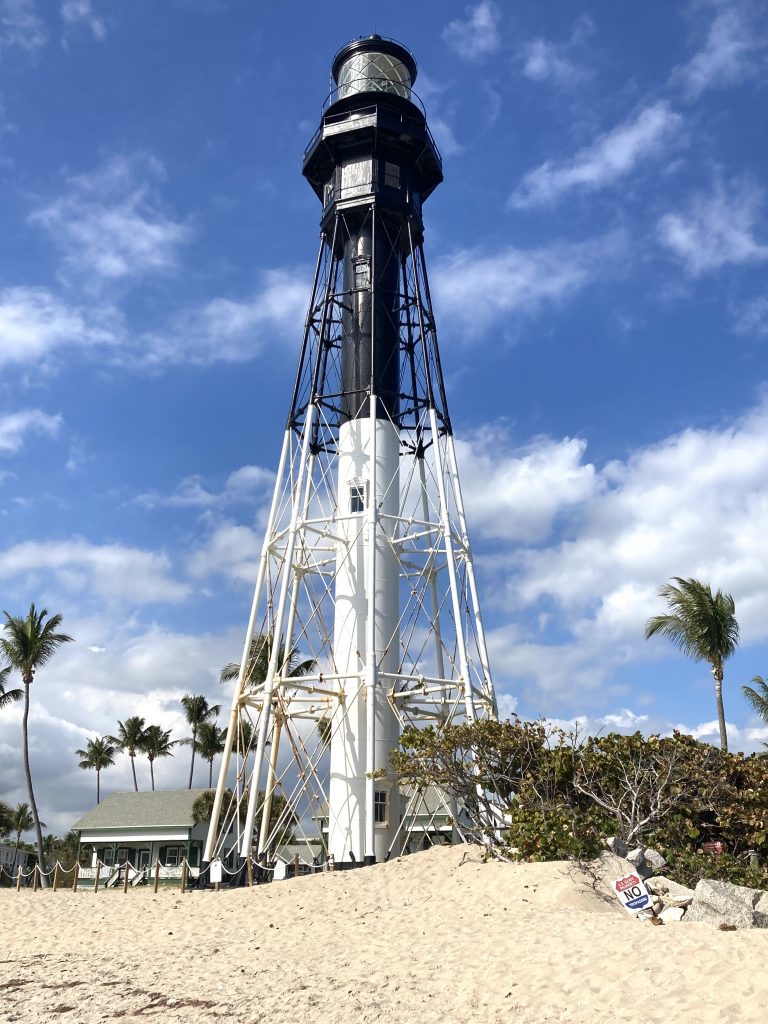 The Historic Hillsboro Inlet Lighthouse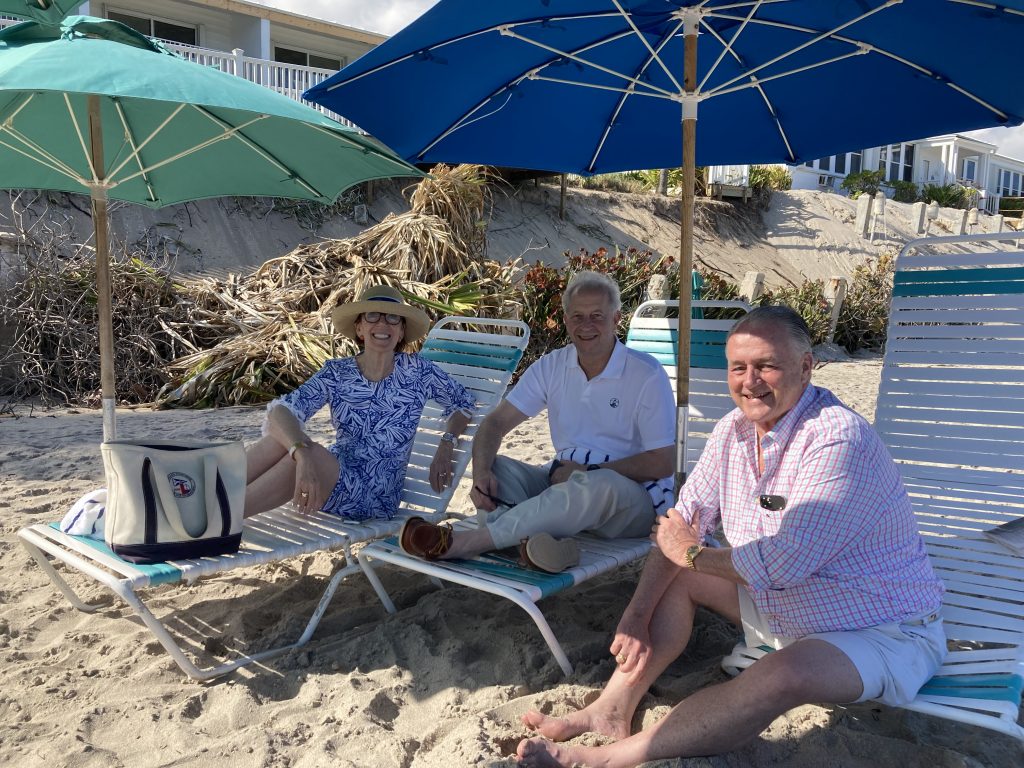 On Hillsboro Beach- (Janet Owen, Rodger Owen & James M. Kinney)
| | |
| --- | --- |
| (L to R) Steve Johnson, Michael Kovner, Lynn Poekel and Jean Doyen de Montaillou at Steve & Jessica's Cocktail Party. | (L to R) Jessica Lagrange and Brian D. White at the Cocktail Party. |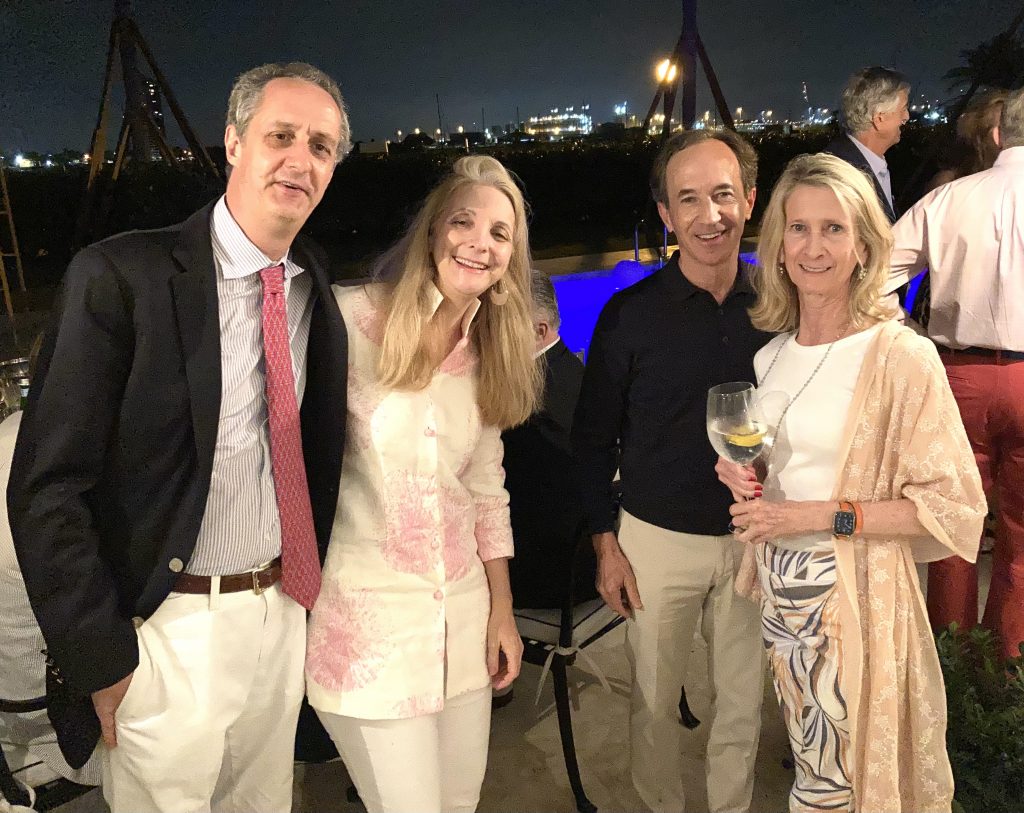 (L to R) Bill & Ann Hamm with guests from Chicago for the cocktail party.
Tuesday focused once again on sunbathing, walking the beach and reading all day then an elegant dinner party hosted by Bud & Kipper Hendrick in their new home on Hypoluxo Island just South of PB.  Lovely to see Bud's sister Ann Marcus & (Pine Manor girl)- Whitney Pamula along the delightful Hamm's again.  We had the famous "Chicken Hash" which called for seconds- along with an amazing key lime pie from "Old Key Lime House" – Florida's oldest waterfront restaurant started in 1889– so delicious we picked one up to give Jessica & Steve on the way home.
Wednesday was another marathon with lunch at The Palm Beach Yacht Club with dear friends Lynn & Charlie Poekel where both the lobster bisque and lobster salad were a must – followed by a little tour to just drive around the island to look at the houses.  My favorite elements are the coral used on the exterior and interior of the homes and the Pecky Cypress used for beams and many elements- many of which were designed by famed architect Addison Mizner in the 1920's– a genius of style.  We then had a dinner nearby which featured a fabulous seafood buffet where one of the guests ordered the "very special" Beluga Caviar…not knowing it was an "add on" at $950 per ounce- to the delight of our hosts who were happy to have a happy table of guests for dinner & dancing.  I think I had 10 colossal stone crabs……but who's counting!  Some of us then ended up at Le Bar – a popular hangout in PB – till closing time.
Fabulous Lobster salad at The Palm Beach Yacht Club.

x

(L to R) James M. Kinney, Lynn Poekel, Charlie Poekel and Brian D. White at The Palm Beach Yacht Club
(L to R) Alex Donner, David Von Nirschl, Ann Hamm, Brian D. White, Julie Harron, Annette de Lorenzo, Bill Hamm and James M. Kinney in PB.
 (L to R) Late night at Le Bar in PB- James M. Kinney and Michelle Busby
Thursday rolls around and we're now headed to Lake Wales, Florida- about 2 hours from PB to visit some friends.  We stopped at The Cherry Pocket Fishing Resort – for arguably the most delicious beer battered shrimp & onion rings I've ever had with $1.50 draft beers…..and I don't even drink beer but after all the $22. Cocktails served in most places these days- it felt like it was for free!  We then headed over to our friends who have the most elegant home at The Mountain Lake Club- dubbed by Moira DuBrul as having "the most charming club house I've ever seen ".  a subtle 1930's Dorothy Draper vibe throughout.   The Social Register Association also has a reciprocal agreement with this Club too so Laura & Larry Ekstrom  stayed there for a few days following the PB festivities.  While there we ran into Ed & Kate Rutledge and managed a quick game of Croquet on one of the 3 new Croquet Courts they have just installed.  With Croquet, Golf, Shooting, tennis, pickle ball, daily bridge games and swimming pool- this club is one of the best kept secrets in all of Florida. (don't tell anyone!) After a few days of playing croquet, sitting by the pool drinking pina colodas and elegant dinners- we then headed back to Chicago….
 The Cherry Pocket Fishing Resort in Lake Wales, FL.
. (L to R) James M. Kinney, IL Governor Edward K. Rutledge and Brian D. White- croquet game in Lake Wales, FL
Until our next trip coming up in March to The Greenbrier!
End.