By Marcie Harrison
The year was 1908. The first Model T rolled off the assembly line and sold for $850. William Taft was elected president and Jack Johnson became the new heavyweight champion. The Rockefeller Institute for Medical Research made an astounding prediction — one day it will be possible to replace diseased organs with healthy ones. It was also the year that a young immigrant from Lithuania opened a small retail grocery in Chicago that would one day become the nation's largest out-of-home coffee roaster.
Harry Cohn, at the age of 18 with his cousin, Walter Katzoff, started The Superior Tea & Coffee Company. They had very little capital, but a wealth of enthusiasm and a willingness to work hard. Located on Chicago's west side at Roosevelt Road and Kedzie Avenue, the little shop sold tea, coffee, butter, eggs, and spices.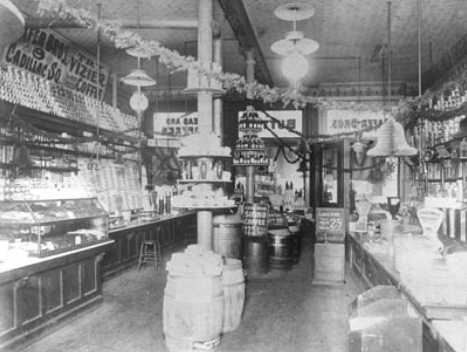 Aggressive and hungry for success, both young men came up with the novel idea of establishing a home delivery service rather than waiting for customers to come into their store.
At the start, Mr. Cohn delivered all the orders personally – on foot. But as the business grew, the store made its first major acquisition – a horse and wagon. In 1914 the wagon cost $203.50 and came with a year guarantee. Like most entrepreneurs, Cohn and Katzoff worked long hours, explaining to housewives the benefits of a home service. In fact, Mr. Cohn admitted to never taking a vacation during the first ten years he was in business.
The from the start of World War I to the Great Depression, was an extremely prosperous time in the United States and that was certainly true for Superior Tea & Coffee. In 1916, the company moved to a larger facility at 3637 W. Ogden Avenue. In the early 1920s, a fleet of orange and blue trucks replaced the horses and wagons, enabling Superior to deliver coffee to homes as far away as Milwaukee.
In the 1930s during the depression, customers could no longer easily afford the many items they once relished. For the first time, Superior, like so many other businesses, lost money. Not to be discouraged, Harry Cohn's business acumen guided the company into two new areas that would chart the future direction of Superior Tea & Coffee and insure its leadership position in the coffee industry.
First, the company began switching its focus from home sales to restaurant and institutional sales. Equally important, Superior started roasting its own coffee. Blending varieties to their personal tastes, they gave customers a choice of four or five varieties.
When the country was exiting the Depression, in 1936 Superior moved into a larger facility at 2010 W. Lake Street. Three years later, Earl Cohn, Harry's son joined the family business.
At the start of World War II, coffee like so many other products, was rationed and Superior saw its supply of green coffee dropped more than 30 percent and consumption was down. Responding to these economic challenges, Superior sold off its retail accounts, focusing entirely on institutional sales. To increase revenues, it managed its own brewing equipment enabling the company to position itself as a single source for coffee. The company aided the war effort by supplying coffee to the Illinois Army bases at Ft. Sheridan in Lake Forest and Camp Grant near Rockford.
Benefitting from the post war boom Superior expanded it routes to nine that included Wisconsin and Indiana. With the growth in business, the company moved its roasting plant and headquarters to 2278 N. Elston, Chicago and continued expanding by buying adjacent property.
In 1951, Harry's other son, Sanford, joined the company full time as its first vice president. Additional sales staff was added enabling Superior to expand geographically. The company's expansion continued for more than 20 years through acquisitions and the establishment of a food division.
The post war boom gave birth to a new industry — vending. Recognizing a tremendous business opportunity, Superior's research staff started working with vending machine manufacturers to help perfect a special grind and roast of coffee specifically for the developed vending machines.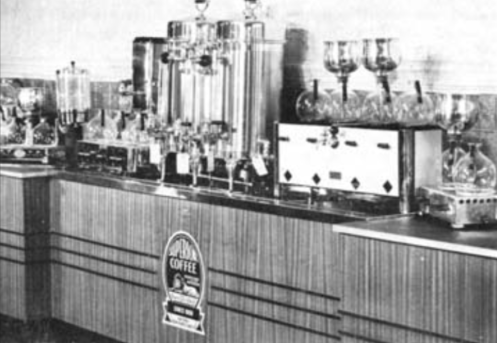 In 1966, an acquisition of King Coffee Company of Detroit, considered to be Michigan's top coffee firm, was an important step in helping Superior become a nationwide foodservice supplier. Now Superior could serve new customers throughout the eastern part of the United States. The acquisition gave the company the Café Royal® blend of coffee which became one of the company's top selling foodservice roasts.
The year 1968 was a memorable one as Superior Coffee celebrated its 60th anniversary at the Sherman House. Special guests included members of the Cohn family: Mrs. Harry Cohn and Mrs. Walter Katzoff, wives of the founders. Earl and Sanford Cohn, sons of Harry and Jack Russcol, son-in-law of Walter Katzoff. In honor of its 60th, Superior published a booklet of gourmet coffee recipes and asked master chefs and housewives for their favorite uses of coffee. Some of the suggestions included washing faded nylons in coffee to make them look new or using coffee as a hair setting lotion and even taking a coffee bath for an artificial suntan.
In March 1970 the first shipload of Kona Coffee arrived in New Orleans. Considered to be one of the world's finest coffees, it was the only coffee grown in the United States. The company bought almost the entire 1970 Kona crop valued at more than $2 million. Superior's potential impact on the economic health of Hawaii was recognized by governor who declared August 9 through 15 Kona Coffee Week and officially thanked Superior for its efforts to improve the Kona Coffee Industry in Hawaii.
Superior's success in marketing Kona coffee resulted in the creation of the company's gourmet division. The marketing of Kona coffees as well as other estate blends earned the company recognition as a pioneer in what is now called the specialty coffee industry.
In 1973, Earl Cohn became the company's first chairman and Sanford Cohn moved up to president. That year the company had 235 trucks including 13 tractors and 20 trailers. Superior also purchased a roasting plant in New Orleans to serve the southern half of the country.
As a result of the volatile coffee market in 1975, Sanford Cohn decided to take a closer look at the profitability of the company's gourmet business. He saw that this segment held great potential. In response, Superior developed a proprietary flavoring process, which enabled it to become one of the first coffee companies to introduce flavored coffees like "Café Cinnamon," "Dutch Chocolate" and "Almond Amarreto."
As Superior celebrated its 70th anniversary, it had nine major distribution centers, 10 regional warehouses and a fleet of 306 vehicles and 800 employees and 100 routes serving 20,000 accounts. The food plant was now producing about 200 food items.
The 70th anniversary also marked a turning point in the company's history. The Cohn brothers decided to sell the business to Douwe Egberts, a Dutch coffee company, owned by the Sara Lee Corporation. The sale enabled Superior to take advantage of Douwe Egberts technology and gain access to freeze-dried coffee, critical to its vending business. Shortly after selling the company, the founder's sons retired.
The 1990s spawned a revolution in coffee — not only was the public drinking more
coffee — but they were drinking a finer cup of coffee. The trend, which started in retail cup sales, quickly spilled over into foodservice and Superior responded with new products and a new $5 million specialty coffee roasting plant in Harahan, LA.
The company experienced continued growth under the Sara Lee name and acquired Chicago-based Continental Coffee in the fall of 1998. Jacob, Harry's younger brother, had originally worked for Superior during its early years, but left in 1914 to start a competing company, Continental Coffee. After decades of competition, sometimes friendly, sometimes not, the dreams of the two young coffee entrepreneurs and brothers were united.
And in 1999 the company was rebranded Sara Lee Coffee & Tea until it was sold in January 2012.
Source: 90 Years of Great Coffee by Marcie Harrison