By Michelle Crowe
The Cara Cara Mary Lou dress in Venetian blue.
How many memories are made in July, the glorious month of long days, produce, festivals, parades, and fireworks? Fitting then that Toile de Jouy is a favorite fabric this summer. The phrase translates to cloth from Jouy, referring to Jouy-en-Josas on the outskirts of Paris.
The popular book tote from Christian Dior in Toile de Jouy.
Cotton was first imported in France between the 16th and 17th centuries. Its popularity was deemed a threat to the French silk and wool industries and was banned in 1686. The ban ended in the 1760s, and cotton became the perfect cloth on which to depict French historical events and populist themes. Here on our shores, Toile de Jouy featured scenes of the American Revolution and Western expansion.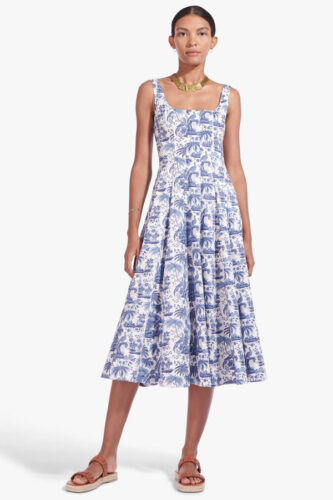 The Wells Dress from Staud.
When not depicting history, Toile de Jouy features floral, pastoral, or experimental scenes.  Welcome to Summer 2022, a peak moment for Toile de Jouy, especially of the experimental pattern variety.
Cara Cara, a wonderful collection led by three friends, has a charming Venetian toile sprinkled throughout their summer looks. Bunny and Babe hosted the fashionable ladies of the North Shore for a spirited party celebrating Cara Cara and this pattern flattered poolside in both blue and green.
Safari pattern at Banana Republic.
Staud's Wells Dress in China Blue is sprinkled with peacocks and palm trees. It's a must for weddings, Independence Day and Bastille Day celebrations, and getaways from Nantucket to Newport Beach. Even Banana Republic is on the action with a subtle safari print that's sure to become a collector's item.
2008 Dita Von Tease in Vivienne Westwood from 1996, which is sought after in 2022.
A bit of advice for anyone who falls in love with a toile frock. Buy it. A Vivienne Westwood design from 1996 was a hit then and is just as sought-after now. Searches on 1st Dibs show stratospheric resale prices. The Instagram posts of triumphant buyers show why toile is truly timeless.