By Michael Traynor
A Day in Capri….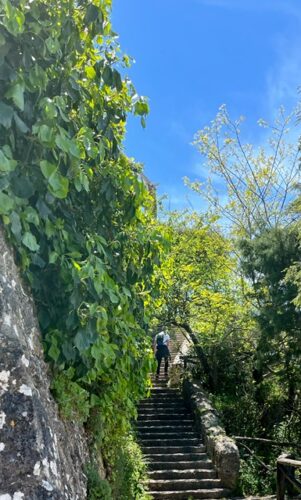 The Isle of Capri – glamorous, idyllic, and splashy! Capri's image has come a long way since the Romans first called it Goat Island. Following that, the Roman citizenry mocked its most famous resident, the then-aging Emperor Tiberius, as The Old Goat of Goat Island. I doubt the citizenry said that right to his face, or at the most, said so only once.
The Isle has a somewhat scandalous heritage, stemming first from the runnings of Tiberius and Caligula, who found entertaining ways to amuse themselves in the twelve pleasure villas Tiberius built for himself on Capri. Since then, Capri has successfully imagined itself to be an indulgent, tolerant playground for the rich and famous, while accommodating hordes of tourists, like me, who ferry in and out on the hour.
Capri is first visaged as the rock in the Mediterranean that it is.
As a mere tourist, I thought to travel unobtrusively. Not on Capri.  Unobtrusive is not in the Capri lexicon. I was met by an energetic driver in a bright red and white vintage convertible Fiat. I thought it must be a joke. No, they are everywhere. If there should be one singular symbol for Capri today, it would be a very vintage, very red, Fiat convertible.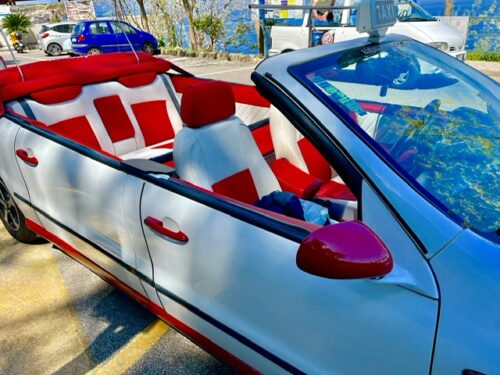 Onward we raced…
First stop is for a stroll down the Phoenician Steps (and, yet built by the Greeks?), that was hewn through solid rock and links the Isle from top to bottom. Use the handrails.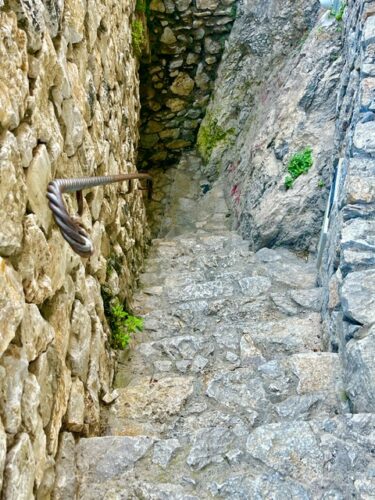 Then genuflect at one of the grotto shrines to the Virgin Mary. They seem strategically located at treacherous bends on narrow roads, where Divine Intervention seems like a prerequisite for passage.
Admire the surprisingly dense pine forests, thriving in this temperate island climate, and in contrast to warmer climate conditions along the Amalfi Coast.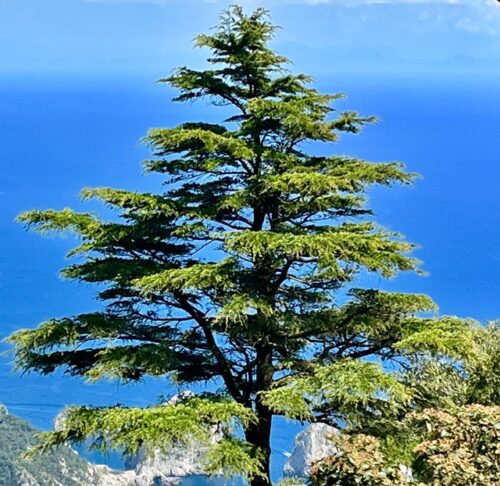 Ride a single passenger chair funicular (gulp) to Mount Solaro to watch Vesuvius silently smoldering across the Bay of Naples and pondering its next move.
Visit the Gardens of Augustus to see, well, Augustus. Here Augustus commands the clouds to obey – and so they must.
If not fully decapitated in your tiny rowboat as it passes through the narrow entrance into the Blue Grotto, marvel at the color show. Spoiler alert: The Blue Grotto looks aquamarine. I think so anyway.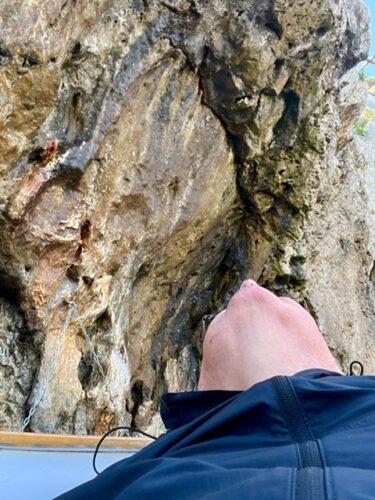 This church in Capri Town has a rather unique animal tile flooring. Since you are not allowed to walk on this floor, does that still make it flooring!?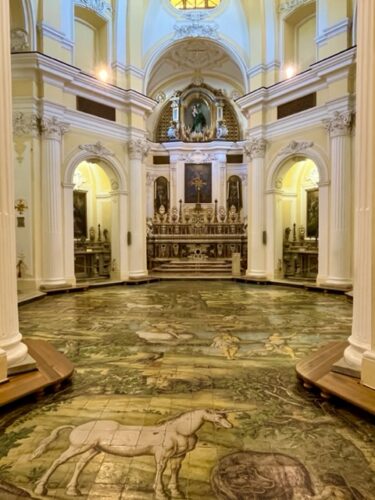 Capri's topography is steep, rocky, and craggy. So at days end, sit back and enjoy the inevitably winding trip down and back to the ferry station, and a voyage home on peaceful azure waters surrounding!