"Moose" welcomes you into the museum
It's a wonderful time for ice cream enthusiasts, there's now a place that caters to lovers of ice cream. Whether you're hungry for some knowledge and fun interactive games about ice cream, or eating frozen delights until your heart's content, then this museum is made for you. The Museum of Ice Cream welcomes people of all ages into discovering, and rediscovering, the wonders of enjoying a timeless classic frozen treat. There's no such thing as too much ice cream here.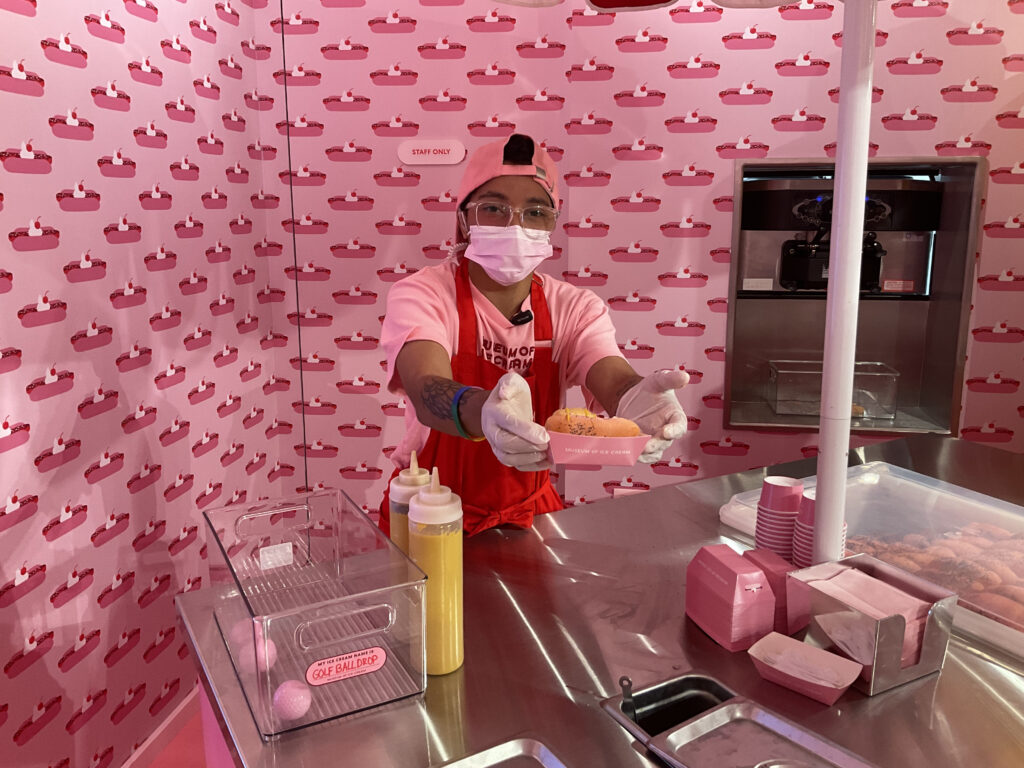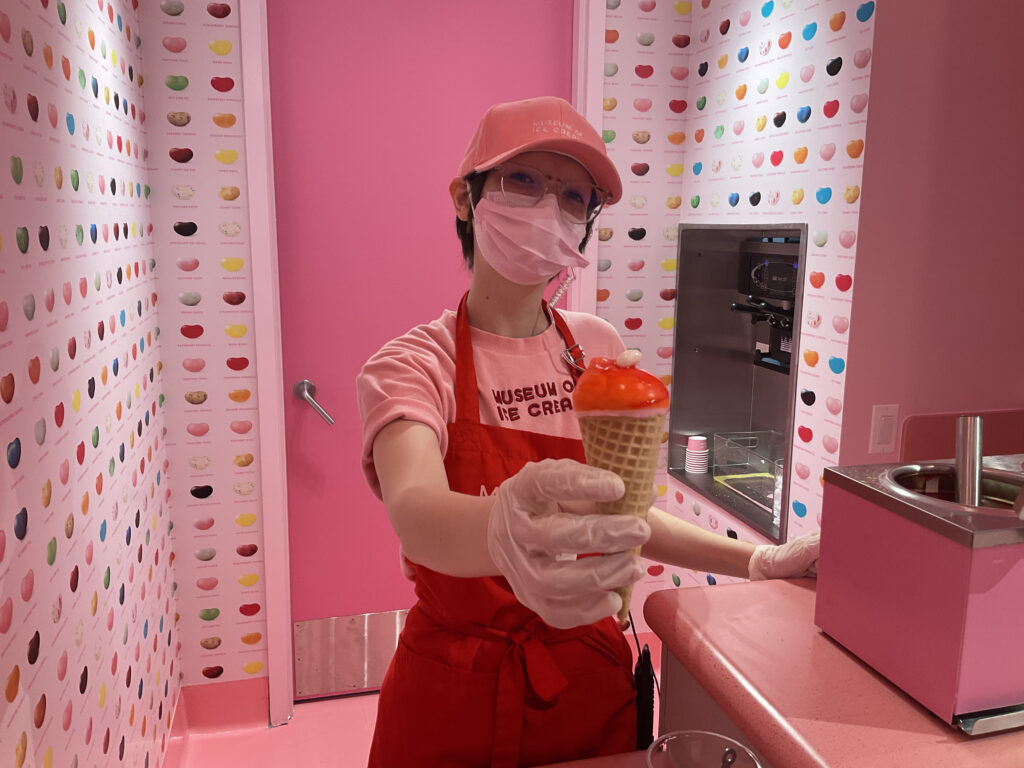 Friendly staff handing out ice cream
The Museum of Ice Cream is filled with wonderful and friendly staff to help navigate around the museum, but it's still a self-guided tour if one prefers. Unfortunately tickets cannot be purchased at the door, so make sure to purchase tickets at www.museumoficecream.com/book-chicago and pick a date and time slot before arriving. There are ticket packages that include a variety of choices – whether they're gift shop items, discounts on food and drink items, and access to the ice cream lab. Once inside, the fun begins.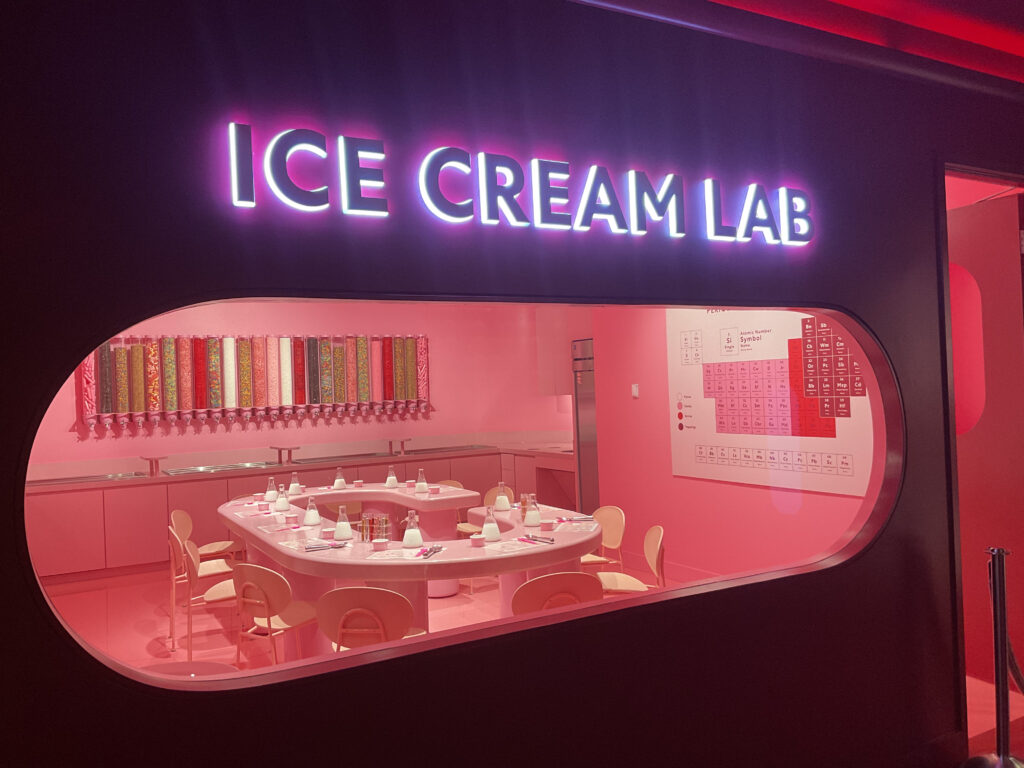 Entrance to the ice cream lab
The main lounge area
Guests will encounter plenty of activities that range from playing interactive games to ordering alcoholic cocktails in the main lounge. Families will benefit the most since kids will have a blast playing all types of games, both video games and carnival style games. The connected maze-like rooms will have guests going room-to-room and discovering what awaits next; Some rooms include making balloon animals, playing mini putt-putt, the sprinkle pool, and many more.
Interactive history of ice cream room
Cherry theme game room
Patreons with certain ticket packages obtain the ability to enter the ice cream lab, which consists of groups making ice cream with all types of toppings and fixings. The time it would take to do everything can range from 1 to 2 hours, depending on who you go with and how much time you're willing to explore.
The sprinkle pool with a wonderful and friendly guide taking a dip in the pool
Visitors from around the world came out to see The Museum of Ice Cream in Chicago. A pair of friends were celebrating their birthday while one of them was visiting her family in Chicago. June (not her real name) hailed from Korea and wanted to soak up everything Chicago had to offer. What better way to beat the heat and keep up with the adventurous spirit. June and her friend enjoyed their time at the museum and June hopes to come back with her grandson, undoubtedly her grandson will surely enjoy his time at the museum.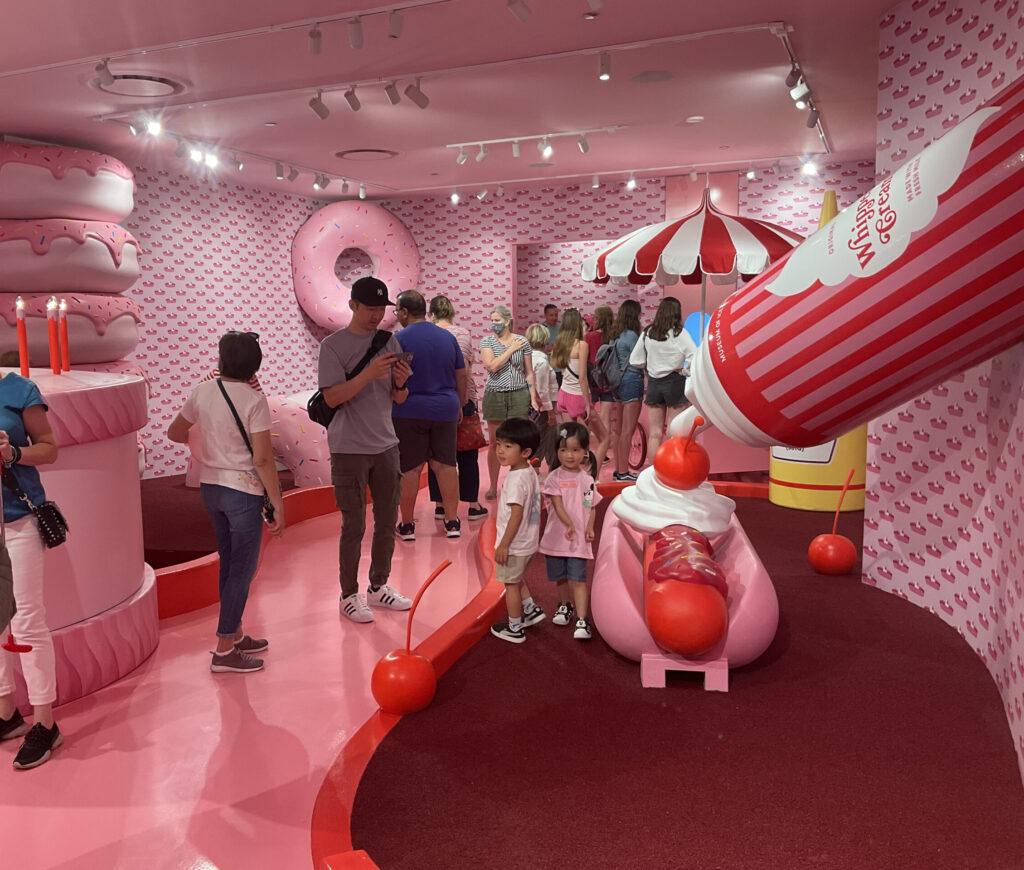 Mini putt-putt room
Museum guide challenging everyone to break his high score at water gun game
The Museum of Ice Cream was a sundae blast, a cherry on top to end the day. The staff at the museum were friendly and sweet people, making the visit enjoyable. I hope you don't mind ice cream on the menu for breakfast, lunch, and dinner. Because a balanced diet is an ice cream in each hand, truly what sweet dreams are made out of.
Receiving my gift at the gift shop
For more information on The Museum of Ice Cream, visit www.museumoficecream.com/book-chicago. The Museum is located at 435 North Michigan Ave, Chicago, IL 60611.