Entrepreneur Genevieve Dolan Charges Ahead in Competitive Field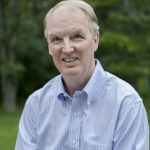 By David A. F. Sweet
When Genevieve Dolan was 13, the Lake Forest resident started seeing a dermatologist because she was suffering from severe skin issues. Her doctor tried all sorts of treatments on her face, from intense topical to antibiotics to strong lasers and more.
Today, the 30-year-old entrepreneur runs Vieve's Leaves, a skincare company she founded in 2020. Busy making cold calls with her brother Danny Dolan III (manager of Dolan Family Partners) to national boutiques to generate sales, she sees her early skin struggles as crucial to her career.
"Needless to say, I became a skincare junkie," said Dolan, who splits her office time between her Chicago apartment and the Dolan Family Office in River North. "When your skin hurts, your soul hurts, and I was sick of that. I was so uncomfortable in my own skin (literally) that I was determined to figure out how to clear it up."
Vieve's Leaves cosmetics line, from facial moisturizers to restorative serums, features an ingredient in a booming if controversial segment of the industry. CBD – a compound found in the cannabis and hemp plants – is part of the Vieve's Leaves formula (Vieve is a nickname of Genevieve's, and Leaves is a play off of hemp leaves). Though CBD does not contain THC, the psychoactive part of marijuana, it has yet to be fully regulated for beauty products by the Food and Drug Administration.
After meeting with CBD experts, Dolan got together with a chemist to create a one-of-a-kind formula that infuses her products today.
"While our formula is super clean, our goal is to bring a balance of science and nature together," she said. "Our blend of CBD and Vitamin E paired with ancient herbs is full of nutrients. Our products are packed with antioxidants and are an excellent solution for inflammation (acne, redness/rosacea, excema, psoriasis).
"We're trying to fight the stigma of CBD," she added. "It's a medicine. It heals. However, there's more to our formula than just CBD. It acts as horsepower for our products, increasing the efficacy and absorption rate of all the ingredients combined. At the moment, I don't plan on ever removing it from the brand."
Today Dolan's products are at M on the Square in Lake Forest and at CBD Emporiums out West, among other spots. Most sales are through e-commerce at her website. Unlike, say, milk or meat, Vieve's Leaves products have a shelf life of four years, giving Dolan ample time to dispose of inventory.
After pivoting from the original plan and incorporating a new team this year, Vieve's Leaves sales have improved significantly, jumping 25 percent from 2021. Blessed with new public relations and marketing cohorts in Florida, brand awareness is up. Beauty blogs such as Brydie and SheFinds have written pieces on Vieve's Leaves' products.
All age groups buy Dolan's offerings, from teens to those in their 80s. Chicagoan Luke Joyce is one customer who has benefitted from using the rejuvenating facial fusion moisturizer, which costs $65 per bottle.
"After struggling with psoriasis, I needed to find a moisturizer that wasn't filled with additives and other harsh ingredients," he said. "I've tried so many other products which didn't work and only made matters worse. This product has cleared up my skin completely."
At some point, Dolan is looking forward to expanding.
"I have the whole line planned out. I have all the things you could possibly think of in my head and written down on some random sticky note," she said. "I'd really like to expand into body care and recovery treatments. My dream is to have a full beauty and wellness line."
And though those dispirited doctor visits propelled Dolan into her career today, there was one other factor in her love for skincare.
"My mother (Mary) always had the most organized and fabulous vanity," she said. "I've been playing with her makeup and skincare products since I was a child. As a teenager, I was always comparing cosmetics. Beauty and skincare have always been a bit of a therapeutic, creative outlet for me."
Unsung Gems Columnist David A. F. Sweet is the author of Three Seconds in Munich. He can be reached at dafsweet@aol.com