By Judy Carmack Bross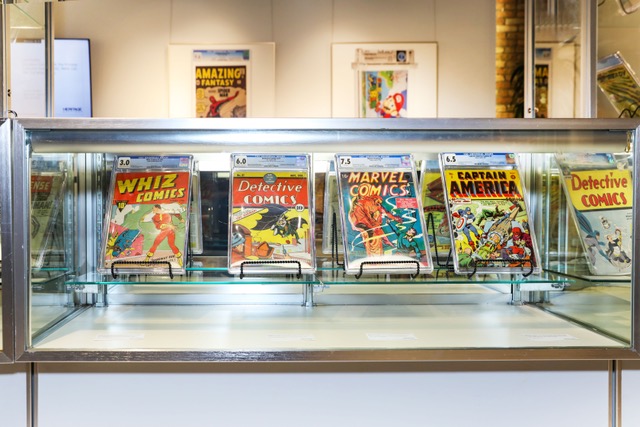 Attics, yard sales, and steamer trucks have often yielded surprising auction record breakers, but recently a granddaughter's discovery in cardboard boxes on the second floor of a shuttered long-closed feed store revealed a treasure chest of Golden Age Comics, 1938-1955, in pristine condition and first time on the market. Heritage Auctions will preview the collection at their Chicago gallery during an evening reception on August 24. The auction will take place on September 14.
Sun Girl #1 (Marvel, 1948), One of CGC's top two copies of the issue
Abbey Vogler, a comic book enthusiast herself, made the discovery after her grandfather's death in 2020 and joins Heritage Auction's Vice President Roberta Kramer, and Matt McGee, Chicago Director, Comics and Comic Art, to tell us more about the Golden Age of Comics, Vogler told us about her grandfather:
"Harold Vogler was born in 1932 in Hawley, Pennsylvania, a small town located approximately 40 miles northeast of the coal-mining town of Scranton. Hawley became home to Ernest Vogler & Son Feed Store in 1896, a family-run store that sold grain, flour, and farm and garden supplies for over 117 years. Harold took over running the store after his father, Edward, passed away in 1956. In 2013, the feed store closed its doors permanently; however, it has remained an iconic part of this small town's history.
"In going through the contents of the store, my father, Harold's son, told me about this find, knowing that I was a comic book fan myself.  We spent some time going through the Golden Age books, shocked at their condition after spending nearly 80 years unprotected and stashed away in the store. Naturally, we searched for common household names – Batman, Superman, and Wonder Woman were among the boxes. I took it upon myself as sort of a "passion project" to catalog each book we found. Over 800 Golden Age comics called the feed store home, including a full run of the well-known Fox Feature Syndicate Phantom Lady illustrated by Matt Baker.
"Flipping through their pages, I found handwritten notes, bookmarks, and even sketches of spaceships left by my grandfather. I watched his newsstand purchases change with the evolution of the comic book industry from early to mid-1940s superhero and war comics to post-war and 1950s "Good Girl" art, science fiction, and horror. In a way, with each book I cataloged, I was growing up with him.
Matt McGee
McGee said some bidders will be people who collected these books as children and feel a real nostalgia. "Often, they are looking for a connection to their past—a tactile piece of the more innocent days. Owning a piece of your youth can never be underestimated. That generation was saturated with Saturday serials and during World War II, who could resist a cover showing Captain Marvel punching Nazis in the nose? For others, it's pure investment. A lot of investors like an actual physical item that they can hold. It feels safer than an online stock portfolio."
We asked McGee if the Feed Store find was one of the most unusual places to find comic books.
"My colleagues and I have been in crawl spaces, barns, attics, and backs of stores. At this point, I don't know what I would consider 'unusual' anymore!"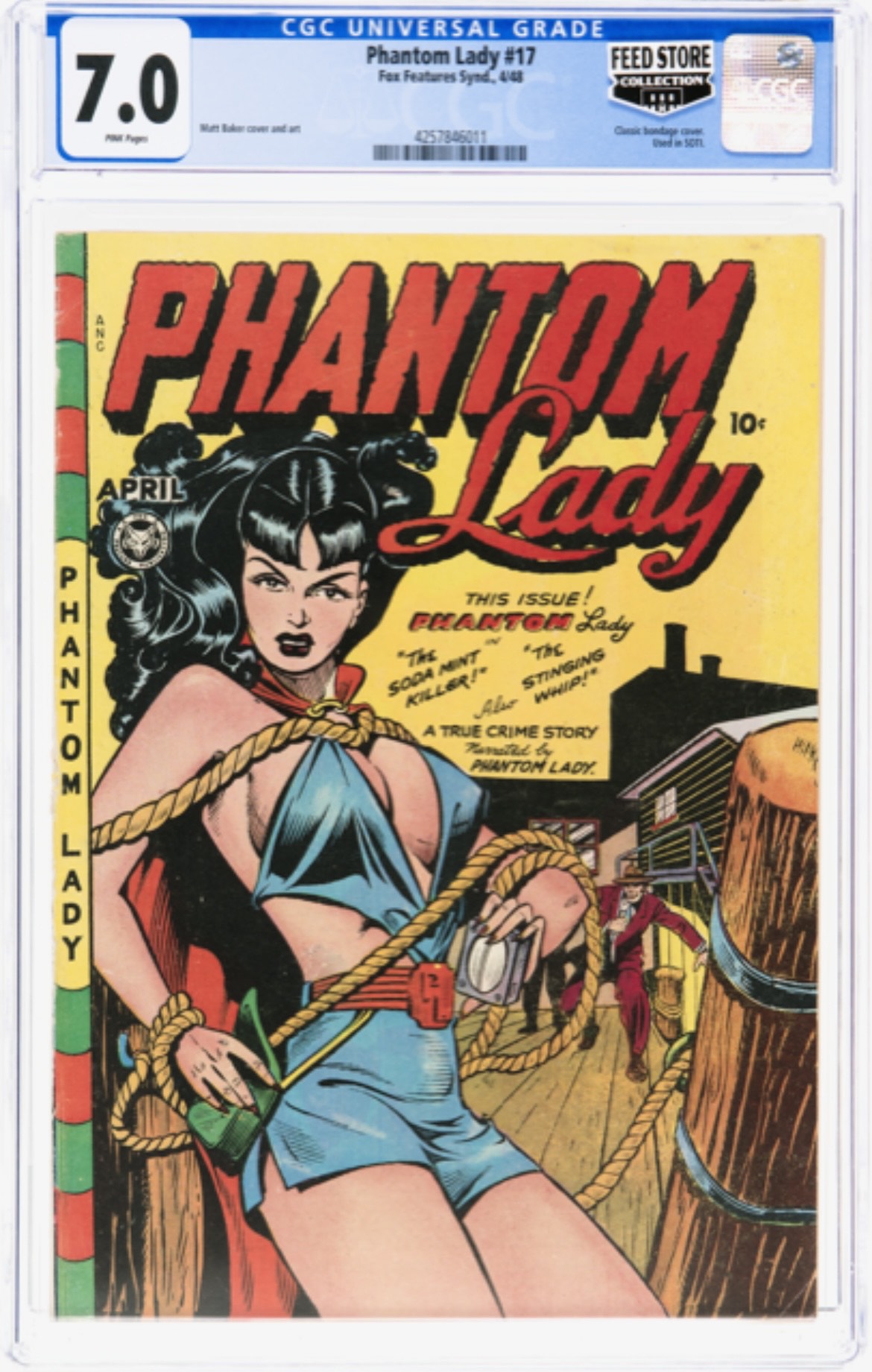 Phantom Lady #17 (Fox, 1948), Currently tied for #66 on Overstreet's list of Top 100 Golden Age Comics
"The cardboard boxes were packed with 800 comic books.  There will be less than 200 in this auction, with others appearing in future auctions," McGee said.  "The Phantom Lady could probably go for $60,000 because it is in great condition, is hard to find—there's not been one in years."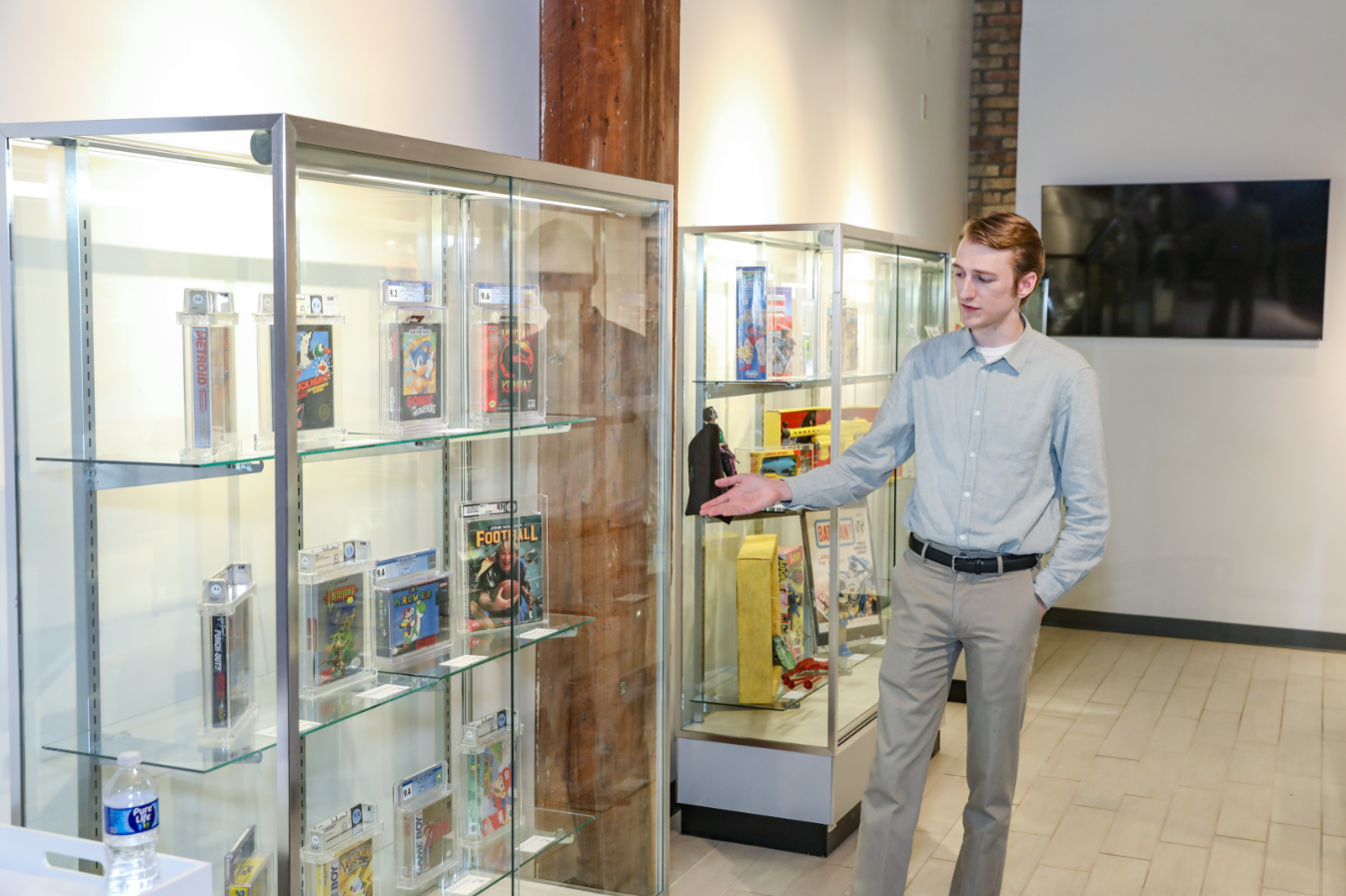 Kramer noted that Heritage has a 1.6 million registered bidder base and not a small group collects comics worldwide. "We are the largest auction house to deal in the field, and bidders know they can always have access to an expert before and after auction."
Marvel Mystery Comics #82 (Timely, 1947), with the first appearance and origin story of Namora, a character in Black Panther
Kramer continued:
"The company was founded in the mid-1970's by its current owners who were originally coin guys.  Jim Halperin, one of the founders and was also a longtime comic book collector.  His first sale was almost to test if there was a demand in the auction world.  He was pleasantly surprised.  We are the third largest auction house in the world with over 50 categories and Jim continues as our chairperson and is still passionate about comics, one of our largest areas and attends weekly meetings on the category."
Kramer said that as a child she was a fan of Archie comics, "although my mother, a Bryn Mawr English major, didn't want me reading comic books and watching TV—I think I just saw a royal wedding and the moon landing."
All Winners Comics #21 (Timely, 1947), Overstreet calls this last issue of the title "scarce," and Gerber rates it an "8" ("rare")
We asked McGee, what are some of the most successful comic sales in the past for Heritage?
"Original paintings from Frank Frazetta – a legendary artist known for his glorious depictions of barbarians in combat – always top the charts. A Frank Frazetta is available in our upcoming auction.  
"First appearances of the most iconic characters are forever in demand. Superman, Batman, Spider-man- Action Comics #1, Detective Comics #27, and Amazing Fantasy #15 always tend to do well. Success is relative, though. Sometimes you have a page of art that you think may fetch $10,000, which goes for $30,000. Those items, to me, are a huge success."
We asked what is the earliest comic book he has auctioned and the earliest in the show?  "Heritage regularly has platinum-age comics in our auctions, such as comic strips reprint books from the 1910s and 1920s. We have auctioned a Yellow Kid newspaper comic strip from 1897 a few times. In our September14 auction, Action Comics #1, with Superman's first appearance, is the oldest at 1938."
What are some of the earliest comic books?
"The platinum-age comic strip reprints from the early twentieth century are some of the oldest books out there.  The blueprint for a 'standard' comic book, including size and printing method, newsstand distribution, etc., began with a book called Famous Funnies #1 in 1934."
We asked McGee how he got involved in the auction of comics.
"I had been buying and selling comics for more than 30 years, constantly looking for the next level.  I'm pretty sure the auction world is the top.  It's the accumulation of knowledge about the hobby and industry that brought me to this point, and once I got to Heritage Auctions—the industry leader in the Comics category, I found there is still more to learn and do."
General viewing times for the Auction are from 10 a.m. until 5 p.m. August 22-25 at Heritage Auctions, 222 West Hubbard St.  No appointment necessary or visit ha.com.