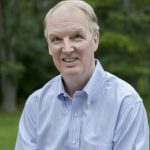 By David A. F. Sweet
For 14 years, Grant DePorter lived at the Hyatt Regency Chicago. Though inhabiting a hotel for that long may sound unusual, his father, Don, ran the brand's Midwestern properties.
And there were perks at the Hyatt any teenage boy would love.
"I've always said sports is a religion in Chicago, and the memorabilia is like relics of that religion," says Grant DePorter, who founded the Chicago Sports Museum.
"All the sports teams stayed there when they came to Chicago, and the NBA Awards ceremonies were there," said DePorter. "My Dad gave me an all-access pass when Michael Jordan and Magic Johnson and others got awards. I was the youngest guy in the green room with the players, and they signed basketballs for me."
Given that upbringing, it's perhaps no surprise that DePorter is a sport memorabilia aficionado – so much so that he opened the Chicago Sports Museum in 2014. Housed on the seventh floor inside Water Tower Place – right next to Harry Caray's 7th Inning Stretch (DePorter is CEO of Harry Caray's Restaurant Group) – the museum draws 200,000 visitors each year with a bountiful display of local jerseys, balls and more.
The impetus for DePorter's embrace of Chicago sports memorabilia happened in 2003. We all remember the Chicago Cubs stood five outs away from their first World Series since 1945 when fan Steve Bartman tried to grab a foul ball, Cubs left fielder Moises Alou threw his mitt to the ground believing he could have caught it and the team unraveled in Wrigley Field.
The infamous ball appeared in an Internet auction two months later.
Former Chicago Bears sack master Richard Dent shows off one of the museum's virtual-reality games.
"With the Cubs being so close to the World Series, I thought, what would Harry do?" recalled DePorter, referring to the namesake of the restaurant chain. "He'd get hold of the ball and let fans have a cathartic release."
DePorter kept upping his bids, reaching $30,000.
"My wife was like, 'You're done,'" he recalled. "Once she fell asleep, I kept bidding."
His first purchase of sports memorabilia came in at $113,824. Given that number, the superstitious DePorter points out the ball was Mark Prior's 113th pitch in the eighth inning. That particular pitch ended up in section 113, row 8. And Prior had averaged 113.8 pitches per game in 2003.
DePorter became a media star, appearing on the David Letterman and Jimmy Kimmel shows while also being interviewed by Lester Holt on The Today Show about the ball and what he planned to do with it. The ultimate decision was to blow it up in a tent outside Harry Caray's Restaurant in 2004. Michael Lantieri, an Oscar winner for his special-effects work in the movie Jurassic Park, conducted the explosion before a live television audience.
"Destroying it, we think we broke the curse," said DePorter, referring not only to the ball but to the line of curses that had afflicted the Cubs in their history, from Billy goats to black cats.
What remains of the destroyed ball – which sits in a room dedicated to curses — is one of the many attractions at the 23,000-square-foot museum.  There are championship moments, such as the stanchion whose hoop accepted Michael Jordan's final shot as a Bull to win the 1998 NBA Finals, along with notes from Chicago Bears' coach Mike Ditka's 1985 Super Bowl playbook and David Ross' catcher's gear from Game 7 of the 2016 World Series. In a set of team cases, there are many other delights for Chicago sports fans, including an Ozzie Guillen jersey, a Walter Payton game ball, and a Marian Hossa helmet.
Interactive exhibits include fans jumping to press red buttons on a wall (which are six inches apart) to see how close they can come to dunking a basketball. The wall is also adorned with a soaring Jordan, whose vertical leap was reported to be four feet. (Can you Be Like Mike? Highly unlikely.) Thanks to body-tracking technology, museum-goers can also try to hit more home runs than Frank Thomas and see if they can complete a pass before being "tackled" by Bears' Hall of Famer Richard Dent.
One of the more intriguing sights is on the floor: a pair of replica size 28 basketball shoes — the biggest in sports history – worn by Latin School of Chicago standout Kenny George. Said DePorter, a 1983 Latin graduate who also played basketball, "The story goes, Shaquille O'Neal was giving Kenny some shoes. But Shaquille was only size 22, so Kenny had to make them larger."
Visitors can try to sink a shot through the same hoop that Michael Jordan's championship winner fell through in 1998.
As expected in a museum adjoined to a restaurant named after Harry Caray, there's plenty of space dedicated to the beloved announcer of the Cubs and the White Sox – including a pair of his Coke-bottle glasses, which are even more massive than imagined. There's also a bigger-than-life image of Will Ferrell impersonating Caray.
DePorter shared Caray's favorite story, regarding the Cubs hapless start in 1997.
"When they were 0-4 or 0-5, I said we'd offer 45-cent Budweisers at Harry Caray's until they won their first game," DePorter said. "We ended up selling 50,000 45-cent beers before they won. People were busing in from out of state.
"Harry was here serving beers to the fans. Harry loved it. It was a bonding moment."
DePorter has enjoyed conducting forensics on sports memorabilia, including a baseball from the 1919 World Series – scene of the infamous Black Sox scandal – and Sammy Sosa's corked bat that shattered. Once, he offered a $50,000 reward for Patrick Kane's game-winning Stanley Cup goal in 2010.
"A Philadelphia Flyer sent it to me and wanted the reward money," DePorter said. "He didn't realize the FBI was helping me. It was a fake puck."
These size 28 behemoths swallow the feet of museum-goers.
Who knows what moments – either good or bad – lie ahead in Chicago sports. No doubt there will be much to add to DePorter's collection, especially given the fans' passion for the teams. Said he, "I've always said sports is a religion in Chicago, and the memorabilia is like relics of that religion."
David A. F. Sweet is the author of Three Seconds in Munich and Lamar Hunt. You can reach him at dafsweet@aol.com.