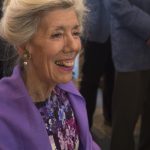 BY JUDY CARMACK BROSS
Tandy Cronyn. Together her two names represent the greatest of the American theater—movies, too. But unlike her parents, Jessica Tandy and Hume Cronyn, so well remembered for Driving Miss Daisy, The Gin Game, and Cocoon, Tandy is giving Chicago something her parents never tried: a solo show, performing all four roles.
The Tall Boy, based on the poignant short story "The Lost" by Kay Boyle, runs December 5 through the 15th at Stage 773 on Belmont. Though the story was written more than 60 years ago, its examination of emigration, origin, and repatriation feels particularly timely in our current political climate.
We spoke by phone with its star Cronyn as she prepared to catch a train for Westchester County to have Thanksgiving with "beloved cousins," the children of her godfather and her father's best friend, the late Broadway producer Robert Whitehead. Like Whitehead, Hume Cronyn was Canadian—we couldn't help but share her father's early connection to the mythic Murray Bay, the Quebec paradise where the Humes and Blakes headed the social pyramid and where her father visited as a little boy. But that's for later in our story.
Cronyn's voice has all the vigor and diction one remembers from her mother's acceptance speech after winning the Best Actress award for Daisy. She told us about her own current role onstage: "At the New York Public Library, I had randomly plucked a collection of short stories that Boyle had written just after visiting Germany following World War II. One of those was 'The Lost,' which tells of three children—a 15-year-old Czech, a 14-year-old Pole, and a 12-year-old Italian—who had become mascots of American GIs during the war. They are desperate to follow the GIs back to the US to be adopted, and two try to stow away. They are apprehended and told that unaccompanied children cannot immigrate and are taken to an orphanage. The fourth character I play is the matron there."
She continues, "With the exception of the youngest boy, war forced them to grow up fast and they lost their childhood forever. Only the youngest can perhaps go back to being a kid. It is a sad story, but there is some hope." But she assures that the stage adaptation is not quite as dark as the original short story.
Cronyn acquired the rights and commissioned a stage adaptation from British playwright Simon Bent. The script has been presented in various venues across the United States, including the 2014 United Solo Theatre Festival in New York City. The sold-out show won the festival's Best Adaptation Award.
More recently, Cronyn performed the work in New York at the 10th Anniversary Solo Festival as one of the shows invited to participate in its "Best Of" category featuring critically-acclaimed and audience favorites from previous Solo Festivals.
We asked the actress about the influence her parents had, and continue to have, on her career onstage. "My parents live on in my head, and they frequently present themselves," she shared. "They were always very gracious people and they never encouraged me, my brother, or my half sister to take a particular career path."
"My life is very different than theirs, and, of course, the theater is a totally different scene. I have done a little TV but am strictly a stage actress and consider Chicago a real theater town. I last appeared here at Victory Gardens in Jeffrey Sweet's Berlin '45," she added.
The Tall Boy will not be her first time to hit the stage solo, having previously tackled the role of Emily Dickinson in The Belle of Amherst to much acclaim. Perhaps she inherited this ability not to shy away from the daunting nature of this work from her father who took on Becket, a work comprised only of physical activity in lieu of dialogue, and a solo turn as the larger-than-life figure of Mark Twain.
Taking on four parts for The Tall Boy is an even greater challenge, however, but one she loves. She shares, "Even though I have performed in across the country, it is so important to prepare—for your audience you must re-discover the play each time you perform it. I often have friends who will cue me as I rehearse. In the play Wit, I also got to play a child, and it was much fun to sit on the floor and act like a five-year-old."
Though she shines in this solo role, she admits, "I do look forward to performing in a play where there are other actors to listen to and then generate my responses."
Born in Los Angeles and raised in New York, Cronyn made her professional acting debut in Montreal. "My great, great grandfather, an Anglican cleric named Benjamin Cronyn, immigrated from Ireland to an area called The Forks because it was close to a river near London, Ontario, where my father would be born many years later. He was asked to preach one Sunday because they didn't have a minister, and he went on to be the Bishop of the first Diocese of Huron," she explains.
Not too long ago, Cronyn went to a celebration of the Diocese of Canada's sesquicentennial and met 50 cousins, Blakes and Labatts, she didn't know she had. These families are among Canadians most influential. The Labatts owned the very successful brewing company, now famous for its Labatt Blue beer, and the Blakes helped unite Upper and Lower Canada. In Murray Bay, dubbed by some as the Newport of the North, the Blakes dominated the social scene, lost brave young soldiers in World War I, and discovered legendary fishing spots considered some of the world's finest. It is believed that Hume Cronyn spent early days there visiting family in the town's most famous "cottage," a huge house called Maison Rouge.
Her acting career has taken her across North America, performing major classic and contemporary roles, covering a wide spectrum of styles and playwrights, from Albee to Ayckbourn, Brecht to Coward, Ibsen to O'Neill, Shakespeare to Simon, and Wilde to Wilder.
Her first Broadway appearance was as Sally Bowles, replacing Anita Gillette, in the original Cabaret. Off-Broadway she acted in The Return of the Prodigal, which earned a Drama Desk "Best Revival" nomination. Off-Off Broadway, Cronyn performed in Nat Cassidy's Old Familiar Faces in the 2013 New York Fringe Festival, receiving a nomination for Outstanding Actress in a Lead Role by the New York Innovative Theatre Awards. Cronyn recently appeared in Mac Rogers's Universal Robots. She has toured nationally in A. R. Gurney's The Cocktail Hour, Mary Chase's Harvey, and the Stephen Sondheim musical Company.
She serves as artistic director of Poetry Theatre, a website featuring great poems read by distinguished actors, including Cronyn (reading Sonnet 60 and others), Anthony Haden-Guest, Marion Seldes, and a most tender "Funny How Time Slips Away" spoken by Willie Nelson. Hume Cronyn reads A.E.Housman and Ogden Nash—unfortunately the project started too late to capture her mother's voice.
For more information on The Tall Boy, and to purchase tickets, visit stage773.com. To listen to Cronyn and many others poetic readings, go to poetrytheatre.org.
Photos Credit: Trix Rosen Photography