Exmoor Country Club's Commitment to Curling Is Set in Stone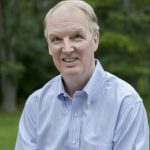 By David A. F. Sweet
Rarely does a private club forge an impact on an Olympic sport. Exmoor Country Club in Highland Park is an exception.
Members there have helped shape curling, which will be on display again during the Winter Olympics in Beijing in February when men's, women's and mixed teams compete.
On the playing side, Ann Swisshelm has enjoyed a phenomenal career. The Exmoor member — who learned curling at the club as a youngster — competed for the fourth-place U.S. Olympic Team in 2002 in Salt Lake City along with the U.S. team in 2014 in Sochi, Russia. Swisshelm captured the U.S. national championship in 2001 and 2003. Two Exmoor mainstays, Ann Brown and Georgia West, served as presidents of the U.S. Curling Association. Brown helped change the rules to make the sport more entertaining, including allowing a curling stone to be knocked from its perch similar to shuffleboard. USA Curling's sportsmanship award is named in her honor.
How has a club best known for golf – whose members have won U.S. Amateur trophies and whose course will host the Western Amateur this summer – become a major player in curling? The story starts in 1936, when the Exmoor curling program was founded. When Larry Brown's parents joined Exmoor during World War II, curling was played outside.
"It was social. It helped the winter go faster," said Brown, whose late wife Ann was the aforementioned U.S. Curling president and who served as a curling official with her during the 2002 Olympics.
After a number of North Shore clubs turned down the opportunity to build their own indoor curling rinks so members could play on even the worst winter days, the Chicago Curling Club was constructed off of Route 41 in 1948. Once the private clubs saw how many members were flocking to the indoor facility, at least five of them — including Indian Hill, Skokie and Exmoor — built their own indoor rinks. Only Exmoor's remains. With four sheets and plenty of space for spectators in the Oakhouse (along with the enticement of a nearby bar), the facility has hosted a number of national and international competitions which are streamed on YouTube.
Curling's popularity has ebbed and flowed at Exmoor. Brown noted that when paddle tennis emerged on the North Shore in the 1970s, interest in curling waned. But he pointed out the sport's appeal is enduring.
"You don't have to be overly athletic or strong," he said. "It's easier to teach a frail woman to play than a man who likes to hit a golf ball 300 yards. Plus, you can play into your 90s."
What, exactly, is curling? To the uninformed, it looks a bit ludicrous – one person pushes the stone straight down a long stretch of ice while sliding forward and two teammates frantically sweep brooms to create friction so the stone won't spin as much. Despite the unorthodox movements, those who play the sport are passionate about it.
Teenager Nick Schallmo – who threw his first stone at the age of 5 — has been playing competitively at Exmoor for four years. His grandparents became curling members at Exmoor in 1980, and his mother grew up playing the sport.
"I love curling for multiple reasons, but mainly because it is a great way to get to know your community," Schallmo said. "After the game the teams share stories and enjoy each other's company. It's also important to note is that the game is almost all offense; there is no defense to be played. I like this element of competition — trying to outsmart your opponents with better strategy and making more shots."
Schallmo admitted the sport was challenging at first, as it involves a lot of coordination and repetition, and beginners need to practice as much as possible. Given that curling is little known in the United States (it's hugely popular in Canada), what would he say to those hesitant to throw the stone for the first time?
"I understand the feeling of discomfort when trying something new, and the best way to overcome fear is just to try it," he said. "That can be applied to any journey in life."
The Sporting Life columnist David Sweet is the author of Three Seconds in Munich. He can be reached at dafsweet@aol.com.