By Michelle Crowe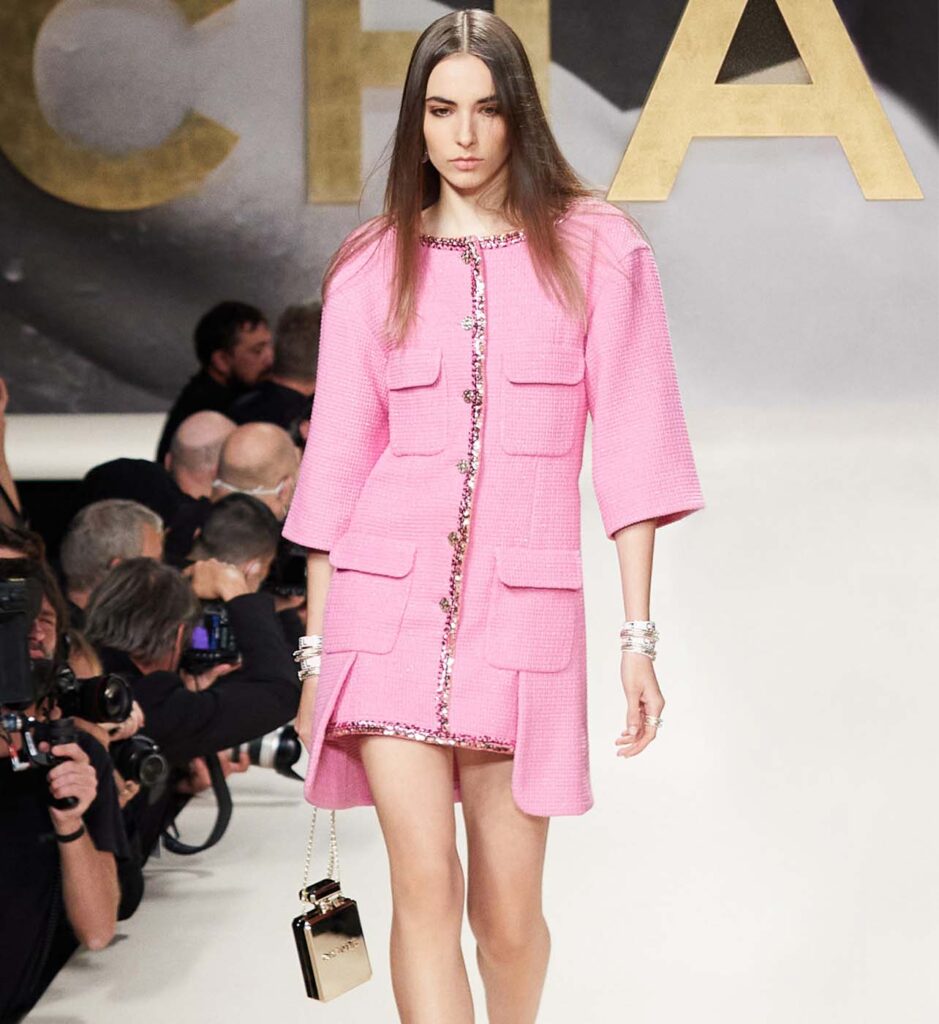 This holiday season you think pink as often as you opt for basic black. A classic Chanel suit is perfect. 
Brocade, sequins, and bright velvet are just some of the glorious fabrics and finishes ready to wear this holiday season. Go-to favorites including Le Smoking or a favorite LBD will always look smashing during the end-of-the-year festivities, but if the time feels right for something new, indulge those magpie tendencies and go for the boldest, most smile-inducing looks. 
Halpern satin dress in a vibrant highlighter shade. 
Brights
Velvet and satin are  holiday classics, so elegant and tactile. Highlighter shades of pink, green, and yellow are the freshest way to wear these beloved fabrics. Flattering on people of all ages, lively hues mean party pieces that can easily transition from Lake Forest to Palm Beach.
Beautiful sequin work at Halpern. 
Sequins
For some occasions, only maximum sparkle will do. That's when to don the sequins and get ready to shimmy. Michael Halpern, the London-based designer with Atelier Versace and Oscar de la Renta is the current king of sequins. Sophisticated and fun, Halpern pieces are destined to become collector's items. 
Banana Republic brocade suit. 
Woven Textures
Brocade is elegant and structured, excellent for luncheons and dinner parties when one is looking to project refined sophistication. It's also one of the best fabrics for expressing personality. Whether zebra print is a favorite or a wonderful abstract pattern feels right, a brocade suit or dress often feels very personal and is highly likely to become a perennial favorite. 
J.Crew Santorini bag. 
Feathers
Fluttery feathers abound this season. Rather than risk triggering fellow partygoer's allergies, it's best to add fluff on accessories only. Everyone is wild for the Santorini bag with feathers from J.Crew. It's a great little bag that will be great at home and easy to pack for your New year's getaway. If you are allergic to feathers, there's always fringe. 
Adele has decreed we all dress up this holiday season. Express yourself with all the joie de vivre this December.