by Annie Delfosse
On March 14th, the Chicago Literary Hall of Fame presented the organization's 14th Fuller Award to Harriette Gillem Robinet. Recipients of this prestigious award are writers who have made an outstanding and significant lifetime contribution to literature. Robinet is a critically acclaimed author of eleven young adult historical fiction novels, as well as a longtime advocate of social and racial justice. Her novels take place during crucial, pivotal moments in history.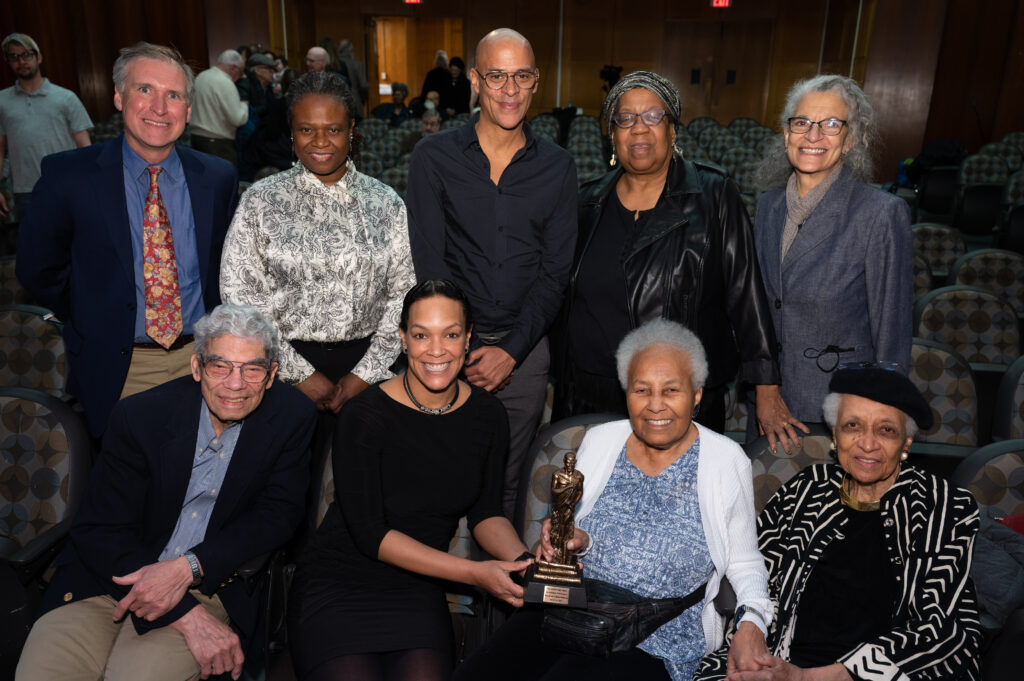 Harriette Gillem Robinet holding her Fuller Award, surrounded by her husband, Mac, and daughter Linda (left), and the speakers from the award ceremony
The award ceremony took place at Dominican University's Performing Arts Center in River Forest. Speakers included Chicago Literary Hall of Fame's Donald G. Evans, playwright Tsehaye Geralyn Hébert, Oak Park Regional Housing's Athena Williams, writer and playwright Nora Brooks Blakely, author and historian Glennette Tilley Turner, and Historical Society of Oak Park and River Forest's Frank Lipo. In addition to the speakers' praise of Harriette, Timothy David Rey and Beye Elementary fifth graders performed short adaptations of scenes from Robinet's novels. Robinet, now in her nineties, suffers from Alzheimer's Disease, so her daughter Linda Robinet concluded the ceremony with a beautiful acceptance speech on her mother's behalf. 
Author, educator and historian Glennette Tilley Turner speaks during the ceremony, her speech entitled Kindred Spirits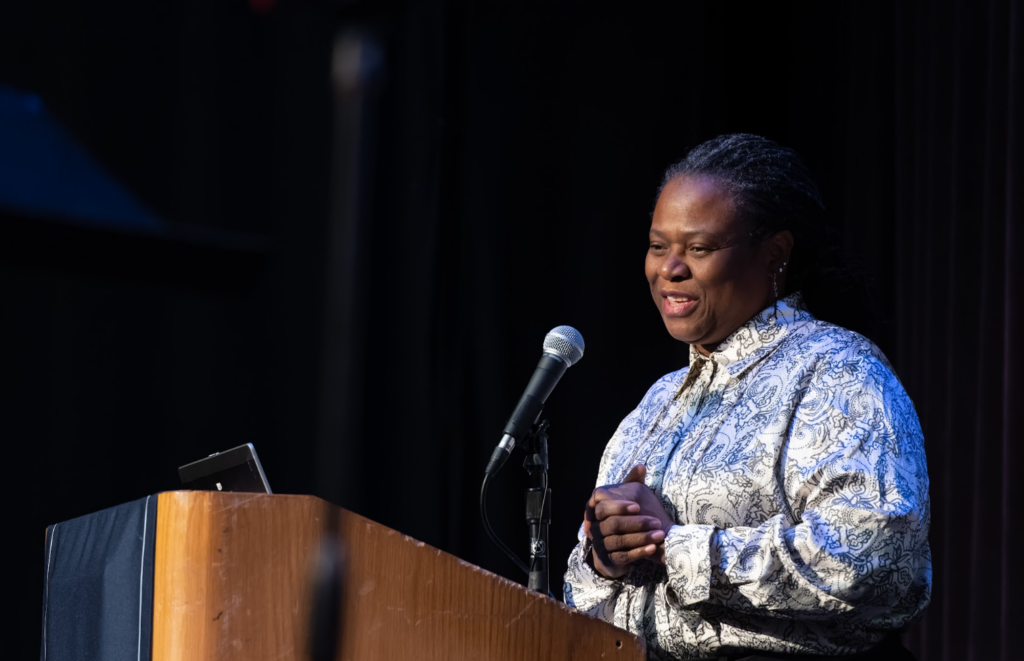 Athena Williams, executive director of the Oak Park Regional Housing Center, delivering a short reading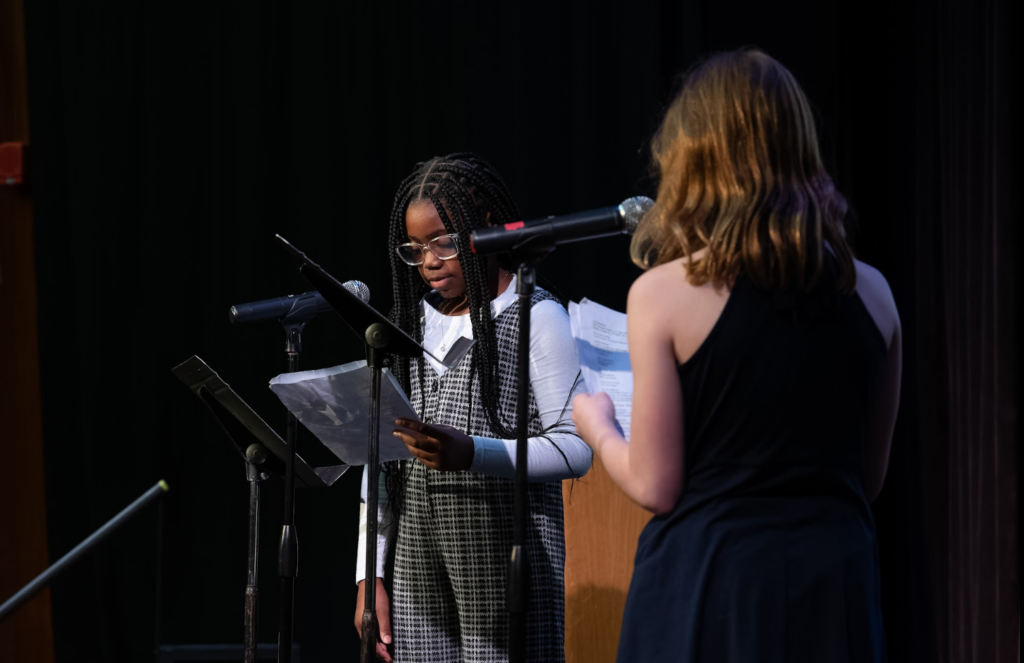 Elementary students Madyson Strong and Amira Hogan performing a short adaptation of a scene from one of Robinet's novels
In her acceptance speech for her mother, Linda Robinet traced her family history back to her mother's grandfather and great grandfather, who were slaves on Robert E. Lee's plantation. She discussed her mother's life before she moved to Oak Park, IL in 1965: beginning with her childhood in Washington, D.C. and the summers she spent in Virginia where her mother's father had been a slave. Robinet studied at College of New Rochelle in New York, the only Black student in an all-white school. Despite the significant number of obstacles she had to overcome, she went on to receive graduate and doctorate degrees in microbiology from the Catholic University of America. Robinet indeed has been a lifelong writer, but she has also equally loved research and science (bacteriology in particular).
Linda Robinet giving an acceptance speech on her mother's behalf
Chicago Literary Hall of Fame's Founding Executive Director, Donald G. Evans, shares that Linda Robinet's speech was his favorite part of the ceremony (well, one of them). "I thought it was interesting, because so much is known about Harriette after 1965 when she moved to Oak Park," Evans says. "I thought it was great that Linda spoke about her mom up until 1965 and shared her early history, so that might've been my favorite part."
Donald G. Evans, founder and executive director of Chicago Literary Hall of Fame, presenting Linda Robinet with the Fuller Award on her mother's behalf
"But that's hard, because Nora Brooks Blakely put the importance of Harriette's work into context and why writing history like she does is so important, and I think Tsehaye's remarks at the beginning gave context to her work," Evans adds. He stresses that each speaker added something special to the ceremony, and it was touching that even speakers with mobility issues made the effort to attend. "I think when you looked around the audience that night, a lot of people made a great effort to be there, which speaks to how revered and important Harriette is to a lot of people."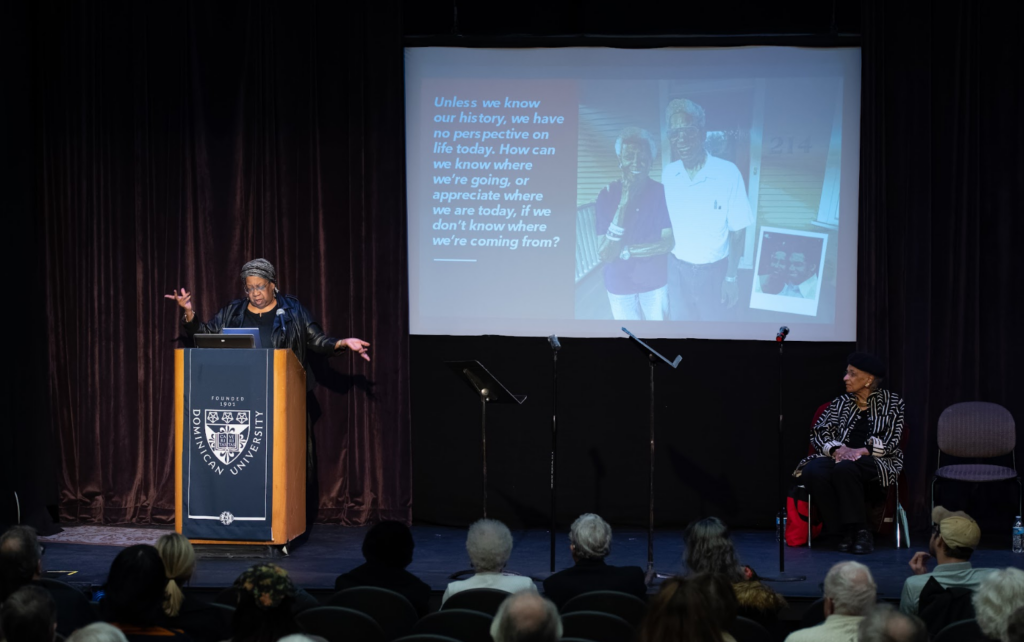 Playwright and Brooks Permissions founder Nora Brooks Blakely, delivering an important tribute to Robinet and the way her work highlights context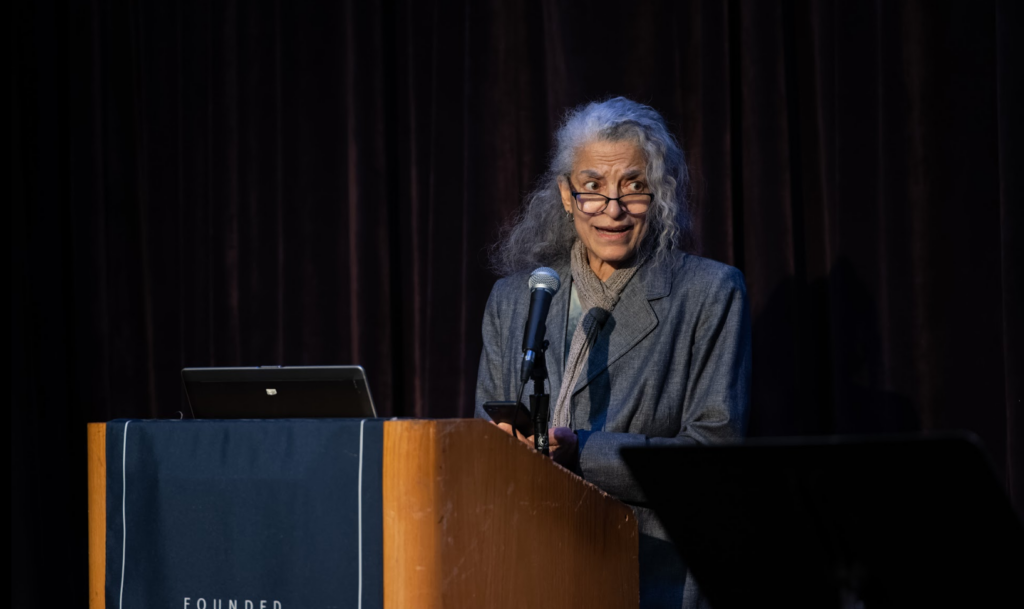 Playwright and Cook County Women Writer's Workshop founder Tsehaye Geralyn Hébert gives a short reading on discovering, and falling in love with, Robinet's work
Robinet's novels take place in significant historical settings– including Reconstruction in the South, the Great Chicago Fire and the Haymarket Square Riot. The stories are set in very real, not always light-hearted circumstances, but the lessons and values embedded in her writing offer hope. Found beneath stories including broken families and characters navigating oppression, injustice and violence, are tales of compassion, strength, persistence and connections between characters that you will not soon forget. 
Evans shares that, as a writer himself, he finds Robinet's writing and stories to be incredibly engaging and well-crafted. "Her work is really of a high quality of literature," he says. "Some works of literature have a short shelf life, and some will be valid and influential for generations to come– Harriette's will be valid and interesting for future generations."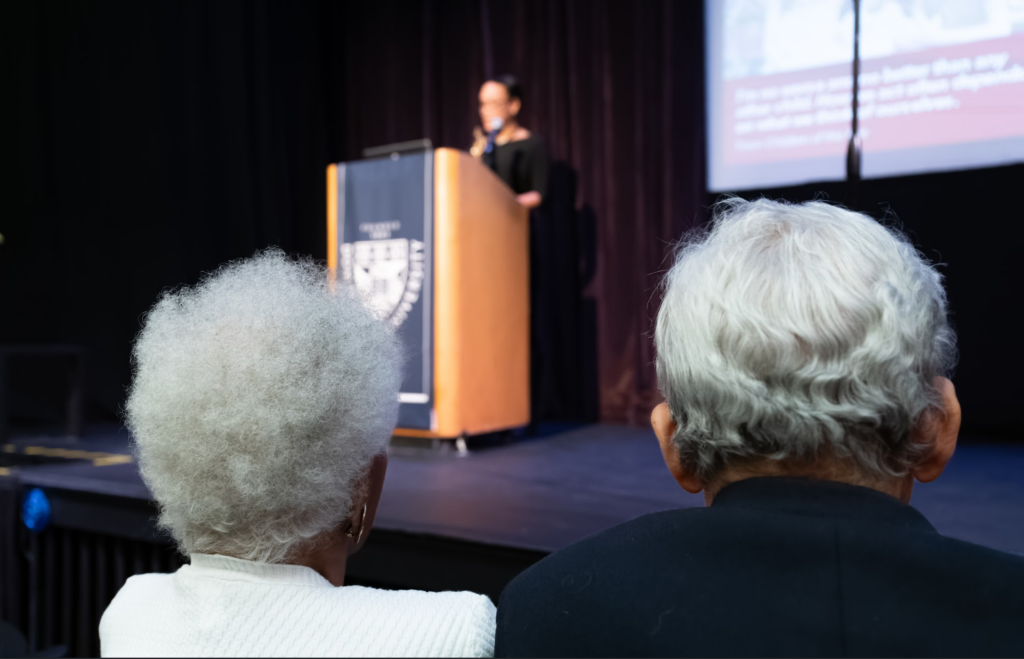 Harriette and Mac Robinet watching their daughter speak in honor of her mother
Harriette Gillem Robinet smiles at the post-ceremony reception
Evans adds that Robinet's approach to writing for young adults is incredibly useful, as she is respectful of her audience. Even though she writes for a young audience, she writes on topics that are often brutal, unjust and sad- but she has enough respect for her audience not to try to alter or tamper with the history, but to try and recreate those historical moments in ways that were true to the experience of those at the time. "Some parents or educators might say that this content is too mature for kids to read," he says. "Not only did Harriette know that they were mature enough to read and understand, but despite all the difficulties of plot and circumstance that happen, these novels are filled with joy, hope, determination, valor and collaboration. The communities formed in these novels are supportive and help each other even when they are not traditional families. These are great stories to read, and are enormously well written."
Robinet and her husband McLouis (Mac) arrived in the Chicago area in the 1960s. At first, they lived in a cramped university housing unit as Mac began teaching at the University of Illinois at Chicago. By the time they had their first two children, the couple made the move to Oak Park- which was a predominantly white neighborhood at the time. The Robinets were early integrators. Harriette's first published work, an essay called I'm a Mother, Not a Pioneer, was based on their experience of moving into such a neighborhood. After working as a bacteriologist for the United States Army and teaching biology, Robinet now was a published writer.
The Robinet Family home in Oak Park
Linda Robinet ended up being Harriette and Mac's sixth child. Yes– Robinet wrote while she raised six children. We were lucky enough to speak with Linda to get deeper insight into her mother's literary career. Linda was a teacher for several decades, and taught her mother's work to her students, so she is undoubtedly an expert not only on Harriette's life, but her writing as well. 
CC: Where did your mother's love of writing begin?
"It definitely started with her father, who was a teacher and a lawyer. He would require her to write stories during the summers, one story each day. From there it developed more and more, because in the 1930s and 40s while she was growing up there wasn't television, there weren't cell phones, you had creative outlets. So, she enjoyed that and her father praised her for her efforts and her creativity. If you ask her, she would say that she has always been a writer."
CC: Your mother has always loved writing, but always loved the sciences as well and those both seem to intersect in her writing career. What can you share about the intersection of science and writing in her life?
"Absolutely! Her love for science is rooted in research and facts, procedures and methodologies, and she applied those same kinds of regimens to her writing in the way that she didn't write fantasy or just fiction. She wrote stories that required research, and her research was really extensive. It's something that I don't know if many people know about. She would travel to the places she was going to set her books in, she consulted experts on the topic of the historical events in her books, she would research language and common dialects for the time period that she was going to be writing about. She applied her research skills to her writing. She was passionate about history and she knew how important understanding history was based on her upbringing, so she pulled that all together in a way that told stories which brought history to life."
CC: Are there any lessons found in your mother's books that you recognize from her life or the world around her? Where do you especially hear her voice?
"There are probably three big life lessons. The first would be about humanity, that all people are people. I know that's really simplistic but even though she had characters that were in specific historical situations, she tried to give as many perspectives as possible, and in the stories there was no villain. Every character had a sense of humanity, they made mistakes, they didn't understand, they were in the process of learning or being exposed to things, but they were never shamed or wronged for where they were at, how they were brought up or the culture or group they belonged to. There was always that huge message of humanity.
"A second lesson would be about persistence in struggling– that no matter what's going on historically or situationally in the stories, it's that you don't give up. You keep struggling, you keep trying– trying to improve your own situation and trying to improve your community. If something is not right, you have to do something. That's something that her and my father absolutely did in a very humble and gentle way when they were marching with Martin Luther King Jr., when they were striving to have fair and open housing in Oak Park in the 1960s, when they were trying to help the different educational processes that were going on in Oak Park, and even continuing that now, as they are on housing committees and climate change committees. So, the lesson that just because something is difficult doesn't mean you have to give up definitely reflected her life. 
"The third lesson is to constantly be open to learning. My parents both at times have been teachers, and I think she absolutely got from her parents and my father got from his parents that education is what will ultimately free you. Both of my parents got their doctorates, masters, and to this day they take great courses where they are learning. My father continues to take certification programs and he's ninety, so it's a matter of choosing to be ignorant and choosing to understand something that's not acceptable- it's upon yourself to say I need to educate myself, research, learn, read. That's why I love her quote that was included in the ceremony, "Unless we know our history, we have no perspective on life today. How can we know where we're going, or appreciate where we are today, if we don't know where we're coming from?""
CC: Do you have a favorite memory of your mother, one that stands out? How did her writing shape or have a place in your childhood?
"She was constantly writing. Let's say I was outside playing in the backyard, she would be sitting on the back stairs with a notebook in her hand. If I was doing homework at the dining room table, she had a desk next to the table where she was click-clacking away on the typewriter. If she was at my swim meet where I would swim for a minute and a half with an hour-long wait in between, she would bring her writing notebook, or a book that she was using as a source of research. My most significant writing-related memory of her is that she was constantly writing, even as a mother of six. 
"As a stay-at-home mom, my mom was ever present. She was a very devoted mother who, if I needed help with homework she would help me with homework, if I had a sporting event- I've never had a sporting event where she was not there. She was an ever present mother, but if I were to try to summarize a favorite memory, I would say it would be story time when she would read to me. We would go to the library two or three times a week, and we were required to pick a book. She would encourage us to pick out a nonfiction book as well as fiction- I loved stories but she would say "okay, make sure you got a nonfiction too." We always had story time, whether bedtime or a quiet time during the day.
"For their wedding, my father bought my mom a rocking chair from his hometown. All six kids were rocked in that rocking chair (I have it in my house now), and that's where we were read to. Story time was often also cuddle time for the six of us."
CC: Did your parents impact your decision to teach?
"They both did, especially because that last lesson, the one about always learning, is definitely something that inspired me to help teach others to always learn. Even though I was always teaching math, reading, science or writing it was really about helping to create a mindset that you should always keep learning."
CC:  You taught your mother's books in your classroom as a teacher. Did you share that with her? 
"Absolutely. Usually with other books I would have my students write letters and mail them to the authors if they were living, but not many would ever write back. Of course, I have the inside scoop with my mom, and she would hand-write letters back to each and every student. I loved that. So, not only did she know we were reading her books, but my students would draw pictures from scenes in her books, and it brought her a lot of joy. When learning about the Chicago Fire and Haymarket Square, we would read the books that my mom wrote to bring it to life, and they would write letters, I would bring them home to my mom, and she would write back to them over the weekend. My mother wrote in beautiful cursive, and after we stopped learning cursive in school, the kids would be like, "What does this say? I can't read these squiggles!""
CC: What would you say this award means/would mean to your mother? She struggles with Alzheimer's, but do you think you could speak to that? 
"It's interesting, because after the award ceremony I ran over to my parents' house and asked mom what she thought about the ceremony. She said, "All those people were there for me?" I said, "Yeah all those people were celebrating the books you wrote." She couldn't really speak to that– I think she was overwhelmed, and she was touched. One of the things about both of my parents is that they are extremely humble. There is never a bragging bone in their body, there is never a fame-seeking tendency. They would both rather be behind the scenes than in the limelight, so that was the root of her being overwhelmed, but I think there was also a joy that so many people enjoyed learning through her writing. I think aside from being overwhelmed, she felt special."
Linda added that the award ceremony went beyond anything she imagined, and that she was absolutely blown away by the love and care that people showed her mother.
Harriette's complete works of literature is as follows: Twelve Travelers, Twenty Horses, Missing from Haymarket Square, Walking to the Bus Rider Blues, Forty Acres and Maybe a Mule, Washington City is Burning, Mississippi Chariot, Children of the Fire, Ride the Red Cycle, Jay and the Marigold, If You Please, President Lincoln, and The Twins, The Pirates and the Battle of New Orleans
To learn more about The Chicago Literary Hall of Fame, visit: https://chicagoliteraryhof.org/ 
Photo Credit: The Chicago Literary Hall of Fame