By Judy Carmack Bross
"I was tired of hearing that Silicon Valley was the source of all innovation. Chicago's for-profit and non-profit organizations were doing such amazing innovative work.  We wanted to find a way to share the spotlight on the Chicago region," Tom Kuczmarski, on co-founding Chicago Innovation in 2002.
Tom Kuczmarski, Cofounder of Chicago Innovation.
Today with over 10,000 of the most innovative CEOs, startup founders, non-profit visionaries, government leaders in the Chicago region and beyond participating in their summits, award ceremonies, mentoring programs and videos of experts sharing lessons learned from starting, scaling, and running organizations, Chicago Innovation, now headed by Luke Tanen, is carrying out its mission to educate, connect and celebrate all innovators in the Chicago region.
The Taste of Innovation event with panel on stage
A recent invitation to The Taste of Innovation, an event to spotlight innovation in the food industry, held March 21 at the Chicago Shakespeare Theater, intrigued us. The event featured a panel discussion of innovative food industry leaders in Chicago discussing trends that excite them. We decided to talk with co-founder, author of nine books, Kellogg professor of product and service innovation, and life-long innovator about how it all began.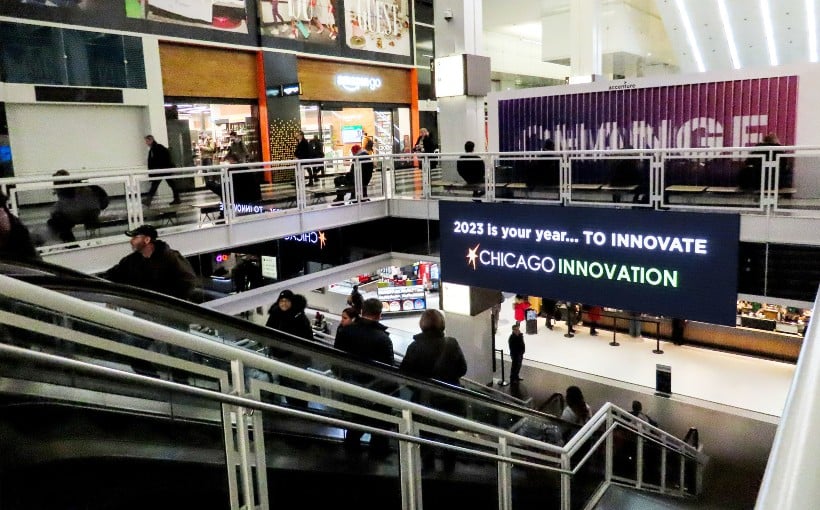 Commuters encounter Chicago Innovation's 2023 digital ad campaign in  downtown Chicago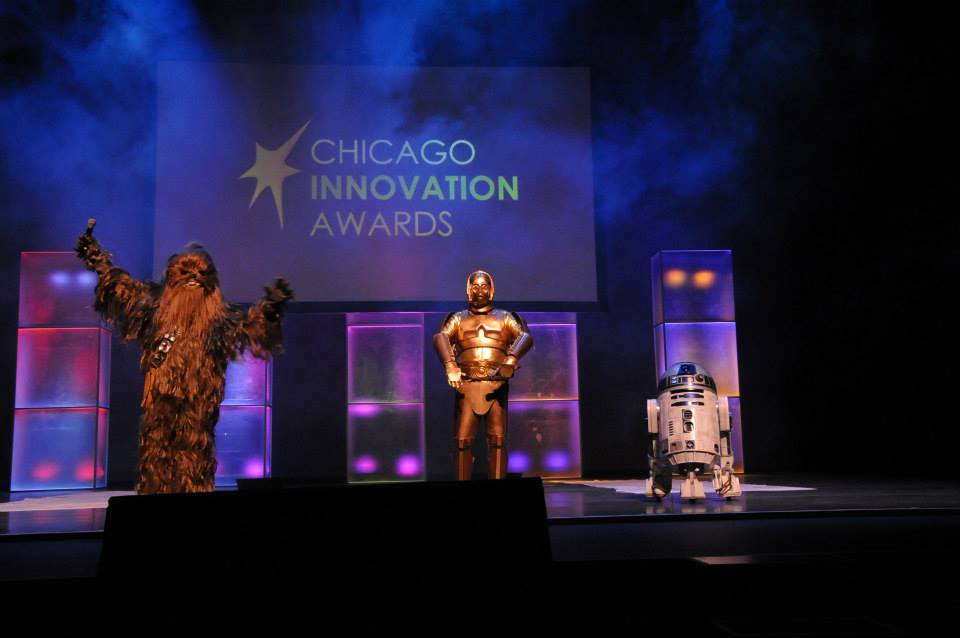 Star Wars theme to open the awards ceremony
"The job of being an innovator is a tough one. People don't get innovators, and I wanted to tell their stories so that others could be inspired," Kuczmarski said. "My first action was trying to find a media partner to get the word out. Dan Miller, Business Editor at the Sun-Times in 2002 thought it was a wonderful idea and he became my co-founder. For 15 years we were co-hosts of the Chicago Innovation Awards which now annually honors 20 great Chicago innovators. It has now become the largest annual celebration of new products, services, and organizations across industries and sectors in the Midwest."
We asked Kuczmarski what is the best definition of innovation?
"Innovation is any product, service, business or program that creates new value for the user or consumer," he said. "It can't just be an old product in a new package."
We asked for a current Chicago example.
"Luke Sanders came up with Farmer's Fridge where fresh salads, burritos, quinoa dishes, and wraps are sold in vending machines at 400 different locations," he said. "Technology monitors each machine on a daily basis to ensure that every item is fresh. Quite a change from the peanuts and candy bars which were usual vending machine offerings. It really is creating new value.
"Another example is Cameo, headquartered in Chicago which provides personalized videos with customized messages from actors and other celebrities that you can send to relatives or friends via phone."
We asked if anyone can be an innovator. "Anyone can be, but you need to be surrounded by positive people. If people are saying 'oh, we already tried that,' you need to talk to others about how to address the need and how costs can be overcome. That way, product solutions can be exactly what the customer wants."
Chicago Innovation supports early innovators.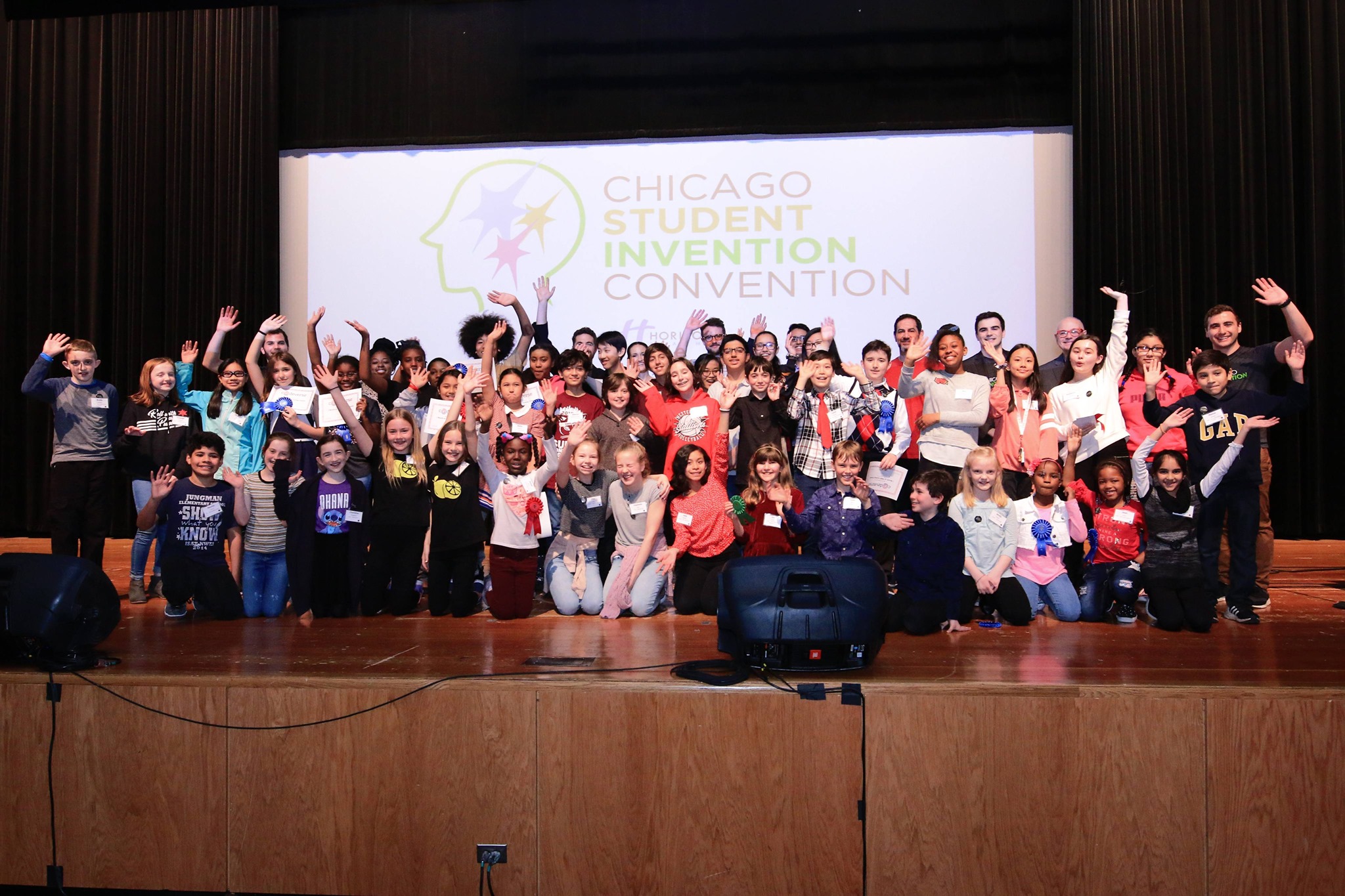 The K-8th student inventor finalists are recognized on stage during the Chicago Student Invention Convention.
"About ten years ago we founded the Chicago Student Invention Convention, like a science fair where students present projects to judges. Since then, we have had 22,000 students participate. Teachers were learning too, about developing a problem-solving prowess," he said. "Thirty of our winners have gone on to the national competition, and seven have gotten patents for their work."
Two student inventors present their prototype at the Chicago Student Invention Convention.
We asked Kuczmarski a favorite invention of these kindergarten through eighth graders?
"One seventh grade girl invented 'the fetch-it' which she went on to patent it. It was designed for her grandfather who was in a wheelchair. He wanted to toss a ball to her dog but was unable to get it back if the dog didn't fetch it. It was like a big fishing rod with the ball attached, and she could reel back the ball to send it to her dog again."
Honorees gather on stage in front of a sold-out crowd of 300 during Chicago Innovation's annual "Celebrating Women in Innovation" event.
On May 11 Chicago Innovation will host the Celebrating Women in Innovation Awards at the School of the Art Institute.
"Seven years ago we recognized the opportunity to bring together women, already great innovators, to connect mentors and mentees focusing on growing networks, advancing careers and becoming stronger leaders," he said. "We now have 800 women involved who participate in the six-month cohorts and attend workshops and monthly events."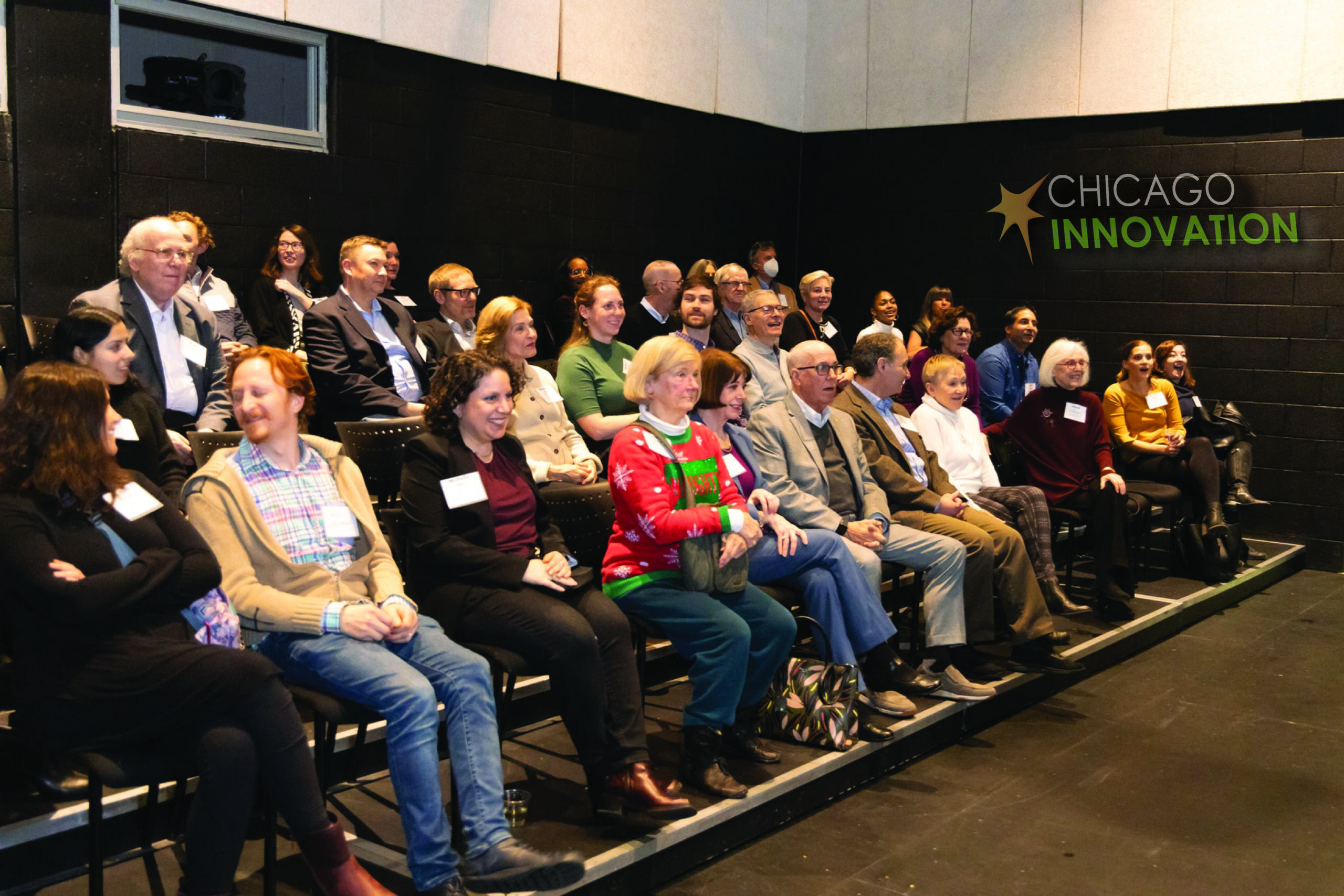 Attendees engage with panelists at the capstone event for Ageless Innovators, an intergenerational co-mentoring program presented by Chicago Innovation and the Village Chicago.
Ageless Innovators is a program proving that innovation offers breakthrough opportunities. In December 2022, Chicago Innovation partnered with The Village Chicago for the Turn the Page on Age event which will continue annually. "It is definitely non-traditional that we encourage co-mentorships between generations, such as a 62-year-old with a 28-year-old. We all have a lot of stereotypes about age. While a younger person may have information such as the future role of AI, the older person offers important perspectives which the younger person might leverage."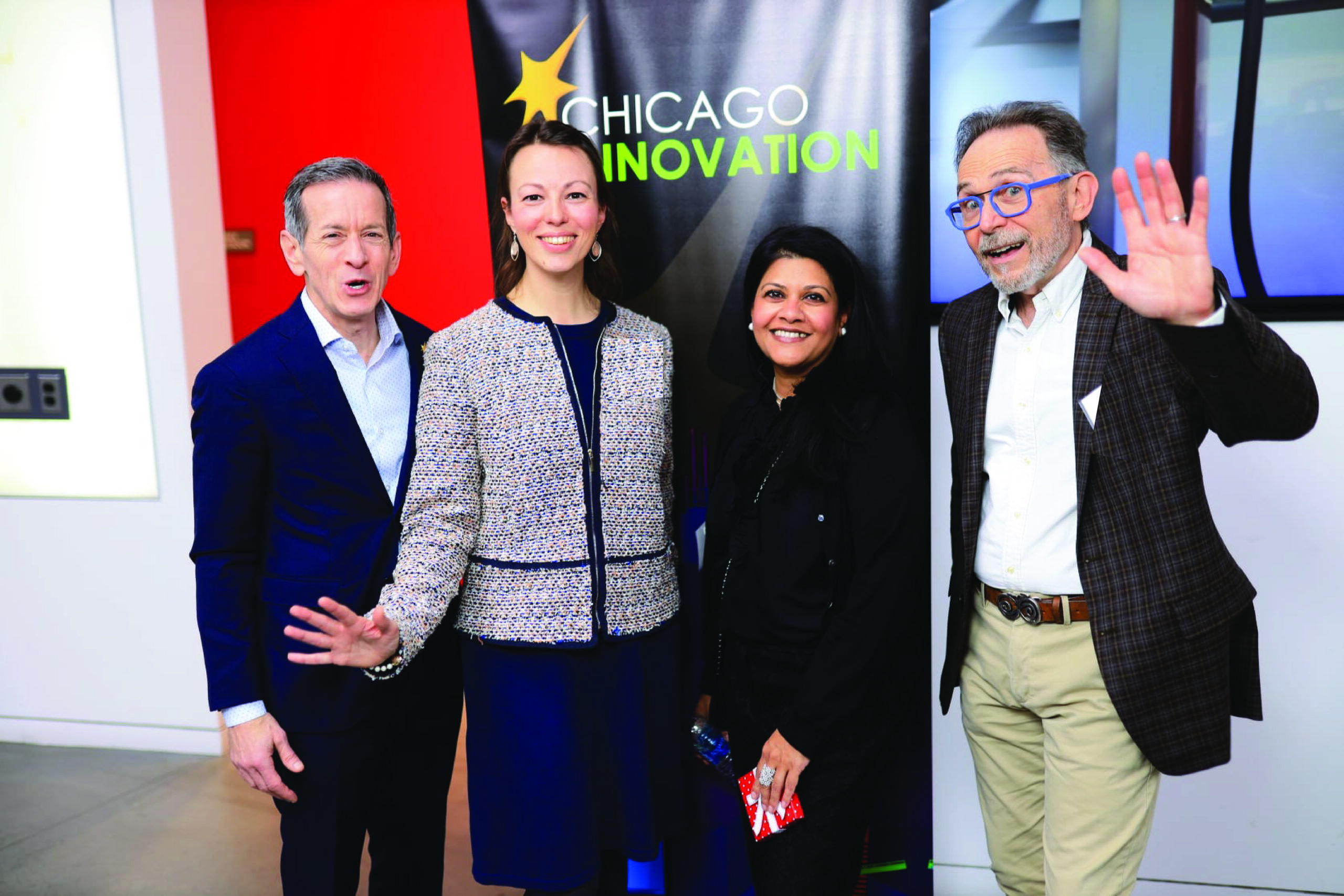 Co-mentor participants in Chicago Innovation's and the Village Chicago's intergenerational co-mentoring program pose at the Ageless Innovators Kickoff Reception.
"We are now entering our fourth cohort of Chicago Innovation's mentoring program, the Ladder, in partnership with I.C. Stars. Supporting Black and Latine innovators is a crucial part of our commitment to innovation," Kuczmarski said. "It features a six-month mentoring program as well as varied mentee experiences. Members of the Ladder become part of our alumni community and can stay involved with Chicago Innovation."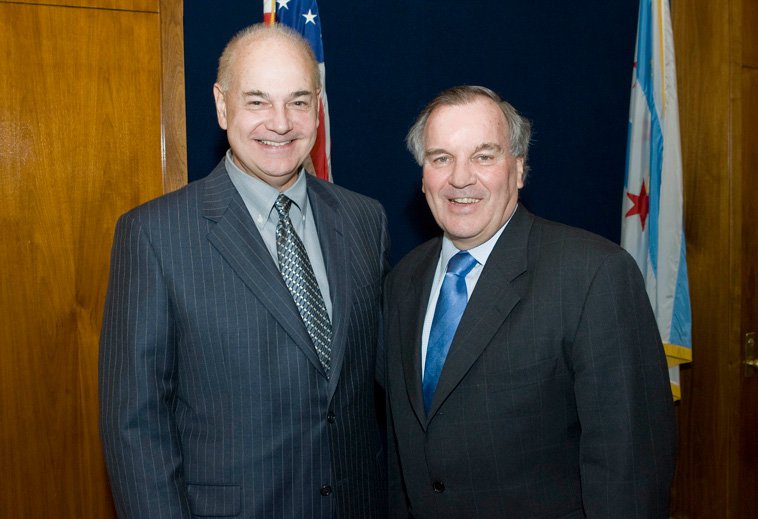 Tom Kuczmarski and Mayor Daley, an early supporter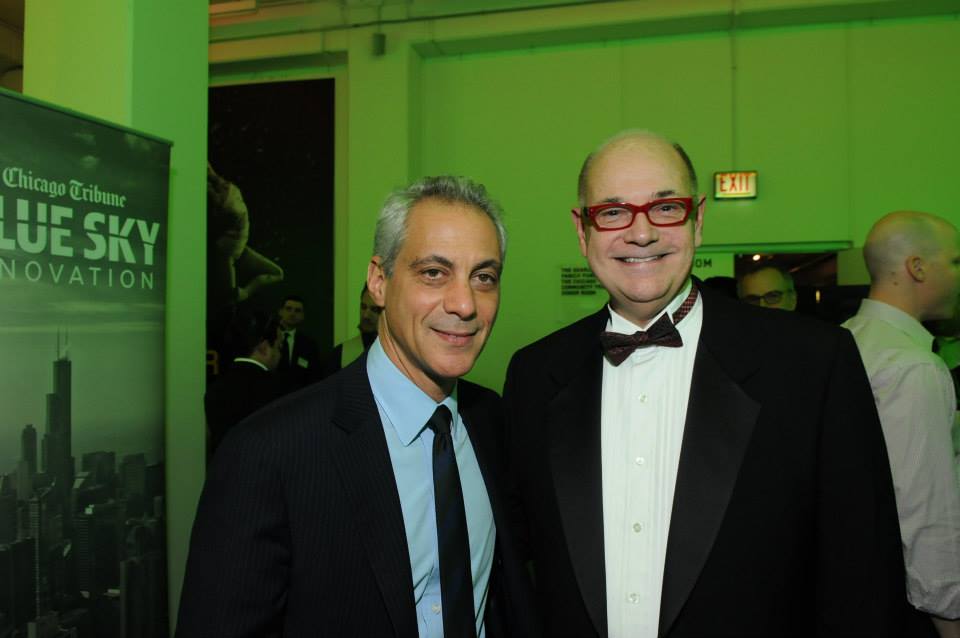 Tom and Mayor Rahm Emanuel in the lobbies
Dear to Kuczmarski's heart are the Chicago Innovation Awards which he created with the Sun-Times. Each year, 20 of Chicago area businesses, non-profits and government organizations are recognized as the year's most innovative new products and services. "We had 75 people in attendance the first year and every year the number is doubled. We moved from the Goodman to the Harris Theater and recently to Morgan Manufacturing to a sold-out crowd. I love that 377 different organizations have been recognized in the past 20 years, recognizing the breadth of innovation in the health, food, consumer, energy, educational fields, and so much more."
To learn more about Chicago Innovation visit: www.chicagoinnovation.com