Reflecting Upon Tony Terlato's Extraordinary Life in Wine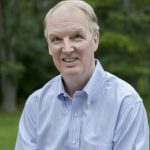 By David A. F. Sweet
Considering we just celebrated the Fourth of July, it's nice to remember that part of America's charm is that you can rarely predict what a youngster will end up excelling in as an adult, given the freedom of opportunity here.
Suffice to say a boy born in Brooklyn in 1934 — a year after Prohibition ended — would hardly be thought of as someone who could help transform the wine industry, especially given its long roots in Europe rather than the United States at the time. But that's what Tony Terlato did.
His father-in-law owned a wine import business, so that offered an entry into the field after Terlato married JoJo Paterno in the 1950s. By the time he was finished, though, the company was as far from those modest days as the estate that houses Terlato Wines International in Lake Bluff is from his humble boyhood home in Brooklyn. It's no surprise that he earned the Horatio Alger Award along the way.
In an era when America embraced cocktails, Terlato sold wine. Its reputation in the land at the time, unfortunately, was mainly associated with those drinking bottles on Skid Row. Terlato helped change that. He visited restaurants and offered to train waiters and waitresses to open and serve wine if the business would carry his brand — this in a time when a restaurant wine list was almost unheard of. His honest manner certainly persuaded those skeptical of the possibilities.
An extraordinarily hard worker, Terlato could surprise those who thought his job sounded easy — tasting wine and enjoying fine foods all day, from Bordeaux to Tuscany. Always looking to improve and expand his company, he did to the point where it is now among Chicago's larger private firms. Among his many accomplishments, bringing Pinot Grigio — which he discovered while tasting more than a dozen wines in Italy — to the United States under the Santa Margherita brand is his most renowned. One may be surprised to learn that the firm even distributed Samuel Adams beer for a spell soon after Tony tried a bottle and, to his amazement, liked the taste.
Few in the United States knew the entire wine business, rather than specific parts, better than Terlato. He was proficient in distribution, marketing, sales, production, and much more. Given his start in his father-in-law's company, he had to be amazed that in the 21st century, he could sip wines from a selection of California vineyards his family owned, thanks to his vision.
I met Tony about 15 years ago, interviewing him in a former Armour mansion that the company purchased in 1995 and restored. Just driving up the gravel driveway to the brick mansion known as Tangley Oaks, with its sloping tile roof, I felt I was arriving at an estate in the European countryside.
That's what Tony wanted.
"As we drove into the long, tree-lined entrance, I experienced a very tranquil feeling," he wrote about his first visit to the mansion in his memoir, Taste: A Life in Wine, published by Agate in 2008. "This was the closest thing I'd seen in the United States to the magnificent stone palazzos (palaces) and castellos (castles) of Milan, Venice and Palermo and the chateaux in France that I'd seen."
I will never forget the lunch that followed our talk. Guests at Tangley Oaks can expect hors d'ouevres in the gourmet kitchen, perhaps smoked salmon and duck liver mousse along with a glass of rose. At the long wooden table by a large fireplace below an 18-foot sculpted ceiling, an entrée of risotto with mushrooms and smoked bacon appears with a glass of Pinot Noir. Then an arugula salad with pomegranate and goat cheese, along with espresso and more wines. I left that day in an incredibly good mood and later enjoyed a spectacular truffle dinner at Tangley Oaks — an annual event — as Tony's guest.
No doubt at the start it wasn't easy for Terlato Wines to persuade clients from California and the East Coast to visit the Midwest, much less Tuscan winemakers and Parisian restaurant owners. But once they were entertained in the elegant mansion designed by Harrie T. Lindeberg — architect of many grand structures, including the Onwentsia clubhouse in Lake Forest — they hoped for a repeat invitation. Not only was the setting spectacular, but Tony's hospitality was legendary.
Family mattered so much to Tony. I remember he told me how much pleasure he took each year on Christmas Eve — his children and grandchildren around him, he would happily cook for his family and tell stories in the kitchen. In fact, Taste: A Life in Wine includes his favorite recipes at the end of each chapter, proof of his love for gastronomy. Pairing food and wine together for a notable feast was a special pleasure of his.
No doubt the family business will continue to flourish, considering his two sons, Bill and John, have been in leadership roles for decades and grandchildren are becoming involved. Tony will always be remembered and cherished, one who pioneered wine's popularity in the United States and who loved his work and cherished his family's contributions the entire time.
Unsung Gems columnist David A. F. Sweet can be followed on Twitter @davidafsweet. E-mail him at dafsweet@aol.com.