by Judy Carmack Bross
Co-Chairs Sharon Hayes and Steffie Madigan at the Rush Spring Luncheon
RUSH CEO Omar Lateef, Woman's Board President Wendy Herb, Co-Chairs Sharon Hayes and Steffie Madigan, and the incredibly charismatic Academy Award winning actor, author and activist Geena Davis shone brightly at the Woman's Board's 28th Annual Spring Luncheon—and their combined effort created the forever-memorable moment.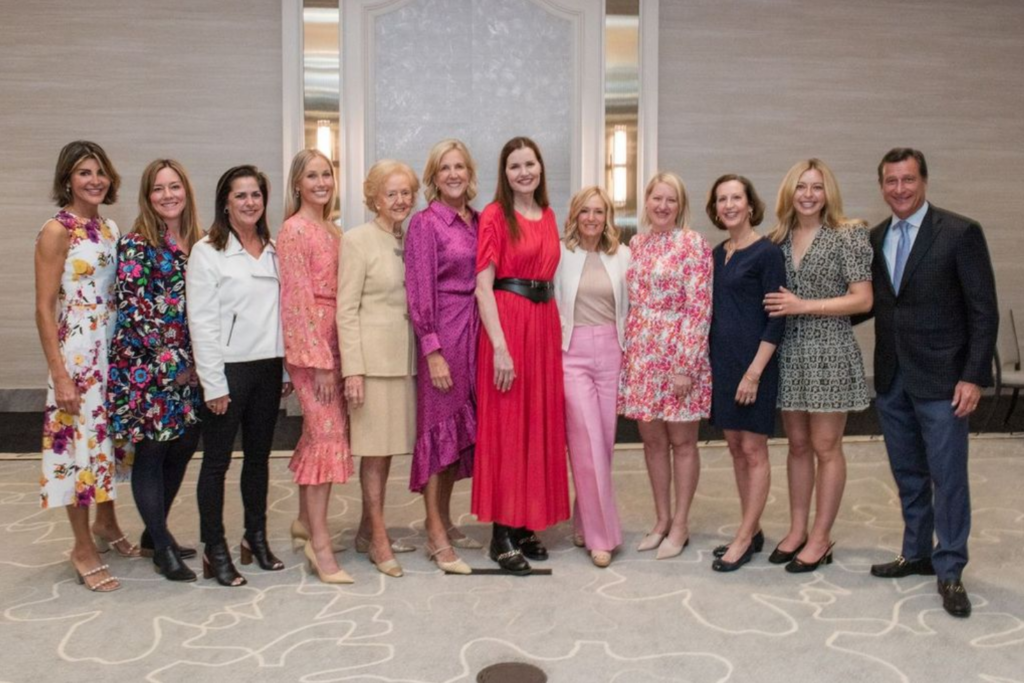 Co-chair Sharon Hayes (in magenta) with Geena Davis and some of Hayes friends and family in attendance
Co-Chair Steffie Madigan, center, with sister-in-law Melanie Madigan Nordby and her husband Mark Madigan
From his humor to his championing of the Woman's Board as "the first of the first group to always step forward," Dr. Lateef proved once again that he is the best opening act for the always sold-out event, held this year at the Four Seasons.  
Rush President and CEO Dr. Omar Lateef
Dr. Lateef, who for a second year in a row was named to Modern Healthcare's list of 100 Most Influential People in Healthcare in the United States, also spoke about the newly-opened Joan and Paul Rubschlager Building, to be the premier Chicago area destination for cancer and neuroscience care and provide a wide variety of services, including radiation therapy, infusion therapy, diagnostic imaging, integrative medicine and expanded clinical trials.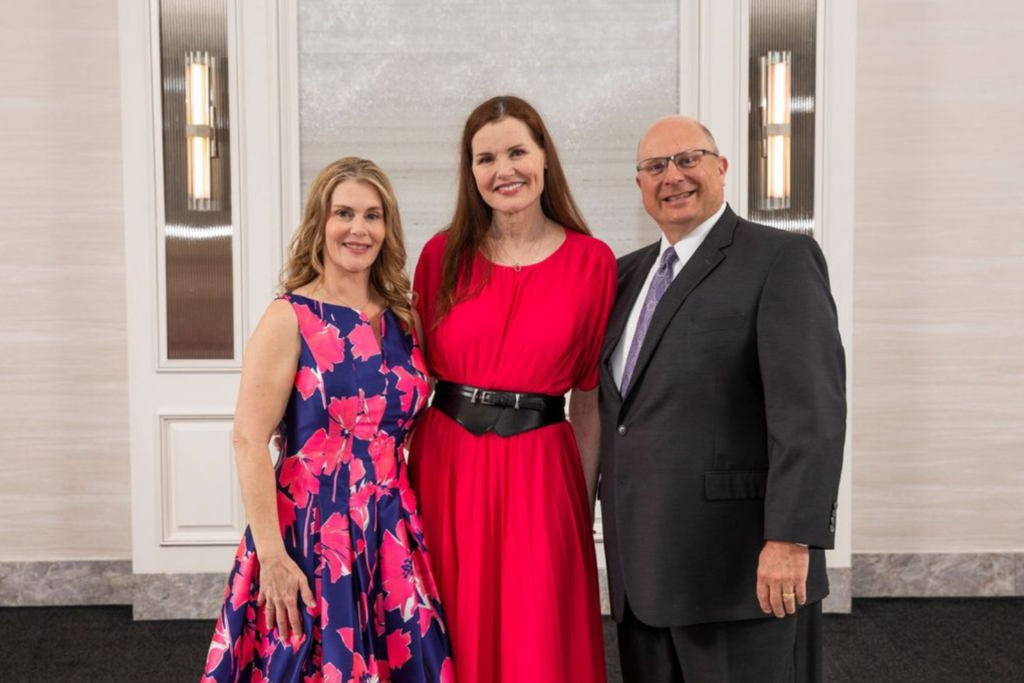 Wendy and Tom Herb with Geena Davis
Herb, a beekeeper who produces more than 400 pounds of honey from 180,000 bees each summer, gave each of the 500 guests a jar. She told the audience how proud the Woman's Board is to be part of Rush's "biggest and boldest campaign to date".  Hayes and Madigan loved channeling their own Thelma and Louise during the planning stage, and Davis, who spoke with passion about founding her Institute on Gender Equality which, driven by significant data, has led to dramatically significant increase in the percentage of female characters and reduced gender stereotyping in media made for children. She also serves on a "Women in Technology" leadership group for the United Nations. "I am driven by my commitment to women," she told the audience.
Compelling speaker Geena Davis
"If you can see it, you can be it," was the theme that ran throughout Davis's riveting talk where she pointed out that she has played everything from baseball star to President of the United States.
While making A League of Their Own, Davis was told she had untapped athletic ability.  "At 36, I found that in movies I had learned to ride horseback, pistol shoot, ice skate and play baseball, so I decided to take up a new sport—competitive archery. It was total immersion.  I made it to the semi-finals of the Olympics."
Author of Dying of Politeness, Davis told stories of her own family's case of "terminal politeness" and how on an early date "I couldn't even say what kind of topping I wanted on a pizza, I was frozen."  She learned much from Susan Sarandon, Louise to her Thelma in that never-to-be forgotten movie ("We never knew it would strike the cord that it did").  
"Through my roles I have learned to be a person who says what she thinks without apology for existing. I am now all about breaking the model and pushing boundaries."
Amie Alfe, Carolyn Withey, and Samantha Schwalm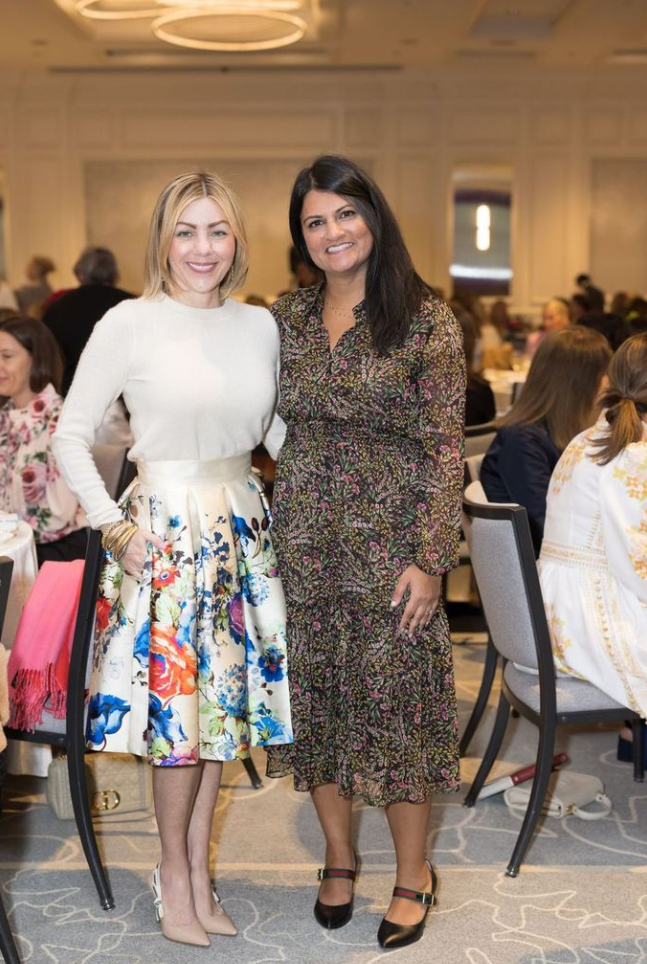 Julie Judelson and Nidhi Agrawal
Margaret Nelson, Carter Wojteczko and Read Lanctot
In a Q and A session with former WGN reporter Julie Unruh, Davis told of the four men she read with for the part of J.D. in Thelma and Louise. She acted out her playfully positive reaction to Brad Pitt saying when asked who should play the part, "the blond one."  Later she said she sat next to George Clooney on an airplane who mentioned he had tried out for the part, and admitted to herself—but not to Clooney–that with Brad there, she hadn't even remembered.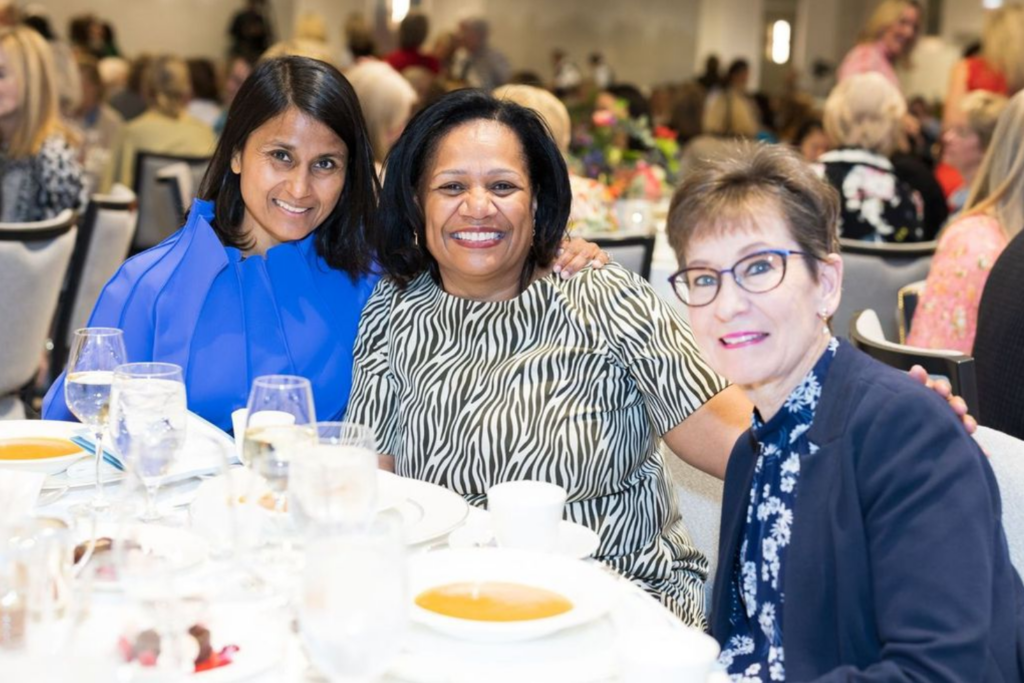 Richa Gupta, Angelique Richard and Janet Stifter
Sophie Goodwillie, Meg Sauer and Annie Barlow
Alyssa Quinlan and Ellie Forman
Davis left an audience empowered by her eloquence and sincerity with the heartfelt:  "When you hear a negative voice inside your head, just tell yourself I am doing the best that I can. Ignore that negative self-talk. Stop forcing yourself from being so polite and trying always to please other people."
Once again, the Woman's Board of Rush chose a speaker able to change lives for the better.
Hindman jewelry display
Before the luncheon guests were given the delightful opportunity to try on exquisite jewelry from Hindman, a sponsorship partner of the Luncheon.

Proceeds from the Spring Luncheon benefit RUSH's next investment campaign, the goal of which is to make concentrated investments in the areas that are most likely to improve the health of the region, including innovations in care and patient experience, medical research, health equity initiatives, and education and career pathways.  The board commits to giving a minimum of $500,000 annually and with the Spring Luncheon it is well on its way to meeting that goal.