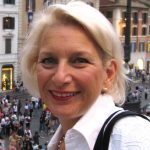 By Lenore Macdonald
Cindy Mancillas answers five questions about her passion.
Super Chicagoan Cindy Mancillas, President of The Woman's Board of Rush University Medical Center, moved to Hinsdale in the fourth grade and has been an active member of our community since. She headed to Dallas for college, attending Southern Methodist University, then moving to Kansas City for her first professional position with Dow Chemical.
Rush Woman's Board President Cindy Mancillas. Photo by James Gustin of Fig Media.
Cindy could not stay away for long, matriculating at Northwestern's Kellogg School of Management. After graduating, she headed back to Dallas, snapped up by Neiman-Marcus as its Assistant Buyer for Women's  Designer Sportwear. Many of us probably donned several of Cindy's sartorial selections.
Chicago is most grateful to Kurt Mancillas for bringing Cindy back to Chicagoland. He and Cindy married in 1991 where she has remained since—and we hope she never leaves.
I recently caught up with Cindy and asked her our traditional five questions while focusing on one of her passions, Rush University Medical Center and its Woman's Board.
Although you have been active on several Chicago boards, you are "all in" on the Rush University Medical Center Woman's Board, now in your second year as its President. How did you become involved with Rush and its Woman's Board?
When I moved back to Chicago to marry my husband, I felt that it was important to get involved philanthropically in the city. My father is a longtime Trustee on the Rush University Medical Center Board. He suggested I get involved with Rush. It was a perfect fit for me. Through the years I have been a member of the Rush Associates Board, the Pediatric Leadership Committee and now the Woman's Board.  In the many years I have had the opportunity to volunteer with the Medical Center, I have never been bored! There is always something new to learn, to support and to always make an impact.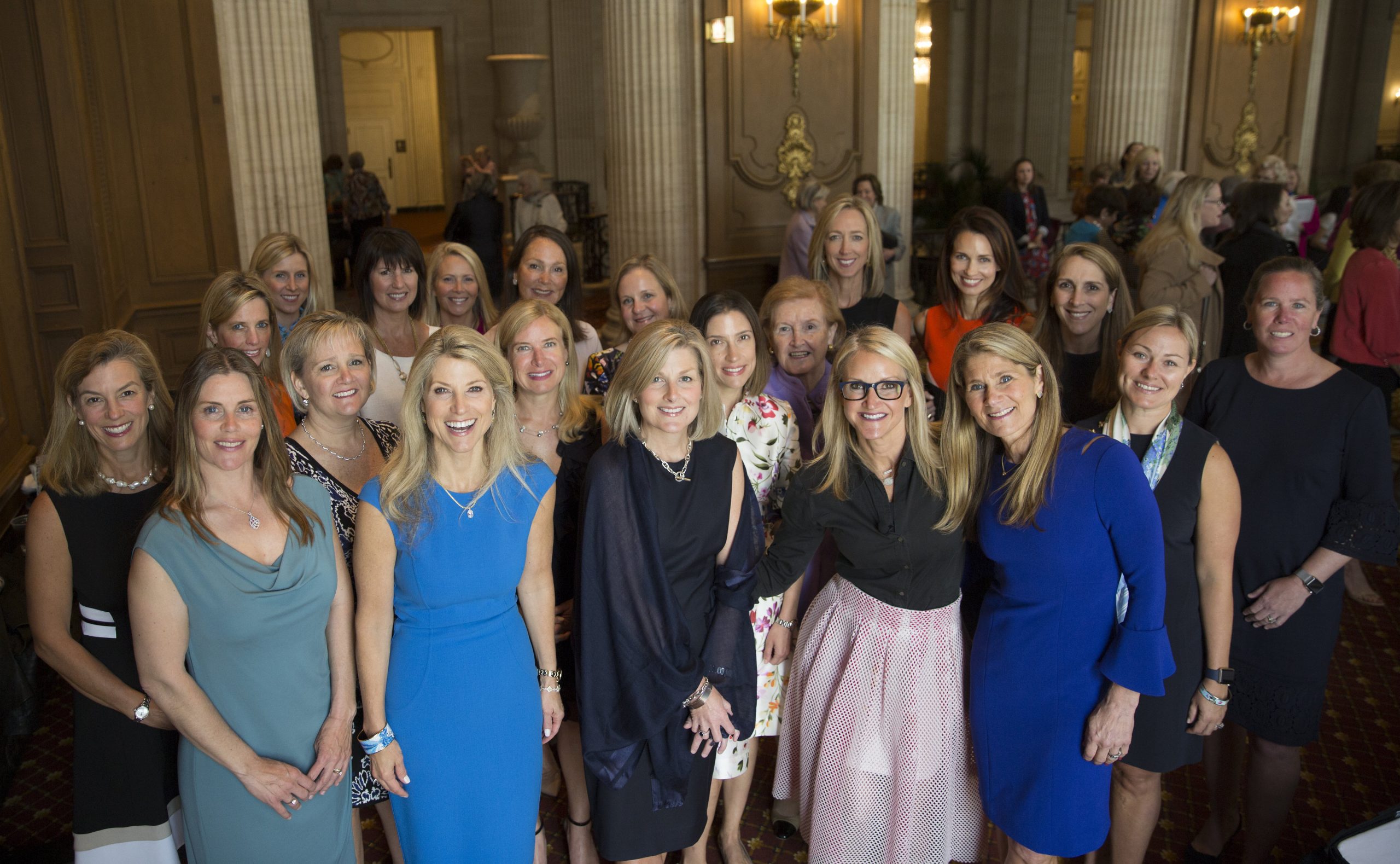 Woman's Board members share a moment with 2017 Benefit Spring Luncheon Speaker Mel Robbins.
Tell me more about The Woman's Board. I understand that it has a long Chicago history.
The Woman's Board has been supporting Rush for 138 years. We partner with the Medical Center to support its mission through our support of the Medical Center's outstanding patient care, research and education, and its community outreach.
I think giving back is always relevant. I believe we all want to improve our world, either neighborhood by neighborhood or on a global basis. In becoming philanthropically involved, especially at a medical center with the depth of Rush, you are able to do both. Rush has so many well-established community outreach programs that The Woman's Board has helped provide vital funding, our members are impacting Chicago neighborhoods. The support we give to the innovative research projects conducted at Rush have such potential and are impacting healthcare worldwide.
You mentioned providing funding for Rush. What do the funds support?
The Woman's Board raises funds for several areas of the Medical Center each year.  Every year The Woman's Board raises funds for a high priority Medical Center project.  Our last few years have focused on projects for the Rush University Cancer Center. Our project this year is The Woman's Board Fund for Excellence in Cellular Therapy. This is a remarkable research project that will allow Rush doctors to re-engineer a person's own cancer fighting cells to attack tumors more effectively. Rush is positioned to do one of the nation's first clinical trials for tumor-infiltrating lymphocytes (TIL) therapy treating lung and melanoma cancers.
The Woman's Board also works annually to accept grant applications from various areas across the Medical Center. The applications represent a multitude of projects that support Rush's culture of encouraging innovation, education, community outreach and professional advancement. 
Wow, Cindy. This sounds like a game changer, revolutionizing cancer treatment not only in Chicago but in the Midwest—maybe even further afield. How does The Woman's Board raise these funds?
The Woman's Board has three major fundraising initiatives: the Spring Luncheon, the  Fall Benefit, and the two (soon to be three) Gift Shops we operate at Rush University Medical Center in Chicago.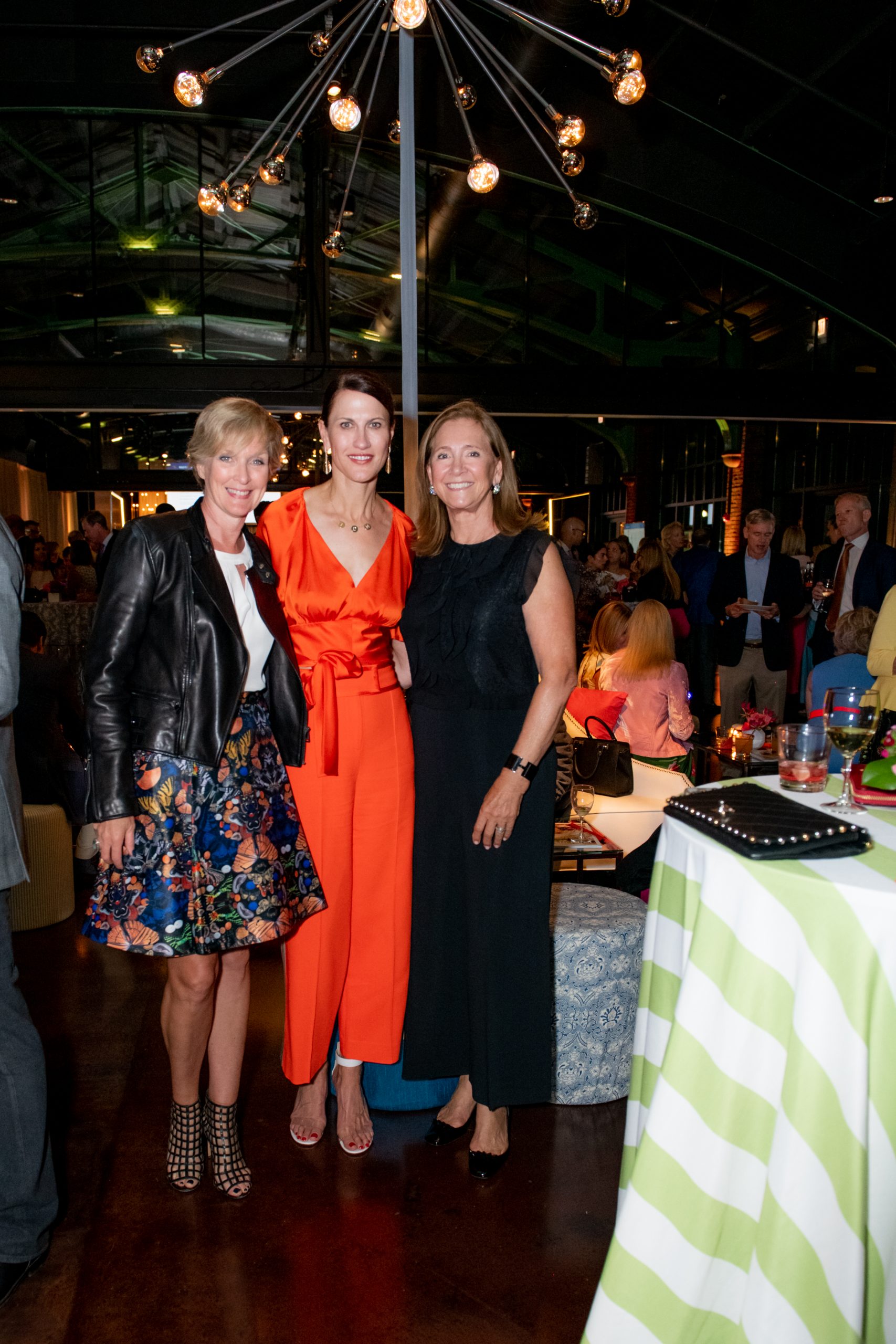 Cindy Mancillas, Caroline Burns, Donna Konstant at 2019 Woman's Board Fall Benefit. Photo by Widia Viti Photography.
This year's Spring Luncheon, our 27th, is Monday, May 9th at the Ritz-Carlton, Chicago. Our chair for the event, Gillian Stoettner, has done an outstanding job in garnering support within our board and the community. Our speaker will be Ali Wentworth, actor, comedian, and New York Times best-selling author. The luncheon is always a favorite of our members and our donors, and we are excited to have Hindman as our Presenting Sponsor. It will be a wonderful chance for us all to be back together and have some fun. Tickets are on sale now and may be purchased through our website:  www.thewomansboard.org
The Woman's Board 2017 Spring Luncheon Speaker Mel Robbins with Mary Ann Seagrist, Kirsten Rider, Mary Smith and Woman's Board 2022 Spring Luncheon chairman Gillian Stoettner.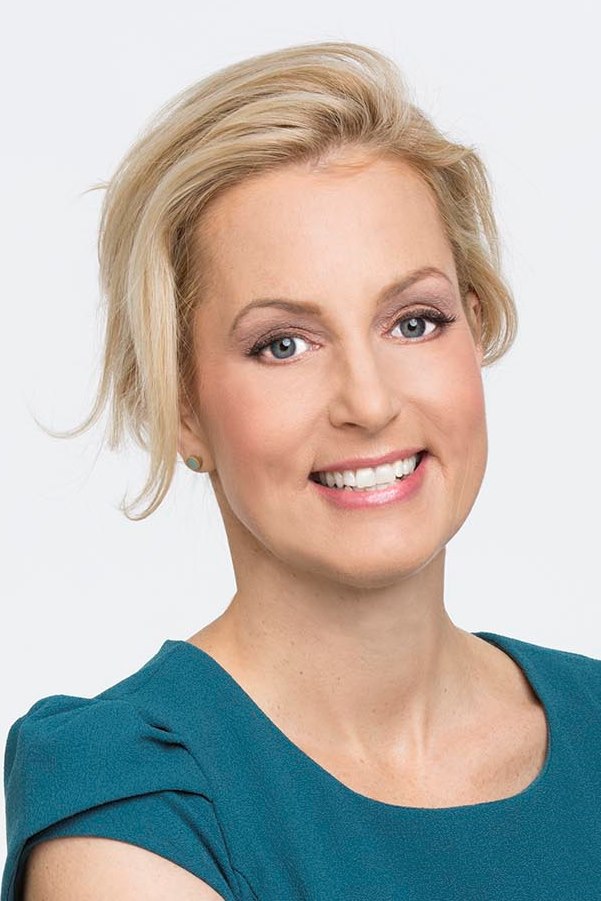 Ali Wentworth will be The Woman's Board's 2022 Spring Luncheon Speaker on May 9th at the Ritz Carlton-Chicago. Photo by Heidi Gutman.
And as a quick sneak peek, our 2022 Fall Benefit, Illuminate, will be held on Friday, September 16th  at Theater on the Lake. Co-chairs Sonja Smith and Erin Ritchie are deep in the planning stages of an exciting evening. Details to be revealed later so please stay tuned!
As Woman's Board President, you serve on Rush's Board of Trustees. What a privilege! Tell me more about this aspect of your presidency and what you have learned from serving?
Yes, it is the tradition for The Woman's Board President to be an active member of the Board of Trustees during her tenure. It is an honor to be a part of this very accomplished board and I think it also signifies the value that Rush places on The Woman's Board.
To state the obvious, the entire world has had incredible challenges over the past few years, no area more so than healthcare. Rush, with the full support of the Trustees, as well as other Rush boards such as The Woman's Board, has been a clear leader in the fight against COVID-19 .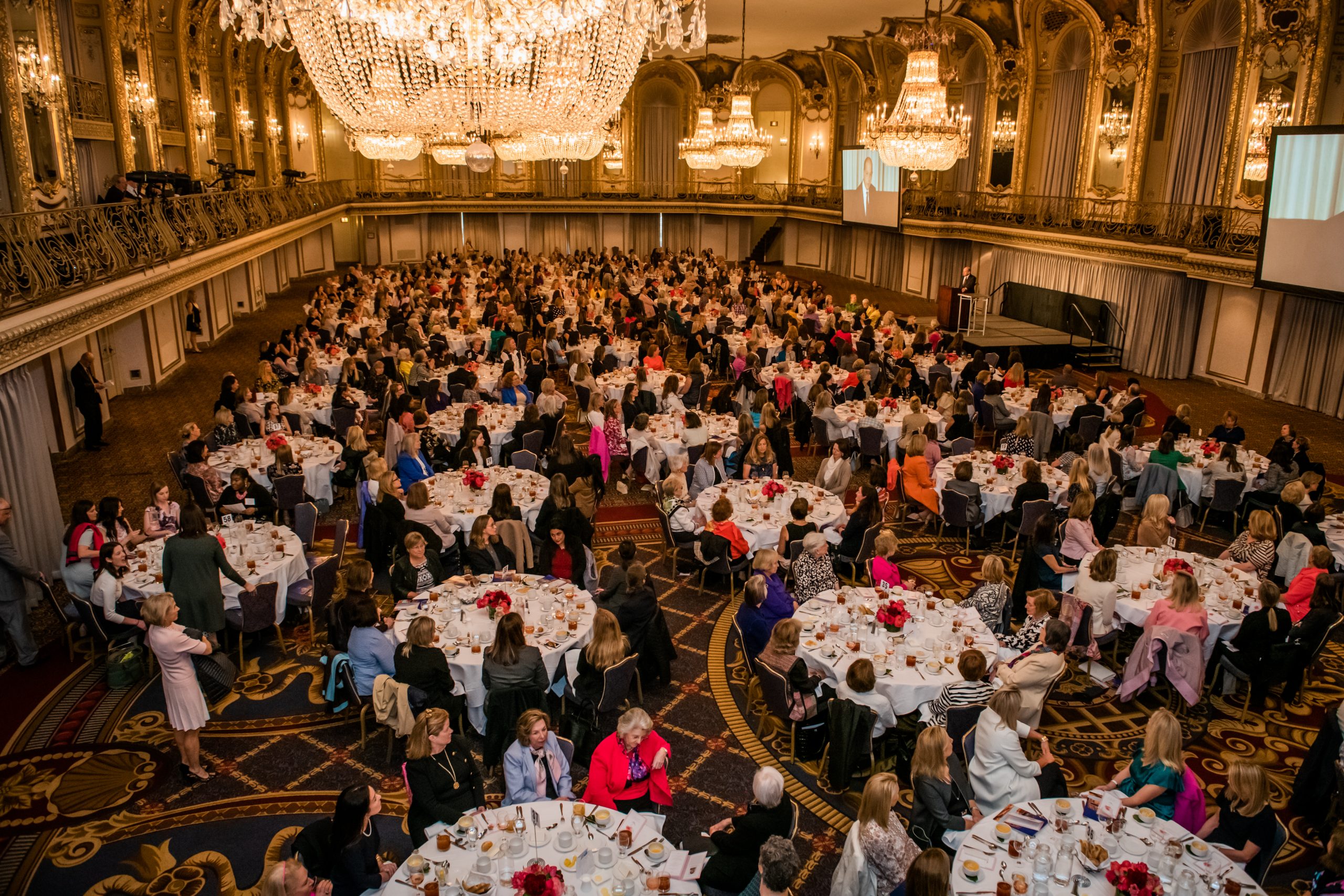 The 2019 Woman's Board Spring Luncheon. Photo by Wadia Viti Photography.
Throughout the pandemic, RUSH has innovated approaches, led the Nation and Chicago in the very best patient outcomes, all while staying true to its mission of Health Equity.
Rush stepped up to address the health disparities in Chicago communities, did not turn any patients away and took transfers of the "sickest of the sick" COVID- 19  patients. The foresight of the design of the Tower building enabled RUSH to adapt the building to, essentially, address surge capacity while maintaining the highest safety and quality standards in the nation for both COVID-19  patients and traditional hospital procedures. The dedication and commitment of the ENTIRE RUSH STAFF has been incredible. Rush is consistently recognized and awarded both nationally and internationally for the work it does.
For example, Rush University Medical Center is nationally ranked No. 2 for quality by Vizient and among the top 20 best hospitals by U.S. News & World Report? All of our hospitals have "A" safety grades from the Leapfrog Group, as well as   Magnet designations, the highest recognition for nursing excellence.
Our University's top-ranked graduate programs shape the next generation of health care leaders. And RUSH has been a pacesetter in COVID-19 response, delivering outcomes among the best in the country. With these and other accomplishments, RUSH has ascended from a series of regionally respected medical centers to a nationally leading academic health system.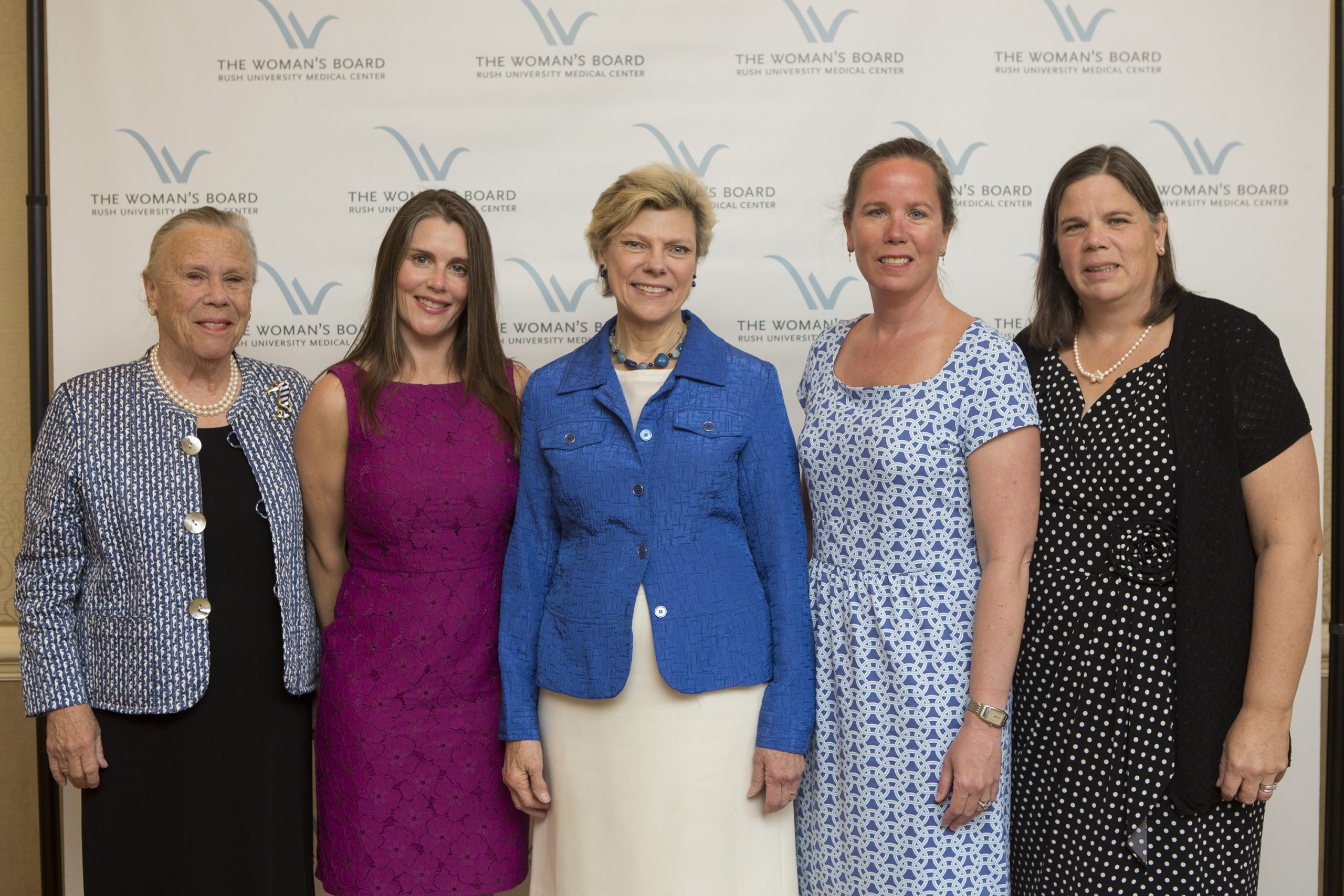 2014 Spring Luncheon guest Mary Smith, incoming Woman's Board President Wendy Herb, Speaker Cokie Roberts, 2022 Spring Luncheon Chair Gillian Stoettner and guest Molly Hamman.
Cindy's term ends in November 2022. She is one of the most engaged and energetic Chicagoans that I have ever encountered. Post-presidency, she plans to spend more time with her family and engage in activities halted by the pandemic. How fortunate for Rush and all of us that Cindy is so dedicated and devoted to making our community a better place—and destination for top-notch medical care.
Cindy inspired me to dig deeper and learn more about Rush. To learn more about Rush's many awards and accolades, visit https://www.rush.edu/about-us/recognitions-and-accreditations. Impressive indeed.
Thank you, Cindy, for sharing your passion with us—and for sharing some of the myriad incredible medical advancements happening in Chicago's often overlooked West Side at RUSH, Rush University, and its other care facilities.
Finally, a big thank you to the many, many Rush health care providers for their selfless dedication to Chicagoland during this pandemic and for providing us with hope for a bright future.
© 2022 Lenore Macdonald. All rights reserved.