By Cheryl Anderson
"The painter wanders and loiters contentedly from place to place, always on the look out for some brilliant butterfly of a picture which can be caught and set up and carried safely home." 
—Winston Churchill
Apart from Cap-Martin and Menton, there is no other village I love to visit or learn more about than Èze-sur-Mer, and the medieval perché, Èze Village. Winston Churchill was of the same opinion about Èze.  So, I will begin by telling you what I have learned about Churchill's connection to Èze-sur-Mer in the Alps Maritimes.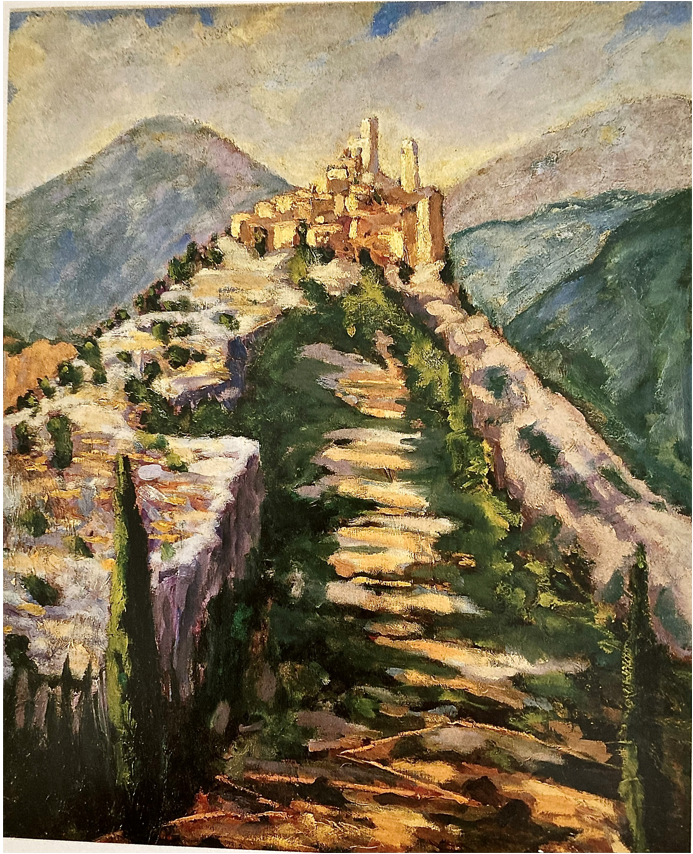 Fortified village of Èze
On a UK television show, a participant was seeking the provenance of a painting he owned.  He was told that Churchill had never been in Èze. That has been proven not to be the case. Both David Coombs and Paul Rafferty show the paintings Churchill created in Èze—Clementine and Winston visited Èze-sur-Mer frequently.
Èze village at a distance.
The sale of Lullenden in 1920, where he had settled his family in 1917, made it possible for him to begin his work on his war memoirs and travel abroad to paint.  Clementine and Winston were strong Francophiles—she had spent many years of her childhood in Dieppe.  They both had friends all over France.  One could say, and it's been written, their renting Villa Rêve d'Or for six months in 1922 firmly established their love of the Riviera and the South of France.
Consuelo Vanderbilt divorced Churchill's cousin, the 9th Duke of Marlborough, in 1920—they had been separated since 1906, and she married Jacques Balsan, July 4, 1921.  Jacques, a French Air Force officer, was the brother of Ètienne Balsan, Coco Chanel's lover that assisted her in the early days setting up her company.  Consuelo was told by the Duke that the reason he married her had been to save Blenheim Palace.  Her first marriage produced two sons. It was the Gilded Age, and marriages such as hers were arranged. She lived under control of a domineering mother, and her mother was determined she would make a great marriage. Winston and Consuelo remained close friends.
Churchill photographed painting somewhere on the Riviera in the 1950s.
Quoting David Coombs, Consuelo and Jacques, "bought a property near the medieval fortified hilltop village of Eze, overlooking St-Jean-Cap-Ferrat to the west of Monaco, where they built a house, 'Lou Sueil'. Here, Winston and Clementine Churchill were frequent guests.", Clementine liked to visit each February.  Sometimes Winston came with her or came on his own always drawn to the "paintacious" scenes the Côte d'Azur provided—he put them to canvas. Churchill described Lou Sueil as a beautiful cliff top château that they were building when he arrived in 1922.
View of Èze village.
I read an interesting discussion put forward by Richard M. Langworth, Senior Fellow, Hillsdale College Churchill Project, about how "paintatious" should be spelled—Lady Soames spelled it that way. Ms. Barbara Leaming, in her book, Churchill Defiant, spelled it, paintaceous. Churchill's spelling was finally found in a letter he sent to Clementine from Marrakesh, December 19 1950. The following is thought to be the only written example of how he spelled the word; "When you go through the mountains you come to two lovely cities with extraordinary springs of blue water and rocky gorges, which seem by all accounts to be most paintacious."   Albeit, a dictated typed letter,  he signed it, and heretofore always carefully checked spelling on typed letters and would have corrected the word if he didn't approve its spelling.  Details are important to those that study Winston Churchill.
The Èze bay.
Quite a "house" is Lou Sueil—conceived like a monastery,  c'est magnifique. There are pictures of the château online. The cloister was used as a winter garden, it had a bell-tower and a chapel.  The designer of Lou Sueil was Achille Dukchêne. The Balsan's inspiration for Lou Sueil was the Convent of Le Thoronet in Provence.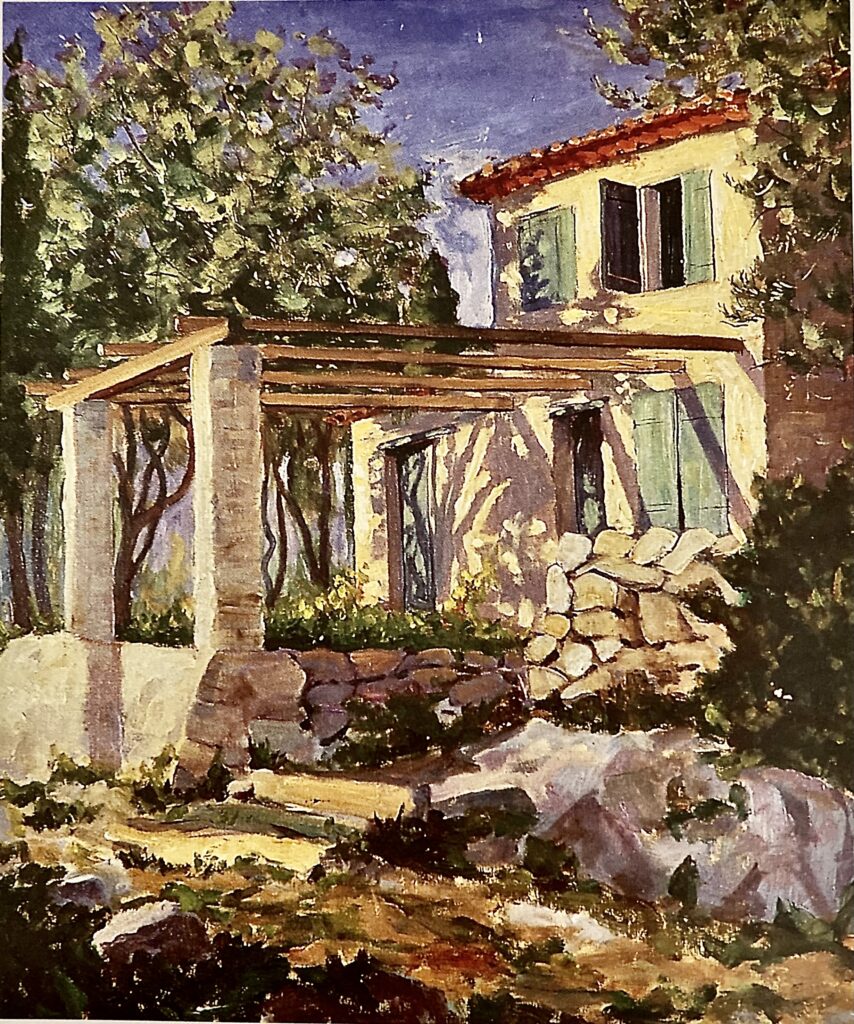 The gardener's cottage at the Balsan's house, Lou Sueil.
This letter, written by Winston, is brought forward by, The Churchill Project, Hillsdale College, as being his first letter from Èze;
"Last night we dined at Monte Carlo. Tomorrow we picnic at Eze. From my room (you know it) I can see the Cap d'Ail Hotel: so linked in my mind with these last few days I saw my poor Mamma. [His mother Lady Randolph Churchill had died in June 1921.] What changes in a year! What gaps! What a sense of fleeting shadows! But your sweet love and comradeship is a light that burns the stronger as our brief years pass.
Yesterday Monday and today I have painted or am about to paint at Consuelo's villa.  I have done a beautiful picture of Eze which I know you will want, but which I cannot give you because Consuelo and Balsan praised it so much I gave it to them.  Now I am doing one of the workmen building their house—all in shimmering sunshine and violet shades.  I have another lovely theme for today…"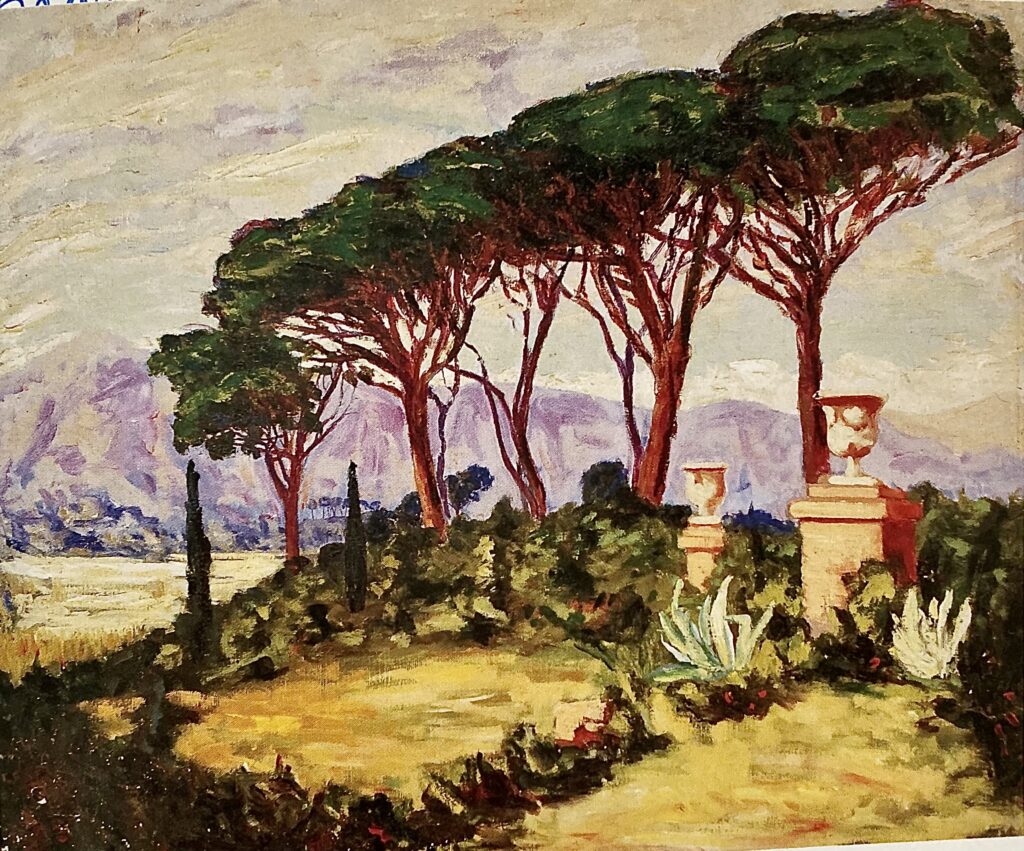 A garden somewhere on the Riviera.
The Balsan connection took Churchill beyond the Riviera. His last painting before WWII was created at another property Consuelo and Jacques had bought in the late 1920s, that being the 16th century Château St-Georges-Motel, located near Dreux, north of Paris—their summer home. Churchill was taken with the moulin, the shadows, and the images of the water that flowed by.
Riviera Scene-Title and initials are on the back.
The same weekend that Churchill collaborated on a painting at St-Georges-Motel with fellow artists, Consuelo recounts: "Winston decided he wanted to paint our moat.  After careful thought he made up his mind that he preferred the water rough to smooth.  Sending into Dreux for a photographer, he placed two gardeners in a boat and told them to create ripples in the water…With characteristic thoroughness Winston persisted until all possibilities had been exhausted…"
Churchill's daughter, Lady Soames, shares Consuelo's account of a visit Churchill made to Château St-Georges-Motel appearing in her book, Winston Churchill: His Life as a Painter;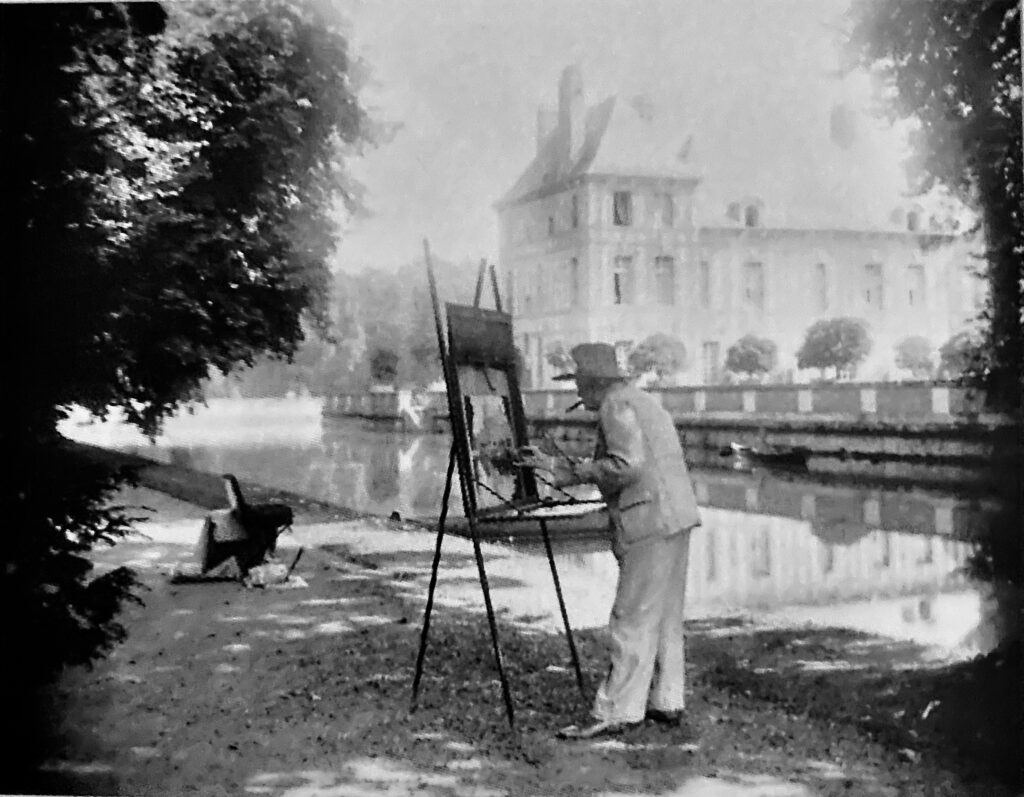 Churchill painting at the Château St-Georges-Motel.
"He used to spend his mornings dictating to his secretary and his afternoons painting either in our garden or in some other site that pleased him.  His departure on these expeditions was invariably accompanied by a general upheaval of the household.  The painting paraphernalia withers easel, parasol and stool had to be assembled; the brushes, freshly cleaned, to be found; the canvases chosen, the right hat sorted out, the cigar box replenished.  At last, driven by our chauffeur, accompanied by a detective the British Government insisted upon providing he would depart with the genial wave and rubicund smile we have learned to associate with his robust optimism.  On his return he would amuse us by repeating the comments of those self-sufficient critics who congregate around easels.  An old Frenchman one day told him, 'with a few more lessons you will become quite good!'—a verdict connoisseurs have already endorsed."
Château St-Georges-Motel
Consuelo once said; "Winston Churchill and his beautiful wife were among our favorite guests."
David Coombs describes a time Churchill's spent at Château St-Georges-Motel—a time when history that would effect the world was about to happen;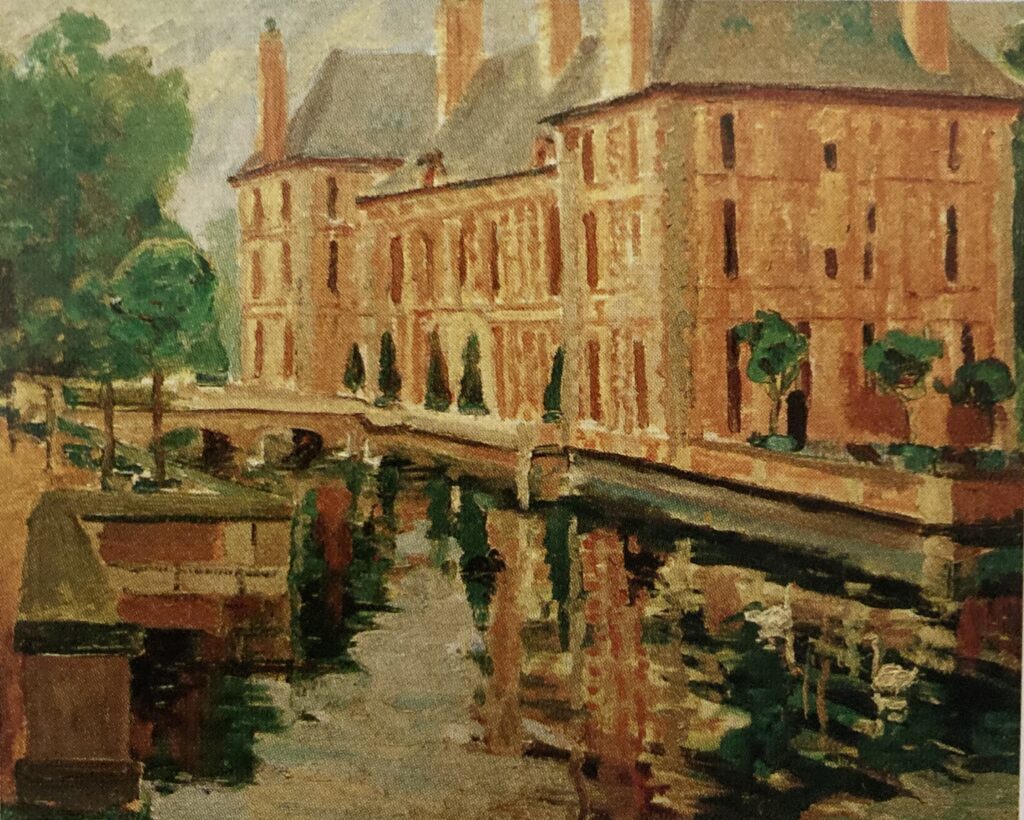 Château St-Georges-Motel, Dreux in Normandy.
"The Balsans entertained lavishly and widely and were especially interested in artists, writers and musicians.  One of these was the painter Paul Maze to whom they loaned the Moulin, or mill, on the estate; he and Churchill became close painting companions. In August 1939 when they were working together at St-Georges-Motel, Churchill remarked that was likely to be his last opportunity  for painting before war; this was declared the next month."
| | |
| --- | --- |
| The Mill at the Château St-Georges-Motel | The Mill at Château St-Georges-Motel. |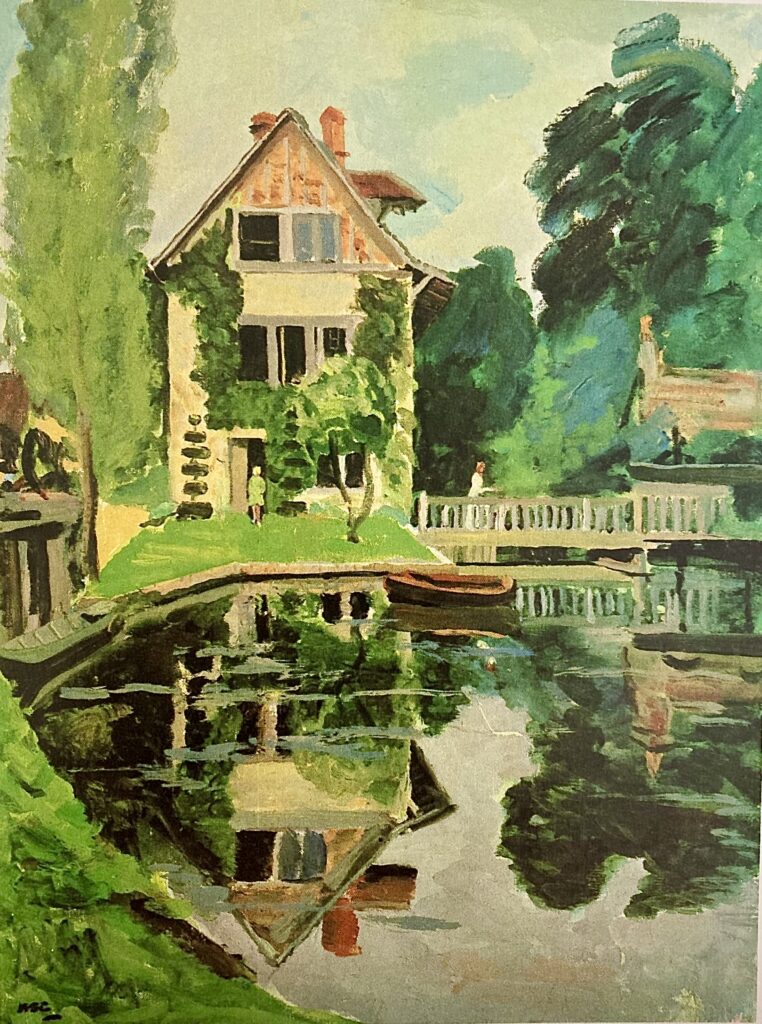 The Moulin at Château St-Georges-Motel.
The Balsans also built a house in Manalapan, Florida, Casa Alva, (records show that was in 1932 and it was sold in 1957), where Churchill had painting holidays.  It was there that he painted, The Swimming Pool, in 1946.  The 26,000 square foot house was designed by Maurice Fatio—the name of the villa is in honor of her mother. There are those that believe Churchill put the final touches to his famous, Iron Curtain Speech, while visiting Consuelo at Casa Alva—he was on his way to Fulton, Missouri where he delivered the speech at Westminster College on March 5, 1946.
A village fête at St-Georges-Motel.
How Consuelo and Jacques finally ended up living in the United States is a story in itself. They made a harrowing journey from their château in June 1940 after the Nazi invasion— traveling across France into Spain, and then making their way to Lisbon where they flew out on a Pan Am Clipper to New York.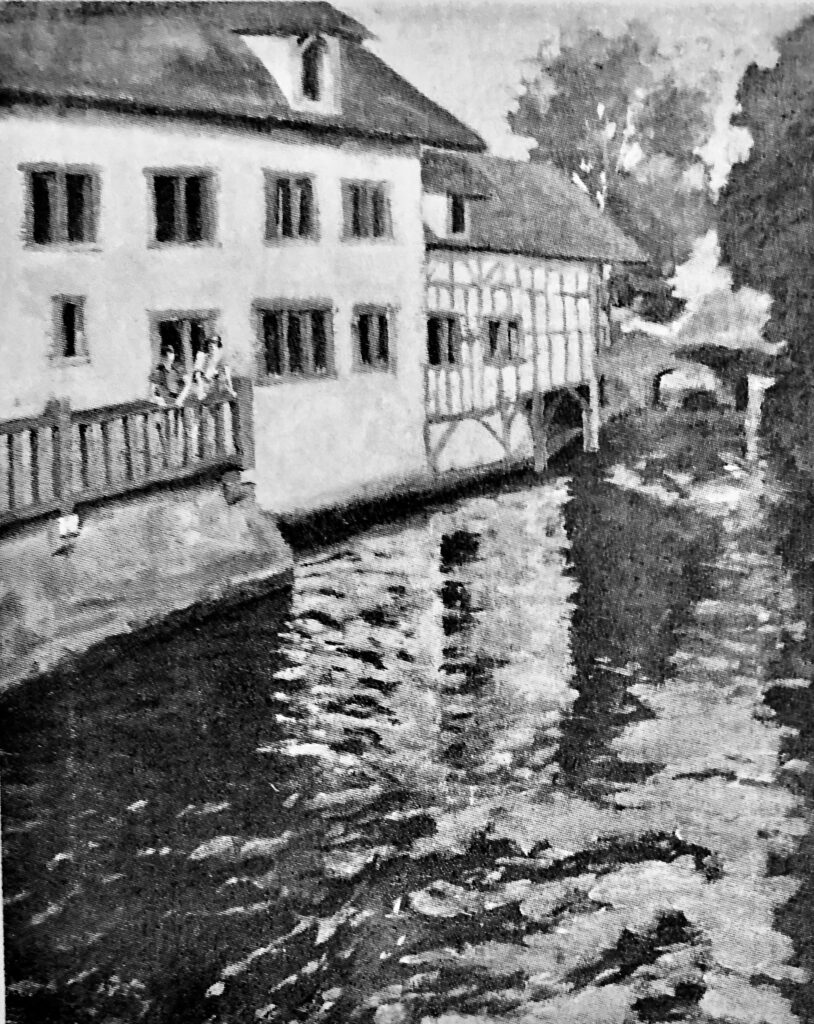 The Mill at La Colle–Sarah and Randolph Churchill looking over the pool.
Cap-Martin, a place I know well, is where there are villas so beautiful it's difficult to imagine—the views they command facing the sea, sublime, and the gilded lives of the privileged within are written about.   For years, I have walked around the Domaine Privé du Cap Martin passing the gated and walled properties.  Occasionally, loud barking guard dogs at the gate or behind a wall are alerted by my presence—my steps quicken as I pass by.  It's a stroll not to be missed if ever you are in the area.  Spend time amongst the olive trees in Parc du Cap Martin that's close by. Have a seat on one of the benches and take in the quiet and serenity. I have marveled at the complicated twisting beauty of the olive trees in that parc—not surprising, olive trees caught Churchill's eye when he stayed at La Dragonnière on Cap-Martin.      
Churchill painting The Mill at the Château St-Georges-Motel, 1939.
Churchill was not tempted to join Clementine to make a trip to St. Moritz in February 1937—she had recently taken up skiing.  He preferred the sunshine of the Côte d'Azur.  There he stayed with Lord Rothermere at La Dragonnière on Cap-Martin for two weeks. A series of paintings of its gardens and olive tree grove was the result of the visits he made to La Dragonnière. Churchill's last visit to the villa was in 1945. 
The Avenue and Formal Pool, at St-Georges-Motel.
The loss of the election that year, 1945, was a shock.  Clementine and the family urged him to take an extended painting holiday to Lake Como where it was sunny—paintings exist, and have been identified from this journey to Lake Como.  The trip lifted his spirits and he took joy in taking up the paint brush once again after the interruptions of wartime.  Extending his trip from there, he revisited his favorite haunts on the Riviera. 
Churchill supervised this joint painting in the park of the Château St-Georges-Motel.  As you can see, Churchill was one of the artists.  He gave it to his butler, Mr H. J. Chamberlain.
Paul Rafferty, in his quest of identifying locations of certain painting's on the Riviera and beyond, located the villa La Dragonnière and shares the remarkable discovery—it's just one of his remarkable finds relating to Churchill's paintings on the Riviera.
Churchill wrote in, Painting as a Pastime; (That) "Chance led me one autumn day to a secluded nook on the Côte d'Azur, between Marseille and Toulon, and there I fell in with one or two painters who rebelled in the methods of the modern French school.  These new disciples of Cézanne.  They view Nature as a mass of shimmering light in which forms and surfaces are comparatively unimportant, indeed hardly visible, but which gleams and glows with beautiful harmonies and contrasts of colour.  Certainly it was of great interest to me to come suddenly in contact with this entirely different way of looking at things.  I had hitherto painted the sea flat, with long, smooth strokes of mixed pigment in which the tints varied only by gradations. Now I must try to represent it by innumerable small separate lozenge-shaped points and patches of colour – often pure colour – so that it looked more like a tessellated pavement than a marine picture."
| | |
| --- | --- |
| Winston Churchill exiting the Hôtel de Paris, Monte Carlo. | Winston Churchill playing cards with Onassis aboard the Christina O. |
| | |
| --- | --- |
| Clementine watching Winston paint, The Swimming Pool, at the home of Consuelo's home, Casa Alva in 1946. | The Swimming Pool, 1946. |
Les Zoraïdes, a gorgeous villa also on Cap Martin, belonged to Daisy Fellows, wife of Churchill's cousin, Reginald.  In the Les Zoraïdes painting, one can see how he became quite skilled in capturing the light and reflection of the house and its stairs in the pool—the tiles on the roof seem to float. In one of the paintings, two figures appear on the stairs.
Scene from the Venetian Causeway, Miami Beach.  Churchill gave the painting to Colonel and Mrs. Frank W. Clarke, living in Florida, with whom he stayed in 1946.  Churchill had been advised by his doctor to spend the winter months away from Britain, so he took a long vacation.  The Colonel, a Canadian industrialist, had hosted Churchill in 1943 for a short rest in the Laurentian Mountains after the Quebec Conference.  From Florida, in 1946, he revisited Cuba where he painted.
| | |
| --- | --- |
| View from the Miami Surf Club, 1946. | The Surf Club at Miami, 1946. |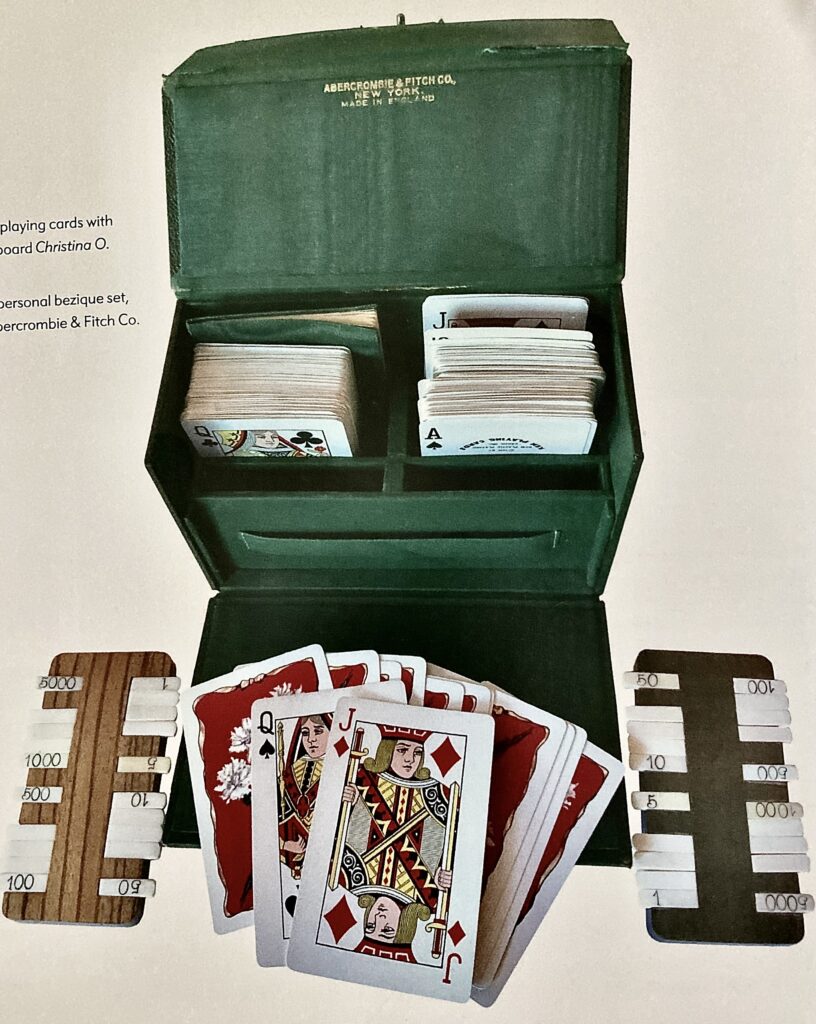 Winston's personal bezique set was made by Abercrombie & Fitch Co.
In previous posting, I have written how his painting ceased during WWII, except for one painting that has been documented.  He was no longer Prime Minister in 1945, hence the pursuit of buying a place of his own on the Côte d'Azur had entered his mind.  I read that Clementine was anxious about the prospect, and not completely on board—and, Clementine was not comfortable with with the Riviera life.
Churchill captured this garden scene on canvas in the 1940s–a garden somewhere on Cap- Martin.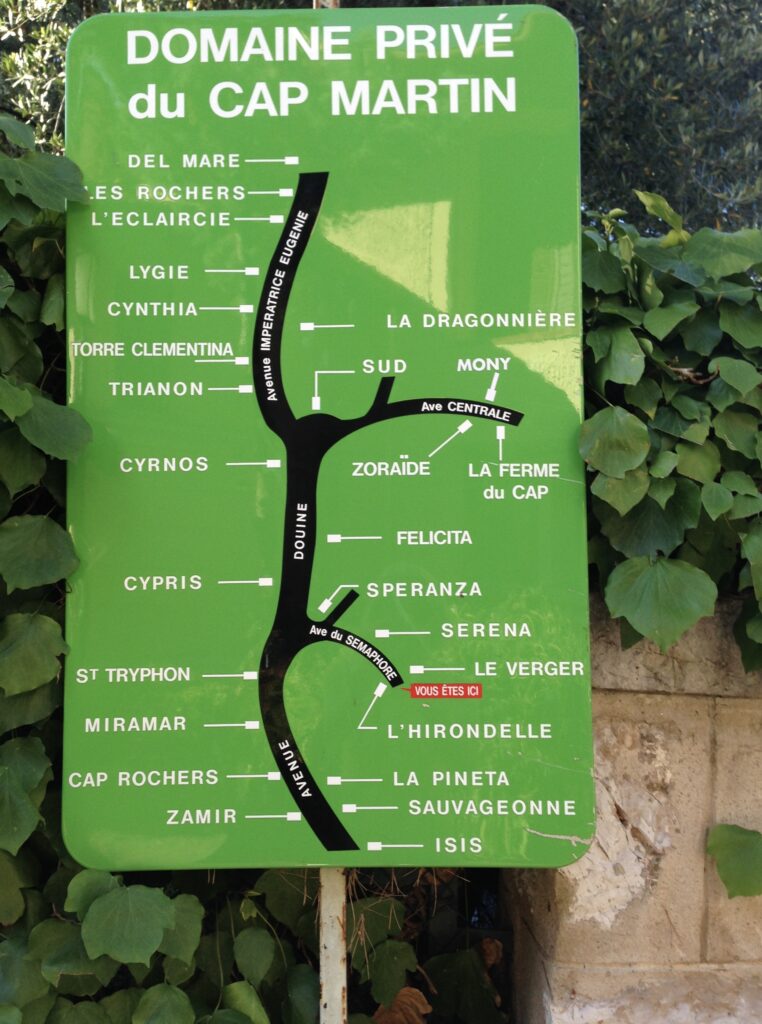 The plan shows the location of the villas in the Domaine Privé du Cap Martin.  I have spent many wonderful hours walking along Avenue Imperatrice Eugenie and Ave. Central–then on into the parc.  
| | |
| --- | --- |
| Villa La Dragonnière. The red arrow points to the balcony. Photographed by Paul Rafferty. | Churchill's bedroom at La Dragonnière–his bed is still there. |
This, a letter to his friend Lord Beaverbrook, the owner of La Capponcina on the coastal path of Cap-d'Ail;
"You have been so kind to me, and the nine weeks I spent as your guest were so pleasant and peaceful that, as perhaps you have seen, I have been looking about for a dwelling of my own where we could be neighbors…I am now exploring two retreats.  The late French Premier, or was it President Tardieu, found a place in the mountains behind Mentone about ten miles inland, which they would sell furnished, I believe, for 278 million francs, which is approximately £27,000…Another place which seems suitable is in the Eze curve, called Château St Laurent.  The proprietor came to see me yesterday.  He has already got a villa on the peninsula Saint Jean Cap Ferrat, and is quite willing to rent St Laurent to me for, say, a couple of years, with the option to buy at the end. This would in any case give me the opportunity of looking around."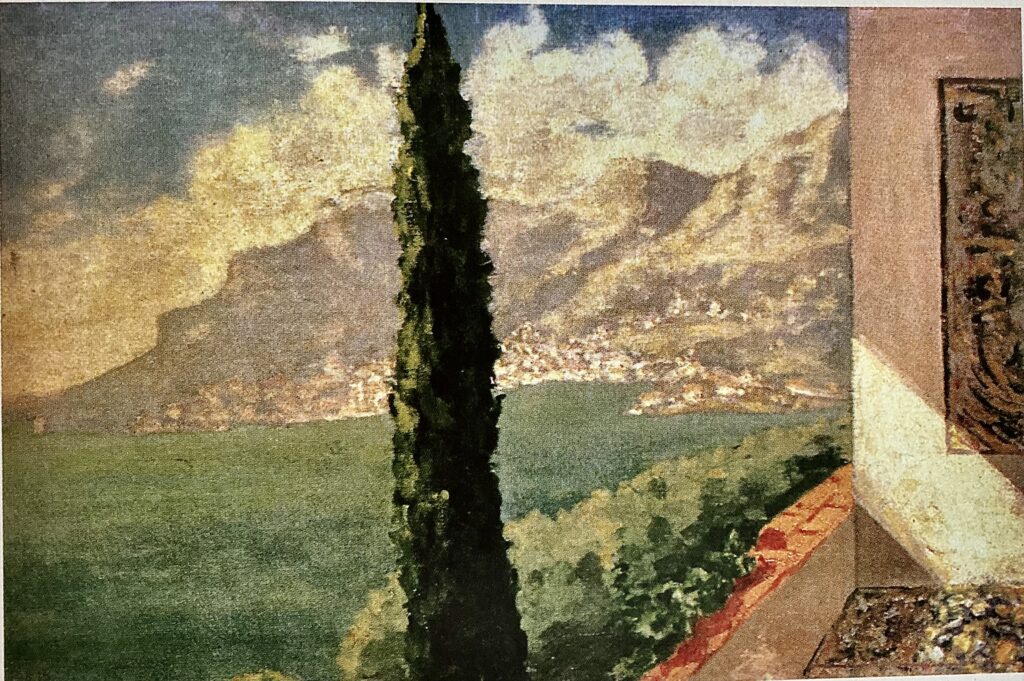 Monte Carlo and Monaco in the distance in this painting from a balcony at La Dragonnière.
Paul Rafferty's photo from the balcony that identified the painting.
| | |
| --- | --- |
| View of Monte Carlo, La Dragonnière. | The terrace at La Dragonnière–a Paul Rafferty photo. |
| | |
| --- | --- |
| Olive grove at La Dragonnière. |  La Dragonnière, Paul Rafferty photo. |
Mary S. Lovell writes of Clementine's views of the Côte d'Azur;  "Clementine enjoyed the climate and the competitive tennis, but more and more came to consider the company too raffish.  She also disliked the fact that Winston enjoyed gambling at the Casino and it was not unknown for him to lose more than she felt they could afford. Increasingly Winston travelled to the Côte d'Azur alone…"
Photo of a Churchill painting of olive grove at La Dragonnière.Olive grove on Cap-Martin.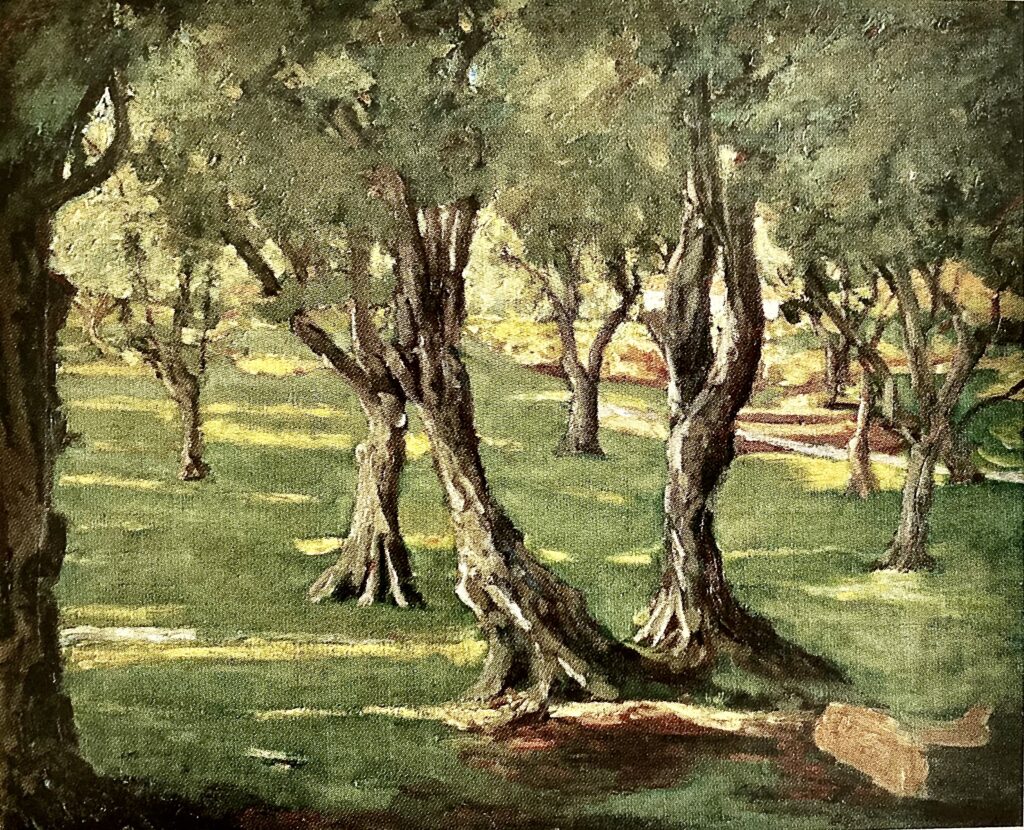 Olive grove on Cap-Martin.
Paul Rafferty relates a widely known anecdote about Winston and the Monte Carlo Casino;
"In August 1939, Churchill found himself on the wrong side of a winning streak at the casino…Churchill had no intention of quitting.  He gambled on, all the while losing…eventually retiring announced he would pay his debt in the morning.  With the imminent outbreak of war, the cheque was not written the next day as he was whisked back to London that morning as war clouds gathered…voted out of office after the Second World War; he said at the time that it was the longest week of his life…Shortly afterwards he was invited to the reopening of the Hôtel de Paris Monte Carlo's famous wine cellar, where it had bee sealed off against Nazi plunder during the war. Sir Winston accepted readily; fine wines, Monaco and the casino, the French Riviera and painting there, all irresistible. As the honored guest, he was even able to sample the hotel's Cognac C1818 A.E. Dor Roi de Rome."  The reopening ceremonies ended and he was led through the rabbit warren like tunnels of the casino and began gaming, and once again lady luck was not on his side.  However, this time he had his chequebook and said; "This time I'll pay my debts.  How much do I owe you?"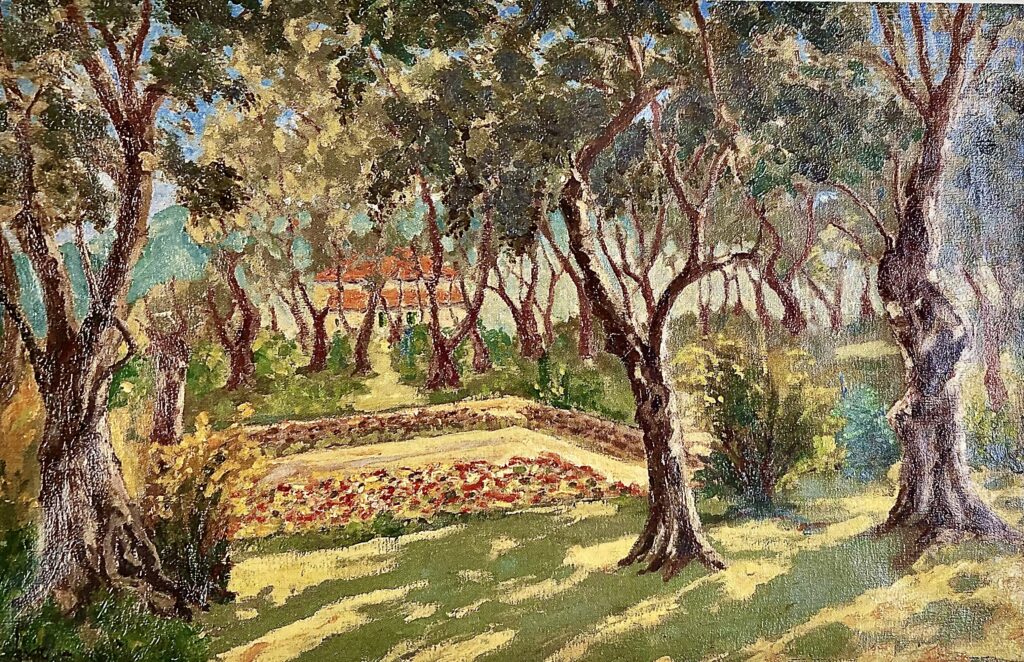 Sunken garden at La Dragonnière.
| | |
| --- | --- |
| Photo of Château Les Zoraïdes was used by Churchill.  A Chartwell Studio Archive Photograph | Les Zoraïdes, on Cap-Martin. |
The director discreetly told him how much was the debt from this visit and the previous unpaid debt amounted to, and that was FFR 1,300,000.  Monies earned from his writings by then provided a very good income.  Out of respect for Churchill and all he had done during the war, the cheque was never cashed—it's still there.  A suite was named after Churchill after he died in 1965 and remains so named. Winston's love of games also included bezique, mahjong, backgammon and chemin de fer. 
| | |
| --- | --- |
|  Les Zoraïdes, on Cap-Martin. |  Winston standing in the lead car as they enter Lourmarin in 1948. |
To close this installment of Winston Churchill as a painter, away from the Riviera, is a story about a painting of Nasturtiums he painted at Chartwell—the bold still life caught my eye in David Coombs' book.  Churchill painted quite a number of still lifes.  The charming story begins: 
Churchill painting at La Capponcina, Cap d'Ail, 1960.
Grace Hamblin was a local resident and began working for Churchill as a secretary in 1932.  About 70 years later she related the story of how the silver presentation basket filled with bright orange and yellow nasturtiums had caught Churchill's eye and came to be a painting: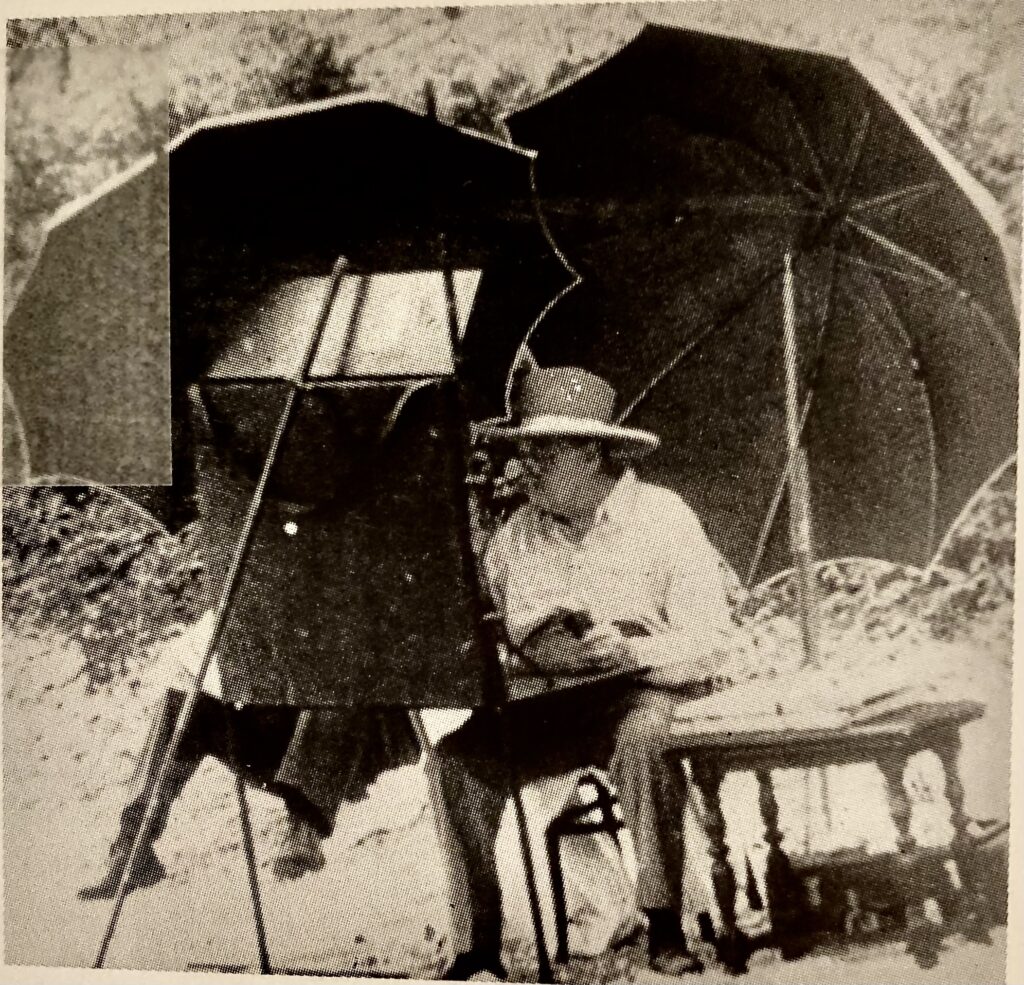 The location is unknown, but he is well protected, by umbrellas from the sun and by the bodyguard 
"they're very graceful and they have that very pretty leaf, but they've got an awful smell.  Nobody would ever use them for flower arranging…If you put them into a container, by the morning they've gone their own way.  As I was walking through the garden to work one morning I saw a lovely bed of nasturtiums…the colours were beautiful. And I thought to myself, 'The Churchills have this presentation silver basket, which was more often than not on the dining table at Chartwell.'  they were having a luncheon party and I thought. 'Wouldn't they look lovely with the silver?'  Sir Winston fell in love with the arrangement. He thought how lovely they looked. Which they did for the moment."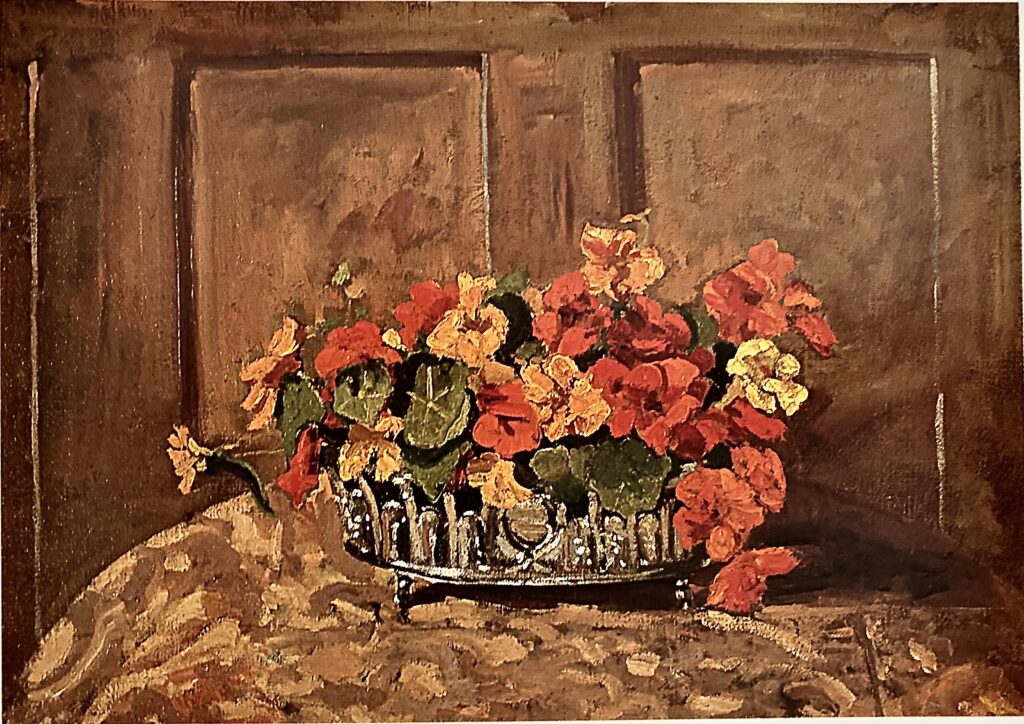 Nasturtiums in a presentation silver basket at Chartwell.
À bientôt
Quotes and Pictures:
Painting as a Pastime, by The Right Honourable Sir Winston Churchill, published in 1965 by Cornerstone Library, New York.
Winston Churchill-Painting on the French Riviera, by Paul Rafferty, published by Unicorn.
Churchill on the Riviera, by Nancy Smith, published by Biblio Publishing.
Sir Winston Churchill's Life Through his Paintings, by David Coombs with Minnie Churchill, published by Gardners Books, 2003.
The Riviera Set, by Mary S. Lovell, published by Pegasus Books Ltd.  2018.