By Bob Glaze
Ukrainian Village is an historic West Town Chicago neighborhood bounded by W. Division St. to the north, W. Huron St. to the south, N. Damen Ave. on the east and N. Western Ave. on the west.
Due to the recent Russian invasion of Ukraine in 2022, I wanted to go back this past May and support the local businesses and to learn more about the history of the Ukrainian people in Chicago. I was pleased to learn that Chicago and its suburbs have welcomed close to 25,000 refugees since the invasion. Many children are now attending several schools in the neighborhood.
Ukrainian Village Chicago History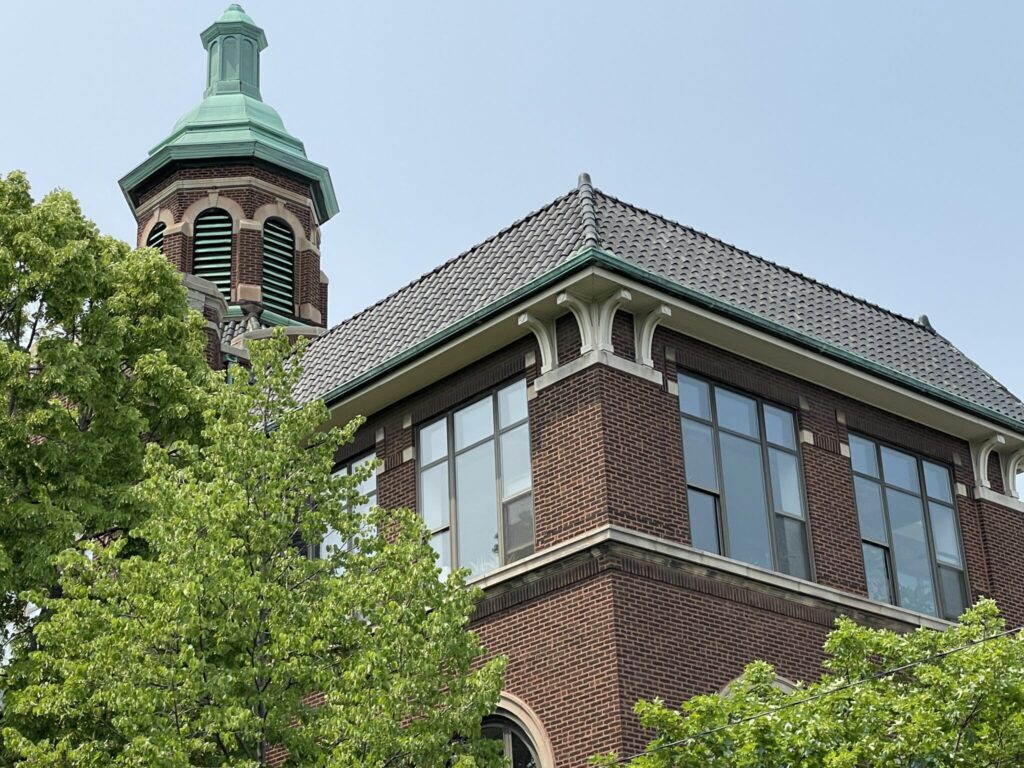 According to the University of Chicago's The College – Chicago Studies, "the development of the neighborhood now known as Ukrainian Village was spurred by the Great Chicago Fire of 1871. In the aftermath of the fire, German immigrants populated the area; it was originally a working-class neighborhood." "Between 1880 and 1910, Chicago experienced its first wave of Ukrainian immigration. By1910, Ukrainians were the most populous ethnic group in the neighborhood. By 1930, the number of Ukrainians in Chicago was estimated to be approximately 30,000, with most living in the Ukrainian Village."
As a culturally influential area since the beginning of the twentieth century, the neighborhood was officially designated the community as "Ukrainian Village" in 1983. "The neighborhood remains uniquely Ukrainian, through institutions such as their churches, youth groups, and museums."
I recently enjoyed walking through the neighborhood, seeing the homes, local murals and churches. My recommendations on where to eat, where to shop and what to see and do include:
Ukrainian Village Chicago Restaurants
My favorite neighborhood restaurants include:
At 2524 W. Chicago is Shokolad Pastry & Cafe, a Ukrainian café offering pastries, cookies and a savory breakfast/lunch menu with sandwiches, crêpes, and pierogi. The sandwiches were huge and very good. On my recent trip, I enjoyed a latte and some tasty cookies. I was also pleased to have met the server who was from Ukraine and immigrated to Chicago in June 2022 after the Russian invasion, with her husband and young child!!
In the past, I also enjoyed Tryzub Ukrainian Kitchen at 2201 W. Chicago. They feature pierogies, crepes, potato pancakes, and other Ukrainian specialties. They serve brunch daily. I enjoyed it very much. Opened in 2016, their mission according to their website, "is to showcase a modern version of the rich and diverse flavors of Ukrainian cuisine and present Ukrainian art, history, and authentic culture in a pleasant, sophisticated way." The décor is very attractive. They are open for dinner during the week, except for Monday, and for brunch on weekends.
On my recent trip I enjoyed my lunch at Old Lviv, a casual, old-world spot serving a buffet of hearty Ukrainian fare such as stuffed cabbage, soups including borsch, mashed potatoes, goulash, pork schnitzel, roast chicken, cheese blintzes, battered fish, and an assortment of salads. You can also order pierogies, coffee, and other drinks. I was glad that I chose the restaurant. It is family-owned with all food made from scratch. I was happy to have met the owner's son. I recommend it for anyone looking for a taste of authentic Ukrainian cuisine in Chicago. Located at 2228 W. Chicago Ave.
Shopping in Ukrainian Village Chicago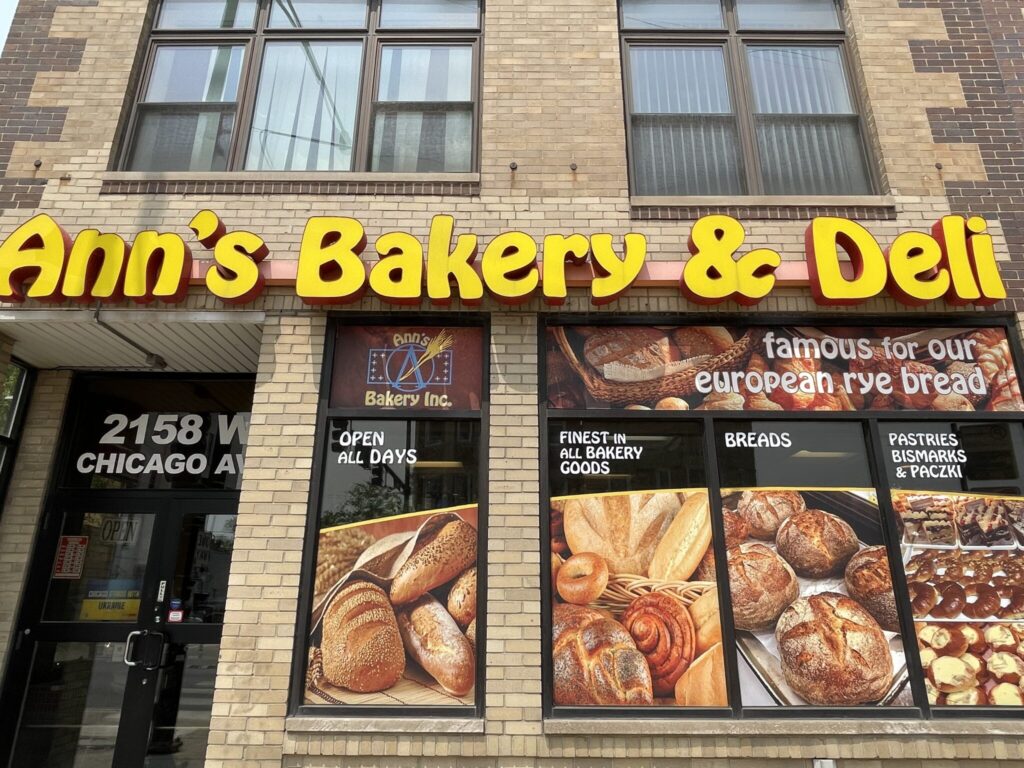 Ann's Bakery & Deli: Located at 2158 W. Chicago Ave., this is a longtime Eastern European bake shop known for its European rye bread and pastries, along with a deli and prepared meals for takeaway.
Delta M: For over 65 years, this the oldest and largest Ukrainian goods store in the United States, selling an assortment of traditional, and modern items. Their shop features Ukrainian clothing, Easter eggs, embroidery, jewelry, tableware, paintings, religious icons, books, souvenirs, and more. Located at 2242 W. Chicago Ave.
Ukrainian Village Chicago Things to Do
Ukrainian Institute of Modern Art: At 2320 W. Chicago Ave., this is a small museum founded in 1971, that features a permanent collection as well as temporary exhibitions. The permanent collection features paintings, prints and sculptures by Ukrainian, and other international artists. The temporary exhibitions focus on artist retrospectives, group and collective shows, and concept and theme topics like Chicago's Bauhaus Legacy. I went back for the second time and enjoyed the permanent collection along with an excellent temporary exhibition by contemporary Chicago artist Art Kleinman.
Ukrainian National Museum: I went back to this museum for the second time when I was back in the neighborhood. Located at 2249 W. Superior St., it was established in 1952. "The goal was the establishment of a museum and archives that would reflect the lives of those forced by cruel circumstances to leave their homeland and who, in love and longing for that ancestral home."
The first floor had a contemporary art exhibition. Upstairs on the second floor there were many exhibitions.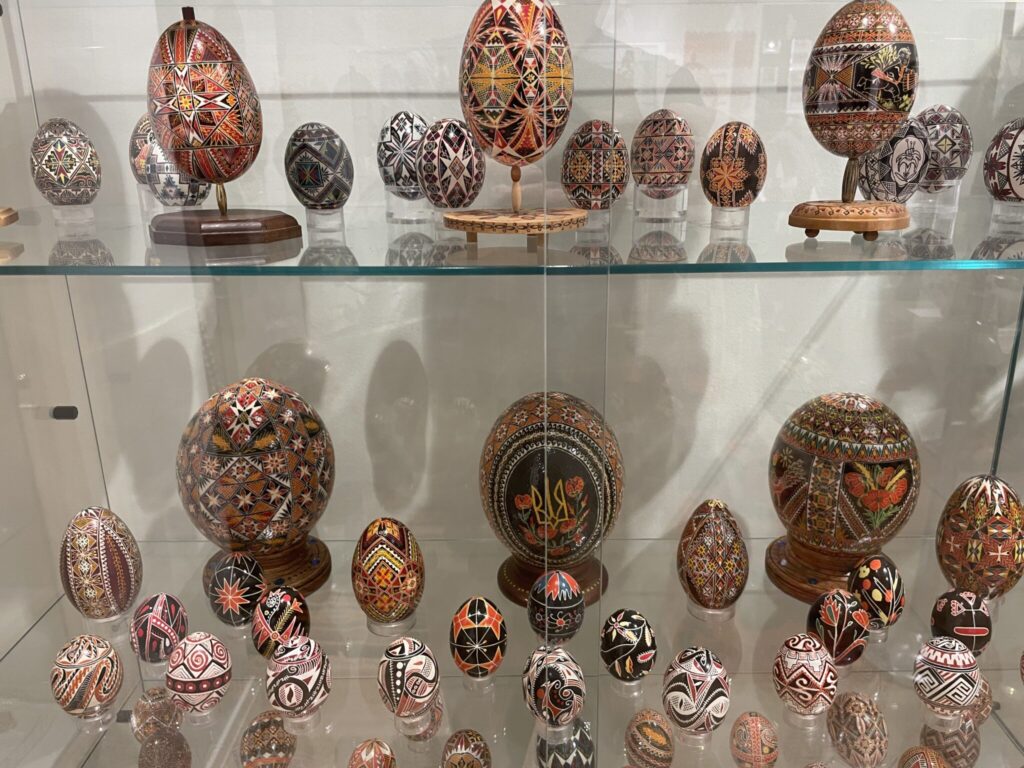 The museum has over 10,000 artifacts of embroidered fabrics and woven textiles, traditional apparel, prysanka or Easter eggs decorated with traditional Ukrainian folk designs, ceramics, wood-carved objects, musical instruments, religious artifacts, and artwork.
Permanent exhibits features, the history of Ukrainian Kozaks, folk art, the history of Ukrainian refugees in Europe from 1945 to 1952, genocide again of the people in 1932 and 1933, and the Ukrainian Pavilion at the 1933 Chicago World's Fair.
There is also a library with over 26,000 books on art, religion, poetry, history, and more.
Ukrainian Village Chicago Churches
Two of the major historic Ukrainian cathedrals to visit in the neighborhood are:
Saints Volodymyr & Olha Ukrainian Catholic Church: Located across the street from the Ukrainian National Museum, at 730 N. Oakley Blvd., is Saints Volodymyr & Olha Ukrainian Catholic Church. It was founded in 1969 "with the intention of providing Ukrainians in Chicago with a religious establishment where their practice could fully adhere to the traditions of the Ukrainian Church."
The church was completed in 1973 with a Byzantine-Ukrainian style found in the eleventh to thirteenth century Ukraine, with many circular design elements. It also has artwork, "incorporated into the church's design, that is rich with religious symbolism and speaks to the extensive history of Christianity in Ukrainian culture."
St. Nicholas Ukrainian Catholic Cathedral is another attractive cathedral located in Ukrainian Village at 835 N. Oakley Blvd. It was built in 1913 and was renovated in 1976. It has a classic Neo-Byzantine design. The style is characterized by round arches, vaults and domes, brick and stucco surfaces, symbolic ornamentation, and the use of decorative mosaics.
I hope that you enjoy your visit while supporting the local businesses!