The GI Research Foundation Annual Ball
By Jill Lowe
So many of us have a loved one, know someone or know of someone with IBD (Inflammatory Bowel Disease) and for those of us in Chicago, all this exceptional patient care and research is RIGHT IN OUR OWN BACK YARD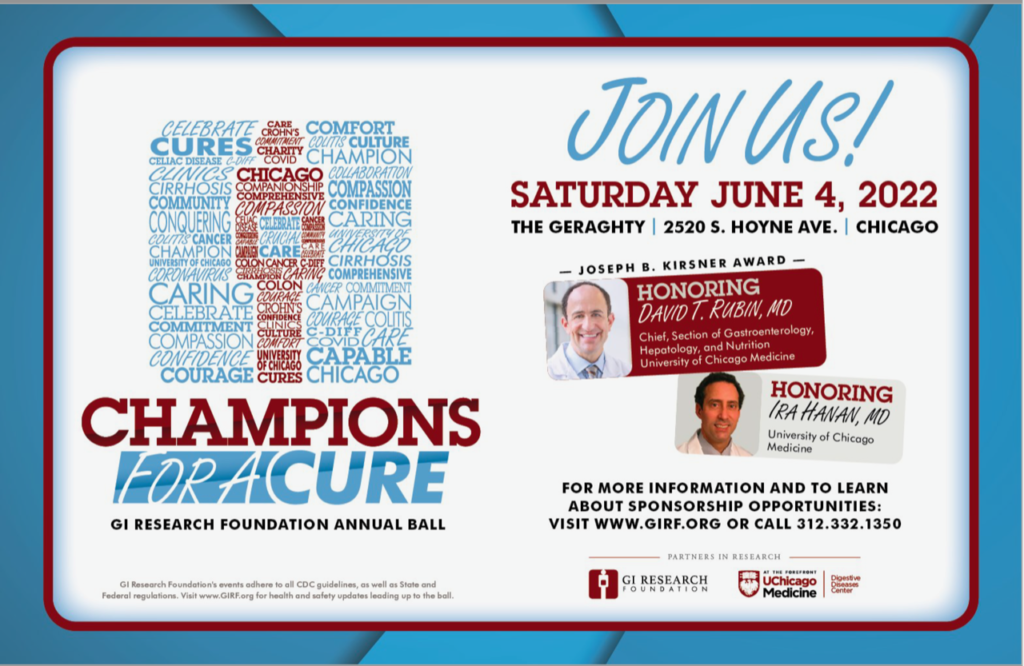 This year, GIRF honors Ira Hanan, MD for his commitment to providing excellent care and training future leaders in digestive diseases.
At the Ball this year GIRF proudly honors its Lead Scientific Advisor, David T. Rubin, MD, with the Joseph B. Kirsner Award – an annual tradition recognizing those who have made a substantial commitment to further and impact the GI Research Foundation's mission. He has been referred to as the "Colon Whisperer."
The following 2 page article is reprinted with kind permission (obtained by GIRF), of The Forefront Magazine : the University of Chicago Medecine. Original article by Stephan Benzkofer. Photo by Sandro Miller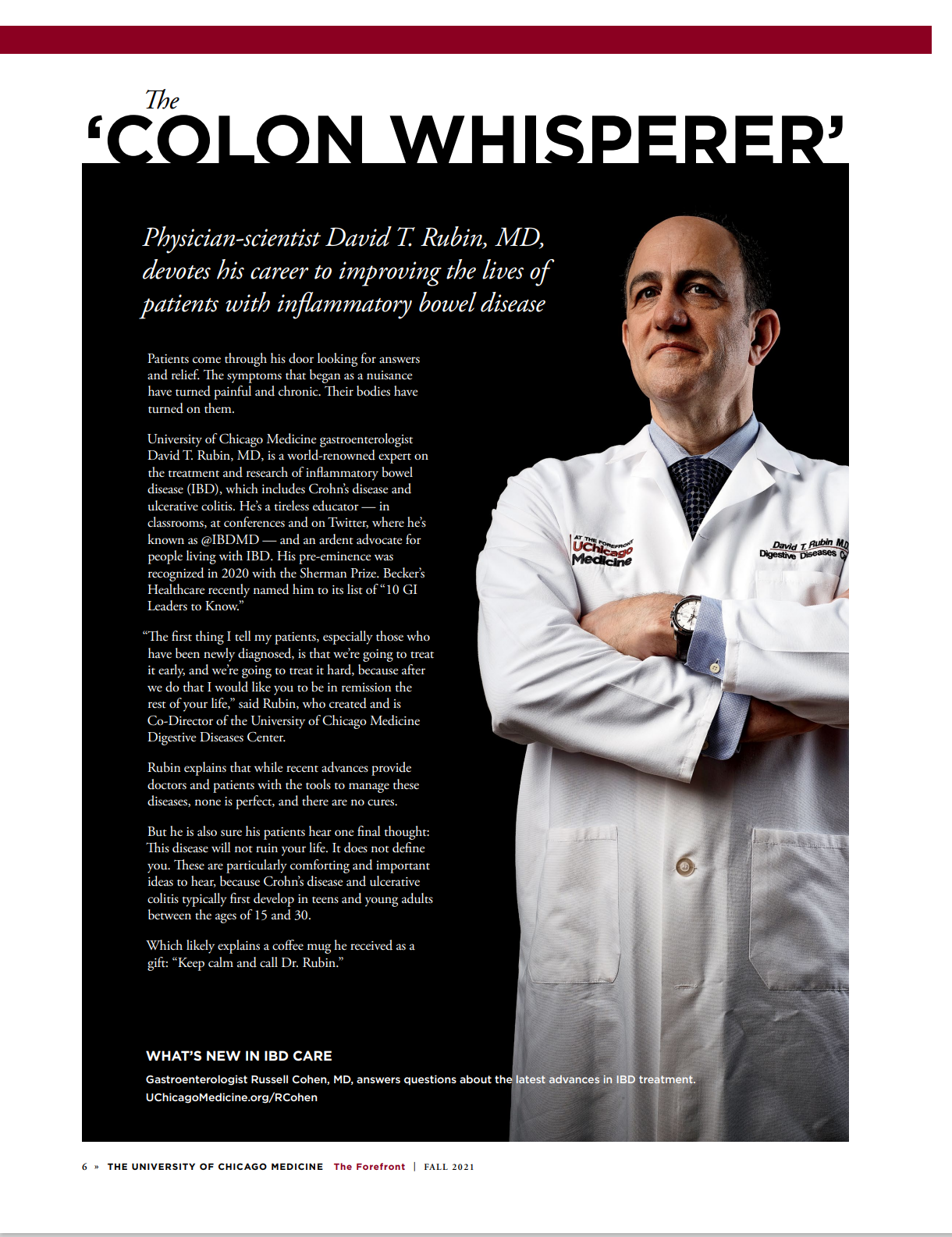 History of GIRF
In 1961, the GI Research Foundation – GIRF, was founded by grateful patients and friends of the late Dr. Joseph B. Kirsner, a pioneer in gastroenterology who devoted his life to medicine, teaching, and patient care.
Today, the University of Chicago Medicine Digestive Diseases Center is internationally recognized for research-driven medicine and its team of highly specialized physicians. Inspired by Dr. Kirsner's vision, the GI Research Foundation helps ensure the UChicago Digestive Diseases Center remains at the forefront of innovation and personalized care.
Without exception it seems, all influential physicians in the field of Inflammatory Bowel Disease in Chicago, especially Dr. David Rubin, honor and revere the impact of Dr B. Kirsner. As a pioneering academic physician, he made contributions beyond Chicago, to literature in every aspect of gastroenterology, publishing 18 books, including the authoritative textbook for IBD.
Dr B. Kirsner
Image permission: UChicago Medecine, obtained by GIRF
And here is a restatement of the Gala information
x

x

Dr David T. Rubin
Image provided courtesy of GIR
The storied Annual Ball is the GI Research Foundation's premiere fundraising event. Hundreds of contributors, friends, grateful patients, and medical professionals will come together to raise funding for groundbreaking research and exceptional patient care at the University of Chicago Medicine Digestive Diseases Center.
It all takes dollars, to "move the needle"
For more information, to donate, sponsorship opportunities or Ball tickets, please visit www.girf.org. or call 312.332.1350
Notes
Image of Jill : Joe Mazza Bravelux inc.
www.girf.org