Impact of Evans Scholars Program on Caddies Is Lifelong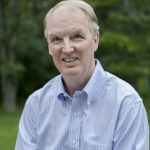 By David A. F. Sweet
When Janissa Gutierrez returned to her home from an internship last year, she noticed many letters from colleges sitting on a table. But then she saw a large envelope from the Evans Scholars Foundation. The Onwentsia Club caddie grabbed it quickly.
"I was super nervous because I didn't really know what the outcome was going to be, so I went into my mother's room and opened the envelope with her by my side," recalled Gutierrez, a student at Cristo Rey St. Martin College Prep in Waukegan. "The first thing I saw was the word 'Congratulations!' I started crying. I was so excited that I could not get words to come out. I took a deep breath and told her that I received the Evans Scholarship."
For low-income caddies hoping to pay for college, the Evans Scholars Program is a life changer.  Overseen by the Western Golf Association (WGA) in Glenview – which runs the BMW Championship, among other tournaments — it is the largest scholarship program for caddies in the United States. According to the WGA website, applicants must possess a strong caddie record, excellent grades, demonstrated financial need and outstanding character to win the award. About one in every three applicants earn a scholarship.
In its 92-year history, nearly 12,000 caddies have graduated from colleges as Evans Scholars. A record 1,070 young men and women enjoyed full tuition and housing at 21 universities last year, according to Evans Scholars Foundation President and CEO John Kaczkowski. With tuition perpetually rising – in most cases by a greater percentage than the inflation rate – the scholarships are essential for these caddies to receive any type of college education.
A unique aspect of the program is that students live together all four years at an Evans Scholars House on campus. Each chapter elects its own officers, who run social and service activities. The community provides mentorship to new students through the New Scholar program. 
"The support system and sense of empowerment fostered in the houses is largely responsible for our program's 95 percent graduation rate and the tremendous success of our alumni," said Amy Lillibridge, senior director, student success at the Evans Scholars Foundation. In the Chicago area, Northwestern University, the University of Chicago, and the University of Illinois at Chicago all possess Evans Scholar Houses.
Namesake Charles Evans Jr. – best known as Chick – was an outstanding amateur golfer. In 1916, he captured both the U.S. Open and the U.S. Amateur – the only man aside from Bobby Jones to ever accomplish that feat in the same year. In the late 1920s, the former caddie gave the Western Golf Association funds to distribute to needy caddies going to college, and the Evans Scholars Foundation was born.
Back in 1948, Ed Bernardi was an 18-year-old Exmoor Country Club caddie who became an Evans Scholar. His father Nello, an Italian immigrant, worked at Exmoor as a laborer for nearly half a century.
"Very few of my Highwood friends went to college; thoughts of becoming anything other than a laborer or a servant were exceptions," wrote Bernardi, who attended Northwestern University, in a book about his caddie experiences at Exmoor.
"My father had only four years of school, and my mother had no schooling whatsoever. Can you imagine the impact the scholarship had on the family? The award was the fulfillment of their American Dream. To have won the scholarship for them was one of the proudest moments of my life."
Speaking of Exmoor, the Western Amateur – a WGA event – will be held there from Aug. 1-6. In support of the tournament, members and sponsors have already raised more than $500,000 to fund two permanent Evans scholarships in the name of Exmoor.
Clubs like those are crucial to the caddie program. To support its $27 million worth of annual expenses – the vast majority which go to scholarships — the Evans Scholars Foundation counts on member contributions from dozens of clubs who have robust caddie programs along with donations from thousands of individuals. The organization also receives proceeds from the BMW Championship. 
That lets students like Gutierrez attend Michigan State – where she will be a freshman this fall — on a full Evans scholarship. Like Bernardi, she will be the first person in her family to go to college. And she truly appreciates the opportunity.
"Attaining a college degree would mean that all the sacrifices my mother came to this country for would not be in vain," said Gutierrez, whose mother Maria arrived in the United States from Mexico at the age of 21. "This scholarship means that she and I can create a better future for ourselves."
The Sporting Life columnist David A. F. Sweet is the author of Three Seconds in Munich. He can be reached at dafsweet@aol.com.