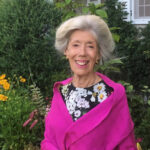 By Judy Carmack Bross
At its 16th annual Ryan Licht Sang Medical Briefing Luncheon, Margaret Trudeau, mental health issues advocate, mother of the current Canadian Prime Minister and wife of a former Prime Minister, shared how she lives with bipolar disorder. Impactful, timely and always Spring-time beautiful in decor, the luncheon presented Trudeau in conversation with Dr. Karen Swartz of Johns Hopkins University.
Joyce Sang, Dr. Karen Swartz, Margaret Trudeau, Dusty Sang
Photo of Program on table
Joyce and Dusty Sang, who establish the foundation in honor of their late son Ryan, make the mission of the foundation—to address the problems of early-onset Bipolar Disorder through research funding, awareness and understanding and finding an empirical test to make early detection and rapid intervention possible—their own life mission.  Always beloved by the audience, the Sangs' presence and dedication filled the room with awe and respect.
Dusty Sang and The Honorable David Usher, Canadian Consul General
"For The Ryan Licht Sang Bipolar Foundation's 16th year in Chicago, Margaret Trudeau and Dr. Karen Swartz were the perfect team to speak about Bipolar Disorder in women. Margaret Trudeau recounted her life's story of having Bipolar Disorder and how it affected her husband, children and family," Dusty Sang commented. " Dr. Swartz presented the clinical side of this serious illness of the brain and how it impacted women.  Both of these women were amazing communicators who brought to life the true nature of Bipolar Disorder."
| | |
| --- | --- |
| Honorary Chair Abby McCormick O'Neil , left, with Maria Santaren | Co-Chair Amy Morro, left, with Liz Dauten, Jenna Toan and Suzi Rowe |
Louise Lane, Marla London, and Amy Morro chaired the luncheon and Abby McCormick O'Neil served as Honorary Chair.
Shining Star Award winner Leslie Kennedy, left, with Zari Azarnoosh.
Known for both her leadership and hands-on volunteering Leslie Kennedy received the Shining Star Award, the Foundation's highest honor, in recognition of her unwavering support of the Foundation's mission and goals. For 17 years, Kennedy has helped to guide the Foundation from its earliest days and served as a Board member for over 15 years.  She has represented the Foundation at the National Institute of Mental Health and The Pediatric Bipolar Conference at the Massachusetts General Hospital at Harvard Medical School and chaired the Foundation's first annual Medical Briefing Luncheon in Chicago in May 2007.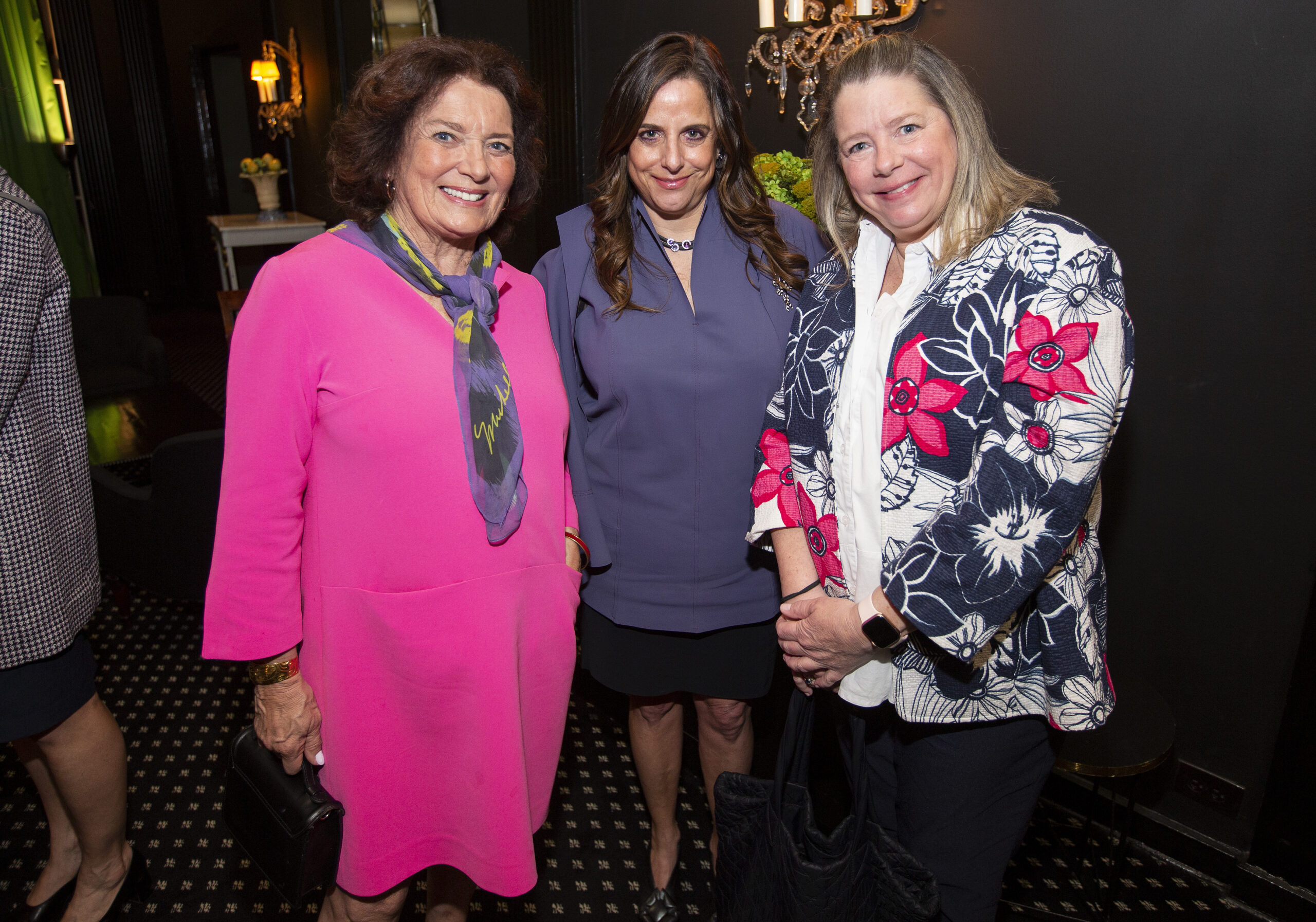 Margaret Trudeau, Marla London and Jennifer Tracy
At a dinner in her honor the night before, Trudeau delighted guests with her ebullience and conversations with all. Asked about her son's recent trip to Ukraine to meet with President Volodymyr Zelensky, she revealed: "Justin called me the day before to wish me a happy Mother's Day and mentioned that he would be offline for the weekend.  I assumed he was taking his family fishing," she revealed.  "The next day I turned on the news and there he was in Kyiv." 
Several guests remembered that the Prime Minister surprised his mother in Chicago when she gave a presentation at Second City—much to the delight of mother and audience alike. Thanks to the generosity of William Blair, luncheon guests received autographed copies of her bestseller, Changing My Mind, as well as beautiful butterfly pins created for the Foundation, which somehow capture Trudeau's positive spirit.
| | |
| --- | --- |
| Merle Gordon. Terry Levy and Margaret Trudeau | Margaret, Gerry and Leigh-Anne Kazma |
Trudeau has authored four books stressing the importance of nurturing body, mind and spirit.  Describing herself as a "quicksilver little girl who saw no middle ground between sinking and flying", she writes about putting daisies in her hair and making her wedding dress for her wedding to the much-older Pierre Trudeau, Canada's fifteenth Prime Minister, and her subsequent life as a notorious flower child in both Canada and at New York's Studio 54.
"I seemed to rise and fall with the same reckless velocity.  What Maggie (as I was known in the press) didn't know was that her brain chemistry was abnormal.
| | |
| --- | --- |
| Kevin Gancarz and Aiki Coxhead | Gus & Isabell Abello, Cathy & Fred Moore |
"The bipolar cross is a heavy one to bear, and I have carried it pretty well all my life, and will go on carrying it until my last breath.  The really exciting news from research in the field is that early treatment actually re-programs the brain and promotes healing."
| | |
| --- | --- |
| Alex & Brian Singer | Diane Kelley and Margie Habermann |
Guests of the Luncheon also had the opportunity to view select pieces from INSIGHTS, the series of juried art exhibitions produced by the Foundation that feature the work of artists with bipolar disorder.  Artist Kelly Mathews, whose work was featured, was on hand to meet guests and provide special insight into their artistic process. INSIGHTS V, the next in the Foundation's art exhibition series, will be held at Zolla/Lieberman Gallery in Chicago from October 28-30, 2022.
Terry Levy, Paul Levy and Nancy Samson
Proceeds from the Luncheon benefitted The Ryan Licht Sang Bipolar Foundation, whose mission is to foster awareness, understanding and research for early-onset Bipolar Disorder, and through its "Quest For The Test™" initiative, to find an empirical, biomarker test for Bipolar Disorder so that early detection in children and adolescents becomes a reality.  Since its founding in 2004, the Foundation has awarded numerous grants both in education and in research. The Foundation's proof-of-concept funding has subsequently led to government grants totaling more than $40 million.
For more information, please visit www.questforthetest.org