During New York's Classic Age
My Fair Lady was the greatest Broadway hit of the era, or any era.
By Megan McKinney
For the past weeks we have been celebrating various facets of New York's mid-century Classic Age. What a fabulous time it was! The Depression was far gone,  along with Prohibition. And World War II was becoming a fading memory. While we have discussed the city's art of this amazing time, as well as its street of great jazz and the legendary watering holes, Broadway—then at its robust finest—has not been forgotten . 
Susan Strasberg as Anne with Joe Schildkraut in The Diary of Anne Frank, directed by Garson Kanin.
Those who remember the city's great shows of the 1950's discuss them today with almost teary nostalgia. Among the productions opening on Broadway in 1955 were Bus Stop, Cat on a Hot Tin Roof, Damn Yankees, Guys and Dolls, and The Diary of Anne Frank.
Ben Gazzara as Brick, Barbara Bel Geddes as Maggie the Cat and Burl Ives as Big Daddy in Elia Kazan's 1955 production of Tennessee Williams' Cat on a Hot Tin Roof.
The following year, 1956, saw Auntie Mame, Long Day's Journey Into Night, My Fair Lady, The Happiest Millionaire and Waiting for Godot.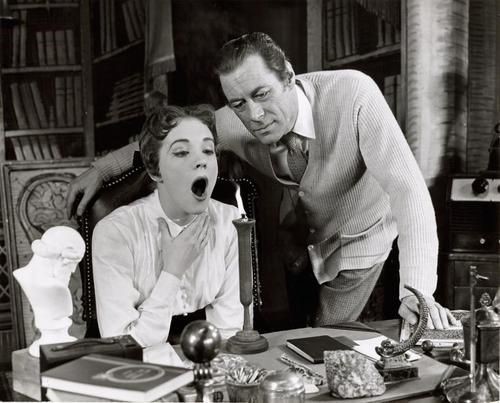 Julie Andrews and Rex  Harrison during the 1956 opening year of My Fair Lady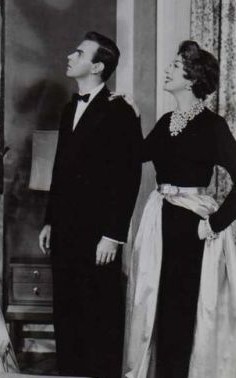 Robert Higgins was Rosalind Russell's nephew, Patrick Dennis, in the original Broadway production of Auntie Mame
New Broadway shows  in 1957 included Brigadoon, Carousel, Look Back in Anger, Look Homeward Angel, The Dark at the Top of the Stairs, The Music Man and West Side Story.
Carol Lawrence and Larry Kert in West Side Story
Robert Preston was a hit in Meredith Willson's 1957 smash The Music Man
Opening in 1958 were A Touch of the Poet, Flower Drum Song, Sunrise at Campobello, The World of Suzie Wong and Two for the Seesaw.
New York Times theatrical cartoonist Al Hirschfeld's version of Anne Bancroft and Henry Fonda in Two for the Seesaw
New in 1959 were Destry Rides Again, Much Ado About Nothing,  Once Upon a Mattress, Sweet Bird of Youth, The Great God Brown, The Miracle Worker and The Sound of Music.
Paul Newman and Geraldine Page in Sweet Bird of Youth, another Tennessee Williams/Elia Kazan production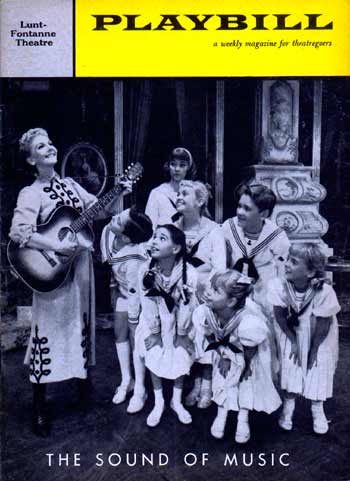 PLAYBILL for The Sound of Music  with Mary Martin as Maria  
Author Photo: Robert F. Carl