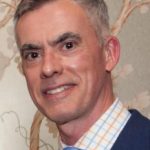 By Philip Vidal
Some say change is inevitable, and perhaps they are right.  Others say the more things change, the more they stay the same, and there is certainly evidence to confirm that theory.  Supporting both viewpoints, it is heartening to see there are new and exciting events in Chicago every month, as well as events that are a tradition and continue from year-to-year.
Lakeview's longest running tradition! The Wellington Oakdale Old Glory Marching Society takes place on Labor Day on Wellington and Pine Grove. Photo by Wellington Oakdale Old Glory Marching Society.
For the past 61 years, the parades by the Wellington Oakdale Old Glory Marching Society on Memorial Day and Labor Day have bookended the summer.
I recall going to the Taste of Chicago when it was at Navy Pier in the 1980s, and then going with colleagues at R.R. Donnelley for lunch in the early 2000s when it was in Grant Park.  It has traditionally been in early July, but this year it's been moved to September 8-10 due to the NASCAR race in Grant Park earlier this summer.
Enjoy a weekend of delicious food at Chicago Gourmet's various events, September 21-24. Photo by Chicago Gourmet.
Chicago Gourmet is scheduled for its usual time slot in September at the Harris Theater Rooftop and other venues, September 21-24.  The festival includes Hamburger Hop, Late Night Gourmet, Somm Sessions, Tacos & Tequila, and Prost! In the Park.  There will be many "Prosts" said at the dozens of Oktoberfest celebrations around Chicago this month.  To get in touch with my German heritage, I attended Mass in German many years ago in the lower chapel of St. Alphonsus Church, so I have a soft spot for their Oktoberfest, which runs September 22-24.
A celebration in honor of Hispanic Heritage Month! Uniting Voices Chicago kicks off their 2023-24 season with "Canto Latino, Creando Mole" at Harrison Park, September 30. Photo by Elliot Mandel.
National Hispanic Heritage Month (NHHM) is September 15-October 15.  Ravinia gets a jump start on the festivities with Fiesta Ravinia, a day-long celebration of Mexican culture on September 10.   Throngs of spectators will head to Chicago's Little Village neighborhood for the 26th Street Mexican Independence Day Parade on September 16.  Another way to celebrate NHHM is by attending a performance at  Destinos, the Sixth Chicago International Latino Theater Festival, at various locations, September 28-November 12.  Grammy Award®-winning mezzo soprano Cecilia Duarte opens Nichols Concert Hall Presents 2023-24 season with "Cecilia Duarte: My Latino Heart" on September 23 at Nichols Concert Hall, Music Institute of Chicago in Evanston. Uniting Voices Chicago (formerly the Chicago Children's Choir) celebrates NHHM and kicks off its 2023-24 season with "Canto Latino: Creando Mole," a free outdoor festival in Harrison Park, September 30.
Check out the cultural pop-up markets of 5 countries at their 400 N Michigan Ave and 410 N Michigan Ave locations. Photo by World Business Chicago.
I enjoyed World Business Chicago's previous cultural showcase pop-up markets at the Wrigley Building, so I'm looking forward to checking out the two new cultural showcase pop-up markets: c Ukraine and the Cultural Exchange Market (featuring Colombia, Kyrgyzstan, Pakistan and Poland) that run through October.
Showcasing Chicago's vibrant arts and cultural organizations, Chicago Live! at Navy Pier presents free performances across three stages. Photo by Navy Pier.
The World Music Festival brings artists representing twenty-two countries to indoor and outdoor venues citywide, September 22-October 1.  The Museum of Contemporary Art's second annual Chicago Performs is September 7-10.  The annual performing arts festival features new work by local artists.  The Harris Theater for Music and Dance kicks off their 20th anniversary season on September 9 with Harris Fest: Music + Dance in the Park, a free, all-day event in Millennium Park featuring dozens of resident companies.  Mavis Staples headlines the third annual Chicago Live!, a free performing arts festival, on September 23-24.  Twenty-five new groups join the festival this year, along with more than eighty artists and cultural organizations on three stages, with performances spanning just about every genre including dance, improv, music, and theater.
The September 'back to school' tradition continues.  The fall Chicago Humanities Festival, September 17-December 3, is a great way to learn about an enormous array of topics given by a stellar line-up of presenters.
Like the Chicago Humanities Festival, Know Your Chicago offers a wide array of topics and fosters community engagement during their annual tours and events.  This year's topics range from brain health to The 78, Chicago's newest, i.e., 78th, neighborhood and biggest construction site.  Know Your Chicago's 74th season starts with a symposium at the Union League Club on September 13, with tours and events to follow.
The Alliance Française de Chicago's Fall Open House will be on-site and online on September 13. Photo by Alliance Française de Chicago.
The Newberry Library's fall adult education classes include three Chicago-centric offerings:  Walking Chicago's Literary Gold Coast (September 13-October 11); South of the Loop: Exploring Chicago's Neighborhoods on the Near South Side (September 16-November 11); and Chicago Art and Artists: 1950 – the Present (September 26-October 17). If you're planning on going to the summer Olympics in Paris in 2024, now might be the time to check out the Alliance Française de Chicago's on-site and online Fall Open House on September 13 to learn more about French language lessons.
This year's annual Chicago Architecture Center's "Churches by Bus" tour on September 23 focuses on churches on the South and Near West Sides, such as Second Presbyterian Church (1874) with its famous Tiffany windows, and Holy Family Church (1860), which survived the Chicago Fire (1871) and is next to my alma mater, St. Ignatius College Prep.  Chicago's churches and religious buildings have been neighborhood anchors, though many have now become endangered.  Some have been repurposed, such as Epiphany Center for the Arts, which is housed in the former Church of the Epiphany (1885).
The temporary Bally's Chicago Casino opens this month at the former Medinah Temple. Photo by Bally's Chicago.
Although not a temple in the strictest sense of the word, the former Medinah Temple (1912) was a venue for the Shrine Circus (I remember going; it was surreal to see elephants on Ontario!).  I also remember shopping at the Medinah Temple when it was transformed into Bloomingdale's Home and Furniture store.  It's been repurposed yet again as the temporary Bally's Chicago Casino that is slated to open this month.  The permanent casino will open in a few years at the site of the Chicago Tribune printing plant in River West.  When the casino moves, let's hope the Medinah Temple is yet again reimagined.
If you'd like to learn more about Chicago from the comfort of your home, WTTW's fascinating "Chicago Stories" series is back with a new season.  After reprising episodes from past seasons, WTTW airs new episodes this month including: "Angels Too Soon: The School Fire of 1958" starting September 22 about the tragic fire at Our Lady of Angels School, and "Race to Reverse the Chicago River" starting September 29.
September marks exhibition openings.  Organized by the Chicago-based collective Floating Museum, the Chicago Architecture Biennale runs September 21-February 11, 2024 at various locations.  An exciting new addition to the fall art scene is the inaugural Chicago Exhibition Weekend, co-presented by EXPO Chicago and Gertie.  The city-wide weekend of openings and events at over fifty-five galleries, institutions and artist-run spaces is September 29-October 1.
Liz Flores (pictured) and other artists will have their works featured in the Elmhurst Art Museum's "Picasso: Fifty Years Later," September 9-January 7, 2024. Photo by Liz Flores and Elmhurst Art Museum.
Marking the fiftieth anniversary of Pablo Picasso's death, the Elmhurst Art Museum presents "Picasso: Fifty Years Later," September 9-January 7, 2024.  The Smart Museum of Art runs two exhibitions concurrently, September 21-February 4, 2024: "Ruth Duckworth: Life as a Unity" focuses on the works the innovative Chicago sculptor, and "Smart to the Core: Poetry is Everything" asks the questions "what is poetry and why do we do it?".
Honor the winners of the 7th Annual Gwendolyn Brooks Youth Poetry Awards at the Ceremony on September 9. Photo by Illinois Humanities.
Illinois' Poet Laureate, Gwendolyn Brooks, started the Youth Poetry Awards in 1969.  Honor the next generation of poets at the Gwendolyn Brooks Youth Poetry Awards Ceremony, Reva and David Logan Center for the Arts, September 9. The 38th annual  Printers Row Lit Fest is the largest free literary event in the Midwest.  The festival, which features more than 200 booksellers, authors and poets, runs September 9-10 on the Near South Side.
Chicago Filmmakers, which produces Reeling: The 41st annual Chicago LGBTQ+ International Film Festival (September 21-October 8 at three theaters), and the annual Onion City Experimental Film Festival (Spring 2024), hosts their Golden Anniversary Celebration and Awards Reception at Le Piano in Rogers Park, September 9. The longest-running underground film festival in the world is the Chicago Underground Film Festival.  The 30th edition of the festival opens on September 13 at the Gene Siskel Film Center.  The rest of the fest is at the Harper Theater through September 17.
I'm delighted that the Chicago Film Society is back with the 2nd edition of Celluloid Now, a series of screenings and workshops showcasing 35mm analog film, September 21-23.   It's nice to see that filmmakers are still using film and haven't gone completely digital.
The citywide Pearl Cleage Festival continues this month with Remy Bumppo Theatre Company's production of "Blues for an Alabama Sky," September 14-October 15. Photo by Remy Bumppo Theatre Company.
Theater companies traditionally open their 2023-24 seasons in September.  The citywide Pearl Cleage Festival celebrating the works of playwright Pearl Cleage kicks off this month with Remy Bumppo Theatre Company's production of her "Blues for an Alabama Sky" at Theater Wit, September 14-October 15.  The Goodman Theatre presents the Chicago premiere of "The Nacirema Society," September 16-October 15.   The play opens the Goodman's 98th season and marks the inaugural season of the theater company's new Artistic Director, Susan V. Booth.  The Pearl Cleage Festival will also include events at the Black Ensemble Theater, Congo Square Theatre, Definition Theatre, ETA Creative Arts Foundation, and MPAACT. More information to come in September.
Chicago native Inda Craig-Galván wrote a very Chicago play, "Welcome to Matteson!" It opens Congo Square Theater Company's 25th anniversary season at Abbott Hall Wirtz Theater on Northwestern University Chicago campus, September 6-October 1.  Broadway in Chicago and TimeLine Theatre Company present the Chicago premiere of the 2022 Tony Award® winner for best play, Stefano Massini's "The Lehman Trilogy" about the Lehman Brothers debacle at the Broadway Playhouse at Water Tower Place, September 19-October 29.
Throughout his 50-year career, Gerald Arpino created nearly 50 ballets for The Joffrey Ballet. Experience 2 days of performances with companies from across the nation at the Auditorium Theatre, September 23-24. Photo by The Joffrey Ballet.
It was the Joffrey Ballet's Gerald Arpino (1923-2008) who moved the company from New York to Chicago in 1995.  The national Gerald Arpino Centennial Celebration culminates in the Arpino Chicago Centennial Celebration at the Auditorium Theatre, September 23-24.
The Woman's Board of Northwestern Memorial Hospital hosts Lighting the Way: A Celebration of 125 Years at a private club in Chicago, September 22.  Congratulations!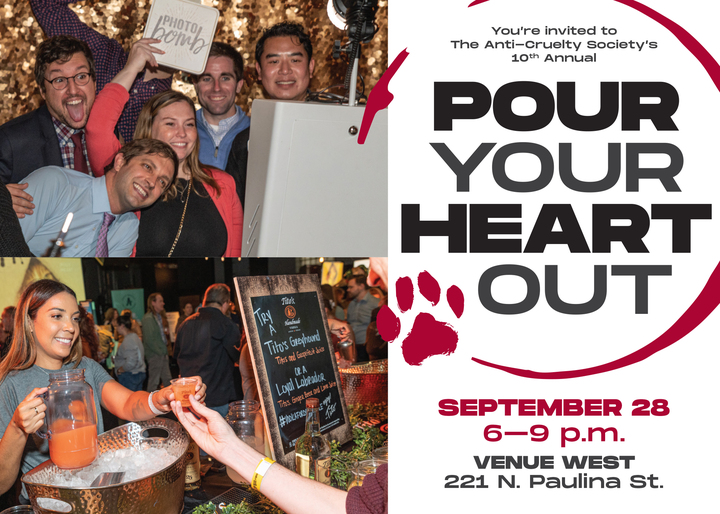 Support Chicago's oldest animal welfare organization, the Anti-Cruelty Society (ACS), by attending their 10th annual Pour Your Heart Out fundraiser, September 28. Photo by the Anti-Cruelty Society. 
Chicago's oldest animal welfare organization, the Anti-Cruelty Society (ACS), is celebrating its 125th anniversary next year, but in the meantime, my good friend Sarah Ames has invited me — and I've happily accepted — to attend the 10th annual Pour Your Heart Out fundraiser hosted by the ACS Young Associates Group, at Venue West on September 28.  The invitation promises "Pawtender tastings from over 20 breweries, distilleries and wineries."
Dates, times, locations and availability are subject to change.