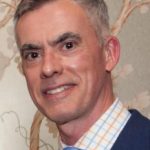 By Philip Vidal
On a recent late-night adventure, I turned on the TV to Turner Classic Movies (TCM).  I wanted to watch something light.   A 1963 rom-com, "Come Fly with Me," starring Dolores Hart, Pamela Tiffin, Lois Nettleton, Karl Malden and Hugh O'Brian, was on.  The movie is about the escapades of the crew and passengers who meet on a New York to Paris flight.  After watching the movie, I went down the rabbit hole and looked up the movie's stars on the internet.  All had Chicago connections.   Dolores Hart (who took the veil after filming this movie) was born and raised in Chicago.  Pamela Tiffin grew up in suburban Chicago.  Lois Nettleton was born in Oak Park, attended Senn High School and the Art Institute of Chicago's Goodman School of Drama, and was crowned Miss Chicago in 1948.  Karl Malden was born in Chicago, raised in Gary and also attended the Goodman School of Drama.  Hugh O'Brian's family moved to Winnetka and he attended New Trier High School.  Another Chicago connection is that when my late mother was working as a nurse at Shriner's Hospital for Children-Chicago in the 1950s, she met Hugh O'Brian, who was visiting patients at the hospital.
It got me thinking about Chicago talent, and what's on this month in Chicago.

Talented teens from After School Matters®  take over the Navy Pier stage with a performance promoting peace, August 1. Photo by and After School Matters®.
See the talented teens of After School Matters® for a free performance, Spotlight on Peace, promoting peace in Chicago, at Navy Pier on August 1.  That same day, Robert Chen, the Chicago Symphony Orchestra's concertmaster, his wife, son and daughter – all gifted musicians – perform as the Chen String Quartet as part of the Glessner House's Courtyard Concert Series.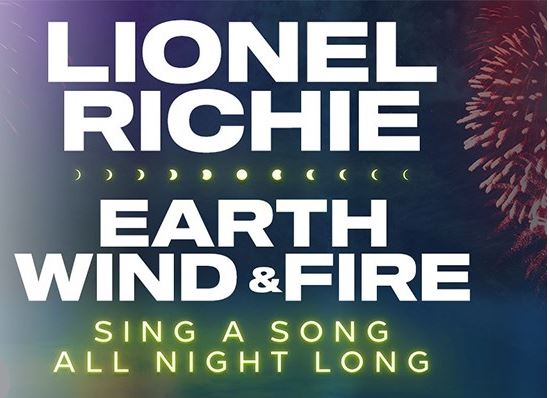 Sing a song all night long with Lionel Richie and special guest Earth, Wind & Fire at the United Center on August 5. Photo by United Center.
Superstar Michael Jackson was born and raised just over the border in Gary.  The musical "MJ" (book by Lynn Nottage and choreography by Christopher Wheeldon) runs August 1-September 2 at the James M. Nederlander Theatre.   Lionel Richie, with special guest Earth, Wind & Fire performs at the United Center on August 5.   Singer-songwriter Richie went to Joliet Township High School, and Earth, Wind & Fire have deep Chicago roots. Chicago-born singer-songwriter Richard Marx, with special guest John Waite, is at the Auditorium Theatre August 17.
Born and raised in Chicago, singer-songwriter Chance the Rapper performs his Acid Rap 10-Year Anniversary Show at the United Center, August 19.  Cesar Rosas and The Chi-Town Playboys perform at Fitzgerald's, August 19.  The Patrick G. and Shirley W. Ryan Opera Center's immensely talented pool of singers perform at Sunday in the Park with Lyric at the Jay Pritzker Pavilion, Millennium Park, August 20.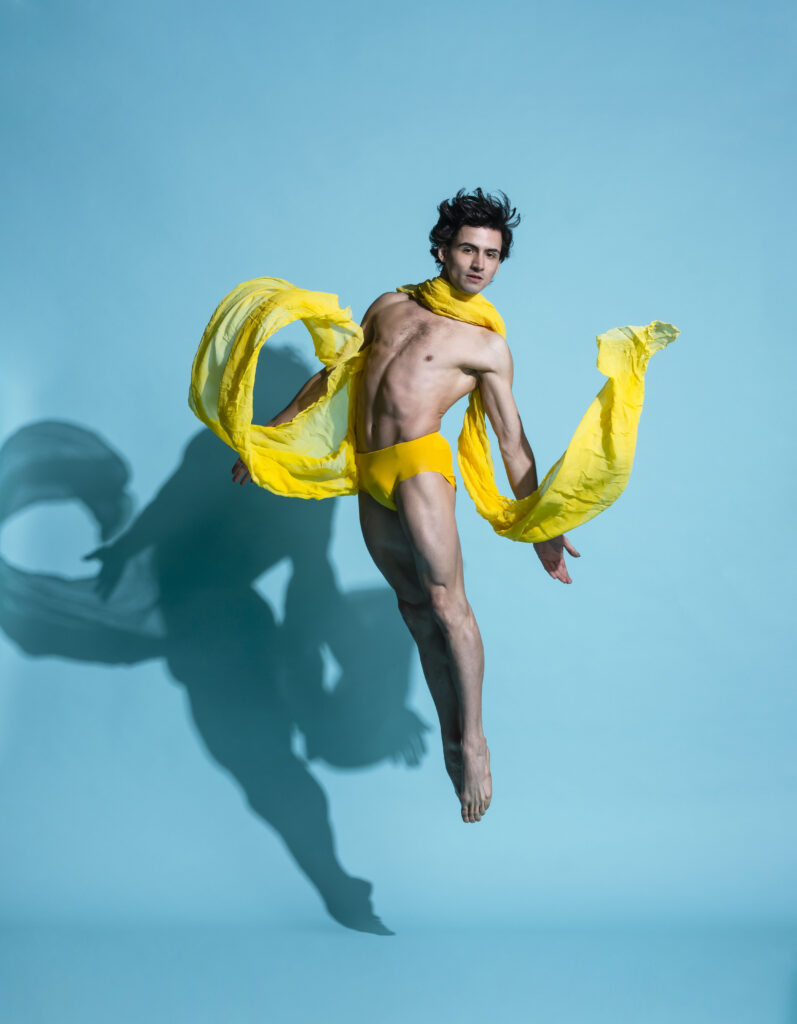 Chicago Dancers United's 32nd annual Dance for Life will be at the Auditorium Theatre, August 19. Photo by Todd Rosenberg of Fernando Duarte.
Presented by Muntu Dance Theatre in its 50th anniversary season, DanceAfrica Chicago – Lineage is at the Reva and David Logan Center for the Arts, August 11 and 12.  Chicago's dance community comes together for the 32nd annual Dance for Life, Chicago Dancers United's dance concert and fundraiser, at Auditorium Theatre, August 19.
Buddy Guy and George Benson team up for a night of blues and jazz at Ravinia, August 23. Photo by Ravinia.
Buddy Guy, the truly legendary singer, blues guitarist and owner of Chicago blues club Buddy Guy's Legends teams up with jazz singer and guitarist George Benson for Buddy Guy's Damn Right Farewell Tour at Ravinia on August 23.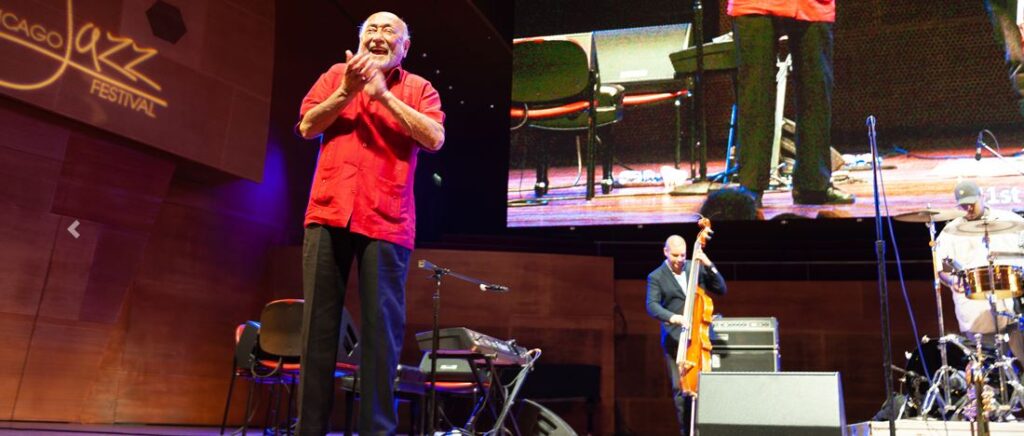 Jazz in August! Local, national and international jazz starts perform at venues citywide for the Chicago Jazz Festival, August 31-September 3. Photo by City of Chicago.
Two jazz festivals bookend the month.   The 2nd annual Bronzeville Neighborhood Jazz Festival on Martin Luther King Drive is August 5.   Bronzeville has a rich history and was known as the Black Metropolis in the 20th century.  Chicago's own local jazz stars are joined by national and international talent at the Chicago Jazz Festival with venues citywide, including Millennium Park, August 31-September 3.
Catch some live jazz at the Shedd's terrace for Jazzin' at the Shedd, Wednesdays through August 30. Photo by Shedd  Aquarium
The Shedd Aquarium's outdoor terrace is the perfect place to enjoy one of the best views of Chicago's skyline and also live music.  Jazzin' at the Shedd continues through August 30.  Another place where you can enjoy both a view of the lake and performances featuring local musicians during the summer is the Waterfront Café in Berger Park in Edgewater.
There's usually a cool breeze off Lake Michigan at the Museum of Contemporary Art of Chicago's Tuesdays on the Terrace with  free live outdoor performances by musicians and artists featuring music  with Chicago roots, which runs through August 29 in the Anne and John Kern Terrace Garden.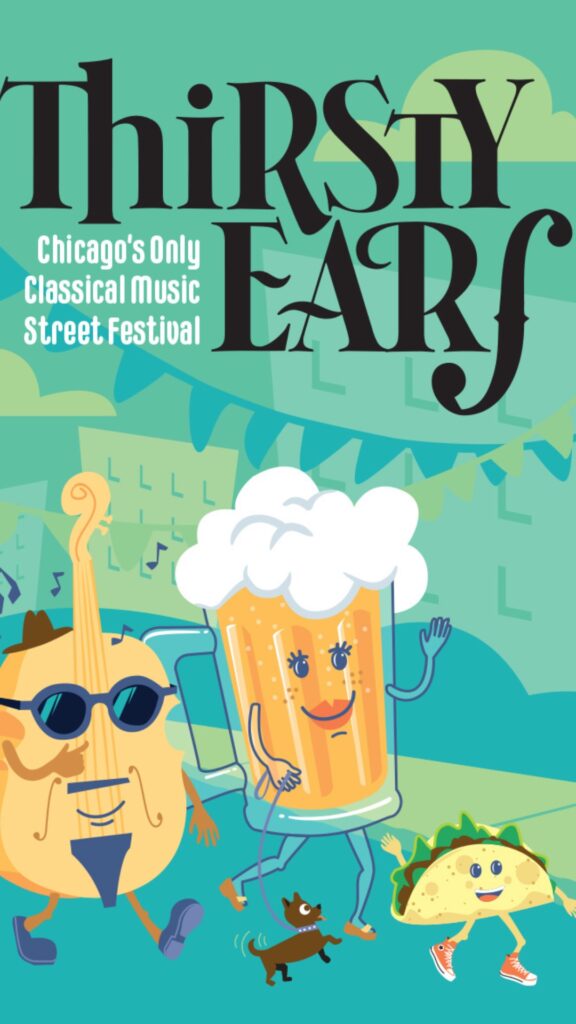 For two days Wilson street between Hermitage and Ravenswood are closed for the Thirsty Ears Festival, Chicago's only classical music street festival. Photo by Access Contemporary Music.
Billed as "Chicago's only classical music street festival," the 8th annual Thirsty Ears Festival on Wilson Avenue between Hermitage and Ravenswood is August 5-6.   The final concert of the Grant Park Music Festival's 2023 season is Rachmaninov's "Symphonic Dances," August 18-19.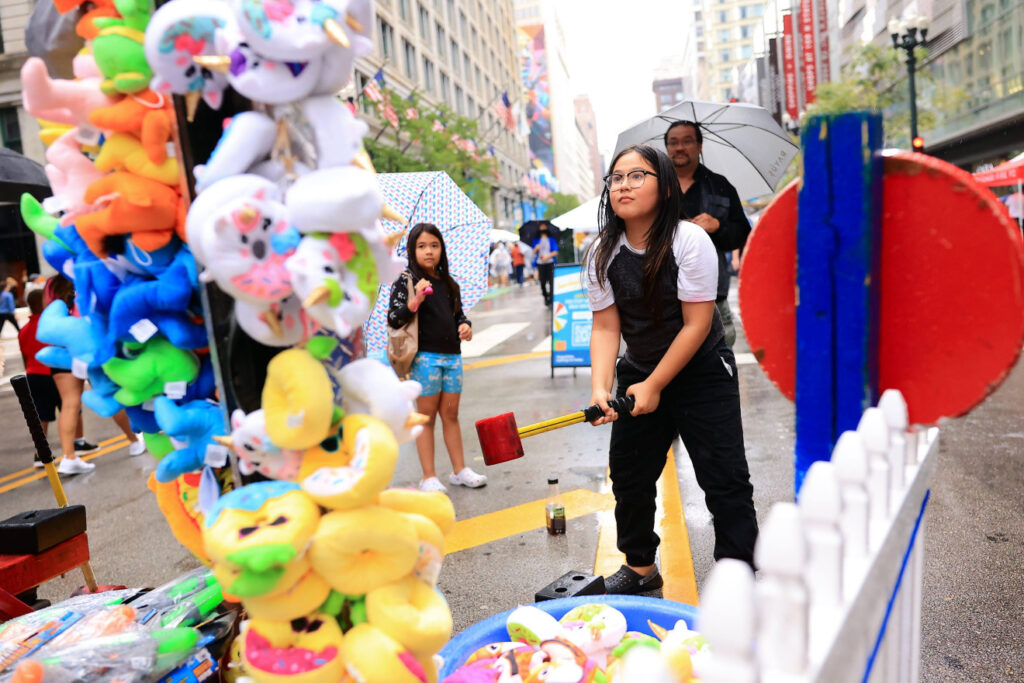 State Street shuts down for food, shopping, games and performances on August 13 as part of Sundays on State. Photo by Chicago Loop Alliance.
Outdoor festivals start to wind down in August.  This summer's final Sundays on State is August 13, when Chicago's most famous street, State Street, is closed to vehicular traffic from Adams to Lake for a block party featuring food, shopping, and performances.  The 26th annual Retro on Roscoe festival is August 11-13 and includes an antique car show.  The Midwest's largest outdoor street festival, Northalsted Market Days®, is also that weekend, August 12-13.   Ribfest Chicago returns to the North Center neighborhood, August 18-20.  James Beard Award-winning food writer Steve Dolinsky selected the forty local pizza makers at the 2nd annual Pizza City Fest at The Salt Shed, August 26-27.  The main part of the festival is outside, with seminars inside.   The 65th annual Chicago Air and Water Show is August 19-20 with practice runs on August 18.  Peotone was to be the sight of a future Chicago-area airport.  That never took off, but Peotone hosts the 120th anniversary Will County Fair, August 23-27.
When I was growing up in Chicago in the 1960s, there were a few outdoor movies screens in the suburbs, but they weren't a big thing.  Now, I'm having trouble keeping up with all of the open-air movies around Chicago.
Navy Pier hosts free outdoor movies every Monday through August 28 for their "Water Flicks" film series. Photo by Navy Pier.
The Millennium Park Summer Film Series at the Jay Pritzker Pavilion continues on Tuesdays through August 29 and includes a screening of "Barbershop" (2002) set in Chicago, on August 22.  Another 2002 movie, "Chicago," will be shown behind the Chicago History Museum on August 15 as part of the city-wide Movies in the Parks series, which continues through September 9.  Movies in the Parks is part of the Chicago Park District's Night Out in the Parks.    The Movies at Gallagher Way next to Wrigley Field continue on Wednesdays through September 27.  On Mondays through August 28, watch an outdoor movie at Navy Pier's Water Flicks film series.   In Wheaton, Cantigny Park's Moonlit Movies in the Park  continues on Fridays through August 25.
Keep enjoying the summer weather with a movie at the Rooftop Cinema Club at Fulton Market. Photo by Rooftop Cinema Club.
When I took a look at the offerings for August at the Rooftop Cinema Club at Fulton Market on the 5th floor terrace of Emily Hotel, I noted at least a half-dozen movies featuring Chicago or Chicago talent.
Watch films under the stars this summer at the ChiTown Movies drive-in in Pilsen.
Even fundraisers are featuring open-air movie screenings.  The Service Club of Chicago's Movie Night shows "Flashdance" (1983) outdoors "Ravinia-style" at a private home in Lake Forest on August 26.  The film stars Chicago-native and Francis W. Parker graduate Jennifer Beals.
Celebrating ten years of local films in Chicago parks, the Chicago Onscreen Local Film Showcase and Festival presents free public screenings in parks across the city, August 28-September 2. Photo by Chicago Park District.
The Chicago Onscreen Local Film Showcase and Festival, August 28-September 2, in parks across the city, features the work of local filmmakers screened during Chicago Onscreen's first ten years.  August ends with the Hyde Park Art Center's Movies in the Lot screening on August 31 of "Hairy Who and the Chicago Imagists."  The gifted group of School of the Art Institute of Chicago grads who called themselves the Hairy Who had their first exhibition at the Hyde Park Art Center in 1966.
Dates, times, locations and availability are subject to change.